V kapele Spooky Tooth se potkávali dva kohouti na jednom malém smetišti. Egoistické boje mezi hlavními skladateli, tahouny a také zpěváky a klávesáky Gary Wrightem a Mikem Harrisonem, jejichž rozdílné hlasové rejstříky i tvůrčí invence tolika obohacovali výsledný hudební produkt kapely, několikrát zapříčinili různé nešváry a nakonec i rozchody. 
Po jednom takovém, mezi léty 70-72, se při opětovném shledání této dvojice narodila další výborná nahrávka v portfóliu kapely s dlouhým názvem You Broke My Heart So… I Busted Your Jaw. S novými posilami u rytmiky i sólové kytary – zde v podobě pro osmdesáté roky velmi úspěšným tahounem pompézních lamačů hitparád Foreigner – Mickem Jonesem, začíná druhá etapa Spooky Tooth.
I když starším příznivcům kapely tu výrazně chybí kytarista Luther Grosvenor, jehož styl byl pro první, přinejmenším dvě nahrávky tolika obohacující, nová posila Mick Jones se jej snaží nahradit, co jen může. Není o tolik horší, či v základě špatný, je jen jiným typem. Funkčnějším, snadněji identifikovatelným a také předvídatelnějším. Spooky Tooth s ním přišli o část svého výraziva, stali se zaměnitelnějšími, což mělo výrazný vliv na jejich originalitu. Ta s Jonesem pozbyla část svého já, naštěstí se tyto atributy nepodepsali na konstrukci jednotlivých skladeb a nápaditosti výsledného repertoáru.
Podobně jako jsem si po čase zamiloval desku Witness, získal jsem náklonost i k You Broke My Heart So… I Busted Your Jaw. Ta je pro mne po kontroverzním Ceremony a slepenci The Last Puff jakýmsi znovupovstáním uvadajících Spooky Tooth. I přesto, že je z desky patrná snaha souboru  znovu se skladatelsky vydrápat někam do výšin nedostižného debutu a dvojky Spooky Two, podobné mety jsou kapele již zapovězeny.
Kdyby úvodní skladba Cotton Growing Man dostála krapet větší jiskry a entusiasmu, mohla být stejně ohromující jako některý ze vstupů prvních dvou alb. Jenže s Jonesem je vše klidnější a rozvážnější. A to může ze sebe Harrison ždímat charismatu kolik chce. Jenže… pak přijde na řadu dvojka Old As I Was Born – kde se hraje na atmosféru, akustika vás dojemně hladí po duši a když pak uslyšíte v odzbrojujícím refrénu zpívat slova názvu písně, roztřesou se vám kolena dojetím. Jones perlí snové sólo na začátku This Time Around, která vzápětí dostane hřmotnější kontury a oba zpěváci se výborně doplňují. Wright ladně recituje a Mike se bouří. Paráda. Holy Water je další (tentokrát gospelovou) baladicí, v níž klavír jemně cukruje a reflektor zabírá teskně sténajícího Harrisona.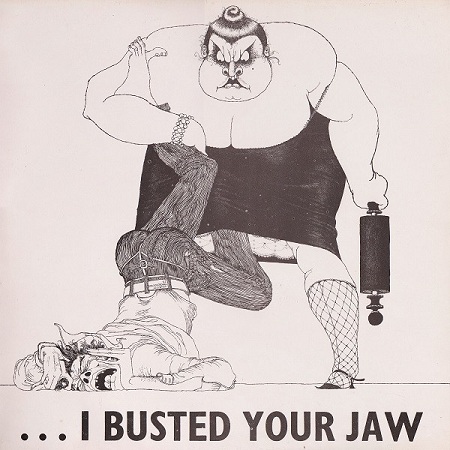 Máme tu stanu B, kterou od podlahy načne Wildfire. A zase to tempo, Jones to prostě tahá až moc únavně. Self Seeking Man je další podařenou pomalou písní, která vás samočinně přesune k začátkům souboru, kdy napomáhal tvořit hudební dějiny. Vrcholem je pro mne pak další oduševnělá věc – Times Have Changed. Zde se víc prosadí ve výškách položený Wright. Hmatatelná křehkost písně je krom intonačně bravurního zpěváka dosažena jen minálním využitím klávesových nástrojů. Desku uzavře stylová Moriah.
I na své páté studiovce drží Spooky Tooth laťku kvality pořád dost vysoko. Sic už to postrádá ten wow efekt přítomný na starších deskách, ale čtyři body si dle mého toto album zaslouží.
SKLADBY:
1. Cotton Growing Man 4.38
2. Old As I Was Born 4.41
3. This Time Around 4.08
4. Holy Water 3.27
5. Wildfire 4.06
6. Self Seeking Man 3.47
7. Times Have Changed 3.54
8. Moriah 6.20
SESTAVA:
Gary Wright – keyboards, vocals
Mike Harrison – keyboards, vocals
Mick Jones – guitar
Chris Stewart – bass
Bryson Graham – drums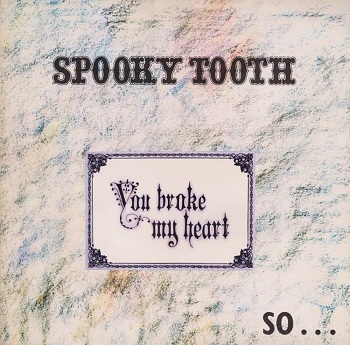 You Broke My Heart So... I Busted Your Jaw
Spooky Tooth
Hard Rock, Prog Rock, Blues Rock
Island Records
1973
LP
8