O južanskom kvartete MojoThunder z Lexingtonu v Kentucky som až donedávna nemal ani páru. Úprimne, nové kapely moc nesledujem, ale táto ma pri pohľade na nadchádzajúci program Rocku v múzeu zaujala. A bolo že to príjemné prekvapenie v upršaný utorkový večer!
Južanská alternatíva
Zmes vysoko-energického rocku a južanských harmónií – tak charakterizujú svoju hudbu chlapci z kapely. Odhadom všetko skorí dvadsiatnici. MojoThunder založila dvojica Bryson Willoughby (sólová gitara) a Andrew Brockman (basa). Zostavu dopĺňajú Sean Sullivan (spev/gitara) a Zac Shoopman (bicie). Na svojom konte majú okrem pár singlov aj EPčko Loose Lips (2019) a debutový album s názvom Hymns From The Electric Church (2021).
Pred koncertom som letmo prebehol ich tvorbu a nazdával som sa, že pár tvrdších kúskov sa mi bude páčiť a zvyšok bude okay. V ideálnom prípade také pekné štyri hviezdy z piatich. Úprimne, hlavným cieľom bolo vytiahnuť kolegov na koncert a štýl MojoThunder mi k tomu sedel – nič extrémne, ani nezáživné. Som rád, že som sa prerátal!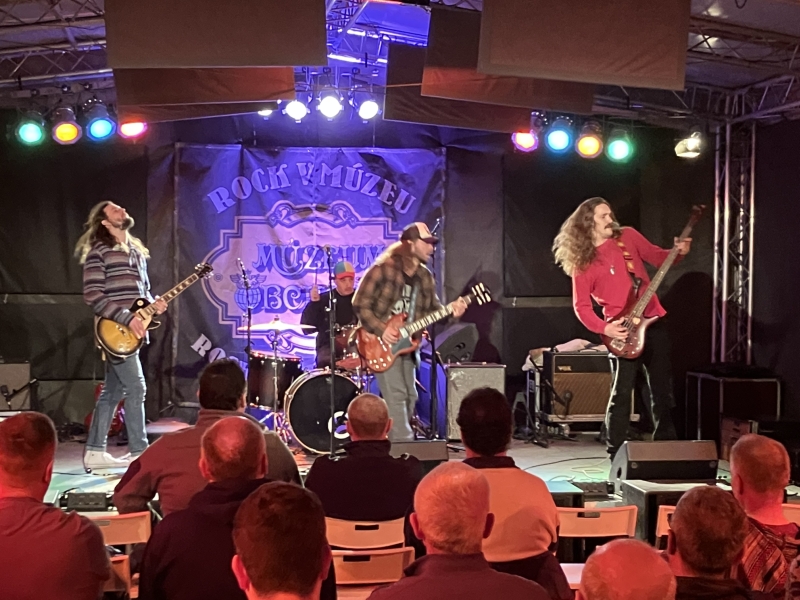 Dixie v Bratislave
Počasie nebolo nič extra, a keďže sa jednalo o novú kapelu, tak som nemal veľké očakávania čo sa návštevnosti týka. A mal som pravdu. "Trestná výprava" šiestich kolegov tak dorazila krátko pred siedmou večer medzi prvými a po zakúpení vstupeniek sme si to namierili do hostinca na pár lokálnych pivných špeciálov. Čas pri družnej debate ubiehal rýchlo a po dvoch kolách nás všetkých krátko po pol ôsmej riaditeľ múzea pán Juck nahnal do vyhriateho stanu. Ten bol naplnený iba spolovice, čo som v Rocku v múzeu zažil prvýkrát (chodím iba na vybrané kapely), ale aspoň to dodalo koncertu intímnejšiu atmosféru. Po krátkom uvedení kapely a obligátnom potlesku do stanu vstúpili štyria mladíci a namierili si to na pódium.
A moc sa s tým nepárali. Pár brnknutí po strunách či všetko funguje ako má a večer odpálili Šesťdesiatdeviatkou! Tak sa aspoň volá úvodná pieseň podľa setlistu, ktorý mi po koncerte dal gitarista Bryson, keď som sa ho spýtal, či si môžem cvaknúť ich set pre potreby recenzie. Pekné memento. Piesne ako také som, až na záverečnú vypaľovačku Jack's Axe, nepoznal a vlastne na tom ani nezáležalo. Hudbu som si vychutnával tak či onak. Milo ma prekvapilo, že songy naživo zneli tvrdšie a o to viac som si ich užíval. A nielen ja, pohľad na kolegov okolo svedčil, že si to užívajú aj oni!
Southern rock is alive and well!
Počúvaním MojoThunder som nadobudol dojem, že južanskému rocku sa v USA darí dobre! Kapela cválala ako ten bezuzdný mustang, ktorého som videl na značke, keď som pár rokov dozadu cez Kentucky prechádzal. Frontman Sean Sullivan ako jediný zaobstarával vokálnu zložku, ale jeho hlasivky sú na to dimenzované silou aj rozsahom. Bubeník Zac v strojovni šliapal naplno a zakladatelia kapely Bryson s Andrewom rozhodne neboli statickí a hýbali sa do rytmu, ktorý sami produkovali. Najmä basák Andrew strúhal tanečné pohyby, za ktoré by sa nehanbil ani John Travolta a ten jeho moonwalking stál za to! Títo chlapíci svoje nástroje ovládajú dokonale a rockový šlabikár majú naštudovaný odpredu-odzadu.
Gitarový zvuk sa mi veľmi páčil, mal správny "crunch" a zvuk celkovo je v Múzeu obchodu vždy vo vysokom štandarde. Radosť počúvať. Spevák Sean hral po celý čas na SGčko a sólový gitarista Bryson striedal Gibsony Les Paul a SG. Zhruba v strede setu mu praskla struna, čo si vedľa mňa stojaci kolega hneď všimol a utrúsil: "Áčko, vždy je to zasrané áčko!" Kapela ale mastila ďalej, akoby sa nič nedialo, zatiaľčo Bryson Willoughby si expresne vymenil, ponaťahoval a naladil strunu, aby sa hneď mohol vrátiť do akcie.
Chválospev
Keby som mal zhodnotiť celý set, tak už od úvodu mala kapela silný nástup, kedy zahrala asi tri čísla takmer bez prestávky – takže nadšení diváci ani nemali poriadne čas oceniť odohraté piesne potleskom. Ako sa blížila polovica vystúpenia, tak došlo aj na pomalšie a melodickejšie čísla, aby všetko opäť nabralo obrátky do silného finišu. Predĺžené intrá, jamy, ale aj outrá typické pre južanský rock boli fantastické. A v sete boli aj nové kúsky, ktoré ešte neboli nahrané, ako napríklad Step By Step, ktorý sa mi náramne páčil. Snáď momentálne najznámejšiemu songu kapely Jack's Axe (ktorého úvod vo mne evokuje Hard As A Rock od AC/DC) predchádzalo predĺžené intro – koncert v tomto bode kulminoval a snád celé publikum sa hýbalo do rytmu piesne. Tí tanca chtiví sa vlnili hneď pri nás, pred mixpultom. Dokonca to vyzeralo tak, že kapela si priviedla vlastný fanklub, alebo to možno len boli groupies, haha! Skupinka veďľa nás totižto počas celého koncertu nadšene híkala, kričala a povzbudzovala kentucký "Čarohrom".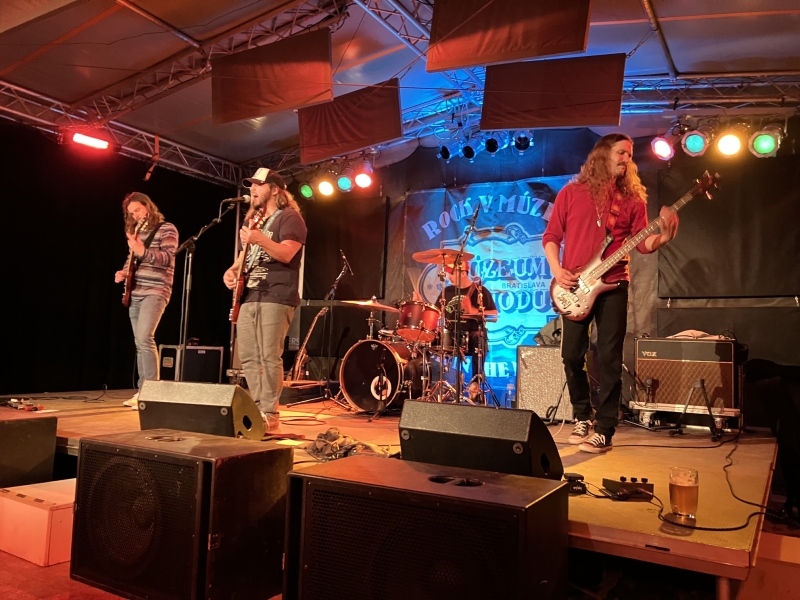 Po pätnástom kúsku publikum v stoji vytlieskalo lexingtonský kvartet, chlapci sa poďakovali, občerstvili pivom, ktoré im náramne chutilo a opäť sa chytili nástrojov, aby zahrali prídavok – coververziu Can't You Hear Me Knockin' od legendárnych Rolling Stones. Tú sa mi podarilo nahrať na video, takže načo zbytočné slová. Prosto si ju pustite a vypočujte na vlastné uši.
Klábosenie pri pive
Po nej už bol zhruba jeden a pol hodinovému vystúpeniu koniec a nadišiel čas podporiť kapelu kúpou trička a CDčka, ktoré členovia MojoThunder ochotne záujemcom podpisovali. Trocha som si s každým z nich aj pokecal – basák Andrew mi napríklad po mojej pochvale jeho tanečných pohybov odvetil, že tým zabáva spoluhráčov v kapele a spevák Sean nám neskôr pri pive v hostinci povedal, že nový album by mali nahrávať ešte tento rok. Gitaristu Brysona potešilo, keď som mu spomenul, že novinka Step By Step sa mi veľmi páčila a aj Sean potvrdil, že ju isto nahrajú na nový album. S bubeníkom Zacom sme sa zasmiali na mojej poznámke, že do tých bicích parádne trieska a nakoniec sme si dali aj skupinovú foto. Andrew mi spomenul, že bedňák Nick je Austrálčan, tak som pár slov prehodil aj s ním. S chlapcami sme sa rozlúčili a zaželali im všetko dobré, keďže ich ešte čakajú zvyšné vystúpenia smerom na západ od nás. V Európe, resp. mimo Spojených štátov hrajú prvýkrát a náramne sa im tu páči. Snáď ich teda uvidíme aj nabudúce. Táto kapela má rozhodne potenciál a ja jej držím palce. Všetci sa veľmi dobre bavili, za mňa plný počet hviezd!
Setlist
69
Bulleit
Rising Sun
Soul
Babylon
Fill Me Up
Fine
Coming Back To You
Evergreen
Let It Fall
Sun Still Rises
Caroline
Step By Step
No Good
Jack's Axe
Can't You Hear Me Knockin' *
* prídavok – Rolling Stones cover
Sean Sullivan – spev/gitara
Bryson Willoughby – sólová gitara
Andrew Brockman – basa
Zac Shoopman – bicie
Múzeum obchodu Bratislava (14.3.2023)
MojoThunder
Southern rock
2023
16