Pár měsíců po vydání zatím poslední Watersovy studiovky Is This the Life We Really Want? jsem se na stránkách Rockovice pokusil shrnout jeho hudební aktivity v předchozích dvou dekádách a letmo připomenout několik osobních dojmů z Waterse naživo.
K pražské premiéře jsem napsal: "10. 6. 2002 – Watersův první český koncert v tehdejší Paegas Aréně, při němž se po přestávce hned pětinásobného zastoupení dočkala deska Amused to Death (Perfect Sense, Part 1 a 2, The Bravery of Being Out of Range, It's a Miracle a Amused to Death). Nejen tahle pasáž povýšila vystoupení na nesmrtelnost a v mých vzpomínkách i nad strahovské galapředstavení Pink Floyd."
Ani s párletým odstupem nemám, co bych na vysloveném názoru měnil, k dnešnímu dvacátému výročí jsem tak připravoval vzpomínkové ohlédnutí složené z nezapomenutelných zážitků podpořených dobovými archiváliemi, z nichž jedna má u mě už dvacet let výsadní postavení. Je jí tehdejší report Jardy Merhauta, hudebního publicisty, jehož čtivé články o rockové hudbě byly stálým zdrojem poznání, inspirace, zábavy i spolehlivým vyvolávačem vzpomínek.
Nikdy si nepřestanu považovat, že jsem měl možnost poznat se s ním i osobně a pracovně, bo zapálenějšího a fundovanějšího bigbíťáka, rockera, hifistu a psavce jsem nikdy nepoznal. Není spravedlivý, že mu osud nedopřál víc času pro život, rodinu a muziku a že už nikdy nic dalšího nenapíše. Chybí mi (to) už teď. Čest jeho památce!
Pro připomenutí jubilea předmětné akce jsem nakonec zvolil zmíněný Jardův report. Jednak proto, že nic lepšího bych dohromady stejně nedal a druhak mám za to, že právě tenhle text vypovídal leccos i o něm samotném. Tož tedy:
ROGER WATERS
10. 6. 2002, Paegas Arena, Praha
Předem dobrovolně přiznávám, že na Pink Floyd jsem vyrůstal a mám rád všechny jejich vývojové etapy: barrettovskou psychedelickou z konce 60. let, experimentující z počátku seventies, navazující artrockovou trilogii i "závěrečnou" depresivní dvojku, patetickou Zeď, plus zatracovaný dovětek Final Cut. Rovněž post-watersovské homeopaticky stále více ředěné opusy můžu.
Koncert Rogera Waterse, dlouholetého mozku a diktátora skupiny, jsem tedy vnímal jako završení jednoho ze snů mládí.
Malou totalitní vsuvku. V osmaosmdesátém, pouhý rok před odletem bolševika do pekel k Rudému satanovi, mě odvážná svazácká organizace národního podniku Fatra Napajedla požádala, zda bych nezajistil na videu k promítnutí The Wall. I učinil jsem tak, díky svým kontaktům na podzemní burzovní hnutí v Ostravě.
Koukli jsme se, společně pokochali, pokecali a druhý den se nestačili divit. Jakýsi zběsilý milicionář (asi čučel přes okno) letěl hned ráno na partaj, že prý se za peníze dělnické třídy pouštěl zkažené mládeži jakýsi propagační film s fašistama. No a já musel narychlo vypracovat vyděšeným svazákům elaborát pro jejich rodnou Stranu, že Pink Floyd vlastně jsou jakýmsi trojským koněm socialismu v lůně imperialistické Británie a soudruh se mýlí. K popravě mládežníků tedy nedošlo. Připomínám ještě jednou – psal se rok 1988!
Před koncertem samotným jsem se potměšile bavil tím, jak neřešitelný problém vyvstal před pořadateli, když efektové bedny postavili zvukaři jinam, než pražští koumáci předpokládali. Zřejmě bylo nad jejich rozoumek shrnout plachty ze zakrytých sedadel a usadit tam lidi, kteří měli lístky pod a těšně vedle repráků. Nakonec si diváci pomohli sami a Pepíci jenom v úžasu civěli.
Dovětek: bohužel, jak jsem si později přečetl v MF Dnes, tak část postižených diváků rezignovala a odešla. Takže spíš než k smíchu, je tato neschopnost pořadatelů k pláči.
K obsahu koncertu. Kdo vlastní 2CD nebo DVD In The Flesh Live zachycující stejný koncertní program v jeho americké podobě z roku 1999, má až na pár výjimek před sebou playlist pražské show jako na dlani.
Začátek patřil bloku z The Wall, otevřenému titulní skladbou celého turné. Samozřejmě nechyběla povinná halekačka Another Brick In The Wall Part2, jímavá Mother, úvodní část završil protestsongový dovětek z The Final Cut – Get Your Filthy Hands Off My Desert.
Na pódiu se pak dvacet minut producírovala "Zvířata". Pocta Sydu Barrettovi, tak by se dalo nazvat dalších 40 minut, s olejovou psychedelickou zvuko-obrazo-malbou Set The Controls For The Heart Of The Sun z roku 1968 a takřka kompletním přehráním elpé Wish You Were Here. Jeden z emočních vrcholů koncertu.
Projekci mladé krásné tváře Syda v emotivním závěru překryl dvoumetrový točivý démant, vrhající do prostoru ostré odražené paprsky bodových reflektorů. Shine On You Crazy Diamond…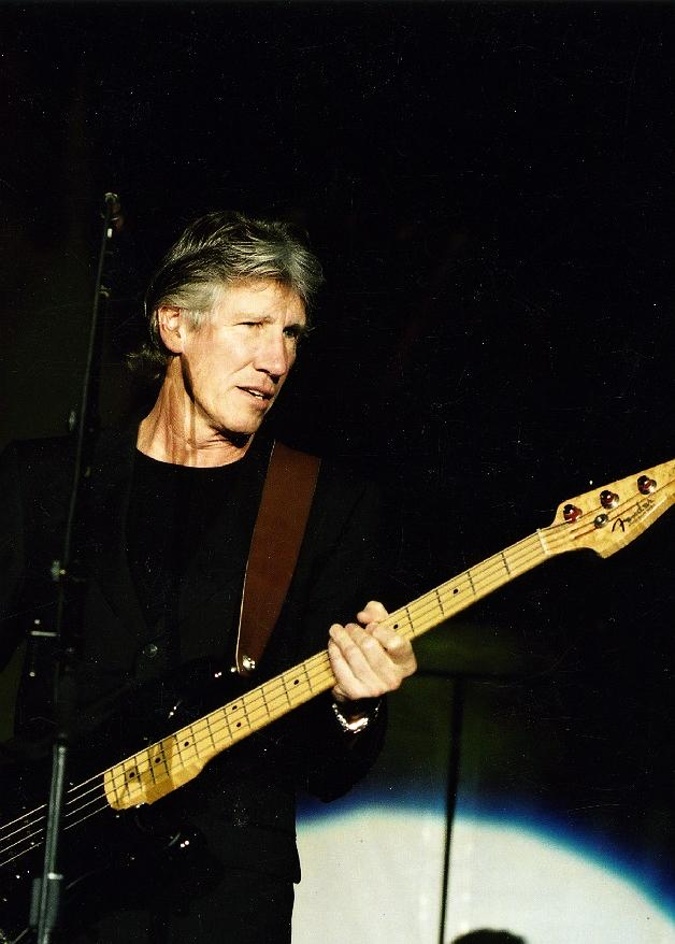 Druhou část po přestávce otevřela Odvrácená strana měsíce: klouzavá Breathe, Time s nebesky velebným kytarovým sólováním a hardrockově dusavá Money.
Ze sólové Watersovy tvorby, jež vesměs vychází z hudebního vzorce The Wall, dominovaly kusy z Amused To Death, zejména velebombastická Perfect Sense (Parts I & II) a intimní It's A Miracle. Finálovou extázi v podobě Brain Damage a Eclipse, jimiž končí The Dark Side Of The Moon, završila, jak jinak, Comfortably Numb z The Wall s předlouhým střídavým i souzvučným sólováním dvojice White – Kamen.
Roger Waters také nakonec předvedl, jakým skvělým manipulátorem davů je, když na jeho nenápadný pokyn asistenti pustili v samém závěru před sedící vipáky juchající mládež , ta strhla davy dalších, a pak i seladoni "spontánně" povstali a vytvořili Mágovi rozbouřenou stafáž u jeho bot.
Nenápadný přídavek Flickering Flame o lidské svobodě a lásce neměli jinou úlohu, než před rozchodem domů přitlumit orgasticky rozvášněné publikum.
K muzikantským výkonům. Watersův hlas je dnes již trochu pošramocen věkem, to dá rozum, na sílu jeho sdělení však příroda neměla sebemenší vliv. Na basu se chvílemi celkem pěkně rozjel, párkrát i zasóloval.
Nejefektnějším prvkem soundu byla bezesporu trojice famózních zpěvaček, opravdu se mi příčí říci doprovodných. Z dokonalosti jejich pěveckých partů šla chvílemi husí kůže. Královnou tria byla bezesporu PP Arnold, pohybující se ve vrcholných patrech pop music již od poloviny šedesátých let, kdy začínala vedle Tiny Turner.
Dvojice sólových kytaristů se skvěle doplňovala a vymezený gilmourovský prostor naplnila s invencí. K hladkému houslovému tónu Snowyho Whitea (již od roku 1976 jako první host doprovázel Pink Floyd na koncertech) vytvářel zdrsněný kontrast Chester Kamen. Trochu upozaděný Andy Fairweather střídal kytaru s basou, podle potřeb šéfa.
Sound kořenil i saxík Norberta Stachela, rytmickou podezdívku spolehlivě odbouchal Graham Broad. Zdvojené klávesy obsluhoval Rogerův synek Harry, ten se soustředil na samply, efektory a kila. Náročnější party, zejména elektrifikovaného piána, oddřel však takřka neviditelný Andy Wallace.
Světelná show byla nadprůměrná, doprovodné projekce posilovaly vyznění hudby a místy ji dodávaly další rozměr, sem tam pozorné oko zaregistrovalo i fórky typu pomalu se sunoucí družice na obloze a další srandičky. Bonbónkem pro fajnšmekry bylo i to, že Gerald Scarfe přimaloval speciálně pro Waterse pár svých nezaměnitelných animovaných sekvencí.
Mám-li srovnat Pink Floyd před osmi lety na Strahově a Waterse dnes, obé se mi líbilo stejně. Tam i tam perfektní zvuková, jevištní i muzikantská prezentace, přesně v intencích daného repertoáru. U Waterse body navíc za vokalistky a nahuštěnější repertoár, u Pink Floyd za některá Gilmourova space autentická sóla.
Pokud něco v pondělí chybělo, byla to pro většinu Hey You, já osobně bych si dal pár mňamek z Meddle, Atom Heart Mother a Pištce. Ovšem, to už by chudák Waters mohl přehrát rovnou všechno, aby se zavděčil všem.
Neodpustím si závěrem výpad proti některým hnidopišským recenzentům z denního tisku. Jestliže Ondřej Bezr v LN píše "Vystoupení Rogera Waterse, zakladatele Pink Floyd, hudebně nadchlo, ale nepřineslo nic nového" a Vladimír Vlasák taktéž "Waters… nic nového nenabídl" křičím: proboha, co nového měl rockový klasik přinést a nabídnout? To měl hrát pozpátku, nebo měl skladby zrapovat, rozbít industriálními ruchy, nebo z nich udělat nekonečné blues session? Je to stejný blábol, jako konstatovat na výstavě obrazů starých mistrů, že namalované je to sice pěkně, ale nepřináší to nic nového. No a pak takovému zasvěcenému Bezrovi uteče fakt, že nejstarší skladba nebyla z Dark Side, ale z o pět let starší dvojky…
Tři a půl hodiny blaženého stavu hlubokého ponoru do pinkfloydovské tónomalby, vlastních pocitů a obrazotvornosti uhranulo všechny vyladěné přítomné. Rozzářené obličeje a oči svítící štěstím naprosté většiny odcházejících jsou toho důkazem.
text: Jaromír Merhaut
SETLIST:
In the Flesh
The Happiest Days of Our Lives
Another Brick in the Wall, Part 2
Mother
Get Your Filthy Hands Off My Desert
Southampton Dock
Pigs on the Wing 1
Dogs
Set the Controls for the Heart of the Sun
Shine On You Crazy Diamond (Parts I-V)
Welcome to the Machine
Wish You Were Here
Shine On You Crazy Diamond (Parts VI-IX)
&
Speak to Me/Breathe
Time
Breathe (Reprise)
Money
5:06 AM (Every Stranger's Eyes)
Perfect Sense (Parts 1 and 2)
The Bravery of Being Out of Range
It's a Miracle
Amused to Death
Brain Damage
Eclipse
Comfortably Numb
přídavek:
Flickering Flame