2CD Cinevox ‎– CD MDF 336 /2000/
Sem tam se mi stane, že srdce a sběratelská vášeň zvítězí nad rozumem a pak si do sbírky koupím nosič, bez kterého bych se vlastně dost dobře obešel. Podobně jak tohle 2CD Goblin, které neobsahuje prakticky nic z toho co už bych neznal z řadových alb. Jak nám podtitul "The best of…" napovídá, jedná se o celkem vyčerpávající průřez pradávnou historií Goblin a bonusem navíc (a v mém případě také hlavním důvodem k nákupu) je do té doby nezveřejněný živý materiál… 
CD 1 – Dedicated To Dario Argento
Goblin prosluli především svými filmovými soundtracky a ty nejslavnější spojuje jméno režiséra Daria Argenta. Právě těm je věnován první disk a není divu, že největšího zastoupení se dočkaly ty nejúspěšnější z nich. Kultovní giallo Profondo rosso (Deep Red) z roku 1975, hororový snímek Suspiria z roku 1977 a krvák Tenebre, natočený v roce 1982. Všechny tu mají po čtyřech zástupcích a kolekci doplňují ještě tři kousky z filmu Phenomena (1985).
Soundtrack k filmu Profondo rosso je vynikající a patří k tomu nej, co kapela natočila. Horor rock jak vyšitej a tak proti výběru skladeb nemůžu říct ani popel. Velmi sugestivní titulní pecka je tu dokonce (jako jediná) ve dvou verzích a radost mám i ze zařazení energické nakládačky Death Dies.
Hudba k filmu Suspiria sklidila velmi pochvalné recenze, ale mě – čert ví proč – zas tolik nebere. Ústřední melodii chválím, ale hlukovky Sighs a Witch bez filmu nefungujou a jejich poslech mě krapet znervózňuje. Se skladbami z bijáku Tenebre se posouváme do umělohmotnejch osmdesátejch let a je to sakra znát. Art rocku odzvonil umíráček a tak tu máme čistou syntetiku v diskotékovém rytmu. Titulní kus je docela dobrej, ale ty ostatní jsou recykláty téhož a tvrdá elektronika ve stylu Kraftwerk mi moc nevoní. Poslední tři skladby pocházejí z alba Phenomena a to jediné mi ve sbírce chybí. Na původním soundtracku se podílely ještě kapely Andi Sex Gang, Frankie Goes to Hollywood, Iron Maiden, nebo Motörhead. Neslyšel jsem, ale umím si to živě představit. Pěknej kočkopes. Titulní melodie je celkem fajn, ale ty další dvě kompozice už jen natahujou stopáž beztak dlouhého alba…
CD 2 – Live Concert
Goblin byli především studiovou kapelou a živě vystupovali jen ve zcela výjimečných případech. Jednou z nemnoha možností vidět je na vlastní oči byla při příležitosti mini turné určeného k propagaci alba Il fantastico viaggio del "Bagarozzo" Mark, vydaného v roce 1978. První dvě instrumentálky pocházejí z desky Roller a vynikající je především funky – jazzová dupárna Snip snap. Třetím kouskem je nezbytná Profondo rosso a zbytek koncertu už je čistě v režii výše uvedeného alba, ze kterého pochází pět (z celkem osmi) skladeb. Ten výběr je poněkud diskutabilní a osobně bych volil jinak, ale co už. Ačkoliv, absence kompozic La danza, nebo …..e suono rock mě fakticky docela mrzí…
Zvuk je trochu rozkolísanej (především u skladeb 1 a 3) a podle jeho střídavé kvality soudím, že půjde o sestřih z několika show. Záznam je se všemi chybami, které koncert provázely a tak to zní velmi autenticky. Během produkce to občas zavazbí, lupne, zabzíká, nebo skřípne. Hlavně kytara se čas od času někam zatoulá a třeba v tracku Le cascate di Viridiana vypadne úplně, ale jinak to celkem ujde. Taková rytmika je sejmutá velmi dobře a výborně zní i Simonettiho klávesy. Vzhledem k tomu, že to není profi snímek, ale nahrávka pro potřeby kapely a nikdo neuvažoval nad tím, že se to jednou oficiálně vydá, dobrý. Kolikrát nad tím zvukem brblám, ale tady jsem vlastně spokojenej.
Ze čtyř dílů složený digipak je luxusní a slušelo by mu to v jakékoliv sbírce. Booklet sice nemá, ale žádnej strach. Vyčerpávající údaje k jednotlivým skladbám jsou vytištěné přímo na obalu. Nechybí ani nějaké ty fotografie a sleeve-note v angličtině.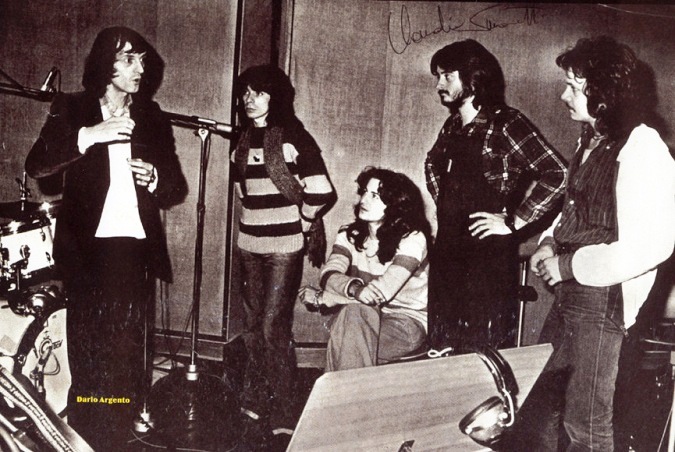 Tak abych to nějak shrnul: výběr na prvním disku je zaměřený čistě na hudbu k filmům Daria Argenta a možná je to škoda. Těch pár ukázek ze snímků Tenebre a Phenomena bych klidně oželel, a nahradil je (mnohem povedenějšími) vzorky z bijáků Zombi (1978), nebo Buio Omega (1979). No a koncert na druhém disku má sice pár chybiček, ale je jeden z mála, kterej se z té doby vůbec dochoval.
Lepší trojka.
CD 1 – Dedicated To Dario Argento
The Dario Argento & Goblin Music Legacy
01. Profondo rosso  (3:43)
02. Death Dies  (4:41)
03. Mad Puppet  (5:51)
04. Profondo rosso /remix/  (5:15)
05. Suspiria  (5:59)
06. Sighs  (3:11)
07. Witch  (5:17)
08. Markos  (4:05)
09. Tenebre  (4:28)
10. Flashing  (6:21)
11. Waiting Death  (4:14)
12. Tenebre /reprise/  (4:11)
13. Phenomena  (4:27)
14. Sleepwalking  (3:50)
15. The Wind  (6:56)
CD 2 – Live Concert
The Goblin Archive Treasury : Live Concert ´79
World Premiere Recording
01. Aquaman  (7:32)
02. Snip snap  (7:36)
03. Profondo rosso  (4:10)
04. Mark il bagarozzo  (6:22)
05. Notte  (2:53)
06. Opera magnifica  (4:38)
07. Le cascate di Viridiana  (6:22)
08. Un ragazzo d'Argento  (6:02)
All music composed, arranged and performed by Goblin.
Agostino Marangolo: percussion, drums
Fabio Pignatelli: bass
Massimo Morante: guitar, vocals
Claudio Simonetti: keyboards
The Fantastic Journey Of Goblin Vol. 1
Goblin
Prog rock, soundtrack
Cinevox
2000
2CD
23
2CD Cinevox ‎– CD MDF 336 /2000/