CD Flawed Gems ‎– GEM 39 /2010/
Album Zarathustra legendárních Museo Rosenbach bylo jedním z prvních přírůstků v mé pomaličku vznikající "italské" sbírce a spolu s debuty Banco del Mutuo Soccorso, Alphataurus, nebo prvními dvěma alby Premiata Forneria Marconi způsobilo nákazu, ze které jsem se dodnes nedostal. Podle data reedice tomu zanedlouho bude kulatejch deset let a tak je třeba se k němu vrátit a trochu si ho připomenout…
Museo Rosenbach. Už jenom jméno kapely na mě zapůsobilo (a dodnes působí) jak magnet a tak jsem se snažil zjistit jeho původ, ale moc jsem toho nenašel. Ve Philadelphii sice opravdu stojí muzeum, obsahující sbírky a poklady Filipa Rosenbacha a jeho mladšího bratra Abrahama Simona Wolfa Rosenbacha, ale podle mého půjde o zcela smyšlenou postavu bez historických souvislostí. Mládencům se nejspíš zalíbil poetický význam německého slova rosenbach (Růžový potok) a konkrétně mě to aj dost dobře zní.

Skupina vznikla počátkem roku 1971 sloučením lokálně působících souborů La Quinta Strada a Il Sistema. Její původní jméno bylo Inaugurazione del Museo Rosenbach (Slavnostní otevření muzea Rosenbach) a tady bych hledal inspiraci u podobně dlouhejch názvů Premiata Forneria Marconi, nebo Banco del Mutuo Soccorso. Na koncertech hrála předělávky svých vzorů z britských ostrovů (Uriah Heep, King Crimson) doplněné o vlastní skladby a předskakovala třeba kolegům Ricchi e Poveri (budoucí J.E.T.), nebo Delirium. V roce 1972 ji kontaktoval Angelo Vaggi ze společnosti Dischi Ricordi, do jejichž portfolia patřili Banco del Mutuo Soccorso, nebo Reale Accademia di Musica a protože podmínky nabídl slušné, dopadly námluvy mezi oběma stranami na výbornou. Skupina podepsala smlouvu na tři alba, zkrátila si jméno na Museo Rosenbach a během dvou týdnů nahrála debut, kterej vyšel v dubnu 1973.

Někdy stačí jediné album a vstoupíte do dějin. Jako v případě Museo Rosenbach. Ti sice prodělali jistou formu reinkarnace a od roku 2000 vydávají alba Exit, Zarathustra – Live in Studio, Barbarica a naposledy Live in Tokyo, ale většina fanoušků je stejně nosí v srdci v souvislosti s tímto legendárním debutem. Bohužel, úspěch začal sklízet až dávno potom, co se kapela rozpadla…
Starověkou legendou inspirované album Zarathustra je koncepční a první stranu desky tvoří stejnojmenná, dvacet minut dlouhá suita rozdělená do pěti strof. Jednotlivé kapitoly na sebe plynule navazujou a (jakžtakž) identifikovat se dají jen s pomocí textů, ale ono je to vlastně zbytečné. Stejně tvoří jeden, bezvadně fungující celek a je úplně jedno, jestli hraje úvodní Ľultimo uomo, čtvrtá Superuomo a nebo závěrečná Il tempio delle clessidre. Už dokonale vystavěná předehra mě dokáže zhypnotizovat tak, že se nemůžu odlepit z fleku a každou reprodukci absolvuju s otevřenou papulou a zatajeným dechem. Miluju chvějící se tóny božského mellotronu a to nádherné hlavní téma je schopné mě vystřelit až někam do art rockového nebe. Muzika je to sice docela tvrdá, ale zároveň aj neobyčejně chytlavá, přístupná a melodická. Chvilku si jen tak potichounku ševelí, jako listí ve slabém větru a vzápětí mi sebere střechu nad hlavou. Tady nuda rozhodně nehrozí a některá témata, melodie, nebo nápěvy jsou natolik silné, že mi v hlavě rezonují ještě dávno po skončení poslechové seance.
Na straně druhé najdeme tři kratší skladby, navazující na úvodní opus magnum. Degli uomini, s minimem zpěvu a půvabnou classical rockovou pasáží je delikátní, jak to nejjemnější italské cappuccino, ovšem s nástupem palby Della natura se otevřou nebesa a nastane boží dopuštění. To je heavy prog, jak řemen. Alberto Moreno se při jejím komponování pěkně vyřádil a nacpal do ní tolik různejch zvratů, odboček a změn, až mi z toho jde hlava kolem. Ovšem všechno to do sebe zapadá s milimetrovou přesností a během osm a půl minuty dlouhého dobrodružství nezazní jedinej falešnej tón. A v podobném duchu se nese i závěrečná Dell'eterno ritorno. Kapela zařadí ten nejvyšší rychlostní stupeň a v několika ultrarychlých sekvencích si připadám, jak zrnko pšenice v mlýnském soukolí. Monumentální finále nechám odeznít a ještě dlouho po jeho skončení si vychutnávám kouzlo předcházejících okamžiků…
Původní vydání je velice vzácné a tím pádem i nekřesťansky drahé, ale nedávno se objevilo pár novejch reedic. Ta moje je od Flawed Gems a čtyřstránkovej booklet obsahuje sestavu, texty písní, několik fotek a krátkou biografii. Starší vydání prý trpěla špatným zvukem, ovšem tohle hraje výborně a i když je to svým způsobem pirát, nemám nejmenší důvod ho měnit.
SKLADBY:
1. Zarathustra (20:35)
— a. L'ultimo uomo
— b. Il re di ieri
— c. Al di là del bene e del male
— d. Superuomo
— e. Il tempio delle clessidre
2. Degli uomini (4:01)
3. Della natura (8:23)
4. Dell'eterno ritorno (6:12)
SESTAVA:
Giancarlo Golzi – drums, percussion, vocals
Alberto Moreno – bass and piano
Enzo Merogno – guitar, vocals
Pit Corradi – mellotron, Hammond organ, vibraphone, Farfisa electric piano
Stefano Galifi – vocals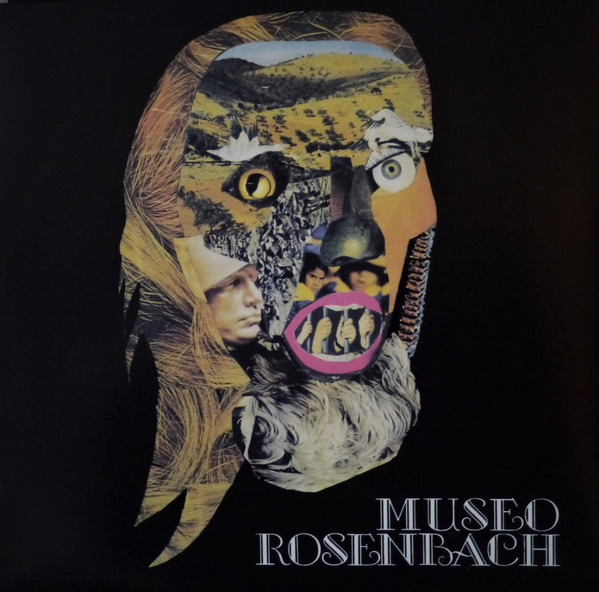 Zarathustra
Museo Rosenbach
Prog Rock
Ricordi
1973
LP
4
CD Flawed Gems ‎– GEM 39 /2010/