"Půl roku po odchodu z Badfinger jsem se v Blakes, vyhlášené rockerské putyce v londýnské čtvrti Chelsea, čirou náhodou sešel s Markem Clarkem (baskytara), starým známým z Liverpoolu. Dali jsme se do řeči a nakonec skončili na malé farmě poblíž Londýna, jejímž majitelem byl Jerry Shirley (bicí), který právě opustil Humble Pie," vzpomíná na zrod superskupiny Natural Gas v květnu 1975 kytarista Joey Molland.
Jediný projamovaný víkend stačil k tomu, aby v trojici uzrálo rozhodnutí dát dohromady novou kapelu. Po zkušebním pobytu na statku v Headley Grange, někdejším chudobinci v East Hampshire, který proslul v šedesátých a sedmdesátých letech jako místo, kde nahrávali Led Zeppelin, Genesis, Bad Company, Fleetwood Mac, Peter Frampton, Pretty Things ad., rozšířili sestavu o klávesistu, kterým se stal David Kaffinetti (ex-Rare Bird).
Už jako Natural Gas (název navrhl Shirley) natočili v Londýně první demo, které ale po A&M Records odmítly i ostatní oslovené společnosti. V září Kaffinettiho nahradil Peter Wood (ex-The Spectrum, The Sutherland Brothers & Quiver) a formace se přesunula do Los Angeles, kde koncem roku 1975 v produkci Malcolma Evanse, někdejšího road manažera Beatles, vznikly další nahrávky, které napomohly k uzavření smlouvy se společností Private Stock Records, založenou Larrym Uttalem, personou s bohatými zkušenostmi v oboru (Madison Records, Bell Records). První hvězdou na jeho nové etiketě byl Frankie Valli, americký hudebník proslulý jako frontman The Four Seasons, pod jehož jménem vyšel v říjnu 1974 singl My Eyes Adored You, který se vyšplhal na samý vrchol Billboard Hot 100.
Kvartet bažil po osvědčené spolupráci s Evansem, pro vysoké finanční požadavky byl ale nakonec jako producent alba odmítnut a projekt dostal na starosti Felix Pappalardi, producent Cream a spoluzakladatel Mountain. Během sedmnácti únorových dnů ve studiu Crystal Sound Recording v Los Angeles spolu připravili materiál na eponymní album, které vyšlo 29. května 1976.
Obsahuje desítku vyrovnaných skladeb, z nichž žádná hitově nevyčnívá, ale ani na sebe neupozorní sníženou kvalitou. Hrozící splynutí v jedno nevýrazné a nudící nic se však nekoná, právě naopak. Mollandovy balady se vhodně doplňují s Clarkovým rockovějším materiálem, oba se podobně zdařile doplňují i ve zpěvu a z celého alba sálá pohoda a trčí lehkost, s jakou se svých partů zhostili všichni členové souboru. Nemohli však být přítomni konečným úpravám ve studiu, o závěrečném mixu měli odlišné představy, kontrakt s Uttalovým labelem tak předčasně vypověděli.
Rozčarování záhy zahnala dohoda s Peterem Framptonem o účasti na jeho letním turné Frampton Comes Alive po USA. Natural Gas zde svá vystoupení končili přídavkem Birthday od Lennona s McCartneym u příležitosti oslavy dvousetletého výročí přijetí Deklarace nezávislosti, a ve druhé polovině srpna se role předkapely úspěšně zhostili také při turné Yes po středozápadě USA.
V listopadu 1976 se ale Wood, Clarke a Shirley přesunuli do New Yorku, zatímco Molland se rozhodl zůstat v Los Angeles, což nakonec vedlo k rozpadu skupiny. Jak o třicet let později přiznal Mark Clarke: "Šli jsme s Joeyem každý úplně jiným směrem, nakonec jsme se spolu už ani nebavili… Dneska už je ale všechno OK, a mluvíme spolu celkem často."
To dvojice Shirley, Wood se zanedlouho znovu objevila bok po boku, tentokrát pod značkou Magnet (album Worldwide Attraction, 1979) s Lesem Nicolem (kytara), Michaelem Nevillem (baskytara) a prvotřídním americkým pěvcem Robertem Jamesem, jehož možno slyšet na dvou výborných albech Montrose.
Následně Shirley se Stevem Marriottem obnovil Humble Pie (alba On to Victory, 1980 a Go For The Throat, 1981), v roce 1983 nastoupil k Fastway (alba Fastway, 1983 a All Fired Up, 1984) a jako jediný původní člen Humble Pie se podílel i na dalším, bezmála deset let trvajícím reunionu kapely. V srpnu 1999 se vážně zranil při autonehodě a po zotavení se vrátil do Londýna, kde v roce 2000 pro koncerty v Británii a západní Evropě znovu zreformoval Humble Pie (album Back On Track, 2002). Krátce působil také v Bandu mladší sestry legendárního bubeníka Deborah Bonham.
Peter Wood spolupracoval s celou řadou známých jmen (Al Stewart, Graham Parker, Julian Lennon, Tommy Shaw, Cyndi Lauper), nahrával s kapelou Rivits (album Multiplay, 1980), Lou Reed Bandem (album New Sensations, 1984) a s kytaristou Snowym Whitem byli jedinými, kteří působili v podpůrné kapele koncertního ztvárnění projektu The Wall v roce 1980, a kteří se také zúčastnili i jeho berlínského provedení o 10 let později!
Peter Wood, spoluautor nesmrtelné Year of the Cat, zemřel v prosinci 1993.
Mark Clarke to neúspěšně zkusil u Rainbow (vyhozen Blackmorem během nahrávání alba Long Live Rock'n'Roll), spolupracoval s Billym Squierem (album Don't Say No, 1981), Davym Jonesem (The Monkees) a Ianem Hunterem (Mott The Hoople), opakovaně vystupoval s Mountain (1985 a 2003) a podílel se na reunionu legendy Colosseum (alba LiveS: The Reunion Concerts, 1994, Bread & Circuses, 1997, Tomorrow's Blues, 2003 a Live 05, 2007), s níž opakovaně vystoupil i v České republice. V listopadu 2010 vydal první sólové album s názvem Moving To The Moon.
Joey Molland s Tomem Evansem v roce 1978 zreformovali Badfinger a kapelu udržovali v chodu i přes řadu personálních změn (alba Airwaves, 1979, Say No More, 1981). Po vydání druhého z těchto alb však oba shromáždili vlastní verzi Badfinger a absolvovali konkurenční turné (k Evansovi se v prosinci 1981 přidal Mike Gibbins, původní bubeník Badfinger).
V roce 1983 vydal Molland první sólové album After The Pearl, ale od srpna 1984 je většina jeho kariéry znovu spojena s rozličnými formacemi vystupujícími jako Joey Molland's Badfinger, v období 1984-87 dokonce s Gibbinsem v sestavě (při několika koncertech v roce 1987 ho zastoupil Jerry Shirley!). Příležitostně se podílel i na vedlejších projektech (Molly & The Heymakers, Sandwiches, Litter, R.A.Z.) a natáčel další sólová alba (The Pilgrim, 1992, This Way Up, 2001).
Nyní žije v Minnesotě a čas od času se s týmem Badfinger vydá na kratší pouť, kterou si 10. srpna 2010 zpestřil vystoupením v newyorském bluesovém klubu B.B. Kinga s Jackem Brucem. V srpnu 2011 se na trhu objevila Mollandova biografie Badfinger and Beyond, jejímž autorem je novinář Michael A. Cimino.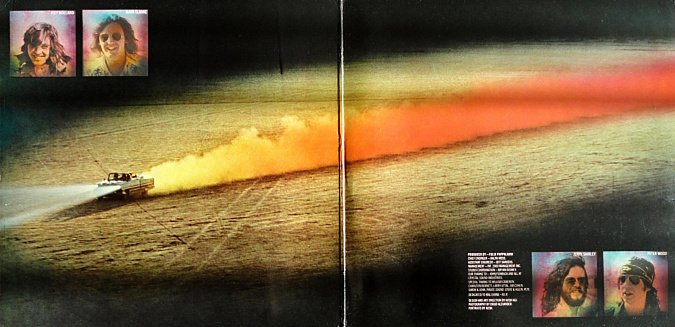 Společnost Private Stock Records skončila v roce 1978, když se Larry Uttal přestěhoval do Londýna, kde o několik let později zemřel. Jeho syn Jai sice vlastní práva na celý katalog firmy, ale nemá přístup k originálním pásům, které po dlouhodobém neplacení účtů za jejich skladování skončily v aukci.
Čas od času se přesto některý z titulů objeví na CD, v případě alba Natural Gas se tak stalo v roce 2009. Jeho vydání se ujal label Renaissance Records, založený v roce 1993 bývalým leteckým inženýrem Johnem W. Edwardsem. Těžko říci, zda se dostal k některým vydraženým materiálům, kvalita finálního produktu tomu ale nenapovídá. A tristní dojem nemohou napravit ani tři demo-bonusy, resp. jejich výběr, ani provedení bookletu – nekvalitní sken originálního přebalu LP znečitelnil nejenom všechny informace, ale dokonce samotné logo kapely na jeho přední straně.
Alternativu v podobě pečlivě remasterované verze (z původní předlohy a s požehnáním Clarkea & spol.) nabízí e-label It'sAboutMusic.com, on-line distribuční a vydavatelská společnost, založená v roce 1999 Deanem Sciarrou, hudebním publicistou a někdejším šéfem nezávislé nahrávací společnosti 7Records.
DISKOGRAFIE:
1976 – Natural Gas (Private Stock Records)