Nie vždy je chuť na rockovú smršť a drvivý útok na ušné laloky. Stáva sa mi to často a moje brázdenie medzi hudobnými revírmi je ako chytanie vodných živočíchov s chytaním orla skalného. Chcem tým vyjadriť tú siahodlhú vzdialenosť od nekonečna k nekonečnu. Každý z nás má dve nekonečná a keď to nechápete, pochopíte rokmi a starobou. Odťiaľ-potiaľ, odkadiaľ-tadiaľ až po hentadiaľ…
Rockovicoví ortodoxní nadšenci mi ukážu určite jeden prst z pätice, lenže dnes som dostal slinu na iný hudobný žáner. Pesničkárstvo. Napadá ma hneď americké duo Simon & Garfunkel. Kto sa odváži povedať, že neboli svojím spôsobom priekopníci rockovej muziky? Veľa skladieb je jednoduchých, melodických, ale spústa má rockové podhubie a rytmy za ktoré by sa nemusela hanbiť žiadna rocková kapela. A o ich baladách ani nebudem rozprávať.
Na našej polovici vyrástol na konci 60-tych a na začiatku 70-tych rokov samorast, ktorý je nevídaným zjavom v hudobnom svete. Steven Demetre Georgiou sa narodil 21. júla 1948 v Londýne.(jeho otec bol Cyperčan) Jeho pôvodné meno zrejme nikomu nič nepovie. Hudobné umelecké meno však svieti od prelomu šestesiatych-sedemdesiatych rokov zlatými písmenami v histórii a zápis do Rockenrolovej siene slávy v roku 2014 nesie jeho meno: Cat Stevens (druhé meno po konvertovaní na islam je Yusuf Islam).
Neviem čo je viac. Skladateľský talent? Spevácky výraz, alebo jeho perfektné zvládnutie nástrojov, na ktorých sa doprevádza? Rozhodnite sa ako chcete, pre mňa je to výnimočná muzikálna osobnosť a mám rád jeho piesne. Skoro všetky, ktoré poznám a to je vec neslýchaná a sám sa tomu divím. V čom je to a kde je pes zakopaný? Fakt neviem. Nebudem tu riešiť jeho prechod na islam, je mi to jedno a zaujíma ma jeho hudba. Názory na svet a dianie okolo nás sú vecou každého jednotlivca a basta.
Cat Stevens vydal v roku 1970 dve LP platne a teraz ma zaujíma jeho štvrtá v poradí Tea for the Tillerman. Ako u Cat Stevensa bolo zvykom platňa bola vydaná s obalom, kde kraľovala jeho vlastná maliarska zručnosť. Samotná hudba bola ako vždy jednoduchá pesničková koláž ľúbivých melódií s minimalistickým doprovodom hudobných nástrojov. Na albume bolo niekoľko hitov a skladba Wild world sa neskoršie objavovala v mnohých cover verziách. Za úspech prelomového albumu môže aj gitarista Alun Davies, ktorý s Catom Stevensom hrával. Jeho gitara sa stala charakteristickým prvkom v Catovej tvorbe a pridával aj vokály. Významný posun v zvukomalebnom podaní piesní je aj jeho zásluhou a bez neho by zrejme Cat Stevens nikdy nedosiahol tak závratný úspech. Prvé piesne tejto dvojice sa už objavili na albume Mona Bone Jakon, ktorý vyšiel tesne pred Tea for the Tillerman v tom istom roku. O 50 rokov neskôr Cat Stevens vydal uvedenú LP platňu znovu. Obsahuje tie isté piesne, ale v nových úpravách a nazval ju Tea for the Tillerman². Texty Cata Stevensa sú tiež výnimočné a dobré, odzrkadľujú citovú a duševnú podobu 70-tych rokov, sú veľakrát o otázkach spoločného života ľudí, o prírode a iných dôležitých veciach, ktoré sú aj dnes aktuálne. V čase Tea for fhe Tillerman mal Cat Stevens len 22 rokov.
Nielen hudba na dvojke je iná, novodobá. Aj pôvodná kresba na obale albumu nabrala na modernosti. Sediaci kormidelník sa zmenil na kozmonauta a dve stromové deti Gragy a Timmy tentoktrát zvierajú v rukách mobily. Ako inak?
Tea For The Tillerman²
1. Where Do The Children Play?
Nové vydanie vzniklo na základe rozhovoru Cata Stevensa s jeho synom. Bol oslovený Sam Samwell-Smith (produkoval aj Rennaisance), pôvodný producenť a na nahrávanie bolo zvolené francúzske štúdio Les Studios de la Fabrique, bývalá farbiareň súkna a látok. Štúdio je blízko mestečka Saint-Rémy-de-Provence (10 000 obyv.), kde maľoval svoje obrazy aj Vincent vanGogh. Tam sa naše "staré deti" hrali a vytvorili peknú slávnostnú edíciu nezabudnuteľného Čaju pre Tillermana/kormidelníka. Album tiež stále volám poloslovensky/poloanglicky. Ten slovenský kormidelník mi dáko nesedí. Pôvodná nahrávka Kde sa deti hrajú je citlivá, jemná pieseň s decentným a pokojno/dramatickým hudobným doprovodom. Navodzuje absolútnu pokojnú atmosféru, ktorá časom vygraduje a zmohutnie. Nová je hneď od prvého tónu kláves Pete Vetesseho iná, živšia v modernom a priesvitnom šate krásne nahraných a detailne prepracovaných vychytávok. Výborná úprava. Palec hore.
2. Hard Headed Woman
Pôvodná nahrávka je znovu pomalá, citlivá pieseň, do ktorej sa neskôr vnorí sláčikový orchester. Nová prináša nový zvuk, akustika sa viacmenej premenila do elektrických gitár, razancia bicích a dravosť celej sprievodnej kapely posúva skladbu do inej dimenzie. Sláčiky ostali, ale sú iba nenápadným doplnkom.
3. Wild World
Najznámejšia Stevensova skladba je totálne prerobená a tu som prvýkrát na pochybách. Asi by som takú úpravu nikdy nečakal a neviem sa s týmto svetom duševne vysporiadať. Barová melódia s reggae tanečnou úpravou mi naháňa strach už len pri pomyslení na opätovné počutie. Asi tento moderný kúsok nemám rád a nikdy ho mať nebudem. Palec dole.
4. Sad Lisa
Táto pieseň je však iná káva. Mám rád od prvého tónu starú aj novú a Cat po 50-tych rokoch má výborný prejav. Je tam cítiť všetko, život, slasti, túžby, sklamania. Klavírny a klávesový doprovod mi hovorí z duše. Dojímavá skladba s krásnym preludovaním v medzihre medzi slohami.
5. Miles From Nowhere
Akustická gitara v pôvodnej verzii je skrytá v tajomnom úvode novej nahrávky. Skladby sa však veľmi nelíšia v rockovom podaní, keď doprovodná kapela sa odváži k rezkému doprovodu. Tu nemá význam presne popisovať rozdiely, jednoducho iný zvuk. Ten prvý "drastickejší", ten druhý uhladenejší, modernejší, viac detailný a s viac nástrojmi.
6. But I Might Die Tonight
Hĺbavá, zadumčivá melódia nestráca ani v novom podaní svoju clivosť. Mimovoľne navodzuje melódiu z Egypta, Líbie, blízkeho Východu. Asi vplyv Yusufovského vnímania hudby. To na pôvodnej verzii nie je a skladba zo 70-teho je jednoducho v zvukovej úprave, akú Cat používal v tej dobe zrejme lepšia. Druhá "nová" pieseň, ktorá ponúka iný pohľad na starú vec.
7. Longer Boats
Dlhé člny sa mi páčili vždy. Cítil som v nich niečo čarovné a vzdialené. Pieseň na mňa pôsobila vždy optimisticky a odhodlane. Neviem či to bolo zborovým vokálom, alebo iba atmosférou. Jednoduché vyhrávky dvoch akustických gitár v úvode skladby ma vždy naštartovali a vždy som vnímal krásu skladby. Novodobka je jemná, odhodlanosť je preč, spev jemný a iný, rozcítený. Zborový spev ostal, je nahraný s väčšou stereobázou, pridaný "trápny" rapovací efekt / pokec ma prekvapí a ja krútim hlavou. Škoda, mne sa toto vôbec nepáči. Načo to bolo dobré, veď starček nemá energiu osloviť rapujúcu mládež.
8. Into White
Tento Cat sa mi páči. Ako predtým. Škoda, že sme obaja starší o 50-siat rokov. Nádhera. Vraciam sa znovu do mladých liet a vidím sa sedieť pri monofónnom magneťáku a počúvam Tea for the Tillerman.
9. On The Road To Findout
Nová úprava v bluesovo-reggae úprave. Trošku nezvyklý zvuk s ukážkou hudobnej zručnosti sprievodných muzikantov. Zaujímavé počúvanie a človek nevie čo si má všímať viac. Gitaru, klávesy, bicie, spev?
10. Fathter & Son
Otec a syn, večná téma a večný problém, radosť, láska, prieky, učenie a rady staršieho mladšiemu a naopak. Skvelá a nádherná pieseň. Cat Stevens vyriešil vokálne party otca a syna jednoducho. Pre hlas syna na novej verzii použil svoju koncertnú nahrávku z roku 1970. Nápad bezkokurenčne najlepší na celej novotine/starine.
11. Tea For The Tillerman
Záverečný čaj si za minútku každý rád vypije. Je to len podľa môjho názoru bodka, kvôli názvu albumu, teraz a aj pred polstoročím.
Brána pre Yusuf/Cat Steven's Tea for the Tillerman 2 zobrazuje všetkých, ktorí sa podieľajú na albume) zľava-doprava Kwame Yeboah, Alun Davies, Bruce Lynch, Yusuf/Cat Stevens, Paul Samwell-Smith, Peter Vettese, Eric Appapoulay, Jim Cregan a David Hefti – v prostredí, ktoré sa zaoberá jedinečným príbehom hudby. Autor fotografie Rhys Fagan.
Remake najpodstatnejšieho albumu Cata Stevensa je počinom, ktorý dá podnet na vypočutie si jeho starej tvorby ak na to máte náladu. Posun do ľúbivejšej a modernejšej polohy je pekným príkladom nového pohľadu umelca, ktorý aj po sedemdesiatke je ešte stále hudobne činný. Nedá sa prekročiť svoj vlastný tieň a zrejme to ani nebol zámer tohto albumu číslo 2. Čosi sa podarilo, niečo je skôr hľadaním a nenájdením patričnej kvality. Moje počúvanie tejto dosky/dvojky už môžem narátať v dvojcifernom čísle a určite sa blíži k číslu 30. Pustím si ho častejšie ako pôvodnú originálnu nahrávku a vždy porovnávam obe vydania. Neviem, prečo mi Cat Stevens /Yusuf toto urobil a nasadil chrobáka do hlavy, tento rébus asi nemá víťaza. Moje hodnotenie: 3 hviezdičky z 5.
ZOSTAVA:
Cat Stevens – spev, gitary, klavír
Alun Davies – akustická gitara, vokály
Eric Appapoulay – gitara
Jim Cregan – gitara
Bruce Lynch – basgitara, vokály
Peter John Vetesse – klavír, klávesy, organ
Kwame Yeboah – perkusie, bicie
Brother Ali – rap
David Hefti – zvuk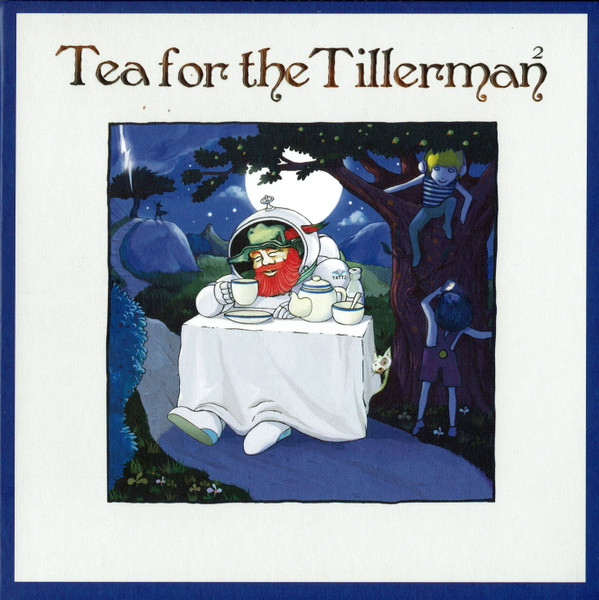 Tea For The Tillerman²
0602508395086
Cat Stevens / Yusuf
Rock, Folk Rock
Island Records, Cat-O-Log Records, UMC
2020
LP
11
LP - Cat-O-Log Records, Island Records /2020/