Ubehli už vyše tri roky, odkedy koncom jari 2018 u nás prvýkrát vystúpila losangeleská hardrocková partička Little Caesar. Pôvodne sa mali vrátiť na pódium v Múzeu obchodu v Podunajských Biskupiciach minulý rok, avšak osud to chcel inak a turné sa posunulo o rok. Našťastie, ich tohtoročné európske turné sa podarilo uskutočniť a tak 28. septembra 2021 ich (nielen) slovenskí fanúšikovia mohli vidieť opäť naživo.
Tento rok som mal možnosť vidieť Tublatanku na Trenčianskom hrade a Billy Cobham Quartet s rozhlasovým big bandom v Cvernovke, ale tí sa, pri všetkej úcte, na Little Caesar nechytajú, pretože Malý Cézar je moja srdcovka.
Rock v múzeu
"Rock v múzeu" je veľmi zaujímavý koncept a na naše pomery jedinečný. Za tie roky si zjavne našiel svoju vernú klientelu, keďže sa sem kapely z celého sveta rady vracajú. Stan (v zime vyhrievaný) s kapacitou cca 100 miest na sedenie má intímnu, klubovú atmosféru. Nemá žiadne zákulisie, ani bočný vchod a kapely sa tak doslova predierajú popri divákoch na pódium. A kde inde máte hneď vedľa pódia krčmu s výčapom?
Prvýkrát som do Múzea obchodu zavítal v januári 2018, kedy som mal (po rokoch chodenia do Prahy) možnosť konečne vidieť mojich obľúbencov Rhino Bucket v mojej domovine. Tí sú inak zhodou okolností tiež z Los Angeles. A riaditeľ múzea Marcel Juck, ktorý koncerty uvádza, vtedy hlásil, že majú prvýkrát v histórii vypredané. Niet divu, pretože podľa mojej mienky na koncerty chodia zväčša lokáli, ktorí si tak spestrujú návštevu krčmy, a potom už len zarytí fanúšikovia kapiel, ktoré vystupujú.
Na koncerte tak veľmi často počuť hlavne návštevníkov z Maďarska a včera som dokonca zachytil aj Poliakov. Na jednu stranu je smutné, že Slováci nemajú moc záujem, na druhú je však dobré, že verní fanúšikovia zo zahraničia sú ochotní cestovať do Bratislavy a prispievajú k zaplneniu hľadiska a dobrej atmosfére. A nemožno opomenúť aj veľmi dobré nazvučenie, ktoré zabezpečujú páni svojho remesla.
Little Caesar
Skupina Little Caesar vznikla koncom 80. rokov v LA a patrí k poslednej vlne amerických hardrockových kapiel, predtým než celú scénu spláchlo káro zo Seattlu. Ich súputníkmi boli kapely ako už spomínaní Rhino Bucket, či Junkyard a The Four Horsemen. Tieto kapely sú často hádzané do vreca s názvom "hair metal", ale nikdy k nemu hudobne nepatrili, keďže hrali zemitý rock a viac ako na imidži si zakladali na hudbe a muzikantstve samotnom. Malí Cézari (názov kapely je inšpirovaný rovnomenným filmom z 30. rokov) mali síce imidž drsných motorkárov, ale líšili sa najmä tým, že ich hard rock bol ovplyvnený soulom a R&B.
Priemernému fanúšikovi môžu byť známi vďaka singlu z ich prvého albumu s názvom Chain of Fools, ktorý je cover verziou originálu od Arethy Franklin. Bohužiaľ napriek rastúcej popularite ich videa na MTV, nebolo v tej dobe možné ich debutový album nikde kúpiť, kvôli sporom medzi manažmentom kapely a ich vydavateľstvom, a krátko po nahraní druhého albumu sa kapela rozpadla. Koncom milénia sa zreformovali a s malými prestávkami koncertujú a vydávajú albumy až dodnes.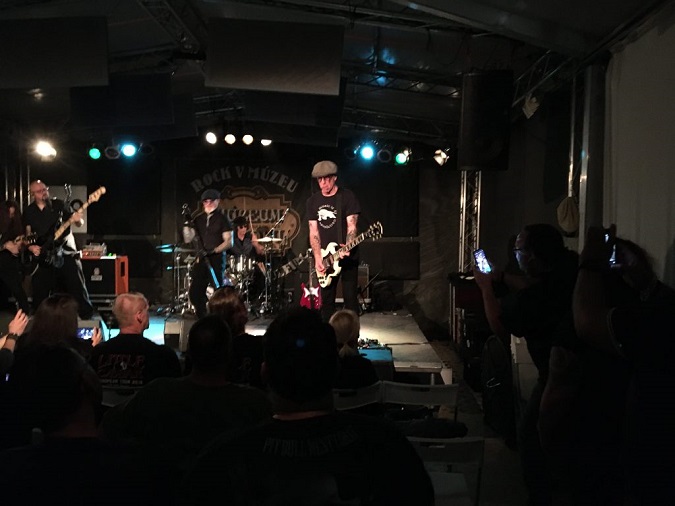 V kapele stále pôsobia traja originálni členovia – spevák Ron Young, gitarista Loren Molinaire a bubeník Tom Morris. Ten však toto turné nemohol absolvovať a na bubeníckej stoličke ho zastúpil jeho kamarát Brian Irving a musím povedať, že napriek tomu že mal len štyri týždne, aby sa naučil repertoár, tak mu to šliapalo parádne. Zaujímavosťou je, že hrá na bicích francúzskej značky ASBA, s ktorou sa človek len tak ľahko nestretne. Zvyšnými členmi kapely sú basák Pharoah Barrett (istú dobu hral v nechválne známej kapele The Four Horsemen, kde sa stretol aj s Ronom Youngom) a gitarista Mark Tremalgia.
Koncert
Ale prejdime ku koncertu samotnému. Brány areálu sa otvorili o pol siedmej, a aj keď to tak zo začiatku nevyzeralo, krátko po pol ôsmej už bolo plno a koncert sa mohol začať! Little Caesar odpálili set songom Drive it Home a od toho momentu to bola parádna jazda! Publikum po každom čísle nadšene tlieskalo a Ron Young s ním majstrovsky narábal, ako sa na správneho frontmana patrí. Medzi songami strúhal vtipné komentáre a viackrát spomenul, ako im vystupovanie naživo veľmi chýbalo. Úsmevov bolo veľa nielen v hľadisku, ale aj na pódiu a bolo vidno, že si to kapela strašne užíva. Podľa môjho názoru Ron Young spieval ešte lepšie ako pred troma rokmi. Raz darmo, sú to páni muzikanti a za tie roky ich už nič nerozhádže. Ani hučiaci poťák na Les Paule Marka Tremalgiu, ktorý bolo počuť počas "ticha" medzi hudobnými číslami. Aj to Ron Young majstrovsky obrátil na vtip a diváci sa mohli smiechom potrhať. Záverečná medley Every Picture Tells a Story / Happy – kombinácia čísiel od Roda Stewarta a The Rolling Stones, s frenetickým zvyšovaním tempa na konci, bola patričným vyvrcholením celého večera.
Celý koncert trval niečo vyše 90 minút a ponúkol set 15 piesní, plus dva prídavky. Skoro polovica z nich bola z debutového albumu Little Caesar (1990), čo nie je na škodu, keďže ten je preplnený vypaľovačkami. Zvyšok ponúkal zastúpenie z každého albumu, pričom prím hrali štúdiovky Redemption (2010) a Eight (2018) s tromi kúskami. Zastúpenie malo dokonca aj prvé EP, ktoré vydali v roku 1989.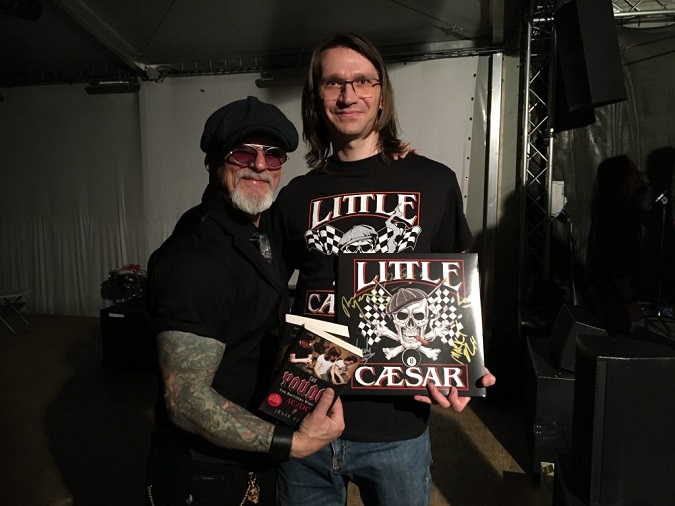 Balíme
Po koncerte nasledovalo tradičné podpisovanie a fotenie, po ktorom začala kapela baliť. A ako to už v Múzeu býva dobrým zvykom, viacerí diváci sami od seba podali pomocnú ruku kapele a zvukárom. Ako poznamenal riaditeľ múzea, neveriacky hľadiac, ale už za tie roky zvyknutý: "Kde inde pomáhajú diváci kapele nosiť aparatúru?" Aj to patrí k čaru Múzea obchodu.
Pár slov som stihol prehodiť aj s členmi kapely, a Ron Young mi potvrdil, že na budúci rok plánujú návrat. Posledné podanie rúk na rozlúčku a vidíme sa o rok! S vodičom a "dievčaťom pre všetko" z koncertnej agentúry Maxom už v januári, na koncerte Rhino Bucket.
Setlist
1. Drive It Home
2. Rock-N-Roll State Of Mind
3. Wrong Side of the Tracks
4. Hard Times
5. Same Old Story
6. Ballad of Johnny
7. Chain of Fools
8. I Wish It Would Rain
9. Tastes Good to Me
10. Down-N-Dirty
11. In Your Arms
12. Hard Rock Hell
13. Straight Shooter
14. Real Rock Drive
15. Mama Tried
16. Vegas
17. Every Picture Tells a Story / Happy
Ron Young – spev
Loren Molinaire – gitara
Mark Tremalgia – gitara
Pharoah Barrett – basa
Brian Irving – bicie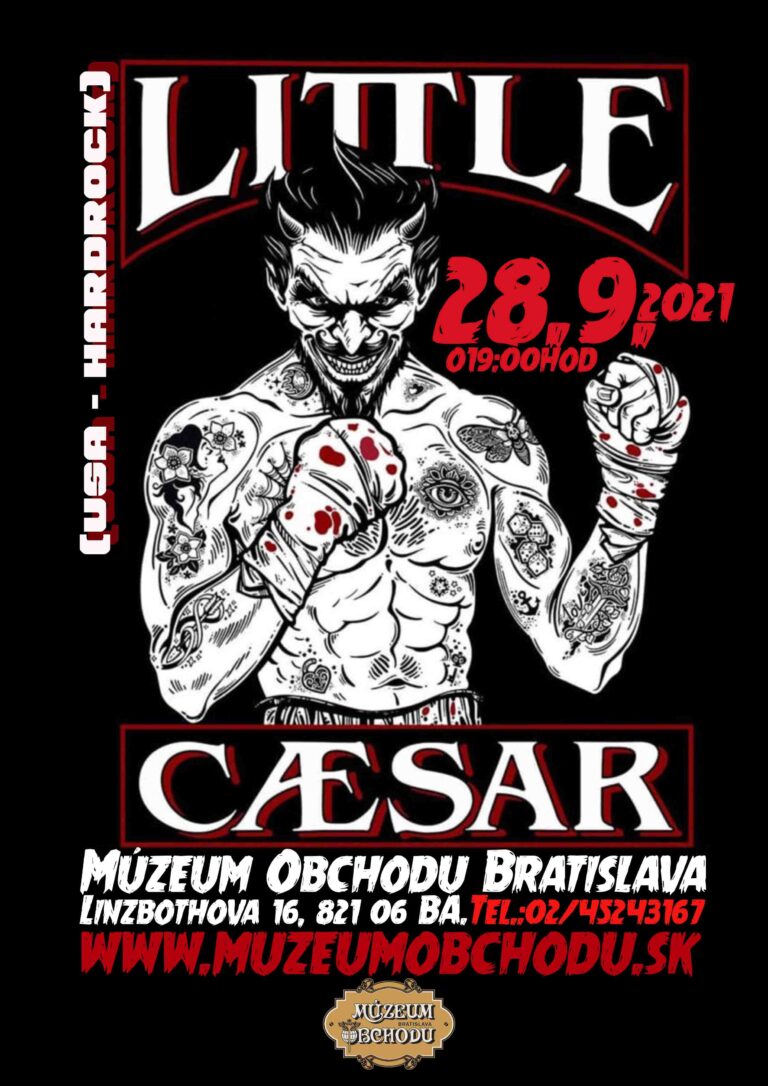 Múzeum obchodu Bratislava (28.9.2021)
Little Caesar
Hard rock
2021
17