"… Decca zjistila, že v Americe působí obskurní R&B skupina Genesis a trvala na tom, že King musí kapele najít jiný název. Ten ale odmítl, protože název skupiny těsně souvisel s obsahem natočeného alba. Našel ale kompromis, na obalu se objevil jen jeho název From Genesis To Revelation, žádné jméno skupiny…", tolik z biografie britských Genesis (Dave Bowler & Bryan Dray: Genesis – A Biography).
Příběh jejich amerických předchůdců se začal psát v Los Angeles po rozpadu souboru The Sons of Adam v červnu 1967. Zatímco kytarista Randy Holden to vzal přes The Other Half k Blue Cheer, dvojici Joe Kooken (zde jako Jack Ttanna – kytara, zpěv) a Mike Port (baskytara) padla do oka Sue Richmanová, lepá děva ze Sunset Strip. V srpnu se k nim přidali Bob 'Crusher' Metke, bubeník z formace Rain, a Kent Henry, kytarista z kapely The Pacific Ocean Eddieho Jamese, jenž jako Edward James Olmos uspěje ve filmovém světě.
Jack Ttanna: "Bylo zřejmé, že oba jsou lepší než jejich kapely a hlavně byli připraveni posunout se dál."
Než se tak stalo, odešel basista Port, jenž koncem roku neustál období nekonečných zkoušek a nejisté budoucnosti. Jeho post obsadil Fred 'Foxey' Rivera, Henryho ex-parťák z The Pacific Ocean, s nímž se začalo blýskat na lepší časy. Příznivé ohlasy na četná vystoupení na západním pobřeží přinesly vedle místní popularity i vysněnou smlouvu s Mercury Records.
Na pilotní singl bylo vybráno duo Angeline a Suzanne, jež ve stejném pořadí zahajovalo i program na albu In The Beginning s přebalem dyzajnéra Johna Cabalky (mj. H. P. Lovecraft, Gary Wright, Deep Purple). Jednotlivé strany LP byly příhodně označeny Book One a Book Two a kapela v nich s notnou dávkou ryzího muzikantství místo odpovědí na otázky bytí a všehomíra nabízí dobový kalifornský koktejl, k jehož přípravě využila jak zemité hardrockové pasáže a řízné kytary, tak zpěvné melodie a vícehlasé vokály, jež dají vyniknout šarmu Sue Richmanové.
Mezi nejlahodnější ingredience řadím táhlou rockovici Angeline, snovou baladu s flétnou Girl Who Never Was, 16minutový majstrštyk World Without You se skvěle vystavěným kytarovým sólem a umně upravenou Gloomy Sunday, kontroverzní skladbu s bohatou historií*.
Avšak úspěch se v nabitém revolučním roce nedostavil. Jako první hází ručník do ringu Rivera, jehož nástupce Jimmy Chappell na přelomu let 1968/69 s kapelou absolvoval krátké klubové turné po Státech, jež firma podpořila vydáním druhého singlu s albovými kousky Gloomy Sunday/What It's All About. Mizivý ohlas si ale začal vybírat svou daň v podobě interních půtek, které nezarazilo ani natáčení atmosférického Ttannova songu Long Road. Na jaře 1969 byl s původními Genesis amen.
Nová skladba se ještě toho roku objevila ve společnosti zvučných jmen (mj. The Byrds, Animals, Jefferson Airplane, Beatles, Hendrix) na atraktivní kompilaci First Vibration vydané hollywoodskou nadací Do It Now bojující proti užívání drog a alkoholismu.
V Evropě vyšlo přehlížené album In The Beginning i první singl s Cohenovou Suzanne pouze v Holandsku, snad jako důsledek celosvětově největšího úspěchu titulu Songs of Leonard Cohen v zemi tulipánů a větrných mlýnů (#4 v Dutch Charts, kde se udrží 13 týdnů). I tam však doplácelo na kolizi názvu s britskou formací, jejíž reedice debutového alba navíc leckde vycházely pod názvem In The Beginning…
Z příštích aktivit na hudebním poli třeba zmínit působení Kenta Henryho v Charity (Now, 1969), The Blues Image (Red White & Blues Image, 1970) a Steppenwolf (For Ladies Only, 1971) i jeho podíl na sólových albech Johna Kaye (Forgotten Songs & Unsung Heroes, 1972 a My Sportin' Life, 1973) a na vyhlášeném projektu Lord Sutch & His Heavy Friends (1970), kde si svoje odbouchal i Bob Metke. V osmdesátých letech se Henry usadil v oregonském Portlandu, hrál v místních kapelách (Paul deLay Blues Band, Sludge Bros, Loose Talk) a pracoval jako kytarový technik. Zemřel 18. 3. 2009.
Sue Richmanová si hojně zapěla na albech z přelomu sedmé a osmé dekády (Exile – All There Is, Thieves – Yucatan, Suzi Quatro – Rock Hard, Savoy Brown – Rock'n'Roll Warriors, Indigo – Indigo) a Jack Ttanna se chopil role road manažera Canned Heat, autorsky přispěl na jejich album Human Condition (1978) a jako studiový hráč drahně let spolupracoval s producentem Richardem Perrym (Ringo Starr, Art Garfunkel, Ray Charles…). Sporadicky vystupoval se svým Bandem a v březnu 2017 překvapil retrospektivní kolekcí I'm Back and I'm Proud s 11 bluesrockovými čísly a hláškou: "Nedávno jsem slyšel záznam koncertu našich Genesis z Avalon Ballroom v San Franciscu a znělo mi to ještě líp než nahrávka na albu. Ale nejsem si jistý, jestli to vůbec někdy vyjde."
Čas ukáže. Podle všeho se ale zatím ani album In The Beginning nedočkalo oficiální reedice, zatímco většina pirátských vydání ho nabízí i s bonusem Long Road.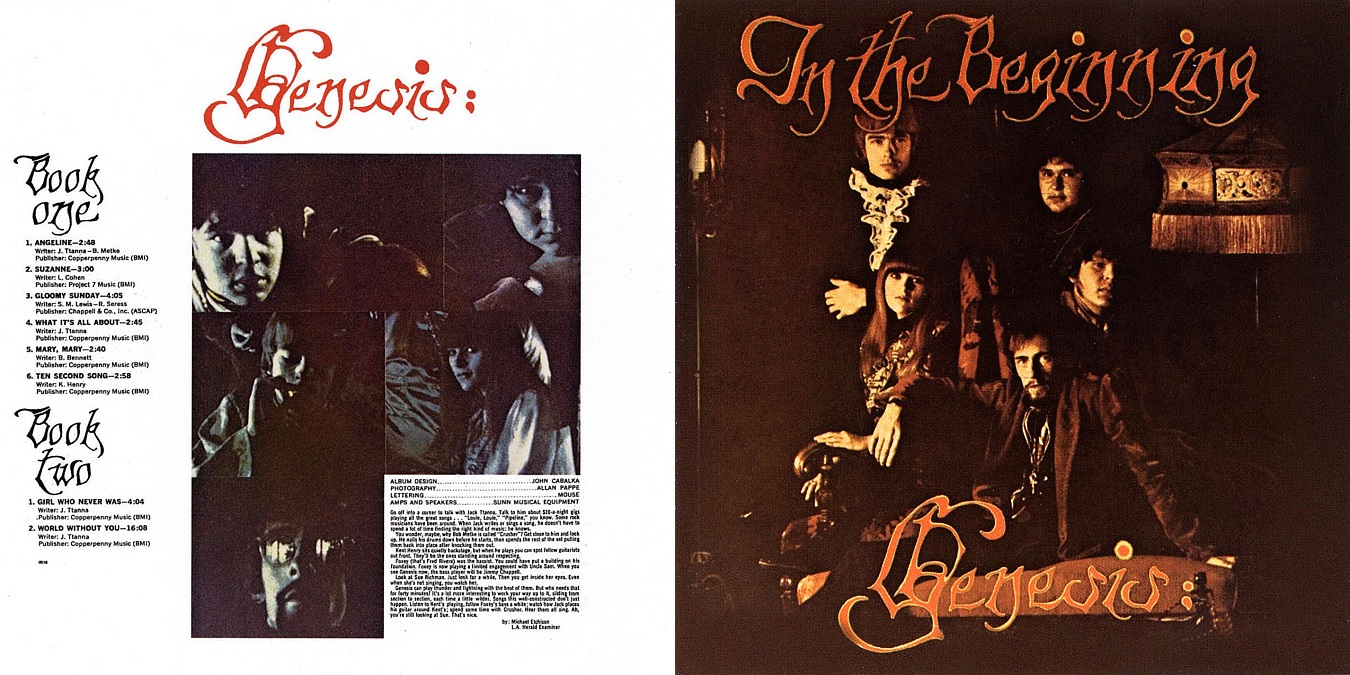 DISKOGRAFIE:
1968 – Angeline/Suzanne (SP, Mercury Records)
1968 – In The Beginning (LP, Mercury Records)
1968 – Gloomy Sunday/What It's All About (SP, Mercury Records)
* Originální verze skladby Gloomy Sunday z roku 1933 od maďarského skladatele Rezsőa Seresse aspiruje na titul nejdepresivnější hudební dílo všech dob. Pověsti s ní spojené jí vysloužily přívlastek hymna sebevrahů a leckde jí vystavili stopku (na BBC zakázána v letech 1941 – 2002), přesto vzniklo přes 80 cover verzí (Billie Holyday, Ray Charles, Sinéad O'Connor, Björk) a byl natočen i film (Smutná neděle – Píseň o lásce a smrti, 1999).
Dobře vím, že hudba je mocná čarodějka, avšak o existenci kombinace tónů, které člověka doženou k sebevraždě, si myslím svoje. Pokud náhodou na podobné dílo natrefím, upřednostňuju vypnutí přehrávače. Jak ale skončil život autora Gloomy Sunday asi není těžké odhadnout…
Poznámka: O Genesis nebyla nouze ani v Jižní Americe; v Uruguayi a Kolumbii kapely toho názvu vydaly několik alb v první polovině sedmdesátých let minulého století.