Německá skupina Hoelderlin je sice často škatulkovaná pod krautrock (na progarchives zase pod prog folk), mnohem blíže však měla k anglickým skupinám typu gabrielovských Genesis, kterými se mimochodem inspirovala. Inspirovala, nikoli napodobovala. Na to byli členové téhle kapely příliš schopní a dobří.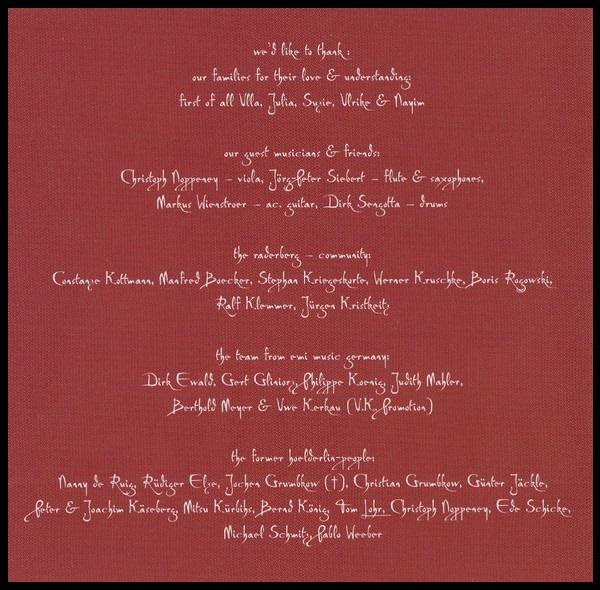 Nicméně je tak velice kuriózním a úsměvným paradoxem, že nejoriginálnější alba této kapely jsou první a poslední. Řada skupin to má přesně naopak. Přemýšlel jsem, jaké album vybrat pro recenzi. Kromě dvou alb z let 1979 a 1981 všechna stojí za pozornost, včetně vynikajícího koncertu z roku 1978, kde ještě nenajdeme ani zrníčko stopy po laciném popíku, který vystrčil růžky na studiovém albu z následujícího roku. Daný živák je koneckonců považovaný za vrchol tvorby skupiny.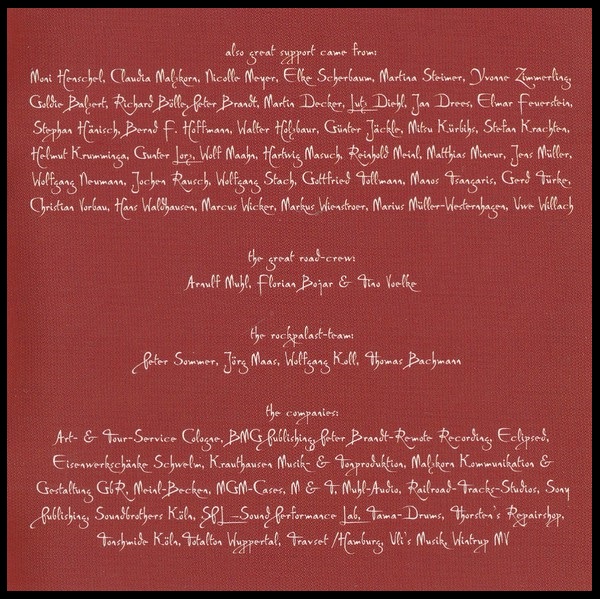 Nakonec jsem si vybral jejich poslední (zatím?) studiové album 8  z roku 2007. Předcházející studiová hrůza (hudební, nikoli textová) vyšla v roce 1981 a nedivím se, že to tehdy kapela zabalila. Ovšem to, s čím kapela přišla na tomto albu, mně už v době jeho vydání vyrazilo dech. Po popíku ani stopy. Po napodobování své slavné artrockové minulosti, aby nostalgické fanoušky podrbala pod bradou, ani stopy. Přesto nám kapela naservírovala hodinu melodické hudby, ve které mi trochu chybí mohutnější zvuk kláves, zato si ale užijeme dost houslí a ženského zpěvu. Housle a zpěv jsou naservírované hudebnicí s jednoduše vyslovitelným jménem Ann-Yi Eötvös.
Už první dvě skladby mají silnou melodii. Nicméně máte trochu pocit, že to zní na tuhle kapelu tak nějak rádiově všedně. S třetí kompozicí You se ale vše mění. Jako byste po opalování skočili šipkou z útesu do hlubokých, intimních mořských vod, kde medúzy emocí vás žahají ze všech stran. Možná trochu blbý příměr, ale takovýhle obrázek mi vytanul na mysli, když jsem si nedávno album po dlouhé době pustil. Devítiminutovou skladbu You považuju za nejlepší kompozici, kterou tahle kapela za celou dobu své existence vytvořila. Zní to jako tak trochu melancholický šanson, tak trochu filmová hudba, prostě se to musí slyšet. Tohle je hudba na soustředěný poslech, nikoli jako zvuková kulisa k čemukoli. Následující skladby, zejména Forget me now a On the bridge (okořeněná téměř až psychedelicky znějící elektrickou kytarou), znějí v podobném, křehce melancholickém, šansonovém duchu. Poměrně dost melancholickém. Ale není vše na jedno brdo. Instrumentálka The Mechanism of Antikythera trochu připomíná King Crimson.
Z bonusů potěší coververze skladby George Harrisona z dob Beatles Blue Jay Way. Zajímavá předělávka, otrocky nekopírující originál.

Dávám čtyři body, pět ne kvůli zmíněné skoroabsenci kláves a jediné slabší písni Come to me. Tohle album si přetření prachovkou, pozdvihnutí a pochválení zaslouží.
SKLADBY:
01. Angel 5:40
02. Nice To Be Real 5:07
03. You 8:45
04. Forget Me Now 4:17
05. Late 3:53
06. Caleidoscope 6:07
07. On The Bridge 6:34
08. Come To Me 4:45
09. The Mechanism Of Antikythera 6:15
10. Rivers 5:29
SESTAVA:
Ann-Yi Eötvös – vocals, violin
Dirk Schilling – guitars
Andreas Hirschmann – piano, organ, strings, vocals
Hans Bäär – bass, guitar, vocals
Michael Bruchmann – drums, percussion
+
Dirk Sengotta – drums
Jörg-Peter Siebert – flute, saxophone
Markus Wienstroer – guitar
Christoph Noppeney – viola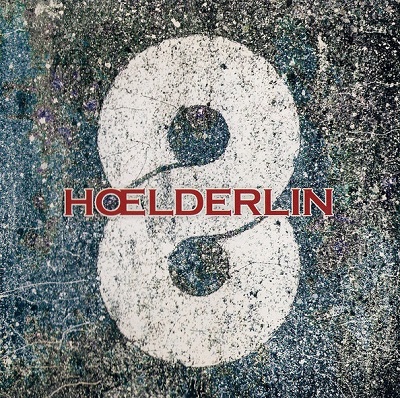 8
Hœlderlin
Prog Rock
EMI
2007
CD
10