Italská firma Frontiers Rec. pod svými křídly hýčká mnohé akvizice melodického hard rocku a metalu.
Husarský úlovek se jí povedl s podpisem super gruppy Dream Child složených ze samých es hard and heavy nebes. Posuďte sami – kytary nahrál Craig Goldy (ex-Dio, Guiffria), bicí natloukl Simon Wright (AC/DC, Dio), rytmus zhutnil Rudy Sarzo (ex-Quiet Riot, Ozzy, Whitesnake, Dio) a na pompéznosti zvuku přidal bývalý hráč MSG Wayne Findlay  se svými klávesy.
Jedinou neznámou personou je argentinský zpěvák Diego Valdez (nyní Helker), který se  mihnul v mnoha internacionálních projektech jako host, třeba s Tarjou Turunen. Rovněž ostruhy brousil v mnoha  evropských druholigových kapelách.
Proč padla volba právě na tohoto pěvce? Odpověď zapadá do celkové koncepce vzniku Dream Child. Tou je snaha navrátit se do období největších úspěchů R. J. Dia – z důvodů sílící nostalgie po starých dobrých časech kvalitního hutného, ale zároveň melodického hard heavy osmdesátých let. A právě Diego ve svém hrdle podobně laděný hlas ukrývá. Zbytek hudebníků, krom Findlaye s Diem aktivně vystupovali, takže jsem byl velice zvědav na výsledek jejich spolupráce.
Den vydání stanovila firma (stejně jako u stájových kolegů – mimochodem také výborného nového počinu Uriah Heep) na 14. září 2018. Dle prvních ohlasů se album prodává neuvěřitelně dobře – jaký je však jeho obsah?
První, co se mi mihne hlavou při poslechu úvodní Under The Fire je myšlenka, že je to pocta albu Holy Diver – kapela nastavila jednotlivý zvuk veškerých nástrojů přesně dle tohoto alba. Klidně by mohla být na toto album umístěná, což je jistě více než přívětivé hodnocení. Diego Valdez se svým hlasem čaruje a duch osmdesátek byl jasně vyvolán. Následující You Can't Take Me Down, je rovněž skvělá, začínám se však ošívat při stopáži 7:23. Sakra – je to zbytečně natažené, střih na polovinu stopáže by skladbě prospěl. Na Games Of Shadows mě trochu vyděsily úvodní sbory ve stylu hair metalu, nicméně skladba se vyloupla do majestátně hymnické polohy. Přímočará It Is What It Is dává svým strojovým rytmem připomenout, s jakými australskými rarachy Simon Wright hrál. Ještěže si udržela stopáž pod 5 minut. Po průměrné Playin' With Fire zaujme jasný hit Light Of The Dark.
Přes jednohubku Midnight Song se prokousávám až k bezmála osmiminutové Until Death Do We Meet Again (proboha proč?), kde se různě preluduje, sóluje – ve skladbě je použito několik motivů najednou, jako by kapela lovila v progresivních vodách a snažila se natočit výpravný epos. Washed Upon The Shore je na tom podobně.
Závěrečný trojlístek songů nezní špatně, opět tu však chybí střihačovy nůžky, neboť třeba závěrečná One Step Beyond The Grave útočí na devítiminutovou hranici.
Závěrem shrnuji : duch doby, kdy na pódiích kraloval Ronnie James Dio byl vyvolán, podobný pokus tu pře dvěma roky zkusila kapela Last in Line. Dream Child mají, co se týče hlasu typově vhodnějšího kandidáta. Jejich písně nepostrádají nápad a mocné riffy, ale jedna chybička se vloudila…
Tou je producent Alessandro Del Vecchio, který si nezachoval patřičný odstup (na desce zpívá sbory, hraje na syntezátory) a v návalu nadšení ponechal písně ve stavu se všemi nápady muzikantů. Dle mého měly skladby projít řádnou odtučňovací kůrou, z celkových 71minut by to šlo pokrátit na svižných  45.
Potom by to byla deska jako řemen.
SKLADBY:
01. Under The Wire
02. You Can't Take Me Down
03. Game Of Shadows
04. It Is What It Is
05. Playin' With Fire
06. Light Of The Dark
07. Midnight Song
08. Until Death Do We Meet Again
09. Washed Upon The Shore
10. In A World So Cold
11. Weird World
12. One Step Beyond The Grave
SESTAVA:
Diego Valdez – vocals
Craig Goldy – guitars
Wayne Findlay – guitars, kyeboards
Rudy Sarzo – bass guitar
Simon Wright – drums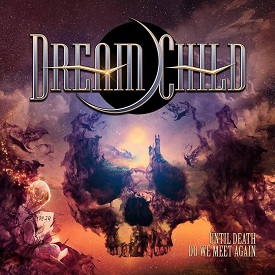 Until Death Do We Meet Again
Dream Child
hard rock
Frontiers Rec.
2018
CD
12