CD Mellow Records ‎– MMP 111 /1992/
Škaredější obal abys pohledal, ale muzika je to dobrá. Dokonce dost dobrá. Jediné album římských Laser vyšlo v roce 1973 a je další typickou položkou italské, překotně se rozvíjející rockové scény. Hudba osciluje od pozvolna umírajících šedesátek, přes psychedelii, až po hard rock a je to (pochopitelně) komplet v italštině. Nechybí koňská dávka přívětivejch – až (ehm) popově vlezlejch melodií a hlavně, jižanská vášeň a temperament. Místy je to neuvěřitelný divadlo a falsetem zpívané vokály kolikrát dosahují doslova závratných výšek. Hned mi to připomnělo stylově podobně zaměřené Ricordi D'Infanzia, I Raminghi, nebo J.E.T. Prostě klasika…
V roce 1973 už to v Itálii jelo naplno a vydavatelé desky sekali jak Baťa cvičky. Celá řada je jich nezapomenutelných a klidně se můžou rovnat s tím nejlepším ze světové scény –  Io sono nato libero od Banco, Photos of ghosts hvězdných PFM, Felona e Sorona romantiků Le Orme, nebo Zarathustra legendárních Museo Rosenbach. Ještě větší množství je jich však daleko "obyčejnějších", nahraných ve spěchu a s minimálními zkušenostmi a vybavením. Ty většinou úplně zapadly a podobně je to i s albem Vita sul pianeta. To se v porovnání s výše uvedenými krčí v koutě, jako všemi odstrkovaná a nemilovaná Popelka. Tři z pěti zúčastněných zpívali, ale nejsem schopen ty hlasy přiřadit ke konkrétním členům kapely. Jeden má takřka operní nátisk, druhej ječí, jak Viktorka u splavu a ten třetí má taky dost. A spolu dohromady vytvářejí antickou tragédii doslova kolosálních rozměrů. To svoje "mangiare" (Sconosciuto amico) zpívají s takovou vážností, až se tomu člověk musí řehnit a divím se, že u toho neprskali smíchy.
Laser hráli v sestavě dvě kytary, klávesy a basa s bubnem, ale není to žádnej virvál. Kromě úvodní, pět a půl minuty dlouhé Vita sul pianeta mají všechny písničky do čtyř minut a nějakejch dlouhejch instrumentálních pasáží se tady člověk nedočká. Tempo je tu vesměs docela vláčné, ale melodie kouzelné. Tohle talijáni prostě uměli. Těch hardrockových výbojů tady moc není, je to spíš kříženec beatu s psychedelickým popem a na rok 1973 je to album svým způsobem docela  regresivní. Nemůžu si pomoct, ale na svoji dobu zní už fakt docela zastarale. Ovšem to neznamená, že by nebylo dobré. Mě se líbí a myslím, že fanoušci italského rocku na tom budou podobně.
Nedávno jsem tady představoval jedinou desku kapely I Raminghi a psal o ní, že patří mezi nejvzácnější kousky italské rockové scény a o původním vydání alba Vita sul pianeta to platí dvojnásob. Údajně bylo vylisováno pouhých 130 kopií, které se navíc vůbec neprodávaly z důvodu totálního nezájmu ze strany vydavatele. Sběratelé jsou za ně ochotní vysolit klidně i 2500 Euro, kdyby ovšem byly v nabídce. Na discogs není ani jeden kus a při pátrání po webu jsem se dozvěděl zajímavé věci. Prej ho někdo koupil na blešáku, za 2000 lir a později prodal za 2000 €. Jinej nešťastník prý našel tři kopie ve sklepě, které rozdal v domnění, že jsou bezcenné… Tohle všechno jsem si přečetl na vynikajícím blogu John's Classic Rock a sám autor stránek nabízí za originální kus vlastní ledvinu (smajlík).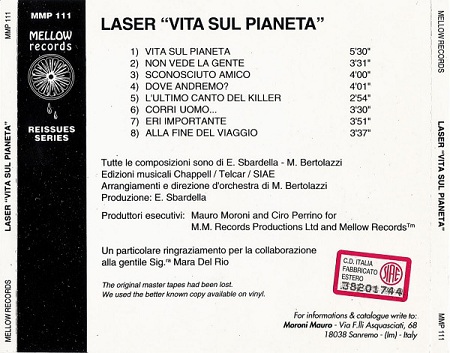 Inu což, naštěstí tady máme reedice. Na vinylu dvě (Akarma a AMS), na CD tři. Moje vydání od Mellow Records z roku 1992 bylo tím úplně prvním a neobsahuje víc, než černým písmem potištěnej kotouček a booklet ve formě listu papíru. Sehnal jsem ho teprve letos v únoru, v perfektním stavu a jsem šťastnej, že ho mám. Původní studiové pásy jsou nenávratně ztraceny a tak je to udělané z vinylu, ale zvuk je až překvapivě dobrej. Podle bubeníka Antonella Mussa se to přitom nahrávalo v hrozném kvaltu a bez možnosti opravy. Výsledný záznam je tak víceméně jednou velkou improvizací…
Po hudební stránce to není nic převratného, ale atmosféra, melodie a taková ta milá naivita "early seventies" jsou bezva. Slabší čtyřka.
SKLADBY:
1. Vita sul pianeta (5:30)
2. Non vede la gente (3:31)
3. Sconosciuto amico (4:00)
4. Dove andremo? (4:01)
5. L'ultimo canto del killer (2:54)
6. Corri uomo… (3:30)
7. Eri importante (3:51)
8. Alla fine del viaggio (3:37)
SESTAVA:
Riccardo Paolucci – voce, chitarra
Valentino D'Agostino – voce, tastiere
Loris Cardinali – chitarra, voce
Adalberto Sbardella – basso
Antonello Musso – batteria
Vita sul pianeta
Laser
hard rock, prog rock, psychedelic rock
Car Juke Box
1973
LP
8
CD Mellow Records ‎– MMP 111 /1992/