Jerry Floyd, známy DJ pôsobiaci začiatkom 70-tych rokov v londýnskom klube Marquee, prirovnáva skupinu Walrus k ôsmim zúrivým čudákom hrajúcich svojské poňatie brassrocku, využívajúc dychovú sekciu takou vervou, že ešte dlho po odznení hučí v hlavách a nedá sa len tak ľahko zabudnúť. "Už po prvých tónoch znejú vkusne tvrdo a spôsobujú závislosť." David Hitchcock, producent jediného albumu dodal, "Ach, fakt!"
Začiatkom 70-tych rokov spoločnosť Decca/Deram, povzbudená domácim a zahraničným úspechom jazzrockového bandu Keefa Hartleyho, zavetrila potenciál v novovznikajúcej fúzii rocku s jazzom a rozhodla sa investovať do ďalších skupín pôsobiacich v tejto oblasti. Tak sa stalo, že v katalógu firmy sa bok po boku mnohých osvedčených velikánov progresívnej scény objavilo i niekoľko málo známych jazzrockových zoskupení, medzi nimi londýnske okteto Walrus. Ovplyvnený tvorbou amerických skupín Blood Sweat & Tears a Chicago Transit Authority, skupinu založil a viedol Steve Hawthorn. Do kapely prizval hudobníkov pôsobiacich v Londýne a jeho okolí, zostava sa nakoniec ustálila do podoby Don Richards – trúbka, Roy Voce – tenor saxofón, Bill Hoad – saxofóny, klarinet a flauta, Roger Harrison – bicie, Barry Parfitt – organ a klavír, John Scates – gitara, Steve Hawthorn – basgitara a Noel Greenaway – spev. Brassrock v podaní skupiny Walrus však ani zďaleka nebol taký melodický, sofistikovaný ako hudba ich vzorov Blood, Sweat & Tears alebo domácich IF. Zneli podstatne tvrdšie a drsnejšie, vo svojej hudbe hojne čerpali z bluesrocku, psychedelického rocku, ale v kľudných momentoch neváhali siahnuť ani po folkových a progresívnych postupoch. Celý repertoár skupiny napísal Steve Hawthorn, s aranžmánmi dychovej sekcie mu pomohli Hoad s Richardsom. Ihneď po podpísaní nahrávacej zmluvy v lete 1970 sa skupina sťahuje do hudobného štúdia spoločnosti Decca vo West Hampsteade, tu pod dohľadom producenta Davida Hitchcocka vznikajú skladby ich budúceho albumu. Vydavateľstvo považovalo skladby Who Can I Trust a Tomorrow Never Comes za vhodné vydania a singlový debut skupiny sa čoskoro objavil na pultoch obchodov. Napriek tomu že ani jedna zo skladieb v anglickom rebríčku nezabodovala, skupina ešte nestratila dôveru vydavateľstva, ktoré im naďalej poskytovalo priestor v štúdiu a dostatok času na dokončenie nahrávok, ktoré sa pretiahlo až do jesene. Dovtedy však bubeník Roger Harrison nečakal, skupinu opustil a nastúpiť počas jazdy musel bicmen Nick Gabb, ktorý nakoniec odbubnoval skoro celý hudobný materiál budúceho albumu.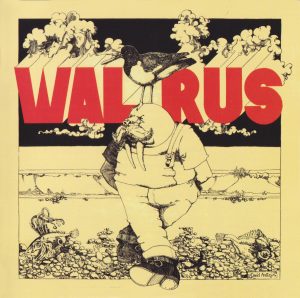 Rovnomenný, dlhohrajúci debut skupiny sa objavil na trhu v decembri roku 1970, obsahoval sedem skladieb vrátane tých dvoch singlových. Album urobil dobrý dojem na hudobných odborníkov aj poslucháčov. Všetko márne, skupine sa nepodarilo preraziť do rebríčkov a predajnosť zostala mizerná, napriek tomu, že Walrus sa snažili vystúpeniami po londýnskych pódiách podporiť predajnosť a získali si sympatie obecenstva. Posledný pokus vydavateľstva bolo vydanie druhého singla na A strane skladbou, ktorá bola vynechaná z LP, Never Let My Body Touch The Ground a na B strane z albumovým slaďákom Why. Nič však nepomohlo, predajnosť albumu i singla ostala nízka a skupina stratila podporu vydavateľstva. Mimochodom, spoluprácu so spoločnosťou Decca prirovnal v jednom neskoršom rozhovore folkáč Bill Fay k hrudám blata, ktoré vydavateľstvo hádzalo o stenu, ktoré sa prilepilo, užívalo si dôveru spoločnosti na úkor toho blata opadnutého na zem. Prišla ďalšia zmena na poste bubeníka, Gabba vystriedal Ian Mosley a skupina pokračovala v tejto zostave až do rozpadu v roku 1972. Zo všetkých členov sa paradoxne najlepšie presadil Ian Mosley, po pôsobení v skupine Darryl Way's Wolf sa stal stálym členom skupiny Marillion.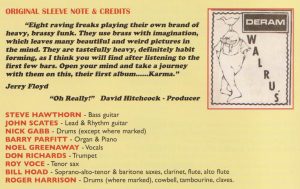 Album otvára rezký blues Who Can I Trust? a hneď nám vyššie uvedená myšlienka Jerryho Floyda dáva zmysel, pri prvom zaznení dychovej sekcie som sa nedvojak obzrel či mi náhodou Titanic nepláve krížom cez obývačku. Spevák Noel Greenaway neskutočne drsne vyčíta komusi, že "Komu môžem veriť ak nemôžem ani tebe?" (Mimochodom, tu ešte bubnoval pôvodný bubeník Roger Harrison, potom je ho už počuť iba v prvej časti šiestej skladby). Nasleduje 13 minútová skladba rozdelená do troch častí, prvá časť je brassrockový prepis bluesového tradicionálu presláveného v podaní famóznej Nini Simone, Rags And Old Iron s vkusnou jazzovou vsuvkou v podobe sóla Voceho saxíku a Richardsonovu trubku, končiacu africkými perkusiami a kmeňovým skandovaním v podaní hosťujúceho Gingera Johnsona. Druhá časť, Blind Man, nám dá okúsiť melodickú, flautou podfarbenú, psychedelickú náladu skupiny, trvá však iba po refrén, pri ktorom si kapela odznova zabudla užiť sedatíva. Záverečná, tretia časť s podnázvom Roadside, je brassrock s výrazným dôrazom na rock obsahujúca gitarové a saxofónové sólo. V ďalšej skladbe Why si dychová sekcia skočila na kávu, folkrockovú pesničku sprevádza Steve Hawthorn na 12-strunovej akustickej gitare a Bill Hoad na flaute, dokonca mám pocit, že miestami hrali až dve flauty. Či išlo o študiový overdub, alebo ozaj hrali dvaja, nemám potuchy. Pieseň si každý nadšenec psychedelického folkrocku kľudne môže dať do svojho výberu obľúbených skladieb. Štvrtá v poradí je Turning, čosi viac ako sedem minútová skladba, zas rozdelená do troch častí. Po krátkom, abstraktnom úvode sa začne hutný brassrock Turning so speváckym prejavom Greenawaya, ktorý mal určite dobre odpočúvaný Johnny Rotten z neskoršieho Sex Pistols. V druhej časti nazývanej Woman sa skupina predstaví pravým britským bluesrockom, dychová sekcia si teraz dala pohov, vráti sa iba ku koncu námatkovo, celú časť sprevádza sólová gitara a drsná rytmická sekcia. V krátkej záverečnej časti sa skupina na chvíľu vráti k pôvodnej téme Turning. U ďalšej piesni v poradí, Sunshine Needs Me, ide v podstate o psychedeliu, ktorá by sa nestratila na žiadnom rockovom albume vydanom kedysi o rok či dva skôr. Nasleduje brassrockový prepis od skupiny Traffic, inštrumentálna skladba Coloured Rain. Ono je to vlastne nastavené tak, že Coloured Rain iba na začiatku a konci kompozície obaľuje parádnu strednú časť, morbídne nazvanú jazzrockovú kompozíciu Mother's Dead Face In Memoriam s pekným sólom na klavír od Barryho Parffita vystriedaný sólom Billyho Hoada fakt netuším na čom. Podľa mňa to bude asi hoboj, japonské cd vydanie uvádza alibisticky fuzz alto(!?!). Záverečná Tomorrow Never Comes je brassrock podaný v estrádnej či cirkusovej nálade. CD reedícia od spoločnosti Esoteric Recordings na koniec albumu pridala singlovú nahrávku Never Let My Body Touch The Ground, brassbluesrock s ďalším, síce krátkym, ale kvalitným gitarovým sólom Johna Scatesa.
Platňa skupiny Walrus nám ponúka pestrú kyticu rockových žánrov, ktoré spolu vytvorili rozmanitosť rockovej scény na začiatku siedmej dekády. Z albumu srší pozitívna energia a je jasné, že Steve Hawthorn pri skladaní repertoáru nemusel chodiť pre nápady k susedom. Že sa nepresadili, môže iba fakt, že v tej dobe sa na scéne pohybovalo toľko podobne kvalitných zoskupení, že hudobná verejnosť nemala nádej to kvantum hudby zaregistrovať a vstrebať. Snáď maličkým zadosťučinením môže zostať fakt, že ich originálna LP je v súčasnosti jedným z najcennejších titulov v katalógu vydavateľstva Decca/Deram. Leukoplast na otvorenú zlomeninu. Spoločnosť Deram album vydala v roku 1970 okrem domáceho Anglicka i v Nemecku a v Japonsku. Dostala i niekoľko CD reedícií, mne sa ušla CD reedícia od Esoteric Recordings s klasicky vkusným dizajnom.
01. Who Can I Trust?
02. a) Rags and Old Iron b) Blind Man c) Roadside
03. Why
04. a) Turning b) Woman c) Turning
05. Sunshine Needs Me
06. a) Coloured Rain b) Mother's Dead Face in Memoriam c) Coloured Rain (Reprise)
07. Tomorrow Never Comes
*08. Never Let My Body Touch the Ground
Steve Hawthorn – basgitara, 12-strunná akustická gitara (3)
John Scates – sólová a ritmická giara
Noel Greenaway – spev
Bill Hoad – sopranový, altový, baritonový a tenorový saxofon, flauta a altová flauta, klarinet
Roy Voce – tenorový saxofon
Don Richards – trubka, čelesta (4)
Barry Parfitt – klavír, organ
Roger Harrison – bicie, perkusie (1, 6a)
Nick Gabb – bicie (2,3,4,5,7)
Walrus
Walrus
Brassrock
Decca/Deram
1970
LP
7 + 1
CD Esoteric Recordings Eclec 2071