Dostane ode mne páté sólové album Petera Hammilla pět bodů? Nechme tuto otázku ještě chvíli otevřenou a nahlédněme Peterovi pod pokličku.
Album Nadir's Big Chance bylo natočeno v podstatě reunionovou sestavou Generátorů. Vedle nepostradatelného Petera saxofony trýznil jeho věrný souputník David Jackson, za bicí se usadil Guy Evans a basu s klavírem a varhany na desce rozezvučel Hugh Banton. 
Repertoár je na desce velmi pestrý a je třeba si jej nechat nějaký čas dostat pod kůži. Hudebně nepřehlédnutelné a překvapivé jsou tu čtyři proto punkové drsné nářezy, které jako by předurčovaly následný vývoj na této scéně nejen po hudební ale i po obsahové stránce, neboť se vezly na vlně revolty proti zavedeným pořádkům a poměrům na tehdejší hudební scéně. Jsou to titulní Nadir's Big Chance, Nobody's Bussines, Birthday Special a částečně Two Or Three Spectres. Tak nějak by zněli Sex Pistols, kdyby ovládali lépe své nástroje. Kdo si vybaví jejich debut, tak toho při poslechu musí trknout "vypůjčené" pasáže, které Pistole do svých skladeb vyextrahovali z výše uvedených skladeb. Přijde mi  hodně vtipné, že Johnny Rotten vycházel z Hammillových hudebních i názorových ideí a ještě to bezostyšně v médiích přiznal.
Další ucelenější trojku tvoří ty kousky s vnitřním, rockovějším a dramatičtějším jádrem – první trochu textově poťouchlá The Institute Of Mental Health, Burning se skvěle pozpátku nahranými tóny klavinetu, kterou následuje svižnější Open Your Eyes a přepracovaný první song ze singlu z roku 1969 – příjemně melodická People You Were Going To. V těchto skladbách nejvíce vyniká Jacksonův malebný saxofon a Peter tu v textech odhazuje chmury.
Pro mé ucho z následující podmnožiny balad je poněkud méně výrazný Pompeii a Shingle Song, který napsal původní člen Generátorů Judge Smith. Další dvě – majestátní Been Alone So Long nebo dojemný Airport jsou naopak přímo skvostné a plné emocí. Melancholické texty vyjevují zármutek a obavy z probíhajících či zaniklých vztahů, v případě Pompejí i celého města.
Závěrem: Uvědomil jsem si, jak širokospektrální barevnou paletu nálad nám nabídl v roce 1975 Peter Hammill and Co. Vydal dvě desky – s VdGG legendární progresivně rockový Godbluff a sólový počin Nadir's Big Chance, kde poodkryl i tu jednodušší, ale i leckdy jemnější a veselejší tvář. Celkově to u mne na plný počet není, ale čtyři hvězdy jsou zaručeny.
SKLADBY:
01. Nadir's Big Chance (3:33)
02. The Institute Of Mental Health, Burning (3:32)
03. Open Your Eyes (5:11)
04. Nobody's Business (4:08)
05. Been Alone So Long (4:10)
06. Pompeii (4:21)
07. Shingle (4:14)
08. Airport (3:04)
09. People You Were Going To (5:05)
10. Birthday Special (3:34)
11. Two Or Three Spectres (6:21)
SESTAVA:
Peter Hammill / guitar, keyboards, vocals
+
Hugh Banton / keyboards
Guy Evans / drums
David Jackson / saxophone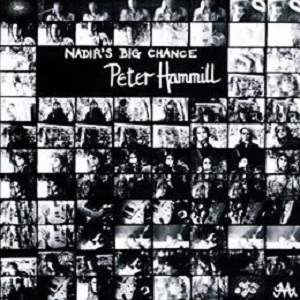 Nadir's Big Chance
Peter Hammill
progresivní rock, alternativní rock
Charisma
1975
LP
11
CD - CASCDR 1099, Virgin (Reedice)