Gone is gone je americká rocková "superskupina". Čo to je superskupina"? Odpoveď je jednoduchá. Ide o kapelu, ktorej členovia sa preslávili v iných zoskupeniach, príklad Cream. Tvoria ju basgitarista a spevák Troy Sanders z kapely Mastodon, gitarista Troy Van Leeuwen z Queens of the Stone Age, bubeník Tony Hajjar z At the Drive-In a multiinštrumentalista Mike Zarin. 
Členovia pochádzajú z celkom hutných, ale rôznorodých rockových kapiel. Celé diskografie od nich, až na QOTSA, nepoznám, takže nemôžem nasledujúci výrok na 100% potvrdiť, ale čo som počul, ide o celkom tvrdú, riffmi nabitú, hudbu, preto ma prekvapilo, že album Echolocation nehrá presne to, čo by si poslucháči spomínaných kapiel možno želali. K prog metalu, stoner rocku ani punku by sa to, veru, prirovnať nedalo stopercentne. Začujeme progresívny rock, trocha ambientu, psychedélie, atmosférickej hudby plnej melancholických pocitov, miestami s geniálnym aranžmánom. Ale v podstate – ide o alternatívny hard rock.
Prvá dlhohrajúca platňa Echolocation, ten názov sa mi páči stále viac, je narozdiel od prvého "épéčka" z roku 2016, menej "rockenrollovejšia". Tam šliapali skreslené gitary v známych rytmoch, a verím tomu, že mnohým rockovejším poslucháčom sadlo eponymná EP viac.  Mne by pred pár rokmi sadlo takisto viac. No, teraz si rád vychutnám aj  komplexnejšiu (komplikovanejšiu?) muziku s originálnymi motívmi a melódiami, ktoré táto nahrávka určite obsahuje, a vychutnám si tieto nikdy nepočuté zvukové vlny.  Síce je moje hodnotenie iba 3/5, ale aj tak považujem tieto skladby za skvosty. Čo sa týka hudby, keby išlo iba o notový prepis, bol by som spokojný, no samotná zvuková nahrávka má pre mňa celkom otrasný mix.
Je cítiť, že producenti sa svojim tvrdým, ale stále mediocore, zvukom snažili-snažia pretlačiť Gone Is Gone do rádia. Aby ste sa nebáli, nejde o nejaký komerčný zvuk obtiahnutý autotune, a tak ďalej.  Gitary sú skreslené, bicie strieľajú poctivo, ale celé to je tak nepekne rádiovo uhladené, že si nechcem ani len predstaviť, ako vysoko na tejto nahrávke môže byť peak level. Nie som žiadny konšpirátor Loudness War, ale mrzí ma, že všetko je na tejto nahrávke prehnane hlasné a plné, gitary aspoň štyrikrát v masteringu skopírované a takto sa strácajú sláčiky, pridané nástroje a bez sústredeného posluchu to znie plechovo ako väčšina dnešnej rockovej-metalovej muziky, ktorá sa chce dostať do popredia. Je to obrovská škoda, že sa takto stráca sila a rozmanitosť tejto nahrávky.
Album sa začína pomalou, takmer pinkfloydovskou ambient atmosférou Sentient, ktorú však prehluší hlasná skreslená gitara, ale pod svojím rukopisom nestráca nádych progresu.
Za zmienku stoja skladby Gift, s vynikajúcim refrénom, Dublin, s melancholickým precítením (gitara a zvončeky s efektom ozveny sú parádne). Slow Awakening a Fast Awakening  sú tie isté skladby, iba jedna je pomalšia a druhá rýchlejšia, zaujímavý experiment.
Avšak najlepšia skladba, ktorú vám odporúčam a chcem donútiť si vypočuť, je titulná Echolocation. To je tak krásna, geniálna, chytľavá skladba, až to nie je ani možné. Od tejto kapely, samozrejme, mnou najpočúvanejšia. Krásna súhra gitár a huslí v nepreklenuteľnej postupnosti tónov. Jediná vec ma mrzí. A to, že na tak skvelú skladbu spravili otrasný videoklip, ktorý to všetko dehonestuje na plnej čiare.
Album Echolocation je aj vo svete viac-menej pozitívne hodnotená nahrávka. Prvá a posledná skladba sú vrcholy, to vám poviem na rovinu. Takisto vám prezradím, že som potreboval na vstrebanie trocha viac času… – 4 či 5 vypočutí, kvôli otrasnému výsledku "zvukových inžinierov", ale stálo to za to.
SKLADBY:
01. Sentient – 5:37
02. Gift – 4:10
03. Resurge – 4:31
04. Dublin – 4:58
05. Ornament – 4:42
06. Pawns – 3:53
07. Colourfade – 3:47
08. Roads – 5:31
09. Slow Awakenin – 4:44
10. Fast Awakening – 2:33
11. Resolve – 4:03
12. Echolocation – 6:32
ZOSTAVA:
Troy Sanders – basa, spev
Troy Van Leeuwen – gitara
Tony Hajjar – bicie
Mike Zarin – klávesy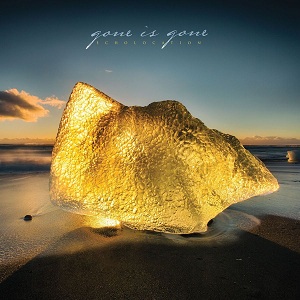 Echolocation
RISE343-2
Gone Is Gone
Hard rock, Alternatívny rock
Rise Records, Black Dune Records
2017
CD, LP, kazeta
12
http://goneisgoneofficial.com/