Na albu "Blood Fire Death" se vedle sebe objevují dva metalové směry, k jejichž tvůrcům Quorthon patří. Vedle dřevního black metalu (označovaného nejčastěji přízviskem "pure") je tu poprvé ke slyšení severským folklórem ovlivněný viking metal.
Toto spojení nepůsobí nikterak rušivě. Naopak; obě polohy se navzájem perfektně doplňují a dodávají nahrávce patřičnou pestrost. To je jistě důvod, proč patří tento počin k nejvelebenějším od Bathory. (Faktem ale je, že vrcholů se v tvorbě skupiny nachází více.)
Posluchač sice ani zde není ochuzen o rychle pádící stáda riffů a dusající bicí, stále častěji se však objevují zklidnění v podobě vybrnkávaček akustické kytary, klávesových pasáží, sborů nebo čistého zpěvu. Také zvuk je uhlazenější, ovšem je to nutné chápat v kontextu produkce Bathory… (Osobně Quorthona podezřívám, že už od druhého alba onen garážový zvuk uměle vytvářel, tedy záměrně "kazil" nahrávku, aby zněla "undergroundově".)
Desku otvírá tříminutové intro "Odens Ride Over Nordland" a je to vskutku jízda hodna nejvyššího boha Vikingů… Musím přiznat, že mě tohle intro náramně baví, na rozdíl od všech tří na předešlých počinech. Dokonce jej považuji za jednu z nejsilnějších částí alba, spolu s následující, ve středním tempu plynoucí, přes osm a půl minuty dlouhou skladbou "A Fine Day To Die" a závěrečným, bez třiceti sekund jedenáctiminutovým, titulním opusem "Blood Fire Death". Avšak i rychlejší písně jsou vysoce kvalitní a rovněž v nich lze slyšet posun, oproti starším věcem; je zde větší příklon k thrash metalu, přestože své blackové nitro pochopitelně nezapřou…
Zkrátka, vynikající album, které si dokázalo (a dokáže) získat příznivce také v řadách odpůrců prvních tří počinů Quorthona a jeho Bathory, přitom ale neztratit skalní fanoušky, z nichž někteří o dva roky mladší veledílo "Hammerheart" už nerozdýchali.
Na závěr doplním, že texty, věnující se ve větší míře vikinským tématům, výtečně dokresluje obal, na němž je reprodukce obrazu nazvaného "Åsgårdsreien"; namaloval ho roku 1872 Peter Nicolai Arbo (1831–1892), vystaven je v Národní galerii v Oslu.
1. Odens Ride Over Nordland (3:14)
2. A Fine Day To Die (8:49)
3. The Golden Walls Of Heaven (5:14)
4. Pace 'till Death (3:40)
5. Holocaust (3:24)
6. For All Those Who Died (4:55)
7. Dies Irae (5:04)
8. Blood Fire Death (10:33)
Quorthon – vocals & guitars
Kothaar – bass
Vvornth – drums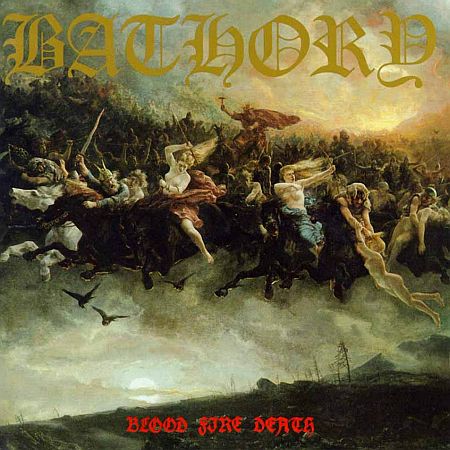 Blood Fire Death
Bathory
Black Metal, Viking Metal
Black Mark
1988
LP
8