Když Ian Gillan v r. 1973 opustil pořádně rozjetý rychlík Deep Purple, přijal jsem tohle rozhodnutí s jistým rozladěním. Hardrocková supergroup měla ve svém jádru tři výrazné sólisty – Blackmorea, Lorda i Gillana a tohle spojení s výtečně šlapající rytmikou se zdálo na dlouhá léta tvrdou valutou. Bohužel, lidská ješitnost a vzájemná řevnivost uvnitř kapely rozhodila mezilidské vztahy a Gillan se rozhodl z tohohle vlaku vystoupit.
Jeho pověst nedostižného vokalisty mu měla do budoucna zaručit nejen přízeň publika, hudebních kritiků, ale i nové nahrávací kontrakty. Jak se zdálo, famózní zpěvák se rozhodl pro jinou cestu. Chtěl si odpočinout od rockového show-businessu. Asi dva roky podnikal, ale tahle činnost ho neuspokojovala. Dokonce se mluvilo i o tom, že má politické ambice. Nakonec se vrátil k tomu, v čem byl nejlepší a to k hudbě. Domnívám se, že nejen kvůli sobě, ale i kvůli nám – dobře udělal.
Druhé album, které vydal pod hlavičkou Ian Gillan Band, bylo v mém okolí odmítáno, jako špatná volba a obrácení nesprávným směrem. Jeho zatracování bylo tak razantní, že mě to přimělo k tomu, abych se po albu poohlédl a udělal si názor sám. Nemohl jsem pochopit, že ti, kteří ještě před časem Gillana velebili jako pěveckou rockovou ikonu number one, najednou otočili a jeho hudební projekt Clear Air Turbulence popravili nekompromisním odsudkem. Dopadlo to ale jinak, album jsem akceptoval napoprvé a dodnes zůstal, po letech v digitální podobě, v mé sbírce.
CLEAR AIR TURBULENCE – Začátek jako od Tangerine Dream. Dlouhý elektronický tón a potom přelévání klávesových nástrojů v majestátním pojetí. Pak ale nastane změna a zcela neočekávaně se nám objeví derivát fusion music, kde se propojuje funková rytmika s dechovou sekcí. Je tady spousta dravé energie, která žene hudbu vpřed závratnou rychlostí. Baskytarista John Gustafson a bubeník Mark Nauseef nalezli fantastickou rytmickou shodu. Je tady také Colin Towns, hráč na elektrické piano a synthesizer, který má jazzové cítění a dotváří mírně kontemplativní nálady. Konečně se dočkáme elektrického kytaristy – je jím Ray Fenwick, zkušený studiový sideman, který působil mj. v Spencer Davis Group a spolupracoval s řadou dalších známých jmen. Ano, tohle byl jazzrock v britském balení s dechovou sekcí. Žádné hardrockové riffy Deep Purple, žádné propojení s minulostí. Třebaže v Británii byl r. 1977 rokem punku, byl zde pořád ještě jistý prostor pro formálně složitější varianty hudby – Brand X, Bruford, Sof Machine, Gong a Ian Gillan Band si chtěl evidentně tuhle variantu vyzkoušet. Výtečná souhra, spousta dravosti a rozpoutanosti na plný plyn.
FIVE MOONS – Po razantním nástupu člověk celkem logicky očekává zklidnění. Je nám nabídnuto v rozjímavé baladě, kde perlí piano a elektronické lehké přeznívající tóny z pozadí. Gillan zpívá velmi lehce a jemně. Není zde jeho ječivý přídech exprese, ale spíš ponoření do tématu. Po úvodu se skladba mírně rozběhne, aby podmínila smysl nálad a rozpoložení pěveckého pojetí. Možná, že i tento způsob zpěvu drsné rockery v podobném instrumentálním balení odrazoval. Nevím, já to tak necítil. Přiznám se, uvítal jsem, že Gillan nechce vytvářet nějaký truc hardrockový model purpleovského kalibru, aby dokázal, že ON přežil Deep Purple, zatímco ONI se už před rokem rozpadli. Dechová sekce ovšem byla něco jiného. Gillan a saxofony, trubky, trombon – to pro mě nebylo úplně srozumitelné, ale i tomuhle jsem časem přivykl. Gillan svůj hlas nechává ještě "podpírat" Fenwickem a Gustafsonem, což zesiluje vokální základ a vytváří nový trochu neobvyklý sound.
MONEY LENDER – Abychom úplně nevyskočili z rockových souvislostí, tak se Fenwick hlásí o slovo svým výrazným kytarovým riffem a Gillana vrací na agresivnější rockovou půdu, ale rytmické proměny Nauseefa a dechová sekce jako od Chicaga dostává skladbu od hardrocku směrem k jazzu a místy k soulu. Gillan nám v jeho forsírovaných pěveckých nástupech připomene, že to byl on, kdo v Jesus Christ Superstar zpíval Ježíše Krista. Další proměny mollových, septimových a durových akordů jdou do funku a před námi se odvíjí spíš americký model hudby, ale Fenwick ho v pravém okamžiku vrací do průrazného hardrockového riffu. Mark Nauseef je ovšem opravdu perfektní bubeník a jeho bubenické polyrytmické figury propojené s Gustafsonovou baskytarou jsou opravdu výtečné. Colin Towns od kláves hraje rovněž ještě na příčnou flétnu, která se nám v instrumentaci občas přihlásí o slovo. Velmi dobře se mi tahle vrstvená a členitá hudba posluchá, i když není tak syrově agresivní, jak by člověk očekával.
OVER THE HILL – Nauseefovy bubenické eskapády jsou poučeny ďábelskými breaky Billyho Cobhama, což v dané době zkoušel téměř každý technicky lépe vybavený bubeník. Žádná výrazná melodická linka, ale rytmy, rytmy a rytmy, propojované frázovaným zpíváním. Instrumentální víření přináší spoustu nových barev a obrazců, které mi znějí libě. V daném typu hudby se mohu cítit jako doma a hardrockové riffy mi ve větší míře nechybějí. Gillan samozřejmě občas potřebuje popustit uzdu svému pěveckému běsnění a tak nám nabídne svoje hlasové erupce. Aranžmá skladby drží výtečně pohromadě. Colin Towns je mj. výtečný klavírista a my se můžeme opravdu přesvědčit o tom, že má správný úhoz a techniku, ale mrštně přebíhá i po klávesách synthesizeru a elektrických smyčců. Žádné hammondky. Tenhle nástroj byl v daném období, ale i dalších letech vnímán jako anachronismus. Funkové nástupy se zde rozbíhají v širokých plochách. Nauseef změní techniku hry a s baterií bicích nástrojů pracuje jako Lenny White s Return To Forever. Fenwick získává prostor pro prezentaci v mezihře, ale činí tak s rozmyslem a spíš sází promyšlené tóny do schématu, než že by nás zahrnul nějakým sólovým zemětřesením.
GOODHAND LIZA – Další odbočka směrem k etnické hudbě? Proč ne! Experimetovat není na albu zakázáno. Percussion a zejména conga se rozbíhají v polyrytmických obrazcích. Bzučení synthesizerů překrývá sborové zpívání Gillana, Gustafsona a Fenwicka na pokraji jazzsoulového rozměru ve stylu Sly And The Family Stone, v dané době už dávno neexistující sdružení, která excelovalo koncem šedesátých let v Kalifornii. Townsovy elektrické smyčce se jeví jako hodně uhlazené. Zaměřují se hlavně na fantasticky šlapající rytmy a jejich údernost a živočišnost. Možná mohlo být těch elektrických smyčců méně(!) a mohla zde řádit flétna a akustické kytary, ale Gustafson má potřebu vložit sem dravější baskytarové téma a tak se skladba udržuje v permanentním napětí. I Gillan ustupuje do pozadí, aby tahle atmosféra pronikla posluchači do posledního nervu v těle, až do odeznívaného konce.
ANGEL MANCHENIO – Klouzavé tóny elektrické kytary se zajímavě spojují s čistými tóny akustické kytary a z pozadí slyšíme kastaněty, vibrující baskytaru a teď už i tu před chvíli přivolávanou flétnu. Andělské kouzlení jakoby mělo souznít i se samotným názvem skladby, které se s harmonickým vrstvením vznáší prostorem. Bicí a baskytara ovšem nastoupí do jazzových nálad a zvýrazní rytmickou strukturu. Gillan je součástí tématu a nezdá se, že by chtěl ostatní vytlačit. Třebaže je evidentně principálem kapely, zcela liberálně poskytuje prostor pro sebevyjádření ostatním. Další fáze skladby jakoby se omočily v mírně artrockovém opojení, ale my tušíme, že je to jenom náznak, protože rytmické pojetí nás posouvá do už dříve deklarované fusion music. Towns experimentuje se synthesizerem a navozuje uvolnění i kreativní variace nad jazzrockovou rytmikou. Nic moc britského nás na albu nepotkalo, Gillan se vzdálil konzervativním principům hardrocku a tohle album ukázalo, že ho můžeme najít v jiném hudebním světě, který sice jeho personu nepostaví mezi věrozvěsty tohoto hudebního pojetí, ale dokáže, že Gillan v daném období ještě zdaleka nekončí.
Samozřejmě, že Clear Air Turbulence milovníky alb Fireball nebo Machine Head neuspokojí a z daných principů hardrockových klišé se bude chtít málokdo smířit s představou, že jeden z největších zpěváků sedmdesátých let udělal takovou odbočku. Otázkou bylo, co přinesou další léta a čím nás bude překvapovat na nových albech.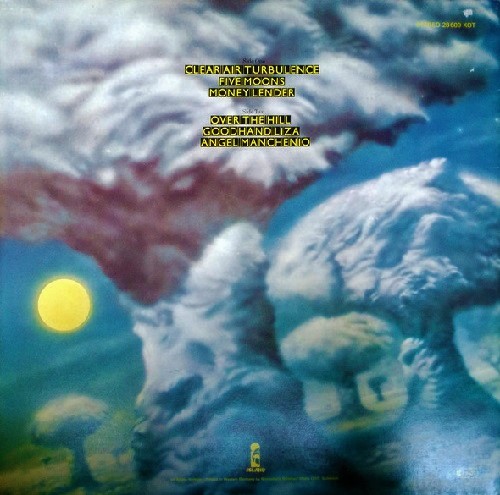 Zaujala mě famózní souhra kapely, rytmické pojetí a celková soudržnost. Možná zde nebylo tolik kytarových partů, jak by člověk očekával, ale řada dalších věcí tuto okolnost vyvažovala. Jsem někde mezi čtyřmi až pěti hvězdičkami, ale to homogenní muzikantství na albu a zároveň odvaha vykročit tam, kde mě nikdo nečeká, to hodnotím pozitivně a tak rád přidám!
SKLADBY:
1. Clear Air Turbulance 7.35
2. Five Moons 7.30
3. Money Lender 5.38
4. Over The Hill 7.11
5. Goodhand Liza 5.24
6. Angel Manchenio 7.17
All songs written by Gillan/Gustafson/Fenwick/Towns/Nauseef
Originally released Island Records, April 1977
Recorded at Kingsway Recorders in London
Engineered by Brad Davis
Mixed at Rockfield Studios in Wales, and then remixed at Kingsway
Mixed by Louie Austin and assisted by Chas Watkins and Bob Broglia
Produced by the Ian Gillan Band
SESTAVA:
Ian Gillan – vocals
Ray Fenwick – guitar, vocals
John Gustafson – bass, vocals
Mark Nauseef – drums, percussion
Colin Towns – keyboards, flute
+
Martin Firth – baritone saxophone
Malcolm Griffiths – trombone
Derek Healey – trumpet
John Huckridge – trumpet
Phil Kersie – tenor saxophone on 2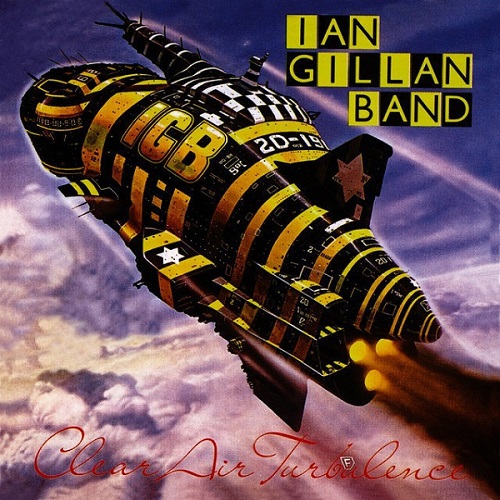 Clear Air Turbulence
Ian Gillan Band
Jazz Rock, Prog Rock, Hard Rock
Island Records
1977
LP
6