V roce 1995 je, jak se tehdy zmínili v Rock&Popu v rozhovoru s Filipem Topolem, přetopolováno. Psím vojákům vychází výborné album Nechoď sama do tmy se skladbami z let 1983-87 nahranými živě v roce 1987 (jinak to tehdy ani nešlo, zaplaťpánbůh i když jsem ateista, že to někdo nahrál), dále vychází sólové album Filipa Sakramiláčku, dál Filip Topol účinkoval na albu vytvořeném seskupením kamarádů Vratislava Brabence Konec léta, no a konečně vychází nové studiové album Psích vojáků Brutální lyrika.
Album bylo nahrané v červnu a červenci 1995 v Brně. Ponurý přírodní obraz alba napovídá, že hudba, ač rockově divoká, nebude v žádném případě rozjuchaná. A také není. Skladatel, textař, klavírista a zpěvák Filip Topol hraje na albu na piano, je to taková rockově divoká hra často ale připomínající šanson, občas tam probleskne vliv klasicistní hudby, hlavně Mozarta. Topolovy zdatně sekundují bicí Davida Skály a basová kytara Luďka Horkého, dále je na albu hodně slyšet altsaxofon Jiřího Jelínka, který chvílemi opravdu připomíná Davida Jacksona z Van der Graaf Generator, takže se nemusíte bát žádných jazzrockových instrumentálních exhibicí, nic takového se u Psích vojáků nekoná.
CD (nebo magnetofonová kazeta) obsahuje přes hodinu a patnáct minut neveselé, nespoutané hudby s romantickým nádechem, s výbornými texty rozervaného básníka Filipa Topola, jehož projev se pohybuje někde mezi zpěvem a expresivní recitací. Mám silný pocit, že Filip Topol patřil mezi ty umělce silně cítící takové ty věci, jako že existence lidstva je neopodstatněná, že jeho osobní život je tak nějak absurdní, ale musí se naučit s tím žít, musí s tím pocitem žít, musí se tím vším tady nějak protlouct. Flaška byla Filipovou často vítanou berličkou. Ale nechci tu dělat nějaké filozoficko / psychologické pseudorozbory. Jean-Paul Sartre nebo Charles Bukowski by tomu rozuměli. Já tomu rozumím také a jen chci zmínit, že v tom rozhodně nevidím nic pozérského – v případě Filipa Topola. Tak tomu v žádném případě není.
Hudba na tomto albu je natolik kvalitní a originální, že těžko uvěřit, že něco takového vůbec vzniklo v Čechách v devadesátých letech minulého století. Je to underground, ale přesto je v tom melodie (Filip Topol měl svého času koneckonců přezdívku Michal David undergroundu :-). I přes ten zpěv nezpěv (Filip deklamuje i křičí, ale také prostě "jen" zpívá). Album je takovým Filipovým výkřikem do tmy (např. skladba Kruhy: "kruhy jak vzteklí psi… tak už mi pomož rozetnout ty nekonečný kruhy…" ). Opravdu melancholické skladby, např. skladba Houpačka ("tento život kape jako rezavá voda…") jsou naštěstí vyváženy skladbou Prší 3, což je kupodivu veselá píseň, kde Topol ukazuje svůj smysl pro téměř zappovskou ironii. Je to vtipná píseň, i když v ní nelze přehlédnout sarkastický, misantropický podtón, píseň je v podstatě o tom, jaká je to komedie žít s lidmi a mezi lidmi. Závěrečná skladba Tak akorát dlouhá trvá dvacet čtyři minut, má úžasnou atmosféru, jako jediná je hudebně relativně monotónní, úplně z ní cítíte prach a slunce pražských Holešovic, všechno je dlouhé, dlouhé, dlouhé, každý řádek textu začíná slovem dlouhá (nebo dlouhý…) – skladba je v podstatě plná baudelairovské nudy, život je jen čekáním na konec.
Přesto… Kdo Psí vojáky nezná, doporučuji začít právě s tímto albem, nebo třeba s albem U sousedů vyje pes (2001), kde se Filip Topol představuje už ne v tak divoké poloze, dokonce často jako spíš vybouřený skladatel klavírní vážné hudby. A všechno je samozřejmě jako vždycky na míle vzdálené jako máloco "originální hudbě" komerčních rádií. Hudba Psích Vojáků je prostě psívojákovská.
P. S.: A snad nemusím dodávat, že Psí vojáci byli v roce 1995 již několik let perfektně sehranou skupinou, každý hru na svůj hudební nástroj ovládal a i kvalita záznamů porevolučních nahrávek je samozřejmě standardně kvalitní na svou dobu – takže klidně zapomeňte na vžité klišé zahořklých popařů, že undergoundoví umělci neuměli hrát.
SKLADBY:
01. "Zatím" – 6:10
02. Houpačka – 3:24
03. Kruhy – 3:42
04. Brutal Lyric – 4:25
05. Ten – 5:29
06. Xtej příběh – 6:34
07. Prší 3 – 6:32
08. Ploužák – 5:28
09. Nebudu – 8:57
10. Tak akorát dlouhá (Sen v realitě) – 23:23
Hudba a texty – Filip Topol.
SESTAVA:
Filip Topol – zpěv, piano, sbor
Jiří Jelínek – altsaxofon, sbor
Luděk Horký – basová kytara, sbor
David Skála – bicí nástroje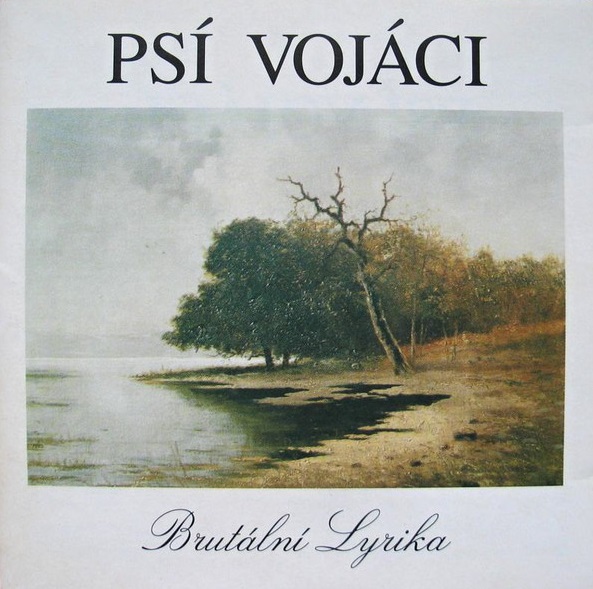 Brutální Lyrika
Psí Vojáci
Alternative Rock
Indies Records
1995
CD
10