The year is 1980. AC/DC have just lost their frontman Bon Scott and are looking for a replacement. Auditions are held simultaneously in London and Sydney. In the British capital, the band itself is trying out potential singers. In the southern hemisphere, a certain Allan Fryer from Adelaide is auditioning, under the watchful eye of Vanda & Young at Albert Studios. When he returns to South Australia from the audition, the local periodical reports that he has become the new lead singer of AC/DC. The reality is different, however, as a Geordie [a slang term for people from the Newcastle area of northern England] named Brian Johnson has since auditioned in London and is now officially a new member of the band. The story of Heaven has just begun…
Glasgow unlikely
Edward Allan Fryer originated from the infamous Gorbals area of Glasgow and came to Australia with his family through a ten pound migration scheme. Glasgow was the birthplace of many future stars of the Australian (and world) music scene. Fryer's contemporaries thus include the Young clan (more information here), but also singers such as John Paul Young, John Swan (better known as Swanee), and Jimmy Barnes.
Like the half-brothers Swanee and Barnes, Allan Fryer settled in Adelaide, South Australia, which despite its more rural character (compared to Melbourne or Sydney) had a very vibrant music scene. Some of the best known musical exports from this city are the legendary The Angels (also referred to as Angel City outside Australia), and of course Cold Chisel with Jimmy Barnes at the helm.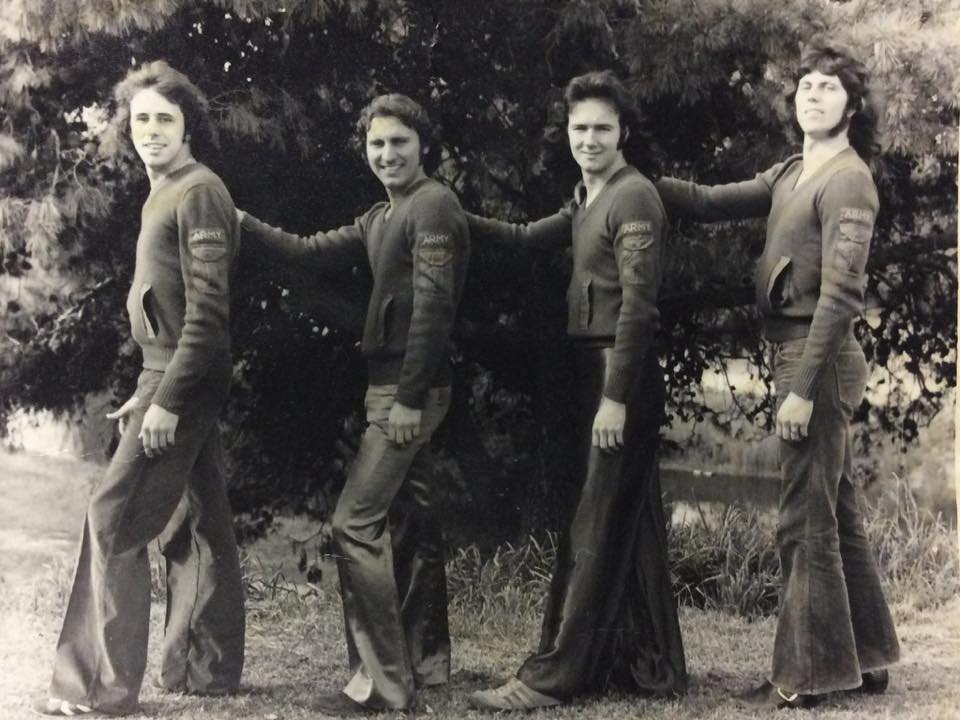 Long journey from Adelaide to Sydney
In the 1970s Fryer gained experience in local Adelaide bands such as Soldier, Heroes and Chummalucy. Towards the end of the decade he joined a band called Fat Lip, replacing the original lead singer named Stuart Cave (Tough Luxury). The band also featured drummer Aldo Civitico and guitarist John Haese.
Meanwhile, another important piece of the jigsaw was taking shape in Sydney, where there was a strong local scene competing with Melbourne, which led the way on the Australian music scene in previous decade.
Guitarist Bradford Kelly was in Swanee's band at the time, which released a single called Crazy Dreams (1979) and also appeared on a music show called Countdown. In between, however, he jammed with a drummer named Theo Kats with the intention of putting his own band together.
This is where the story starts to get confusing, as the versions of various players differ, but I will try to untangle the ball of threads and give as accurate account of events as possible.
From Fat Lip to Heaven
Sometime in 1980, bassist Laurie Marlow and singer Craig Csongrady loaded Laurie's Ampeg bass amp and "fridge" [slang term for a bass cabinet with eight ten-inch speakers] into the car and set off on a road trip from Adelaide to Sydney.
Marlow previously worked with Allan Fryer in the Heroes band. An interesting story is that in 1975, a guy named Bon Scott saw him play at a venue in Adelaide and left him a note with phone number to call (AC/DC were temporarily performing as a quartet with Malcolm Young on bass at the time). Laurie was still in high school and his dad told him to finish the school first. And that if he was any good, the next chance would surely come. So he never dialed the number. [At least that's how I remember the story, told to me by Laurie Marlow himself] A few weeks later, a Melbournian Mark Evans became AC/DC's new bass player.
A little detour to Boss
Csongrady formed the band called Boss a few years later, which released the album Step On It (1984). By the end of the decade, it morphed into a more melodic effort called BB Steal (short for Beg, Borrow & Steal). Phil Collen of Def Leppard worked with the band and produced their first album On The Edge (1991) – a similarity to Hysteria is "purely coincidental."
According to Csongrady, Boss' music influenced bands such as Mötley Crüe and Bon Jovi. [Around 1985-86, Laurie Marlow was also a member of Boss for a while, and he and Csongrady were in New York for a time, where they left a demo tape with Tony Bongiovi, a producer who owned The Power Station recording studio and was also a cousin of certain Jon Bon Bovi. Csongrady claims that the intro to You Give Love a Bad Name is copied from their demo called Straight Through The Heart, but also adds that they were inspired by a melody from an old song called Telstar].
From Fat Lip to Heaven II
Two things subsequently happened in Sydney. Laurie Marlow hooked up with Theo Kats and Kelly, who had since left Swanee's band; and Allan Fryer auditioned at the Alberts studio, but didn't get the lead singer post in AC/DC.
It was during the jamming of Kelly-Kats-Marlow trio that the new band's first material was written. It was reportedly drummer Theo Kats who came up with the idea that resulted in a song called The Ballad. However, he never got a credit.
Fryer subsequently returned to Sydney from Adelaide with drummer Aldo Civitico and formed Sydney-based Fat Lip with Kelly and Laurie Marlow. Yes, according to reliable sources, there were two different versions of Fat Lip running in parallel for a time. One in Sydney and one in Adelaide. In the South Australian one, the drummer was a young man called Joe Tutur. And speaking of drummers, Theo Kats was offered a job by a well-established (Oz) band called Europe, so his replacement by Civitico didn't need to bother him.
Sydney version of Fat Lip was subsequently joined on rhythm guitar by another Adelaidean – Don Klaproth (he played with Fryer in the Heroes). Sometime in the late 1980, the band was discovered by manager Michael Browning, who had managed AC/DC for the previous five years until he was sacked in 1979.
Browning was a shrewd businessman and, bolstered by his experience with AC/DC, he started his own label called Deluxe Records. He signed INXS to a 5 album deal, but the band was able to break free from his clutches after two albums and shot to stardom.
No paradise
Browning offered Sydney's Fat Lip a contract. And not just one, but three at once – managerial, recording and publishing (royalties from music licensing). Drummer Aldo Civitico was probably the only one who read it well, as he was the only one who refused to sign it and subsequently left the band.
The new manager didn't like the band's name, so the band changed it to Heaven, a name that he suggested. The work was finished. According to a biography that came with the promo versions of the albums, the band played its first concert on 5 November 1980.
Rob Hannah (former member of Soldier and Heroes) replaced Civitico on the drummer's stool. He had 12 hours to learn the repertoire before his first show with Heaven (at the Astra Hotel). The band played in this line-up (Fryer-Kelly-Klaproth-Marlow-Hannah) around Sydney, its surrounding areas, and even up and down the east coast of New South Wales until roughly early 1981.
Guitarist Don Klaproth had to return to Adelaide due to family matters, so filling in for him was an old friend John Haese, who eventually stayed in the band permanently. Klaproth was soon followed to South Australia by drummer Rob Hannah. Reportedly, management wanted him to wear bizarre outfits. So a barely eighteen year old Joe Turtur (yes, from Adelaide's version of Fat Lip and also making his debut at the Astra Hotel) sat behind the kit.
Frontmen rotations
And it was far from the last change. Turtur mentioned in an interview that when he joined the band, Heaven's lead singer was not Allan Fryer, but Craig Csongrady (yes, him).
However, his tenure in the band did not last long. Nevertheless, he played a few gigs with the band and co-wrote a few songs [my friend from Australia, who saw Heaven live in Sydney and its surroundings about 80 times (!) has got a setlist from one of those gigs with Csongrady, which confirms this]. Fat City was one of those songs. However, it was rewritten after Allan Fryer's return and appeared on the debut album under the name Suck City.
According to Turtur, this previous lineup of Heaven, recorded an upcoming single with Csongrady called Fantasy. But it didn't work out well, according to him, and that only contributed to Fryer's return.
First single
And so the newcomer Turtur, along with the Fryer-Kelly-Haese-Marlow quartet, recorded the debut single Fantasy (1981). Early next year, they performed it on the TV show called Countdown. This line-up can be considered the (first) classic line-up of the band.
Heaven was one of the hardest working bands on the circuit. They played 312 shows in their first year, an average of 6 shows a week – often playing so-called doubles [two shows a night at two different venues] and even a couple of triples [three different shows within a day; roadies had a hard life with this band]. So it's no wonder they worked like a well-oiled machine.
They managed to record their debut album in late October 1981 and in between that they opened for Gillan on their Australian tour. In November they visited Melbourne for the first time.
(Never-Ending) Twilight of Mischief
Their debut album called Twilight of Mischief (1982) was released early the following year, in February. The album was recorded and produced by John Bee at Sydney's Studios 301, which belonged to the EMI label.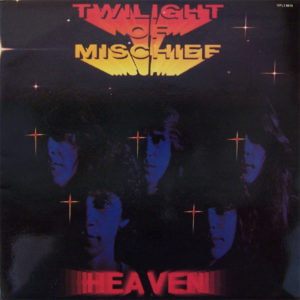 As was common with the Australian bands of the time, the non-Australian releases varied in cover art, title and even content. There were a number of reasons for this.
The Australian and New Zealand editions were identical, except for one difference – in Australia the album was released in a more luxurious gatefold with a photo of the band covering both sides. The New Zealanders had to make do with standard format, and both sides of the record's inner paper sleeve were printed with half of the photo.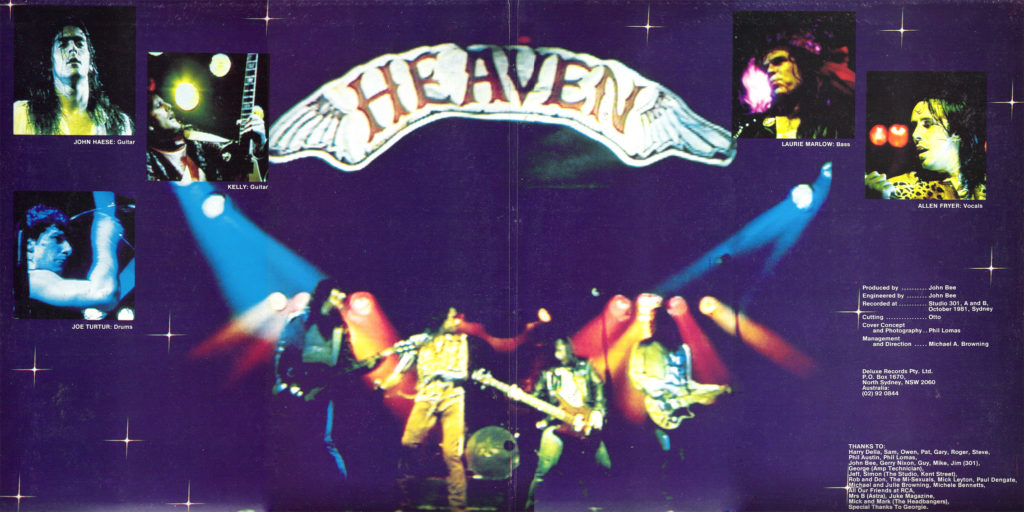 In the beginning there was rock 'n' roll
In May 1982, Heaven recorded a new single at Paradise Studios, Sydney called In the Beginning, engineered by Richard Lush (who started his career at what is now called Abbey Road Studios) and produced by Kevin Stanton (Mi-Sex).
Along with its main motif, the song artfully incorporates riffs from popular songs to go along with the lyrics. This is probably the band's best known work.
In Australia and New Zealand, the song was released as a non-album single. Overseas releases included the song on the album. During the upcoming Australian winter, a music video was filmed in a hangar, and all involved recall really cold conditions.
The video features Mick Cocks (Rose Tattoo) as rhythm guitarist, though it is John Haese who plays on the studio recording. Haese had a disagreement with Allan Fryer, so when Cocks was fired from Rose Tattoo and became available, Fryer didn't hesitate to replace him with a better-known guitarist, who was also one of the main songwriters in the Tatts. Cocks had already performed with the band in late May and helped compose two new songs – Don't Mean Nothin' and Black Magic Woman (the former appeared on the second album and features Cocks' signature machine-gun riff).
Overseas editions
British and Swedish (de facto Nordic) editions of the album already contained In the Beginning song and differed in cover art. It featured a photo of the new line-up and the band's image was clearly inspired by a cult Australian movie Mad Max, starring Mel Gibson. Both releases were distributed by RCA Records or their respective local partners.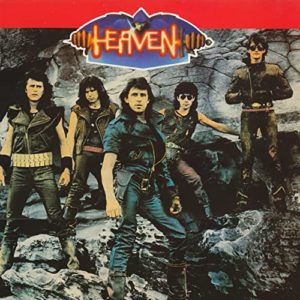 The logo has also changed. Original one bore a striking resemblance to the logo of infamous Hells Angels biker gang. The members of its Sydney branch didn't like it and made it clear to the band that unless they changed it, they would need five wheelchairs. On top of that, Heaven had to play a free gig at their club. Reportedly, it was nothing pleasant and the band stormed out of the venue as soon as they could after the show.
The US release of the album differed on a number of fronts. The cover art was based on the European release, except that the photography was more monochromatic looking and the logo was slightly altered. Additionally, the Heaven brand was already registered to a band of the same name from Yonkers, NY. And so the cover art subtly featured a word Bent under the band's name, as it was unclear beforehand whether management would be able to buy the rights. If they hadn't, the band would have used Heaven Bent as a name in the States. However, the rights were acquired and so the Heaven's debut album was released in the US and Canada under the name Bent in October 1982. It was released by Brighton Records and distributed by Columbia.
The playlist was also different. The album featured In the Beginning single, but on the A-side there was a song called One Nighter instead of Tuesday Morning, which was originally released as the B-side of the Fantasy single. Additionally, it switched the order with the song called Storm.
Personally, I consider debut as the band's best album. The production could have been better, but under Browning's management everything was done on a tight budget. Still, the band has always excelled live and capturing its character on tape the way AC/DC managed to with Let There Be Rock (1977) doesn't always happen.
Invasion of Britain is not happening
There was interest in the band in the UK – after all, Sounds magazine sent a reporter to Sydney to interview Heaven, and rival magazine Kerrang! also published a two-page pictorial. The band was originally due to land on the British Isles in the summer of 1982 and perform at the famous Reading Festival at the end of August. They would then play a UK tour with Saxon in September and October. The aforementioned band released a live album that year, The Eagle Has Landed, recorded during the tour for Denim and Leather (1981). The problem, of course, was finances, as Saxon were asking $60,000 for the "privilege."
Eventually, this tour happened with another Australian band – Cheetah. It was fronted by talented and attractive vocalists, sisters Chrissie and Lindsay Hammond. Their only album, Rock & Roll Women (1982), was produced by Vanda & Young duo.
So the plan changed and Heaven was to first visit the USA, where according to their American label they had a better chance of success, and tour with Judas Priest, a band which also belonged to Columbia Records. They were touring behind their breakthrough album Screaming for Vengeance (1982) which had just been released. The band was due to arrive in London in January 1983 to record their follow-up album with producer Chris Tsangarides. There were also rumours of Tony Platt, but he was in great demand and apparently out of budget. However, the band has never made it to Europe or the UK.
Farewell to Australia
Heaven thus began a farewell tour called the Last Days on Earth '82. From 9 to 19 September, they were playing around Melbourne. This was followed by Sydney leg of the tour, where they played from 20 September until 3 October. The planned seven shows in the state of Queensland were cancelled. Quite possibly this was related to the band's bassist being caught in a compromising position with a promoter's girlfriend during a previous tour of the Sunshine State. He subsequently refused to work with the band again. Additionally, the band also got kicked out of a restaurant up there because Allan Fryer was strutting around with a lobster sticking out of his pants…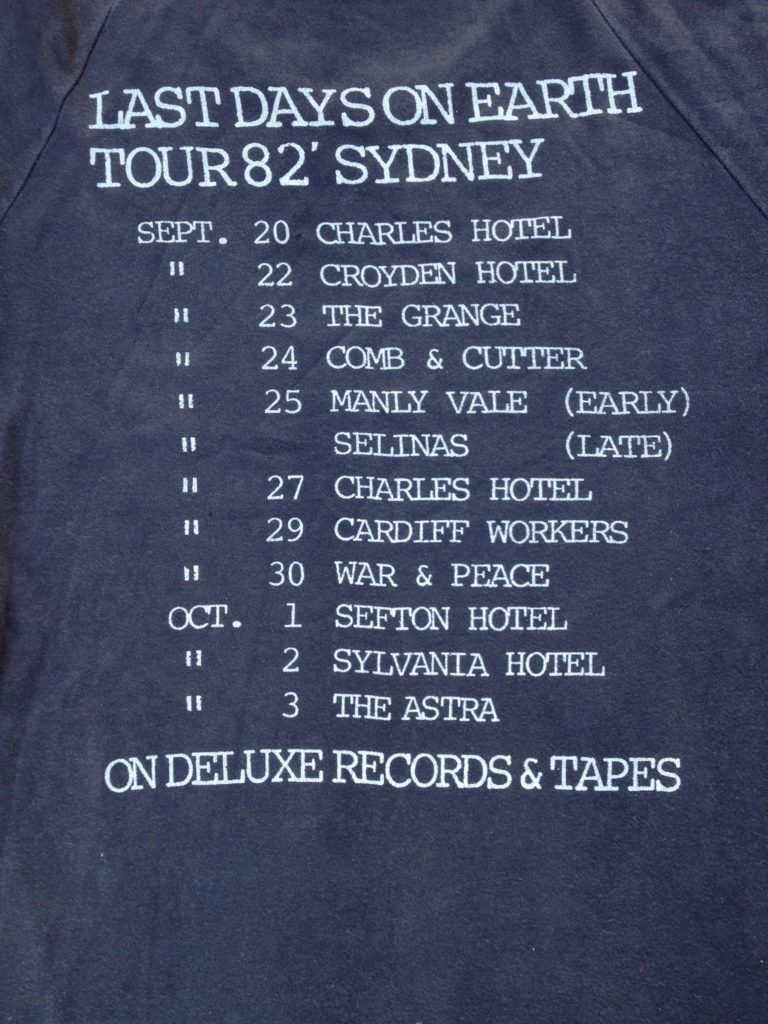 In November, they were selected as support by Iron Maiden for their two-week premier tour of Australia – The Beast on the Road. [In May 1985, on the Australian World Slavery Tour, the Boss were given this opportunity, following March tour with Twisted Sister.] The Maiden toured across America in September and October as special guests of Judas Priest. And it was with the British metal priests that Heaven were to play the last US leg of the World Vengeance Tour in early 1983.
Heaven in Hollywood
So shortly after Christmas 1982, the band landed in the City of Angels. Over two years of hard work landed Heaven in the rock mecca of the decade of decadence – Sunset Strip in Los Angeles. Manager Michael Browning owned a house in North Hollywood and accommodated the band there.
In the US, Browning's ally was Michael Klenfner, who owned Brighton Records. They knew each other from the days when Klenfner was an executive at Atlantic Records and was one of the few influential supporters of AC/DC, the band Browning managed at the time.
On 30 December 1982, they managed to play their first show on the American continent with the Plasmatics at the Perkins Palace in Pasadena, filmed for a TV show called Rock 'N' Roll Tonite. The next day they opened Bill Graham's New Year's Eve show at the Cow Palace, south of San Francisco, opening for Y&T, The Greg Kihn Band and headliner Eddie Money [a former roadie claims that Ratt was also on the bill, right after Heaven as they worked for both bands that night]. The band was warmed up and ready to hit the road for a two-month tour with Judas Priest. And that was a ticket to the majors, as it was one of the most successful tours of the year. Most of the tour took place in front of sold out arenas and the two bands became fast friends. In addition, for the first time, the Australians also "enjoyed" the cold and snow to the fullest, as a large portion of the shows took place in the American Midwest.
After a successful tour with the British metallers, Heaven headlined their own club shows during March. And the reviews were really positive. Terry Atkinson of the Los Angeles Times (the biggest American newspaper on the West Coast) wrote:
"The quintet's powerful live act should make Heaven a stadium-rock champ before long."
The band had just peaked. And no wonder, because its second classic line-up consisted of a frontman [Allan Fryer] who could not only sing but also handle the audience well; an Australian guitar hero [Bradford Kelly] who became a name in the guitar world, albeit for a different reason (more on that later); one of the best rhythm guitarists in rock history [Mick Cocks]; and a solid engine room [Laurie Malrow & Joe Turtur] that pulled like a steam locomotive. Add to that the Mad Max image of these Australian outlaws and a natural stage presence, and you'll get a product that should have sold like hotcakes in the 80s.
Where manager fears to tread
After three months of touring the US, it was time for a new album. The decision to record it locally in Los Angeles must have been due to the saved travel costs and cheap studio rate. Browning owed nothing to his reputation.
George Tutko, who was best known as a recording engineer (Rod Stewart), was chosen as producer. He was just starting out as a producer, so his rate was certainly a bargain.
Since studio time is expensive, the band first composed and rehearsed new material at the S.I.R. (Studio Instrument Rentals) rehearsal studios. The actual recording of the album originally began at Sound City Studios, but the band wasn't happy with the sound, so they moved south over the hill to Cherokee Studios, which Sir George Martin regarded as the best recording studios in the US. It certainly helped that George Tutko knew them intimately, having started his career there.
During the recording of the album, one major thing happened – Heaven were offered to open the heavy metal day at the now legendary US Festival '83, organized for the second (and last) time by Apple co-founder Steve Wozniak. Manager Browning declined the offer, so at the last minute, Quiet Riot got the opportunity (and made the most of it). Exactly half a year later, their album Metal Health (1983) climbed to number one on the Billboard 200 album chart as the first metal album ever. A new era had begun…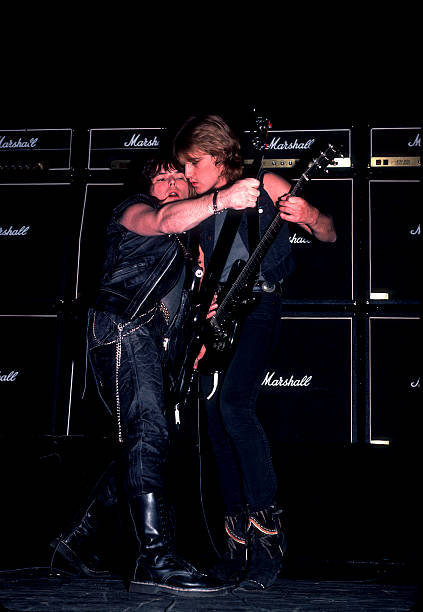 Tragicomic part of it all is that the entire Heaven band spent that Sunday, 29 May 1983, in San Bernardino at the festival. Backstage. They were invited by their new friends from Judas Priest, who were playing that day. And so they got to see Quiet Riot, Mötley Crüe, Ozzy Osbourne, Judas Priest, Triumph, Scorpions and Van Halen perform in succession. Little did they know that they could have opened the whole thing. Their manager didn't mention it to them until later. He declined because they were recording a new album. However, it was on Sunday, so they were given a day off by the producer anyway.
Earthquake in California
The album was completed in the summer and released in October under the title Where Angels Fear To Tread (1983). Tutko's production is typically American sonically cleaner, and compared to the debut, the band has a more commercial metal sound. Not unlike Judas Priest. Sonically, the guitars have a metallic gain, not a hard rock crunch. The album surprisingly includes a cover version of the #1 hit from 1968 called Love Child by Diana Ross & the Supremes. It stayed on the Billboard Rock Albums chart for 10 weeks, peaking at #33.
The album also featured guest vocalists such as Ronnie James Dio, Glenn Hughes and Lita Ford. They were ushered to the studio by the band members from the legendary Rainbow Bar & Grill on Sunset Strip, where they often went to socialize. Lita Ford even had an affair with Mick Cocks, although she was officially dating Mötley Crüe bassist Nikki Sixx at the time (but the truth is that Lita Ford was with everybody).
And it was the frequent partying, drugs and strong egos that caused the turning point in Heaven's career. Shortly after the album was recorded, drummer Joe Turtur and guitarist Mick Cocks were fired. Turtur was 21 and admits in retrospect that he ran off the rails and his drug addiction subsequently blew his chances to audition for the bands like AC/DC and Krokus.
New members of the band became drummer John Lalor and bassist Mark Evans. Both previously served as the rhythm section for Rockin' Rob Riley (Rose Tattoo) in his band called The Beast. Mark Evans, of course, was best known as the bassist for AC/DC's first classic lineup (1975-1977). Yet he ended up in Heaven as a rhythm guitarist. Indeed, he was originally supposed to replace bassist Laurie Marlow. The latter recalls that singer Allan Fryer tried to replace him several times, as those who were approached later confided in him while chatting over drink.
Fryer was a force of nature, and Browning wouldn't let him replace Marlow, who could somehow restrain the frontman (even at the cost of using his fists), too. However, the Rubicon was crossed, and Marlow now thinks that in retrospect it was a mistake to fire guitarist John Haese, who was described in the PR material back then as a stabilizing element of the band. He also believes that Fryer would be diagnosed with ADHD today because of his volatility.
School of Rock on tour
A song called Rock School was released as a single, and the saxophone solo certainly contributed to its commerciality. It was recorded by Jimmy Z from Rod Stewart's band. The single also received a music video, which was in rotation on MTV. It was filmed on Long Island at Great Neck South High School and features the band's new line-up.
Heaven played the Shout at the Devil tour during November and December, opening shows for Mötley Crüe with Floridian band Axe. This took place mostly in California and Texas. And they taught the poseurs from Mötley Crüe a thing or two. When the equipment trucks got snowed in a blizzard as they passed through the Rockies, the bands were killing time at the Holiday Inn in Denver with various debaucheries. It got to the point where they had to isolate both bands on the top floor to prevent them from disturbing the hotel guests.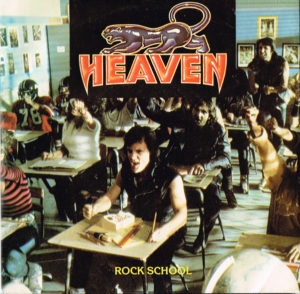 Jackson Kelly
Bradford Kelly has left an indelible mark on guitar history for a slightly different reason than one would expect. As a guitar designer. An idea sprang in his mind when bassist Laurie Marlow received his Hamer endorsement bass. It had an Explorer body, and Kelly liked that. He wanted a similar shape, but with acute angles cut into it like laser cuts. He was inspired by a sci-fi movie called Tron, which they had just watched. The white accented edges confirm this. Those who have seen the film will understand.
So Kelly came with his draft to Grover Jackson's guitar workshop. Warren DeMartini and Robbin Crosby of Ratt band had raved about him to Kelly. In an interview from 2001, he said that the guitar wasn't made quite right. His design accounted for better body balance. In the mid 80s, he replaced the guitar for an amp because the neck warped in Australia and a truss rod adjustment would not help.
Kelly never saw a penny for his design, so the only compliment was that the model bears his name. It should be noted that the standard Jackson Kelly model has more simplistic design, with no protruding edges. A copy of the original design was previously produced in a limited edition as King Kelly.
Bradford Kelly also got a guitar made for Mark Evans. He was inspired by the Fender Telecaster and wanted to make the model look more futuristic. At the time of writing this, both guitars were in a private collection of one European collector. More details in the attached video.
The end of American dream
In mid-January 1984, Heaven was scheduled to kick off a tour with Black Sabbath in Canada. The infamous Born Again tour ran into problems and the first 6 shows were cancelled. Thus, the first show was not played until 25 January in Daly City, California. The band spent two weeks on that tour, and then moved from Texas to the state of Nebraska. There, in Omaha, they opened their first show of a two-week tour of the Midwest with Vandenberg and KISS on the Lick It Up World Tour on 9 February. This KISS tour was happening in front of the mostly half-empty arenas. Just one year prior, Heaven had toured the Midwest in front of packed houses…
Gene Simmons (KISS) liked the band and even left them a following handwritten note:
"I love the band, I believe you could happen and I offer you my help. If it sounds good let's talk… if not, know that I wish you well."
During the tour, a music video for the title song Where Angels Fear To Tread was filmed. By the way, bassist Laurie Marlow came up with its main melody and title. When he showed it to Rob Halford during a tour with Judas Priest, Halford liked it so much that he wanted to buy it from him. In the video, both Kelly and Mark Evans are already playing new guitars made by Jackson.
In addition, one performance was recorded for The Rock Palace TV show and two as a promo material for radio. For the King Biscuit Flower Hour it was the show from San Antonio, Texas and for the BBC Rock Hour it was the one from the Reseda Country Club in Reseda, California.
Homecoming and last tour
And so, after a 14-month American anabasis, Heaven returned to Australia because their visas expired. Allan Fryer had been critical of the local music scene in interviews for the press and on camera (on music shows like Nightmoves). He made no secret of his disappointment at the conditions in Australia, where Heaven were once again playing only in clubs and the radio stations were ignoring their type of music. According to his statements, the band was supposed to stay down under for about two months – to do a tour and compose material for a new album. He made sure to add that the moment his presence in Australia wasn't required, he would get on the first plane to the States.
During March and April 1984, the band did a club tour and even performed the Rock School single on the Countdown. Little did they know that these would be their last performances.
From heaven to hell
Soon after, Michael Browning announced that he was dropping the band because his investments were not returning. After this cold shower, the members of Heaven realized that by signing the managerial, recording and publishing contract, they were at his mercy. And so they found themselves without manager, record label and rights to their music. In addition, Browning also owned Heaven name in the States. They were on the ropes…
In retrospect, it is easy to see the mistakes. The unnecessary sacking of John Haese and Allan Fryer's subsequent attempts to replace his bandmates with bigger names. No touring in the UK and Europe, where distances are smaller and fans more loyal – especially in England and Germany, the band would surely gain a lot of fans. Or the faux pas with turning down the opportunity to open US Festival '83.
The band could be blamed for the internal conflicts – if Fryer thought he could change the line-up as he pleased, he was deeply mistaken. But a big part of that was a failure of their manager Browning. He, truth be told, has never been a major league manager. Yes, he had gotten AC/DC a deal with Atlantic Records in the past (thanks in large part to the charm of his sister Coral) and got them into Europe and the US, but it wasn't until the big time sherpas Leber-Krebs of Contemporary Communications Corporation (CCC) that they were helped to reach the pantheon. INXS also achieved international success only after leaving Browning's Deluxe Records label. With Browning's limited resources, success could only be achieved through hard work – touring. And that was difficult in the US, both financially and logistically. Europe would surely have been a better stepping stone.
But the story of Heaven was not over…
Knocking on Heaven's Door
That Fryer was really serious about his return to the States came true soon afterwards. A guitar ace named Mitch Perry (Steeler, Talas) received a phone call in L.A. from Allan Fryer, who asked him if he wanted to join Heaven. The offer came at the right time for Perry because he had just been looking for a way out of Talas.
The frontman subsequently flew to Los Angeles with the duo of Bruno 'Boz' Renzella (guitar) and Tommy Dimitroff (drums), formerly of Adelaidean band The Dukes. At Rainbow, they ran into a manager Paul O'Neill (who would go on to form the Trans-Siberian Orchestra a decade later), who was working for Leber-Krebs at the time, and they were interested in Fryer. Renzella eventually had to return to Australia for personal reasons, so the trio of Fryer, Perry and Dimitroff headed to New York, where they signed with CCC (their portfolio had previously included bands such as Aerosmith, AC/DC, Def Leppard, Scorpions and Ted Nugent) and Paul O'Neill became their manager.
The new management bought the Heaven name from Browning, and in the US the band was still signed to Michael Klenfner and his Brighton Records label, also based in New York. For this reason, the band moved to the East Coast metropolis of the United States. The rebuilding (or Americanization?) of Heaven began.
Manager O'Neill introduced the band to bassist Dennis Feldman (Speedway Blvd., Balance, Michael Bolton), who had just finished touring with the Michael Schenker Group, as well as his old friend, guitarist Mark Cunningham (Rick Derringer, Cathedral). This new Heaven lineup then began rehearsing repertoire and writing new material.
In January 1985, they entered New York's Record Plant studios to record the new compositions. Production was handled by John Jansen, while five of the album's nine numbers were co-produced by Paul O'Neill, who additionally contributed as co-writer on two songs. The album was mixed at the House of Music studio in West Orange, New Jersey, which was situated west from Manhattan, just across the Hudson River.
The band's third album Knockin' on Heaven's Door (1985) was released in September of that year. The majority of Americans in the line-up must have had an influence on the band's sound, and it is noticeably more polished, including backing vocals, with 80s drum sound, some keyboards and a couple of ballads. It was still hard rock, but it lacked the convict blood of the Antipodes in its veins.
Cover of the Australian edition of the album was (unsurprisingly) different from the other releases… The reason why is probably known only to the employees of the Australian branch of RCA.
By the way, what was going on with the former Heaven members in Australia?
Hellcats
Situation in the southern hemisphere was quite different from that in New York. Without a (front)name, management and a record deal, the band members didn't have much choice. And so they formed a defiant project called Hellcats. The line-up of Kelly (guitar), Laurie Marlow (bass) and Joe Turtur (drums) was joined on lead vocals by Rob Hartley, former frontman of Black Alice from Perth, which recorded an album called Endangered Species in 1983.
Hellcats basically played the repertoire from the first two Heaven albums as is documented on the bootleg I got my hands on. The absence of second guitarist didn't help either and their broomsticks soon ran out of fuel.
Back to the American continent…
Under heavenly sky
As a single was (unsurprisingly) chosen the album's title track, which is of course a cover of Bob Dylan's classic. The video for it was recorded in October in Moab Desert, Utah, on a plateau of monolith called the Castle Rock. The film crew and the band had to spend the night on it because the helicopters were forbidden to fly through the canyons in the dark. The video reportedly cost $75,000. More about its filming in this short video.
I spent a good hour reading over 600 comments under the video clip and the vast majority of them consider this version of Knockin' on Heaven's Door to be better than the one recorded by Guns N' Roses 6 years later (which I personally agree with). I've even read that in South Korea, this single by Heaven topped their chart for a long time. There's probably some truth to that, as several commenters were from Korea and there's a Korean edition of the album (along with other exotic editions like Japanese, Brazilian, Ecuadorian and Mexican).
The video also features what is said to be the first successful guitar spin-flip on camera, performed by Mark Cunningham just before his excellent solo. He had plenty of practice with the guitar throwing from his days in the Derringer band.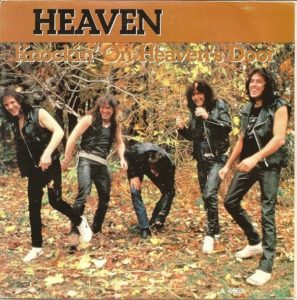 A fun fact – the single was released in some countries with a colour photo of the band on the cover. Except that it showed the previous line-up of the band, probably shot during the filming of Rock School music video.
Same old song and dance
During 1985 and 1986, the band played their own club tours and opened shows across the US for bands such as Motörhead, Saxon, Dio, Rough Cutt and Stryper.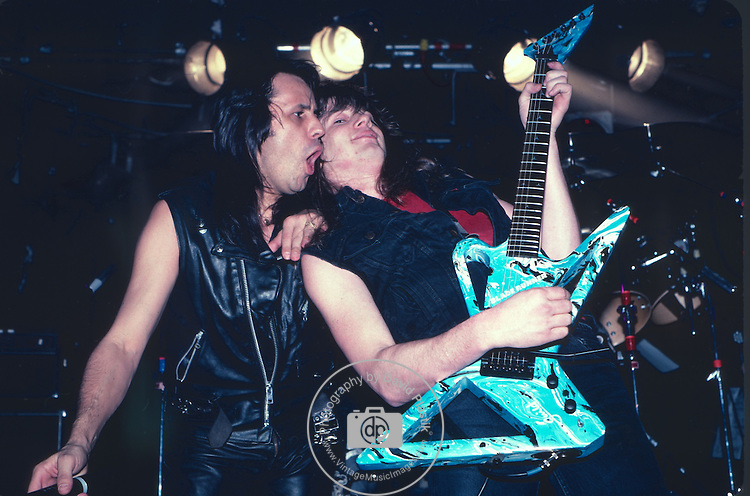 In an interview with Metal Mania magazine in May '86, Mitch Perry said about the band's planned second album that they already know what they are capable of and their next album will outshine the current one. Supposedly they had been composing new material for some time and so instead of writing out of necessity, they were going to have the pick of the litter.
However, the band was again unable to record a second album with the same line-up. The reason was prosaic, the recording of the album never happened. Allegedly due to the disagreements between David Krebs (management) and Michael Klenfner (Brighton Records/Columbia label). The band kept sending them the demos, but they kept asking for more and more, until finally they decided enough was enough and went their separate ways in 1987.
Heaven in a thousand ways
Over the next decade, Allan Fryer kept Heaven alive with an ever-changing line-up of the local musicians. First in South Jersey, on the Delaware border, where he moved and lived in the late 80s. Then in 1990 he headed to Texas, and settled down in Dallas-Fort Worth metroplex after his daughter was born there.
Years later, guitarist Chris Caffery (Savatage, Trans-Siberian Orchestra) reminisced about his time with Allan Fryer in Heaven:
"Allan gave me my first professional gig. My first professional paycheck, my first ever plane flight, my first real tour… all with Allan.

Allan introduced me to Paul O'Neill. In some ways, I may not be where I am today without him. He was a very funny guy and an amazing singer. He had such a crazy personality. I have nothing but fond memories with Allan. He was incredibly under recognized and it is a shame the world did not hear more of that incredible voice.

He took me in my first ever trip to Disneyland. It was so incredible because I grew up with little money and our family vacations were mostly local. I had never seen anything like it."
In 1988, an audio cassette with six demo recordings of Heaven appeared. Chris Caffery has written the music for at least one of them. The song is titled Boys Night Out and, along with Rock On, was re-recorded in the studios in and around Dallas by then line-up around 1991-1992. Both were subsequently released as bonus tracks on unofficial CD editions of the second and third album a decade later. A video for Boys Night Out was also recorded in Dallas at the same time.
Allan Fryer mentioned in an interview that there is an unreleased album from this period that supposedly didn't come out because of the producer. I believe that these are the recordings in question. Texas guitarist Greg Belt, who was a member of the band at the time, claims that 5 songs were recorded.
Old familiar faces
In May 1998, Fryer was in Australia visiting his relatives, and on that occasion he broke the ice with former Heaven bandmates. This resulted in a couple of live gigs by a more or less complete classic line-up: Fryer-Kelly-Haese-Marlow with Theo Kats on drums, who did get to play in the band after all. There was also original drummer Joe Turtur, who played a few numbers as a special guest. They played two shows in Sydney (Bridge Hotel and Collector Tavern).
After returning to the States, Fryer got in contact with a small label out of Chicago called Pulse Records, thanks to Mitch Perry. He then called Theo Kats to get the others together to write songs for an intended new album. Kelly and John Haese reportedly declined the offer, but the singer insisted and told Kats to find new guys for the project. Theo Kats and Laurie Marlow agreed that guitarist Kevin Pratt (Boss, BB Steal), whom they both knew well, was a suitable candidate. They also agreed that Heaven had lost their original sound with the release of their third album and wanted to return to their roots. And so the Pratt-Kats duo composed about ten new songs.
Last recordings
In April 1999, Allan Fryer flew to Sydney and the Fryer-Pratt-Marlow-Kats quartet began recording new material at Billy Thorpe's Electric Mountain Studio. Greg Clarke, a well-known Australian soundman was engineering the sessions. However, the project was soon scrapped due to finances. Only a song called Hot was completed and in 2003 it was released on a compilation called Hollywood Hairspray Vol. 2, released by Perris Records out of Texas. The remaining three recordings were basically just the rough mixes. In 2012, they appeared on a bootleg called Lost Gems, released by Hard Rock Diamonds out of Las Vegas.
But in 1999, Pulse Records released a compilation called Kickstart My Heart: A Tribute to Mötley Crüe, which also featured a recording by Heaven. It was a cover version of the song Home Sweet Home, which Fryer had recorded before his flight to Sydney with the Texan musicians. In an interview, Heaven's singer claimed that he had played an early version of this 1985 hit with Tommy Lee, sitting at the piano, during the party at Larry Flynt's Hustler mansion. Interestingly, the booklet of this compilation CD features a picture with the Heaven title and information that a new album recorded by the original line-up is coming soon…
Down under with the metal priests
In late 2001, Heaven managed to score the support slot on the Australian Demolition tour of Judas Priest. Both Kelly and John Haese were contacted again but refused to play new songs, which was a prerequisite for the tour, so the trio of Allan Fryer, Laurie Marlow and Theo Kats were joined on guitars by the now familiar Kevin Pratt and Ross Flynn from Newcastle (the Australian one). The tour began in Melbourne on 30 November, continued with two shows in Sydney and culminated in Queensland's capital Brisbane on 4 December. The band played two more shows in Sydney on their own. The Priest guys reportedly liked new songs and advised the band to continue Heaven. Fryer, however, returned to Texas and everything was forgotten.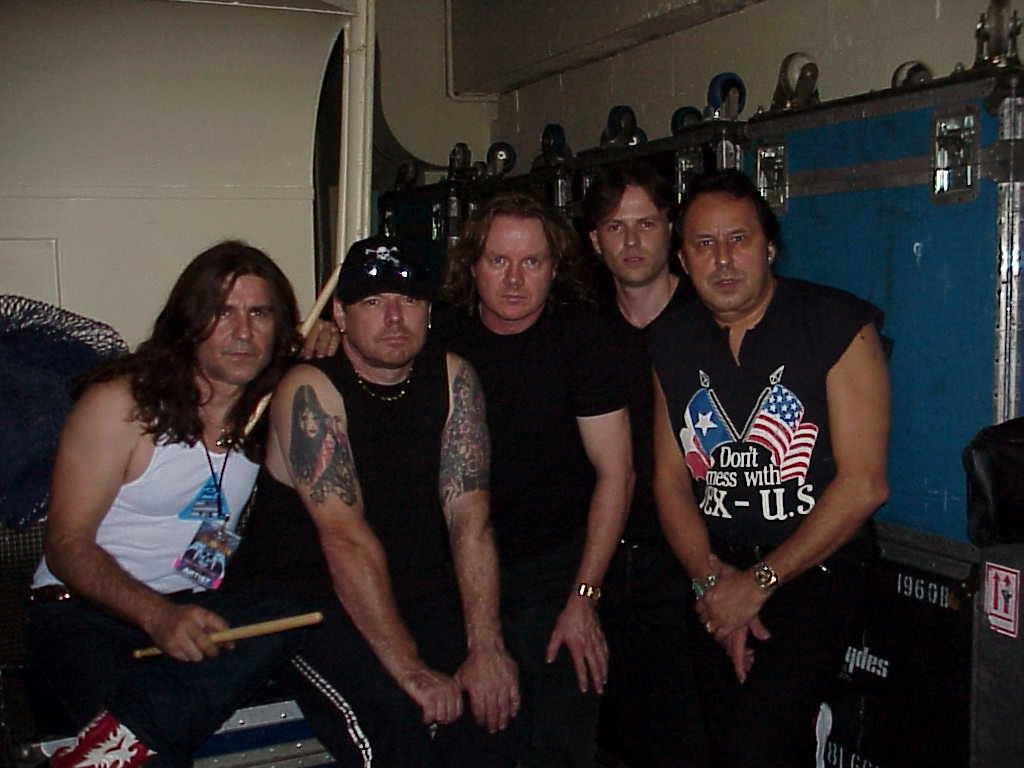 Last tour
At the beginning of 2012, Heaven announced their Twenty Twelve Tour (20+12=32, exactly 32 years since the band's formation in 1980) of Australia, happening at the end of June with an almost classic line-up.
I discovered the band in the summer of 2011 and in 6 months' time I managed to amass quite an extensive collection of their records, singles, CDs and absorb a lot of information about Heaven. Since I've always wanted to visit the land down under, I figured when, if not now. Plus, this might be the last time I'll have the opportunity to see my favorite band live. So I switched on saver mode and started researching everything I needed to arrange (visa, flight, accommodation, local transportation, etc). The plan was to see the last three shows of the tour – two in Sydney and the final one in Wollongong (south of Sydney).
When I had bought my plane ticket, tickets for the concerts and booked accommodation, I posted a picture of my collection to the Heaven Facebook group, adding that I was flying from Slovakia and looking forward to the gigs. It caused quite a stir and impressed other fans and band members who were active in the group: Allan Fryer, Laurie Marlow and Joe Turtur (who organized and financed the tour). They in turn were excited to see me, and I was even contacted directly by a long-time Australian fan from Melbourne, the admin of the Heaven Facebook fan page, who said he'd be happy to buy me a drink or two…
Without Kelly
Originally, the tour was to be played by the classic Fryer-Haese-Marlow-Turtur lineup with Mitch Perry as lead guitarist. The reason for this was that Bradford Kelly supposedly passed away around 2004. The band members didn't find out this information until a few years later from Theo Kats, who was given the information by a supposed relative of Kelly's. Kelly seemed to vanish without a trace at the beginning of the new millennium and all attempts by the band members to track him down and contact him failed. Despite this, there have been claims that Kelly is still alive. According to one source, he had a bad bike accident in 2004, resulting in partial brain damage, and was allegedly living in Perth. It is quite possible that he wanted to remain incognito.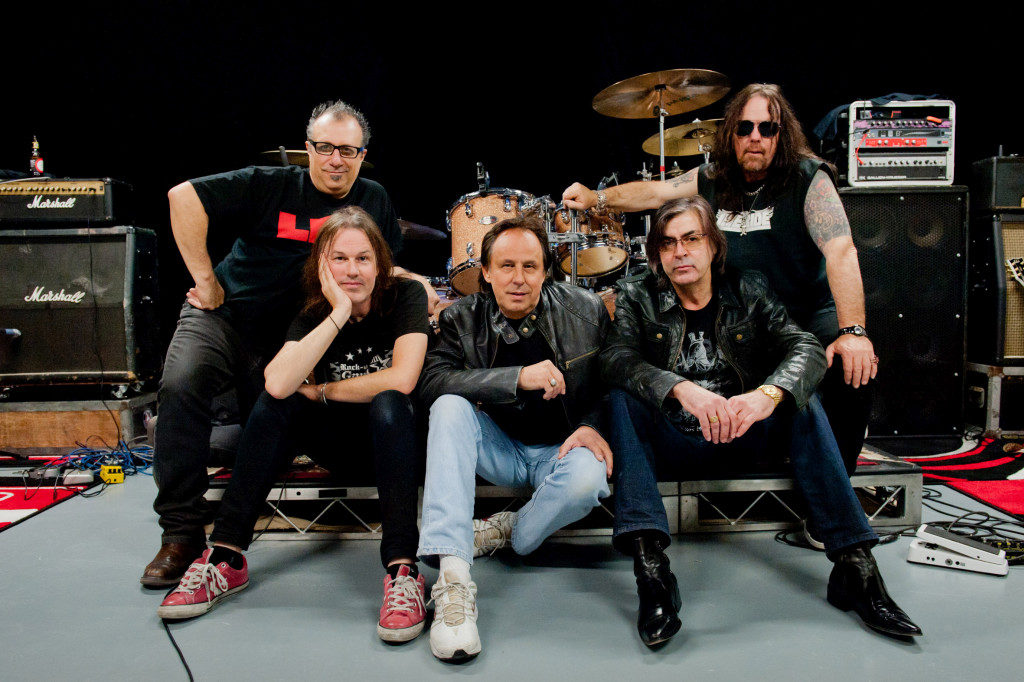 Whatever the truth was, the position of lead guitarist was to be filled by an American on the tour. Mitch Perry had to cancel his participation because of a tour with Lita Ford, in whose band he was playing at the time. However, he recommended a friend of his – the English-born Rowan Robertson. The latter was not yet eighteen when he replaced Craig Goldy in Ronnie James Dio's band and recorded Lock Up the Wolves (1990) album with him. Due to a last minute change and the need to rehearse new material, the tour was reduced from 11 shows to 7, giving the band a week to spare.
Surprise at the Annandale
The first night in Sydney was the fifth show of the tour, so it was to be expected that the band would be running full steam ahead. I got to the venue early and since I wasn't too interested in the support acts, I took the advice of my new Aussie mate Eddy, and killed time chatting with Dean, the guy who was selling the band's t-shirts and albums at the merch booth. He's a connoisseur not only of Australian rock, but of music in general, and regularly travelled to the States to see various tours and gigs. So we had a lot to talk about.
I was aware when the band arrived, but I kept to the side, incognito. At one point though, bassist Laurie Marlow came up to me and asked me point-blank if it was me, the guy from Slovakia. I nodded and he immediately took me to introduce me to the others, Allan Fryer was one of the first, and he gave me a hug as he shook my hand, like an old friend. Eddy also arrived a bit later and we got to talking over drinks until the concert started.
The club was packed with many long-time fans and also musicians of which I had only read about or known from videos. What certainly hadn't changed since the 80s was the volume level, as Heaven as a band were known for their LOUD shows. And by that I mean the level of Motörhead and such. The rhythm section was chugging along like a well-oiled machine, newcomer Robertson did justice to Kelly's guitar parts while still being himself, and Allan Fryer, even a few days shy of sixty, was still proving himself to be an excellent singer and unique frontman.
"Jim Morrison"
It wasn't until In the Beginning and its breakdown that I started to get an uncomfortable feeling in my stomach… and rightly so! The band turned down their playing, with only the engine room chugging, producing a catchy strip rhythm Malcolm Young-style, and Allan Fryer announced that there was a special guest from Slovakia in the audience. Everyone started turning around to see who he was talking about, until all eyes were on me and Allan called me on stage.
Since it was packed, I had to jump up on the bar, and make my way across it to the stage. There he introduced me to the audience and then handed me a bottle of Jack Daniels to have a sip. When I turned to leave after the toast, he grabbed my hand and made it clear that we weren't done yet… He put his arm around my shoulders so I could not escape, and started: "In the beginning!" I was trapped. The microphone in front of my mouth and there was no turning back. So I replied with the utmost concentration: "There was rock 'n' roll…" and hoped it didn't sound like shit. Of course, this was all repeated a couple of times until the band started their sprint to the finish.
By then I was in safety, standing by the roadies and the opening band's members, and watching the rest of the show with them. Of course, they didn't forget to pat me on the back appreciatively and one roadie even commented: "I heard a bit of Jim Morrison in your voice." I think he meant some microscopic "bit."
Behind the scenes of Australian rock
After the gig it was time to socialise in the bar backstage, where Allan introduced me to Mark Evans. Actually, Mark introduced himself to me. I thought I was dreaming. And I could go on like this, but this is an article about the band and not me. So I'll cut it short.
The next day I saw the Tice & Evans duo perform at the former Sando Hotel, and Mark performed Sin City, a song of his former band AC/DC, with Heaven on bass that night. I travelled by train to Wollongong, for the last gig of the tour, with my mate Eddie and we also had dinner with the band and their roadies before the show itself. They also gave us a lift back to Sydney after the show. What is more, during the show we stormed the stage with Eddy when Fantasy started and we both launched into Laurie Marlow's and John Haese's microphones: "Oi, oi, oi!" It was a nod to the old days when fans would do it as a joke because the riff bore a striking resemblance to T.N.T. by the almighty AC/DC.
The bitter end
Truth is that the tour made a loss and the old animosities between the drummer and singer manifested themselves again. As if that wasn't enough, Allan Fryer was diagnosed with cancer in 2013 and underwent treatment. That was initially successful and the disease was in remission.
A fantastic thing even happened and Heaven got an offer to perform at Sweden Rock 2015, which meant the band would finally get to play in Europe. I still remember Allan letting me know about it among the first and assuring me that I would be their guest at the festival. Mitch Perry was going to join the line-up as the third guitarist and an American was also supposed to sit behind the drums. Unfortunately, Europe and Heaven were just not meant to be.
Relapse came and on 4 June 2015 (during the ongoing Sweden Rock Festival) also the sad news from Texas that Edward Allan Fryer had died at the age of 62. I may have only met Allan once, but I will never forget his hospitality, camaraderie, wacky sense of humor, and top musicianship…
Coda
It can be said that with death of Allan Fryer, Heaven also ceased to exist. Although the remaining trio of John Haese, Laurie Marlow and Joe Turtur declared their intention to revive the band, the drummer announced last year (2021) that he had been fired for the third time. The remaining duo, along with guitarist Ross Flynn, drummer Mick O'Shea and a new singer whose name I honestly didn't remember, allegedly recorded a new single and a tour of New Zealand was planned. Meanwhile, Turtur had registered the Heaven name in Australia which thwarted their plans. Since then it's been quiet and one could conclude that Heaven has ended up in rock hell. And my hunch from ten years ago has come true.
This article is dedicated to the memory of Allan Fryer, Kelly and Mick Cocks. Because in the early 80s there was a rock band of the Australian outlaws who were poised to plunder musical bastions of the Western world. And while it didn't quite happen, the world should not forget Heaven.
Thanks goes to Heaven fanatics Pete, Lemmy, and last but not least Eddy who filled in the bits and pieces of the story I was missing. To Rocky for dusting off his memories from the road, to Mark for his fan site, which especially in the early days was a source of valuable information. And to other loyal fans, roadies and band members who have shared their Heaven stories, pictures and videos over the years, either online or in person. To Paul Miles, who did an excellent interview with Allan Fryer in 1999. To the late legend of rock journalism Malcolm Dome, who wrote an informative essay for the remastered version of Where Angels Fear to Tread, recently released by Rock Candy Records. And finally, to myself, for making a trip in 2012 that was definitely worth it.
I will conclude with a phrase which, according to Allan, Kelly used to say:
"HEAVEN FUCKIN' METAL"
Discography
1981 – Fantasy [single]
1982 – Twilight of Mischief [AUS] / Bent [USA]
1982 – In the Beginning [single]
1983 – Rock School [single]
1983 – Where Angels Fear to Tread
1985 – Knockin' on Heaven's Door [single]
1985 – Knockin' on Heaven's Door
1988 – demo cassette
1999 – Home Sweet Home [cover on Kickstart My Heart: A Tribute to Mötley Crüe compilation]
2003 – Hot [single on Hollywood Hairspray Vol. 2 compilation]
2012 – Lost Gems [bootleg]