Je třeba připomenout, že Hartleyova minulost byla docela zajímavá. Když Ringo Starr opustil nejdivočejší liverpoolskou skupinu Rory Storm And The Hurricanes, zasedl Keef Hartley za bicí soupravu místo něho. Potom působil v Artwoods a pak následovalo angažmá v Bluesbreakers… 
Třebaže Hartleyův rozchod s Mayallem nebyl příjemný a pozornost mu věnoval i hudební tisk, rozhodl se Keef reagovat na tuto okolnost po svém. Asi tak, jak to nikdo neočekával. Prostě telefonát, který znamenal konec spolupráce s Mayallem a bubeník dostal výpověď, Hartley jednoduše zvolil jako prolog na album a tak si dodnes výpověď přes telefon mohou posluchači "vychutnat" při poslechu alba!!! Koho by toto napadlo?! Vy, co album neznáte, budete asi překvapeni, že dialog zní velmi klidně, bez vzpouřených emocí. Některé nepříjemné věci se dají říct i velmi klidně a téměř nezúčastněně. Ostatně posuďte to sami. Mayall začíná opatrně…
HEART AND FLOWERS CONFUSION THEME THE HALFBREED – Pár bubenických přechodů, opakující se schematické téma na kytaru, bublající hammondky a už se nám rozbíhá náladotvorné rhythm an blues. Miller Anderson rozbíhá slušně vystavěné kytarové sólo, střídán Peterem Dinesem na hammondky, na které vyťukává jednotlivé tóny jako řemeslně zdatný pasíř.
BORN TO DIE je jednou z nejlepších skladeb na albu. Je to klasické elektrické blues čítankového typu, jaké už dnes v této ryzí a nejpřesvědčivější poloze dokáže zahrát opravdu málokdo. Miller Anderson emocionálně rozbíhá téma podle svého nejlepšího cítění, doprovázen Dinesovými hammondkami a rytmickým doprovedem toho nejpříhodnějšího typu. Na albu není sólový zpěvák (Hartley nezpíval) a tak se Anderson ujal i pěveckých partů. Výtečně. Zastřený a ostrý hlas se do blues velmi hodil. Dynamické odstínění je na vysoké úrovni a dokáže milovníka žánru přivést na pokraj extáze včetně závěrečného gradování. Mistrovský kousek!
SINNIN' FOR YOU – Varhany přicházejí zvolna z pozadí, aby byly vzápětí překryty Hartleyovými přechody na bubny, kterými servírují další ryhythmandbluesovou skladbu za podpory dechové sekce výtečných doprovazečů, známých z Bluesbreakers. V mezipasážích vstupují do tématu jazzové prvky jako od Blood, Sweat And Tears, ale Anderson se svou kytarou opět razantně a nekompromisně deklaruje další kytarové téma za přiznávek dechové sekce a přesně šlapající rytmiky. Ta závěrečná flétna je krásně melancholická!
LEAVIN' TRUNK – Anderson otevírá další skladbu s výrazným rockovým riffem a vzápětí se přidává celá skupina. Rock kořeněný blues na výtečné úrovni. Patřičná údernost a práce Thainovy baskytary umocňuje celkové vyznění, stejně jako vyťukávané tóny na klaviaturu hammondek. Ten rockový riff Anderson rozvíjí do dalších struktur, ale nepřekrývá celé téma, které drží skvěle pohromadě. O kytarové party se zde dělí s druhým kytaristou Jamesem, ale exceluje Anderson. Rocková proměna ve swingující bicí potvrzuje kreativitu kapely a skladby samotné.
JUST TO CRY – Další skladba ubere na intenzitě, přináší zklidnění a náladotvorné obrazy. Anderson zpívá procítěně a věrohodně, tikající rytmika a lehká stratosférická trubka jsou příhodným doprovodem, než se krátce přitlačí v dynamice a výpovědi. Anderson kouzlí s wah wah pedalem, aniž by chtěl šokovat podle hendrixovského modelu. Spíš vytváří psychedelické zvukomalebné miniatury. Krásně se poslouchají. Závěrečné propojení s podporou žesťů je velmi příjemné.
TOO MUCH TINKING – Pomalé bluesové variace za podpory dlouhých tónů dechové sekce přinášejí klasické téma rozvíjené v sugestivním uchopení celé formy. Anderson, poučen bluesovými shoutery, je velmi stylotvorný a prokreslování tématu dáva příležitost i dalším nástrojům, jako jsou Lowtherovy housle. Aplikace žesťů sice rockerům asi nebude po chuti, ale do tématu patří a dramatické vyvrcholení skladby, prostřídávané s umírněnými pasážemi, je bez komentáře.
THINK IT OVER TOO MUCH TO TAKE – Andersonovo kytarové entrée s kvákající kytarou připomene vzdáleně skladbu Willie The Pimp (Zappa, Beefheart a Juicy Lucy, vzpomínáte?). Vlastně to nastoluje otázku, kdo byl první, všechno se totiž (nemýlím-li, se odehrává v roce 1969!?) Ohýbaný tón zde dostane příležitost zarýt se vám do mysli v bohaté míře, ale nepůsobí samoúčelně. Dodává do písně napětí a expresi, což dokresluje přesně šlapající rytmika a přiznávky varhan.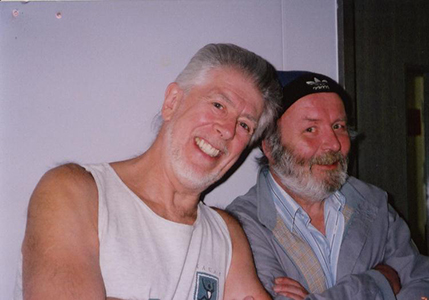 V závěru skladby opět zvoní telefon a aby se to nepletlo, tak zase pro změnu dává padáka Hartley Mayallovi. Očekávali by ste to? Asi málokdo. Když pro nic, tak pro tuto lapálii si album už asi zapamatujete navždy, ale samozřejmě nejen pro ni, ale i pro výtečnou hudbu a stejně monumentální design. Těch pět hvězdiček je zcela legitimních!
Bonusová skladba (na CD):
LEAVE IT 'TIL THE MORNING – Singlový bonus na CD přináší uvolněnější píseň, která dokresluje atmosféru na digitálu a ukazuje nám odlehčenější polohu Hartleyovy hudby.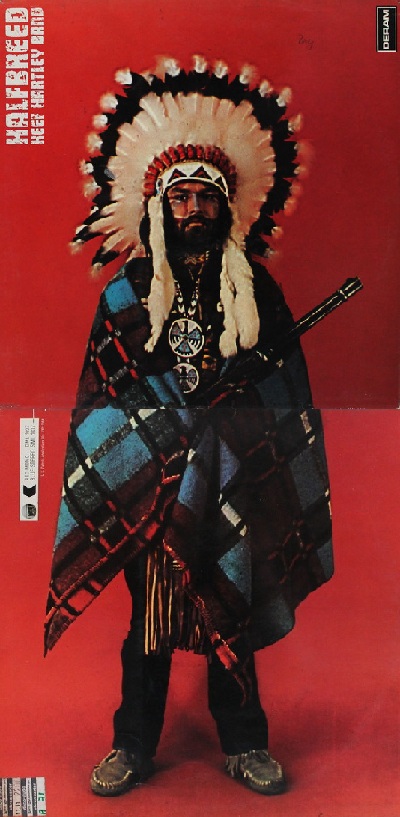 Už od dětství mám rád Indiány – zcela záměrně je píšu s velkým "I", protože to pro mě není jen etnická skupina, ale národ. Obal alba mě fascinoval "vousatým Indiánem". Hartley ve slavnostní náčelnické čelence se saltillskou pokrývkou a winchestrovkou, to vše na červeném podkladu. Prostě obal, na který už nezapomenete, stejně jako na hudbu samotnou.
Další alba Keefa Hartleyho potvrdila soudržnost a ambice kapely. V polovině sedmdesátých let postavil Hartley kapelu Dog Soldier, ale to už je jiná kapitola.
Pro sběratele zajíimavostí uveďme, že hráči Keef Hartley Band na tomto albu se neztratili – Miller Anderson svou kytaru přenesl do Savoy Brown a Gary Thain se objevil v Uriah Heep, ale to už je o něčem jiném.
Albu dávám pět hvězd, protože si to zaslouží!
SKLADBY:
1.
Sacked
 – (Introducing
Hearts And Flowers
) (arr.by Hartley)/
Confusion Theme
(Hartley, Cruikshank)/
The Halfbreed
(Hartley, Dines, Cruikshank) – 7:53
2.
Born To Die
(Dines, Hartley, Thain, Hewitson) – 9:58
3.
Sinnin' For You
(Hartley, Dines, Hewitson, Finnegan) – 5:51
4.
Leavin' Trunk
(Estes) – 5:55
5.
Just To Cry
(Lowther, Finnegan) – 6:18
6.
Too Much Thinking
(Finnegan, Dines, Thain) – 5:30
7.
Think It Over
(King)/
Too Much To Take
(Speech) – 5:31SESTAVA:
Miller Anderson – Vocals, Guitar
Peter Dines – Organ, Harpsichord
Spit James – Guitar
Gary Thain – Bass Guitar
Keef Hartley – Drums
+
Henry Lowther – Trumpet, Violin, Brass arrangements
Harry Beckett – Trumpet
Lyn Dobson – Tenor Saxophone, Flute
Chris Mercer – Tenor Saxophone
John Mayall – voice on "Sacked" and "Too Much to Take"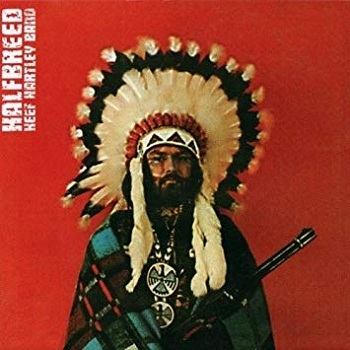 Halfbreed
Keef Hartley Band
Blues Rock
Deram
1969
LP
7
CD - Esoteric Recordings /2008/