Kapela Dio jako by po vydání skvělého The Last in Line, které však bylo v podstatě se vším všudy okopírovaným (nápady, riffy i zvukem) Holy Diverem, nevěděla kudy kam. Po dvou EP a vyčpělé trojce Sacred Heart si situace žádala změnu. Na heavy scéně se v roce 1987 vše točilo kolem hair metalu, většina kapel provzdušňovala a zjemňovala svůj sound. Jak to dopadlo u družiny, která obklopovala Ronnieho Dia?
Především byl odejit kytarista Vivian Campbell, který se jako jediný nebál poukazovat na nedostatečné finanční ohodnocení. Jak to tehdy ve skutečnosti bylo dnes již nezjistíme, jasné však bylo jedno. Náhradu na tento post měl Ronnie již dávno promyšlenou. Stal se jí tehdy pětadvacetiletý Craig Goldy z formace Giuffria, které manažerské zázemí zajišťovala Diova manželka Wendy.
Pro kapelu to bylo velké oživení, lehce jiný a spíše hard rockový styl a rukopis Craiga vyvedl kapelu z období stagnace. V jeho melodičtější a hutnější hře je znát více vliv jeho velkého vzoru – Ritchieho Blackmora, což je trochu v protikladu k dramatičtější, zkratkovitější a metalovější hře jeho předchůdce.
S kolekcí devíti songů jsem spokojen, vzdušná a čitelné produkce je na prvotřídní úrovni, ostatně mix Nigela Greena a Tonyho Platta byl tehdy tou naprosto nejlepší volbou, kterou využili ve stejném období například Def Leppard či Krokus.
Písně směřují spíše do hard rockové oblasti. I v rychlých kouscích Night People či Overlove je znát ten poctivý grunt starých mistrů z tvrdého rocku. Kromě obrovského hitu All The Fools Sailed Away a jedné úlitby pro rádia s větším podílem kláves a uhlazenějším refrénem v podobě I Could Have Been a Dreamer nejsou na albu vyložené pecky. Zároveň tu nenajdeme ani žádné skutečně slabé kousky nebo nějaké skladby reflektující street metalový boom všude kolem. Fandové, kteří sledovali Ronnieho od dob jeho působení v Rainbow či jeho desky s Black Sabbath, museli být (spolu se mnou) potěšeni drobnými odkazy na tato období a v konečném výsledku povedenou deskou. Dio se s Dream Evil vrátilo zpět do hry.
SESTAVA: 
Ronnie James Dio – vocals
Vinny Appice – drums
Jimmy Bain – bass
Craig Goldy – guitar
Claude Schnell – keyboards
SKLADBY:
01) Night People (Dio/Appice/Bain/Goldy/Schnell) 4.06
02) Dream Evil (Dio/Goldy) 4.23
03) Sunset Superman (Dio/Appice/Bain/Goldy/Schnell) 5.45
04) All the Fools Sailed Away (Dio/Goldy) 7.11
05) Naked in the Rain (Dio) 5.09
06) Overlove (Dio/Appice/Goldy) 3.44
07) I Could Have Been a Dreamer (Dio/Goldy) 4.42
08) Faces in the Window (Dio/Appice/Bain/Goldy/Schnell) 3.50
09) When a Woman Cries (Dio/Appice/Bain/Goldy/Schnell) 4.42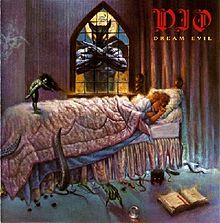 Dream Evil
DIO
Hard and Heavy
Warner Bros
1987
CD
9