"Once upon a time, the door to happiness was open,
Walking in the sea, fresh air, sunshine and love.
Now everyone's eating each other, everything, everywhere.
It's gone, no more, the end."
Úvodní Bartonovo poselství sice zvěstuje konec časů, v nichž bejvávalo dobře, pro dvaačtyřicet minut s jediným albem newcastleských Beckett to však neplatí v žádném případě.
Přínos projektu, čekajícího v první polovině sedmdesátých let na své album z mnoha různých důvodů (snad včetně ropné krize) až neslýchaně dlouho, potvrdí hned první regulérní song Rolling Thunder mající opravdovou sílu burácejícího hromu. Představí v plné síle kapelu i Terryho Wilson-Slessera – zpěváka, kterých žádná doba nepřinesla mnoho.
Jeho podmanivému hlasu dá ještě víc vyniknout syrová balada s venkovskou atmosférou Rainclouds, příhodně podbarvená smyčci a nadbarvená fantastickou kytarou, stejně jako neprávem zapomenutý klenot progresivního rocku Life's Shadow, který navodí tisíce emocí. Nejedná se však o žádný tajný experiment na posluchači, jaký zvyknou provádět asociální sítě na svých uživatelích, ani o účelově vyvolanou vlnu rozdmýchanou na masovém shromáždění svolaném na podporu odporu proti komusi. Je to "jen" poctivá muzika.
A není jen o dechberoucích pasážích, ale nabídne i příjemnou relaxační vsuvku New Dawn Chorus, která přijde vhod a v pravý čas. Předchází totiž nejznámějšímu číslu kapely, strhující Fisherově jízdě Rainbow's Gold, kterou si o deset let později vyberou na singl Iron Maiden, coby možnou splátku "dluhu" spoluautorovi songu, který se v jednaosmdesátém Harrisovi nezdál být dost dobrý, perspektivní, připravený, odhodlaný nebo drsný, či co se mu vlastně na Slesserovi nelíbilo. Sluší se však dodat, že při každém vystoupení heavymetalové legendy na severovýchodě Anglie jsou členové Beckett pozváni do VIP prostor v zákulisí. Jakpak se asi tváří, když Eddieho boys spustěj Hallowed Be Thy Name a The Nomad, ve kterých možno slyšet ukradené pasáže z Life's Shadow…
No nic. Vydařená je i další část předmětného alba. Lehce loudavá To Don't Tell Me I Wasn't Listening nasáklá barovou náladou by klidně mohla být soundtrackem k osudovému setkání a gradující hardrocková Green Grass Green zas ozdobou každého alba té doby. Jen před svěží nekomplikovaností My Lady bych neváhal dát přednost odvrácené straně singlu Little Girl. V samotném závěru svého pravdivého příběhu však Beckett podají další přesvědčivý důkaz o nesporných kvalitách společného díla. A o další promarněné příležitosti…
Obsah svých emocí někdy nesvedeme přesně vyjádřit slovy, proto vznikla různá rčení, jako hrůzou mi vstávaly vlasy na hlavě nebo radostí jsem skákal až ke stropu. Pocity při poslechu výše popisovaného titulu bych mohl shrnout podobným způsobem – rázem se ocitám v sedmém nebi.
SKLADBY:
A1. Once Upon a Time… The End (R. Barton) 0.54
A2. Rolling Thunder (K. Mountain) 5.29
A3. Rainclouds (Mountain/Ramm) 5.17
A4. Life's Shadow (Barton/Ingham) 6.59
A5. New Dawn Chorus (K. Mountain) 0.54
B1. A Rainbow's Gold (Mountain/Slesser) 4.40
B2. Don't Tell Me I Wasn't Listening (K. Mountain) 5.36
B3. Green Grass Green (K. Mountain) 4.38
B4. My Lady (Barton/Mountain) 3.30
B5. True Life Story (K. Mountain) 5.36
Nahráno: Island Studios, Londýn
Zvuková režie: George Chkiantz
Smyčcová aranžmá: Wilf Gibson
Produkce: Roger Chapman
SESTAVA:
Robert Barton – rytmická kytara
Kenny Mountain – sólová kytara, zpěv
Terry Wilson-Slesser – zpěv
Keith Fisher – bicí, perkuse
Ian Murray – basová kytara
&
Tim Hinkley – klávesy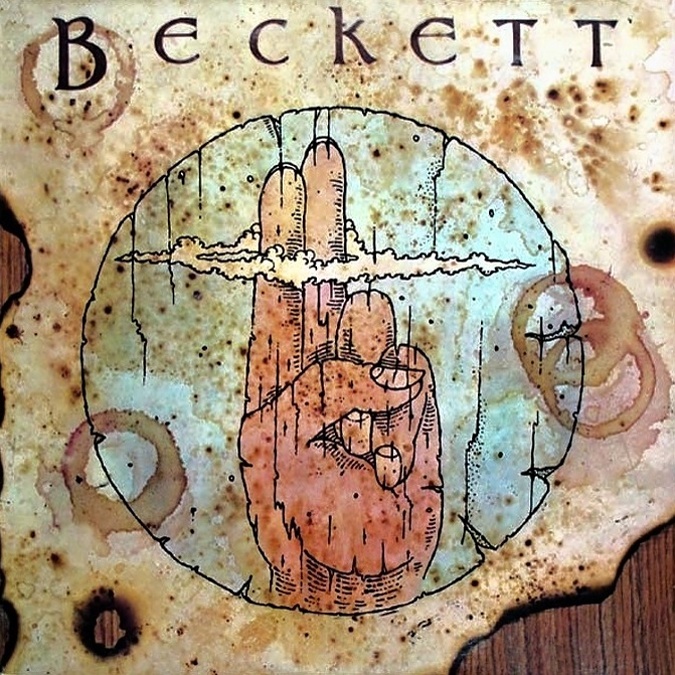 Beckett
Beckett
Prog/Hard Rock
Raft Records
1974
LP
10