VM 2000 – VM 098 CD  /2005/
Skupina Dalton pochází z Bergama v Lombardii a v roce 1973 debutovala výtečným, hard/blues/progrockovým albem Riflessioni: Idea d'infinito. O rok později natočila ještě neméně povedený singl La donna e il bambino, ale pak už to s ní šlo pomalu z kopce. Klávesista a zpěvák Temistocle Reduzzi se rozhodl odejít za lepším a takřka vzápětí jej následoval i flétnista Alex Chiesa. Sestavu Dalton tak doplnili Giancarlo Brambilla (klávesy) a Massimo Moretti (zpěv), ovšem album Argitari (1975) kvalit svého předchůdce nedosahuje ani náhodou. Působí spíš jako sólová nahrávka kytaristy a zpěváka Aronne Ceredy a nováček Moretti dostal příležitost jen ve vokálních doprovodech. Deska propadla a skupina tak nějak přežívala až do konce sedmdesátých let. Svoji pouť po hudebních kolbištích nakonec uzavřela komerčním singlem v roce 1979…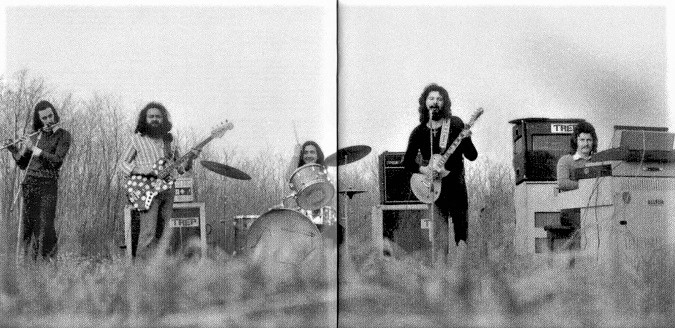 Album Argitari vyšlo v trojitě rozkládacím obalu u společnosti International Audio Film (IAF-LP 29001) a obsahovalo devět písní, ale tu originální verzi jsem ještě neslyšel. Do sbírky jsem si koupil CD reedici od labelu VM 2000 z roku 2005 a ta nabízí spoustu bonusového materiálu navíc. Nejenom výše uvedenej singl La donna e il bambino, ale ještě další tři, dříve nezveřejněné skladby. Daleko důležitějším faktem je však účast flétnisty Alexe Chiesi, který od skupiny odešel v průběhu nahrávání. Ten se do přípravy reedice aktivně zapojil, dohrál chybějící flétnové party a pověstnou třešničkou navíc je ještě pečlivě ošetřený a v porovnání s původní verzí vyčištěný zvuk.
Prvních devět skladeb jde za sebou tak, jak tomu bylo na originále a je to tak půl na půl. Blues/hard rock, typický pro debutové album je pryč a nahradily ho docela obyčejné písničky. Jsou tady takové, které nepostrádají pěkné melodie a rockový nápřah, ale i takové, co se tlačej do popu víc, než by bylo zdrávo. S přimhouřenýma očima by se to dalo přirovnat k písničkovému období skupin Le Orme, Formula 3, nebo Delirium.
Úvodní L'impossibile è possibile je vlastně v pohodě. Sice tak trochu kolovrátek, ale líbí se mi zvuk syntezátoru i kouzelné švitoření v prostoru létající flétny. O stupínek lepší a o fous rockovější Hai visto il sole? těží především z kontrastu důrazného instrumentálního doprovodu a popových melodií. Určitě má něco do sebe a jako taková patří k tomu nejlepšímu, co je na albu k mání. Sladkobolná balada Ho ritrovato la mia donna je sice kapánek přeslazená, ale pořád ještě to jde, kór když ji vzápětí vystřídá titulní instrumentálka Argitari. Urozená, symphonic rocková kráska s parádními klávesami (prostě Moog) a přiměřeně dávkovanou pompou. Jako výraznej přešlap vnímám až popovou halekačku La risposta, vhodnou tak do vysílacího programu komerčních rozhlasových stanic. Samotného mě překvapila skutečnost, že jde o cover Dylanovy skladby Blowin' in the Wind, ale co už. Dalton udělali z původně folkové písničky estrádu nejhrubšího zrna a tak nezbývá nic jiného, než zatnout zuby a ty čtyři minuty prostě vydržet.
Jednoznačně nejlepší skladbou na desce je šestá Visione di una notte d'estate, což je vlastně mírně upravená a přetextovaná verze singlové skladby La donna e il bambino. Někde jsem zachytil informaci, že se uvažovalo o její nominaci na festival v San Remu, ale protože byla textově trochu přes čáru, došlo k jeho přepsání. Těžko říct, ale je to výborná pecka s brutálně zkreslenou kytarou a úsečně riffující flétnou. Však také jako jediná dává vzpomenout na debutové album Riflessioni: Idea d'infinito.
Následující Odiarti no už zase tíhne k popu víc, než by mi bylo milé, ale díky pěknému refrénu, klávesám a členitým bicím si ji dokážu poslechnout i bez toho, že bych se šklebil jak maska od trambusu. Daleko lepší dojem mám ze symphonic rockové písničky La forza di Dio, která se díky svému aranžmá hodně podobá titulní instrumentálce Argitari a tečku za 35 minut dlouhým albem píše dramatická Il vuoto. Díky vášnivému zpěvu v italštině je to sice tak trochu  "tyjátr", ale ten já rád…
Album skončí dřív, než bys řekl švec, ovšem ještě jsou tady čtyři bonusy. Tím prvním je původní verze singlu La donna e il bambino a i když se od té albové příliš neliší, jsem za ni rád. Však je to nejlepší skladba na desce, tak proč si ji nedat ještě jednou. Smyčci podbarvená balada La stessa lezione je docela fajn, ale diabetikům bych doporučil raději se jí vyhnout. Popová Una ragione di più je lepkavou a krotkou verzí na velkém albu uvedené L'impossibile è possibile a na úplnej závěr si vydavatel připravil ještě demoverzi hardrockového dupáku Viaggio. Zvuk nic moc, ale jako rozlučka dobrý.
Zkrátka a dobře, jsou to především písničky a ten prog rock z toho dělají jenom symphonic rockové aranže. Většina z nich má našlápnuto k popu, ale nemyslím to nijak pejorativně. Když se to umí, tak si poslechnu i pop a ten z poloviny sedmdesátých let se ještě dal. Debutu Riflessioni: Idea d'infinito se tohle album nevyrovná, ale špatné není a z podobného ranku už jsem slyšel aj horší.
Reedice od VM 2000 je ovšem parádní. Rozkládací vinyl replika s obálkou v podobě filmového pásu obsahuje kromě kotouče rovněž naducaný, dvacetistránkový booklet se spoustou informací. Jsou tu texty písniček, fotky středových štítků původní LP, portréty členů Dalton, dobové plakáty a pochopitelně nechybí ani biografie skupiny (v italštině i angličtině) od Matthiase Schellera. Vzhledem k tomu, že je to prakticky jediné dostupné vydání na CD jde o sběrateli vyhledávaný kousek a já jsem rád, že ho mám.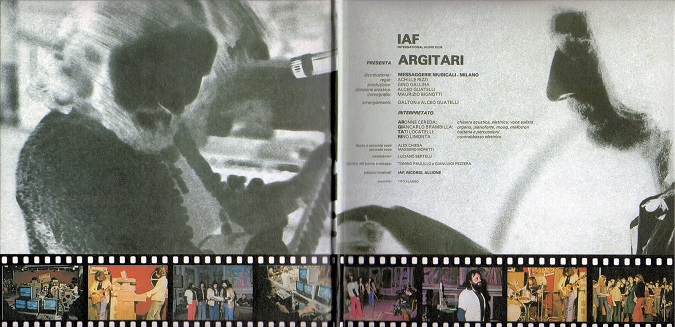 SKLADBY:
01. L'impossibile è possibile – 2:54 (testo: A. Cereda)
02. Hai visto il sole? – 3:36 (testo: C. Pessi)
03. Ho ritrovato la mia donna – 3:38 (testo: A. Cereda)
04. Argitari – 3:37 (A. Cereda)
05. La risposta – 4:11 (testo: B. Dylan, Mogol)
06. Visione di una notte d'estate – 4:45 (testo: G. Gallina)
07. Odiarti no – 4:29 (testo: A. Cereda)
08. La forza di Dio – 4:11 (testo: C. Pessi)
09. Il vuoto – 3:44 (testo: C. Pessi)
Bonus tracks:
10. La donna e il bambino – 4:38 (testo: A. Cereda)
11. La stessa lezione – 3:11 (testo: C. Pessi)
12. Una ragione di più – 4:19 (testo: A. Cereda)
13. Viaggio – 2:56 (testo: G. Selleri)
Durata totale: 50:09
SESTAVA:
Aronne Cereda – chitarra acustica, chitarra elettrica, voce solista
Giancarlo Brambilla – organo, pianoforte, sintetizzatore moog, mellotron
Tati Locatelli – batteria, percussioni
Rino Limonta – contrabbasso elettrico
+
Alex Chiesa – flauto, seconda voce
Massimo Moretti – seconda voce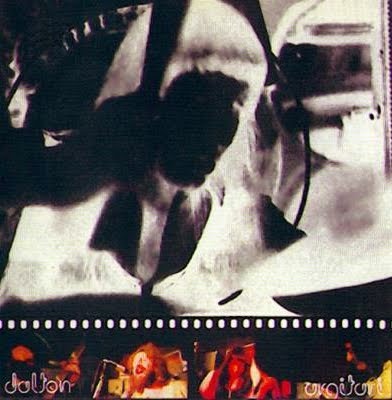 Argitari
Dalton
Prog Rock
International Audio Film
1975
LP
9
CD VM 2000 - VM 098 CD /2005/