Kořeny originálních Iron Maiden sahají do Basildonu, východoanglického města vybudovaného po druhé světové válce pro obyvatele přelidněného Londýna. Právě tady čtveřice spolužáků Steve Drewett, Barry Skeels, Chris Rose a Alan Hooker v roce 1964 založila bezejmenný akustický soubor, který podle Skeelse: "Při snaze zahrát cokoli z repertoáru Rolling Stones nebo The Kinks vydával jen příšerné zvuky…".
Po několika změnách v sestavě, v níž se marně snažili zabydlet další borci s kytarou (mj. Tom Loates a Barry Hanley), zahájil s příchodem roku 1966 kvintet The Growth ve složení Drewett (zpěv, harmonika), Skeels (baskytara), Rose (kytara), 'Dodge' Farnham (klávesy, kytara) a Stan Gillem (bicí) aktivní koncertní činnost. Ani po dvouletém úsilí se mu však nepodařilo prosadit do věhlasnějších podniků a k nahrávací smlouvě, nepřekvapilo tedy, když na sklonku roku 1967 Drewett se Skeelsem osiřeli.
Na londýnském klubovém okruhu dál pokračovali jako duo Stevenson's Blues Department ve společnosti tehdy začínajících Jethro Tull, King Crimson a Fleetwood Mac, jež po skončení angažmá v Mayallových Bluesbreakers založil Peter Green.
V létě 1968 se k bluesující dvojici přidali Paul Reynolds (bicí), Graham 'Gruff' Esgrove a Joe Ryan (oba kytara) a rozšířené formace se manažersky ujal Peterův bratr Lenny.
Po Ryanově odchodu v listopadu 1968 zvolil kvartet kontroverzní název Bum, ve studiu v Southendu pořídil dvouskladbové demo s bluesovými kousky Help!! a Ramblers Blues a pozornost fanoušků i místních médií upoutal mj. výkonem na Pop Festivalu v městečku Grays v hrabství Essex, kde 23. 8. 1969 vystoupili i The Who, Amen Corner, Andromeda nebo Aardvark.
Před natáčením další demonahrávky s "okultním" hardrockovým kusem God of Darkness a bezmála sedmiminutovou náladovicí o Supermanově adoptivní matce Ballad of Martha Kent byl odejit Esgrove, jehož místo zaujal osobitý kytarista Trevor Thoms, reagující na inzerát v Melody Makeru.
Kapela zaujala Stana Blackbournea, někdejšího spolupracovníka Rolling Stones, který jí pomohl k tříletému nahrávacímu kontraktu s Gemini, novým sublabelem President Records, a snažil se vyjednat tříměsíční turné po Austrálii, jež nakonec zhatily finanční spory mezi britským a australským svazem hudebníků, které vyvrcholily dočasným banem pro všechny britské kapely na území Austrálie. Nový manažer rovněž prosazoval přijetí přijatelnějšího názvu, bo ten stávající sice zajistil dostatek pozornosti, zároveň ale (nehledě na dobu) působil problémy s promotéry a inzerenty.
Jako Bum se tak naposledy představili 18. 11. 1969 při předskakování Gallagherovým Taste na Thurrock Technical College, načež byl odhlasován návrh roadieho Petea Walmsleyho, jenž přivedl na svět značku Iron Maiden.
Přejmenovaná čtveřice se ještě před koncem roku 1969 v londýnském studiu Regent Sound pustila do práce na debutovém albu, jeho dokončení ale zabránila abdikace Paula Reynoldse, který se rozloučil koncertem v Basildon Arts Centre 28. 2. 1970.
Na dobu určitou byl nahrazen zdatným studiovým hráčem Stevem Chapmanem (ex-Junior's Eyes), s nímž pevné jádro Drewett, Skeels a Thoms ve Studiu 51 natočilo regulérní singl Falling/Ned Kelly, který byl k mání 24. 4. 1970. První skladba s pracovním názvem You Must Be Fooling a proklamovanou stopáží 6:58 byla kandidátem na nejdelší SP doby (nakonec ale vyšla o minutu kratší), zatímco "Béčko" bylo věnováno australskému psanci, kterého ve stejnojmenném filmu Tonyho Richardsona z téhož roku nepřesvědčivě ztvárnil Mick Jagger.
Po Chapmanovi na bubenickou stolici usedl Paul Hugget. Spolutěšil se z kladného přijetí singlu, kterému se dařilo především u protinožců, kde vyšel s přehozenými skladbami (Ned Kelly jako A-strana). Avšak blesk z čistého nebe v podobě bankrotu Gemini Records stopnul jak další plány na australské turné, tak i finalizaci rozpracovaného alba.
Rozčarování neznalo mezí. Zklamaný Skeels přijal post v začínajících Zior a po dalších změnách v sestavě a několika vystoupeních v londýnských klubech, jež naposledy okořenilo festivalové představení na domácí půdě v basildonském Gloucester Parku (19. 6.), se v červenci 1970 živá historie původních Iron Maiden téměř na tři desetiletí uzavřela.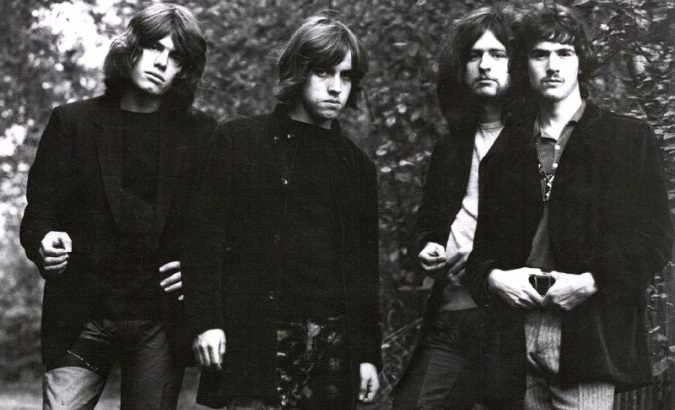 Steve Drewett nastoupil do londýnského Přírodopisného muzea, v roce 1974 přešel do oddělení speciálních efektů BBC Television, kde vydržel jedenáct let. Jako režisér v reklamním průmyslu natočil stovky spotů pro Nestlé, Ford, Philips, Mobil Oil, ad., založil vlastní produkční společnost Antennae.
V posledních letech se věnuje fotografování, má na kontě řadu výstav po celé Británii. Snímky pro společnost Somerset Wildlife Trust zveřejnil v knize Selwood: A mediaeval hunting forest. Dál natáčí filmy s přírodní tematikou.
Trevor Thoms přijal nabídku bluesrockových Spirit of John Morgan, kteří měli na kontě první album, a ihned se zapojil do práce na druhém (Age Machine, 1970). Následně (i jako Judge Trev Thoms nebo Judge Trev) vystřídal přehršel štací – The Horns, Inner City Unit, The Steve Gibbons Band, Pinkwind, Atomgods.
Po přestěhování do Brightonu začal vystupovat s Timem Rundallem (Slim Tim Slide), jejich spojenectví trvalo po zbytek Thomsova života. S akustickým setem sólově vystupoval na festivalech Big Green Gathering, Cosmic Puffin Festival, Earthwise, provozoval webovou stránku Real Festival Music, byl aktivní v rámci brightonského The Real Music Clubu.
Trevor Thoms zemřel 8. prosince 2010 na rakovinu slinivky. Zavedený klub dál pomáhá místním talentům a každoročně pořádá akci Judge Trev Memorial.
Paul Reynolds hrál v basildonské kapele Skint, v níž basoval Dave Bronze (od Robina Trowera, Erica Claptona, aj.), v roce 1982 nastoupil k poprockovým The Pinkees, s nimiž sjezdil Evropu a bodoval v UK charts. Uspěl jako ilustrátor a designér, dál pravidelně hraje s The Heaters.
Steve Chapman se přes formaci Moon vrátil ke studiovému hraní, které si v období 1978 – 1987 osvěžil účastí v sestavě amerických countryrockerů Poco.
Paul Hugget neuspěl při konkurzu na místo v Supertramp uvolněné Keithem Bakerem, který si to namířil k Uriah Heep.
Barry Skeels se Zior natočil 2 + 1 alba, věnoval se firmě zaměřené na scénické osvětlení (pro Caroline Roadshow), založil formaci Mongrel se Stevem Rosenthalem z If, hrál s White Line Fever a Gypsy Rock Squad, v roce 1984 se přestěhoval do Newcastlu.
Po ročním členství v The Blues Burglars několikrát prokřižoval Evropu i Ameriku jako nástrojový technik s Venom, stal se koncertním manažerem (Venom, Skyclad, My Dying Bride, Count Raven, Anathema), mezi lety 2002 – 2011 vlastnil manažerskou společnost Offbeat Management.
K base se vrátil v sestavě soulových The Soulutions, funkových Ambience UK, s dalším odpadlíkem z Black River Bandu v roce 2009 založil dosud aktivní Road Runners.
Příběh originálních Iron Maiden zůstával až do konce devadesátých let zapomenut. O jeho oživení se postaral Peter Sarfas, zakladatel nezávislého labelu Audio Archives, když v roce 1998 kontaktoval Barryho Skeelse se záměrem vydat cca 200ks edici dochovaných nahrávek. Zakoupil dostupné originální pásy od President Records, od Skeelse dostal starou kazetu, něco informací z historie a z použitelných záznamů sestavil album Maiden Voyage, které vedle songů, o nichž už byla řeč (Ballad of Martha Kent, God of Darkness, Falling a Ned Kelly) obsahuje čtyři skladby z let 1969-70, jež měly být (spolu se zmizelým číslem Monoliths) základem nedokončeného alba – jam sessionovou Liar (12:21), atmosférický Ritual (8:47), pochmurnou baladu Plague (8:26) a tradicionální CC Ryder (6:12).
Pro přebal byl vhodně použit snímek zrezivělého vraku lodi odstaveného u rozpadlého mola, který má zvláštní atmosféru, jež plně koresponduje s děním na albu. Žádný prostor pro falešnou patinu.
Na vydařený čin Audio Archives v červnu 2012 zdárně navázal londýnský label Rise Above Records založený Leem Dorrianem (ex-Cathedral, Napalm Death): "Byli jsme připraveni řešit případné právní problémy, ale nikdo neměl žádné námitky proti tomu, abychom použili název, který si kluci zvolili jako první."
Přesto, anebo možná právě proto, dala firma ve finále přednost variantě The Original Iron Maiden.
Do hledání starých nahrávek se tentokrát pustil i Steve Drewett a s použitím pásků, které našel v podkroví svého domu, bylo dosaženo ještě lepšího výsledku než minule. Navíc v rámci limitované 300ks edice 2LP plus 2SP mohly být přidány i skladby Help!! a Ramblers Blues. Potěší i 12stránková bohatě vybavená příloha (fotografie, memorabilia, výstřižky z dobového tisku) a co nejblíž původnímu záměru se měl přiblížit i obal grafika Bena Willshera zhotovený podle nalezeného náčrtu (dnes již dobře známý výjev zkázy Titaniku) z doby nahrávacích sessions v Regent Sound.
Na reedici upozorňovala i série krátkých videí, která natočil Drewett.
V bookletu CD Maiden Voyage se píše o "typickém doom metalovém souboru", o singlové God of Darkness se dnes možno leckde dočíst, že je považována za praskladbu doom metalu a koneckonců, rozumět se dá i povzdechu jedné z hlavních postav celého příběhu, Barryho Skeelse: "Hrál jsem v kapele, která dala název jedné z nejslavnějších skupin současnosti. S Iron Maiden jsme položili základy doom metalu, s Venom black metalu a se Skyclad folk metalu. Historie metalu nezná neznámějšího vizionáře…"
Nic to však nemění na faktu, že hudba původních Iron Maiden vychází z bluesových kořenů a je pevně zakotvena v přístavu zvaném hard rock.
DISKOGRAFIE:
1968 – Help/Ramblers Blues (acetátový disk, jako Bum)
1968 – God of Darkness/Ballad of Martha Kent (dtto)
1970 – Falling/Ned Kelly (singl, Gemini Records)
1998 – Maiden Voyage (nahrávky z let 1968-70, Audio Archives)
2012 – Maiden Voyage (dtto, Rise Against Relics)
SESTAVY:
The Growth – Drewett, Skeels, Rose, Farnham, Gillem
Stevensons Blues Dept. Mk 1 – Drewett, Skeels
Stevensons Blues Dept. Mk 2 – Drewett, Skeels, Reynolds, Esgrove, Ryan
Bum: Drewett, Skeels, Reynolds, Esgrove
Iron Maiden Mk 1 – Drewett, Skeels, Thoms, Reynolds
Iron Maiden Mk 2 – Drewett, Skeels, Thoms, Chapman
Iron Maiden Mk 3 – Drewett, Skeels, Thoms, Hugget
Poznámka: Bylo, nebylo, kde se vzala, tu se vzala další dávná parta Iron Maiden…
Pocházela z Boltonu, začínala v roce 1967 jako Ways 'N Means a vystřídala několik názvů a členů, než se na začátku sedmdesátých let personálně usadila a přejmenovala na Iron Maiden. Fungovala povětšinou jako trio v sestavě Ian 'Beak' Boulton-Smith (kytara), Derek George Austin (baskytara) a Paul Terence John O'Neill (bicí, zpěv 1970-74), resp. Noel Pemberton-Billing (bicí, 1974-76). Když v roce 1976 Boulton-Smith zemřel na rakovinu, kapela skončila, aniž by vydala jedinou nahrávku. Zarážející je rovněž naprostá absence dobových materiálů, která zvlášť vyniká při srovnání s jejich předchůdci.
Bývalí členové kapely o sobě dali vědět až po třiceti letech, kdy shromáždili veškeré použitelné záznamy a vydali alba Maiden Flight (2005) a Boulton Flies Again (2007), výtěžek z prodeje byl postoupen Britskému institutu pro výzkumu rakoviny. Po dohodě s managementem Harrisových Iron Maiden byly oba tituly vydány pod hlavičkou The Bolton Iron Maiden.