Rok 2011 přinesl, mimo jiné, nové nahrávky starých rockových pardálů a za sebe mohu říct, že velice kvalitní. Se skvělou novinkou přišli např. Whitesnake, Uriah Heep, Alice Cooper a Nazareth. Vedle Mistra Furniera to byli právě posledně jmenovaní, kteří u mne bodovali nejvíce…
Ačkoliv nepatřím ke skalním fandům skotských úderníků a z jejich bohaté diskografie znám pořádně jen šest alb (z nichž tři mám hodně rád), troufnu si říct, že "Big Dogz" patří k tomu lepšímu, co tenhle spolek kdy spáchal.
Sice toto album "nesundalo" z horních příček mého žebříčku "Expect No Mercy" ani "Hair Of The Dog", ale hrdě se usadilo v jejich těsné blízkosti.
Poslech od poslechu se mi nahrávka líbila pořád víc, postupně mi odkrývala svá stinná zákoutí, naplněná štěkajícími riffy i vytím tklivých melodií toulavých psů se čtyřmi hlavami.
Smečka jedenácti skladeb dokazuje, že vyšší věk není překážkou pro úspěšnost šelmy; pokud zbývá ještě stále dost energie, pak díky získaným zkušenostem a prožitým (rovněž přežitým) rokům dokáže zvítězit i nad silnějším, mladším soupeřem… A časem jakbysmet.
Pro mě album nemá slabé místo, každá píseň je výborná; od úvodní "pijácké" Big Dog's Gonna Howl, přes "Ježíšovo opětovné spasení světa" až k "Motýlkovi" a "Mluviči ze spaní". Přestože pomalé a střední tempo převládá, je tu také několik rychlejších míst. Kdybych měl počin "Big Dogz" charakterizovat jedním slovem, bylo by to "vyzrálý".
I zestárlý chraplák Dana McCaffertyho je prvotřídní (nějaké vyšší polohy by tu působily beztak leda rušivě).
01. Big Dog's Gonna Howl (3:58)
02. Claimed (3:55)
03. No Mean Monster (5:01)
04. When Jesus Comes To Save The World Again (6:24)
05. Radio (4:17)
06. Time And Tide (7:20)
07. Lifeboat (4:58)
08. The Toast (3:59)
09. Watch Your Back (4:32)
10. Butterfly (5:30)
11. Sleeptalker (5:45)
Dan McCafferty – lead vocals
Pete Agnew – bass guitar, backing vocals
Jimmy Murrison – guitar, piano, backing vocals
Lee Agnew – drums, backing vocals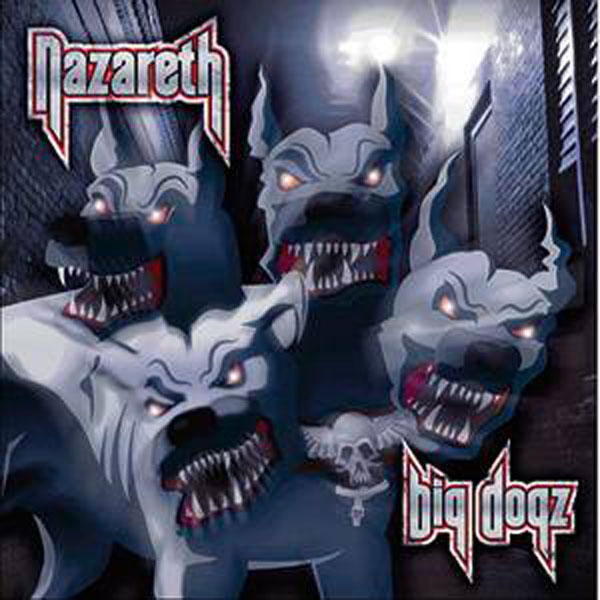 Big Dogz
Nazareth
Hard rock
Ear Music
2011
LP
11