The Spektors (1965-66)
The Valentines (1966-70)
Fraternity (1970-73)
Mount Lofty Rangers (1974)
Ronald Belford 'Bon' Scott se narodil 9. července 1946 v malé obci Forfar nedaleko skotského městečka Kirriemuir, v němž prožil prvních šest let svého života. V roce 1952 s rodiči přesídlil do Austrálie, kde se po krátkém pobytu v Melbourne a adelaidském předměstí Sunshine v roce 1956 usadili ve Fremantle, jednom z nejstarobylejších měst Západní Austrálie. Hudba byla nedílnou součástí jejich života a Bon se brzy přes akordeon a piano dostal k bicím, na které hrál po otcově boku v místním Caledonian Society's Bandu.
Na jaře 1965 se podílel na zrodu beatového kvarteta The Spektors, v němž se poprvé představil i v roli pěvce; při koncertech se za mikrofonem pravidelně střídal s Johnem Collinsem. The Spektors nepořídili žádnou oficiální nahrávku, ale zachoval se záznam jejich vystoupení z října 1965 v populárním pořadu místní televize Club 17, kde odehráli čtyři převzaté songy. Část dochovaného záznamu byla zpřístupněna anglickým vydavatelstvím See For Miles Records koncem roku 1992 na CD singlu Bon Scott with The Spektors, o sedm let později bylo k mání pod titulem The Legendary Bon Scott & The Spektors and The Valentines kompletní vystoupení doplněné o nejznámější skladby příští Bonovy kapely.
Když v létě 1966 The Spektors skončili, Bon Scott a kytarista Wyn Milson se dali dohromady s trojicí odpadlíků z The Winstons (Vince Lovegrove – zpěv, Ted Ward – rytmická kytara a Bruce Abbott – basová kytara) a spolu s bicmenem Warwickem Finlaym z Ray Hoff & The Off Beats založili The Valentines.
Boy band zanedlouho se svou show ovládl místní vyhlášené kluby Canterbury Court a Swanbourne Stomp a začátkem roku 1967 skončil první v perthském předkole legendární australské soutěže Hoadley's Battle Of The Sounds, konající se v letech 1966-72 (celonárodní finále v Melbourne t. r. vyhráli domácí The Groop, ale Bon Scott v něm nakonec také uspěl – v předposledním ročníku soutěže zvítězí s Fraternity). Tím upoutal pozornost Martina Clarka, provozujícího s Keithem McGowanem tehdy jedinou nahrávací společnost v Perthu Clarion (1966-78).
V březnu 1967 s nimi podepsali smlouvu a v květnu vychází první singl The Valentines s coverem Arthura Alexandera Every Day I Have To Cry a předělávkou The Small Faces I Can't Dance With You. V regionální Top Charts se valentýnské rhythm and blues vyšplhalo na 5. místo a zdar druhého singlu She Said/To Know You Is to Love You ze srpna 1967 byl jízdenkou na mini-turné po Západní Austrálii se spřízněnými The Easybeats, jejichž produktivní opory Harry Vanda s Georgem Youngem i později konkurenci přenechali několik svých songů.
Začátkem roku 1968 bubeníka Warwicka Finlaye dočasně nahradil Brian Abbot, jehož v létě vystřídal Doug Lavery s prvotřídním doporučením z The Questions, Andy James Asylum a Doug Parkinson In Focus. V únoru se nová sestava představila singlem I Can Hear the Raindrops, jehož druhou stranu obsadila píseň Why Me?, první titul z vlastní autorské dílny (Lovegrove/Ward). Produkce dalšího singlu Peculiar Hole In The Sky/Love Makes Sweet Music bývá připsána Patu Aultonovi, známému ze spolupráce s Normie Rowe, Dave Miller Set a Kahvas Jute, ale ve skutečnosti se na ni opět podílel Martin Clarke. A přestože ani s tímto kouskem The Valentines neuspěli komerčně, podařilo se jim zaujmout Stana Rofea, předního australského DJ'e té doby. Přesídlili tedy do Melbourne, Mekky australského popu, kde koncem roku 1968 podepsali smlouvu s June Productions Rona Tudora, který práva na jejich příští tvorbu obratem pronajal Philipsu.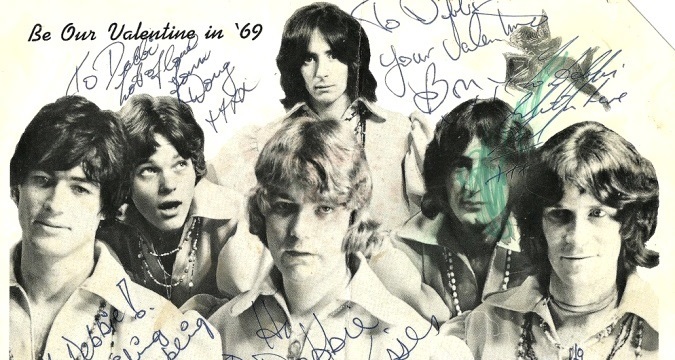 Manažeři a nahrávací společnosti tehdy nadšeně přijali pošahanou módu "Think Pink". Skupiny jako Zoot nebo The New Dream vystupovali v růžových oblecích, a odpovídající barvu měli dokonce i jejich kytary… Nastalému trendu podlehla i řada uznávaných skupin, které chrlily nezapomenutelné slaďáky. Na čas se nechali svést např. místní průkopníci country rocku Flying Circus, kteří v té době nahráli hity Hayride (02/69) a La La (05/69). A s přitroublým pitvořením a nemožnými pohybovými kreacemi se konečně v celonárodním měřítku prosadili i The Valentines. Jejich pátý singl Ebeneezer/My Old Man's a Groovy Old Man, který vyšel na den sv. Valentýna, jim zajistil úspěch v australské Top 40 i zájem hudebních časopisů. Tenhle tyjátr ale neměl budoucnost.
V květnu 1969 nahradil Laveryho, kterého si vybral Brian Cadd do nově formované superskupiny Axiom, bubeník Paddy Beach (ex-Compulsion) a v září odešel basák John Cooksey, na jehož post přestoupil Ted Ward. The Valentines se tak zredukovali v pětičlennou formaci a zanedlouho se dostali do titulků všech hlavních australských deníků, když se po The Id se zpěvákem Jeffem St Johnem stali druhým domácím bandem, zatčeným za držení marihuany. Po zaplacení pokuty 150 dolarů neváhali v rockovém magazínu Go-Set vydat prohlášení, v němž horovali ve prospěch legalizace trávy.
Srpnový singl s aktualizovanou verzí Nick Nack Paddy Wack/Getting Better přinesl na druhé straně jednu z mála skladeb se Scottovým autorským podílem. O měsíc později The Valentines nechyběli při historickém Operation Starlift Tour, kde vystoupili v průběhu hlavního dne, stejně jako Russell Morris, Johnny Farnham, Ronnie Burns, Doug Parkinson In Focus, Zoot a The Masters Apprentices. Nevynechali ani divokou after party, kde zazářili ještě jednou. Incidentů v jejich podání ale Aussie rock zažil vícero, o některých se podrobněji možno dočíst v biografii Jima Keayse His Master's Voice.
S nástupem sedmdesátých let však došlo v Austrálii k výraznému poklesu zájmu o glampopovou scénu, k čemuž se přidaly i rozpory v kapele o dalším hudebním směřování. Labutí písní formace byl singl Juliette/Hoochie Coochie Billy z února 1970, který v celostátním žebříčku obsadil 28. místo. V červnu The Valentines ukončili činnost.
Netrvalo dlouho a Bona Scotta pozval do Sydney baskytarista Bruce Howe, aby se připojil k jeho skupině Fraternity s Mickem Jurdem (kytara), Johnem Bissetem (klávesy) a Tonym Buettelem (bicí). Formace již měla podepsanou smlouvu se Sweet Peach a na kontě první singl s vlastním číslem Why Did It Have To Be Me? a protiválečným songem Question od The Moody Blues. Bon nabídku přijal právě v době, kdy se soubor usadil v klubu Jonathan's Disco (později známý jako Phoenician Club) v jižní části Sydney, v němž se střídal s další nadějnou kapelou Sherbet, po čase proslavenou hitem Howzat!, který se stal prvním ryze australským dílem (autor, interpret, záznam, produkce, label) úspěšným i v zahraničí (UK #4, US #61). S vlastním repertoárem, ovlivněným zpočátku především tvorbou Vanilla Fudge, Deep Purple a The Nice, později The Band a The Byrds, absolvovali Fraternity několikahodinová vyčerpávající vystoupení. Permanentní nápor nevydržel Buettel, jehož na bubenické stolici koncem roku 1970 vystřídal John Freeman.
Lednové EP se skladbami Livestock/Why Did It Have To Be Me? a Cool Spot se zpěvákovou dvoutřetinovou účastí (A1 plus B2) je dnes ceněnou raritou, ale úspěch skupině přinesla až převzatá balada Seasons of Change, která vyšla v květnu 1971, v době příchodu harmonikáře Johna 'Uncle' Ayerse (ex-No Sweat), jenž se premiérově představil na singlu The Race Pt. 1/The Race Pt. 2 (obě části orámují původní tracklist alba při jeho vydání na CD v roce 1998). Třeba zmínit, že Bon Scott se podílel rovněž na vzniku originální verze Seasons of Change, která vyšla na albu At The Mountains of Madness Johnsových Blackfeather pouze o měsíc dřív než song vydali Fraternity na singlu.
V srpnu se sedmým členem sestavy stal všestranný muzikant Sam See (ex-Sherbet, The Flying Circus), ale materiál na prvním albu Livestock, natočeném v sydneyském studiu United Sound, už zůstal dílem původní pětice. Pod vedením "nashvillského" producentského dua James Stewart, Doug Ashdown na něm kvintet přetavil všechny předchozí vlivy v osobitý psychedelický progrock a nabídl několik výstavních kousků, z nichž nad ostatní ční dvojice Raglan's Folly a You Have A God.
Vydařeným debutem Fraternity koncem roku 1971 přilákali pozornost řady nových příznivců a jednoho movitého manažera. Hamish Henry skupině nabídl významnou finanční podporu a základnu na Hemmingsově farmě vzdálené 17 mil od Adelaide, s veškerým vybavením i klidem potřebným pro další uměleckou tvorbu. V naprosté odlehlosti nového sídla, z něhož sedm spokojených vyráželo pouze k jednotlivým koncertům, měl vznikat materiál na novou desku a donesl se tam i náznak zájmu o kapelu ve Státech. Avšak po vydání rozpačitého alba Flaming Galah v dubnu 1972, které vedle pěti nových skladeb, jimž kraluje bilancující Hemming's Farm, obsahuje hned čtyři upravené verze z debutu a singlovou Seasons of Change, zvolila kapela za místo svého dalšího působení Británii. Tady je ovšem potkal osud mnoha dalších australských skupin. Nenaplněný sen o nahrávací smlouvě s britskou firmou a přetrvávající problémy se zajištěním samotných vystoupení. A tak kromě několika jednorázových koncertů napříč Anglií nakonec vzali zavděk pobytem v Německu, kde působili jako předkapela Status Quo, Fairport Convention, Mungo Jerry aj.
Po návratu do Londýna v lednu 1973 skupinu opustili oba klávesáci, a zbylý kvintet pod názvem Fang ještě odehrál pár předskokanských vystoupení se skupinou Geordie, v níž exceloval Brian Johnson. To už ale bylo jasno, že se neutěšená britská epizoda chýlí ke svému konci. Když v létě 1973 přestal kapelu podporovat i Hamish Henry, byl návrat do Austrálie nevyhnutelný.
Doma však mezitím zájem o skupinu opadl a tak na čas přerušila veškeré aktivity. Bon Scott se domluvil s Peterem Headem na příležitostné účasti v jeho volném uskupení Mount Lofty Rangers, v němž se během roku 1974 vystřídaly desítky členů. Přesto projekt toho roku zvládl odehrát přes 200 koncertů, dokázal se probojovat do adelaidské TV show a uváděl i vlastní muzikál Lofty, avšak bez Bonovy účasti. Ten naopak figuroval jako hlavní zpěvák při zrodu demosnímků, které byly pořízeny v Slater Sound Studios. Na nahrávky se ale zapomnělo a až v devadesátých letech je Peter Head objevil a ve spolupráci s producentem Tedem Yannim je v říjnu 1996 připravili k vydání na CD singlu Round and Round and Round.
Po několikaměsíční přestávce se rozhodli pokračovat i Fraternity s novým zpěvákem Johnem 'Swanee' Swanem (v roce 1975 se po odejitém Freemanovi přestěhuje za bicí soupravu a místo za mikrofonem přepustí svému bratrovi Jamesovi, jenž později prosluje pod uměleckým jménem Jimmy Barnes), s bývalými spoluhráči ovšem zůstaval v kontaktu i Bon Scott. Po jednom nevydařeném setkání se nalil v místním hotelu Old Lion, odkud potom vyrazil na zbrusu novém Triumphu a havaroval. Utrpěl vážná zranění, po třech dnech v kómatu a následné rekonvalescenci uzavřel méně známou kapitolu svého hudebního života.
O několik týdnů později byl totiž prostřednictvím dlouholetého přítele Vince Lovegroveho doporučen managementu AC/DC. Z pozice roadieho povýšil v září 1974 na post zpěváka kapely, před níž se teprve vzdáleně rýsovala cesta do pekla…
SESTAVY:
The Spektors (03/1965-08/1966)
John Collins – zpěv, bicí; Bon Scott – bicí, zpěv; Wyn Milson – kytara; Brian Gannon – basová kytara, klávesy
The Valentines
Bon Scott – zpěv (10/1966-06/1970); Wyn Milson – kytara (10/1966-06/1970); Vince Lovegrove – zpěv (10/1966-06/1970); Ted Ward – rytmická kytara (10/1966-09/1969), basová kytara (10/1969-06/1970); Bruce Abbot – basová kytara (10/1966–06/1968); Warwick Finlay – bicí (10/1966-01/1968); Brian Abbot – bicí (01/1968-06/1968); Doug Lavery – bicí (06/1968-05/1969); John Coocksey – basová kytara (07/1968-09/1969); Paddy Beach – bicí (05/1969-06/1970)
Fraternity (01/1973-08/1973 jako Fang)
Bruce Howe – basová kytara (07/1970-08/1973); Mick Jurd – kytara (07/1970-08/1973); John Bisset – klávesy (07/1970-12/1972); Tony Buettel – bicí (07/1970-12/1970); Bon Scott – zpěv, flétna (10/1970-08/1973); John Freeman – bicí (12/1970-08/1973); John Ayers – harmonika, zpěv (05/1971-08/1973); Sam See – kytara, piano (08/1971-12/1972)
Bruce Howe – basová kytara (1974-76); John Ayers – harmonika, zpěv (1974-76); Peter Bersee – housle (1974-76); John Swan – zpěv (1974), bicí (1975-76); John Freeman – bicí (1974); Maurice Berg – kytara (1975); Jimmy Barnes – zpěv (1975-1976)
Mount Lofty Rangers (1974, základní sestava)
Peter Head – piano, Robyn Archer – zpěv, John Ayres – harmonika, Chris Bailey – basová kytara, John Freeman – bicí, Mauri Berg – kytara, Phil Colson – kytara, Jimmy Barnes – zpěv
Bruce Howe – basová kytara, Bon Scott – zpěv, Vince Lovegrove – zpěv
DISKOGRAFIE (řadová alba a kompilace):
1971: Fraternity – Livestock (LP, Sweet Peach)
1972: Fraternity – Flaming Galah (LP, RCA)
1987: The Valentines – The Valentines (LP, Clarion)
1987: The Valentines a Fraternity – Seasons of Change 1968-1972 (LP, Raven)
1988: The Valentines – Bon Scott With The Valentines: The Early Years (LP, C5 Records)
1988: The Valentines a Fraternity – Seasons of Change: The Early Years 1967-72 (LP, Raven)
1991: The Valentines a Fraternity – The Early Years 1967-1972 (CD, See For Miles)
1996: Fraternity – The Complete Sessions 1971-72 (2-CD, Raven)
1999: The Spektors a The Valentines – The Legendary Bon Scott & The Spektors and The Valentines (CD, See For Miles)
2011: Mount Lofty Rangers a Fraternity – Round And Round The Forgotten Tales (CD, SME)