Janita Haan: "Když jsme na Abbey Road natáčeli první album, začali ve vedlejším studiu Pink Floyd s nahráváním The Dark Side of The Moon. Jednou jsme potřebovali vyřešit drobnou technickou závadu, tak jsem na chodbě odchytla mladíka, aby se u nás zastavil. Přišel hned s otázkou, v čem je problém? Kluci z kapely byli hotoví… Byl to David Gilmour."
Po absolvování Královské hudební akademie stál kytarista Alan Shacklock (ex-Juniors, The Hi-Numbers, The Thunderbirds) u zrodu progresivní hardrockové kapely, působící nejprve jako experimentální trio pod názvem Shacklock s baskytaristou Davem Hewittem (ex-Creed & Dr K's Blues Band) a vokalistkou Janitou 'Jenny' Haan (ex-Little Sister), která po návratu ze Států pracovala v butiku na Carnaby Street v Londýně a přihlásila se na inzerát v Melody Makeru. Psal se rok 1971 a sestavu brzy doplnili jazzový pianista Dave Punshon a bubeník Jeff Allen, resp. Dick Powell.
Mimořádný ohlas na první koncerty kvintetu upoutal pozornost Nicka Mobbse z EMI (Harvest), který formaci produkoval první singl Wells Fargo/Theme From 'A Few Dollars More' a zařídil pravidelné vystupování v prestižním londýnském klubu The Marquee. Právě tam se koncem července 1972 poprvé představili pod novým názvem Babe Ruth, zvoleném podle legendárního baseballového hráče George Hermana 'Babe' Rutha. Pro britskou kapelu dost nevšední spojení navrhl první manažer kapely Dave Crowe: "S výjimkou Janity, která žila sedm let v Kalifornii, tehdy nikdo z nich nevěděl, kdo byl Babe Ruth. Pro ně to nebyl žádný sportovní hrdina, prostě jim to jen dobře znělo."
Svět nejnudnější kolektivní hry nakonec dodal i název debutovému albu First Base z listopadu 1972 a předurčil motiv jeho přebalu, který byl dílem osmadvacetiletého britského umělce Rogera Deana, jehož nesrovnatelně povedenější práce toho roku zdobily mj. tituly Close to the Edge (Yes), Demons And Wizards, The Magician's Birthday (Uriah Heep) nebo Octopus (Gentle Giant).
Kompozičně propracované a aranžérsky košaté album s hostujícím smyčcovým kvartetem, vynikajícím saxofonistou Brentem Carterem a dvěma vrcholy v podobě převzaté smutnokrásky Black Dog a westernové The Mexican, které k nesmrtelnosti pomůže hnutí, jež tehdy tuším ještě ani nebylo na světě, se s největším ohlasem setkalo v Kanadě (zlatá deska), zatímco v přesycené domovině příliš nezaujalo. Avšak ani to mu nezabránilo v zařazení do pomyslné rockové klenotnice. Všakže?
Začátkem roku 1973 se Babe Ruth zúčastnili projektu The Harvestmobile, britského turné ve společnosti Barclay James Harvest, Edgar Broughton Band, Electric Light Orchestra, East of Eden aj. Po jeho skončení byl pod nátlakem EMI odejit Powell, jehož zdatnou náhradou se stal bubeník Ed Spevock (ex-Amboy Dukes [UK], Piblokto, Bond & Brown).
Premiérově se představili v TV pořadu Old Grey Whistle Test, který BBC 2 vysílala v letech 1971-87, a vstřebali další změnu ve složení, když Punshona, který se přes krátkou epizodu ve Flux, souboru talentovaného kytaristy Johna Grimaldiho, odebral kamsi do meditačního centra, vystřídal klávesák Chris Holmes (ex-Timebox).
Nová sestava se v lednu 1974 uvedla "španělským" albem Amar Caballero, do konečného výsledku se ovšem neblaze promítlo její rozpoložení po vážné nehodě na dálnici M1 při nočním návratu z vystoupení v Liverpoolu. Přesto však i tohle nevyrovnané dílo s řadou přefunkovaných pasáží a nepřesvědčivých momentů má co nabídnout.
Ve stopách svého znamenitého předchůdce kráčí mrazivá balada Broken Cloud, do šansonu oděná Baby Pride, titulní devítiminutový opus rozdělený na tři části i instrumentální klenot We Are Holding On s houslemi belgického mistra nástroje Raymonda Vincenta, někdejšího člena Belgické národní filharmonie, poprockových Wallace Collection (je autorem jejich největšího hitu Daydream), neúspěšného sólisty (album Metronomics, 1972) a zakladatele nadnárodního rockového orchestu Esperanto.
I druhá deska, tentokrát v působivém přebalu umělecko-designérské skupiny Hipgnosis, zaznamenala úspěch především v Severní Americe, logickým krokem tedy byla premiérová cesta za oceán, kde Babe Ruth zahajovali koncerty Three Dog Night a Iggyho Popa. Úspěchu mise prospělo, že Shacklock hned první večer na pódiu v Milwaukee přestál bez následků zásah elektrickým proudem.
Po návratu do Británie se na přelomu roku zhostili role supportu The Who při jejich domácím turné a do Států se vrátili až na letní festivaly '74, při nichž vystupovali ve společnosti Aerosmith, Teda Nugenta a ZZ Top, po přesunu do Kanady okusili roli headlinera při vyprodaných koncertech v Montrealu, Quebecu i Ottawě.
Navazující evropskou část turné absolvovali s Uriah Heep a zakončili domácím vystoupením s Queen. Ani dosažený úspěch však nepřinesl personální stabilitu bandu. Chrise Holmese vystřídal klávesák Steve Gurl (ex-Wild Turkey), s nímž začali na podzim 1974 v londýnském Lansdowne Studios nahrávat třetí desku. Žádaná Jenny Haan toho roku svým hlasem přispěla i na zajímavý debut Be Bop Deluxe Axe Victim a druhou desku Strider Misunderstood.
Eponymní album z února 1975 vyšlo v obalu se sběratelskými kartičkami anglického fotografa Gereda Mankowitze (známý spoluprací s Rolling Stones, Jimim Hendrixem, Slade ad.) a představovalo zdařilý návrat ke kořenům. Úvodní řízné duety Dancer (oblíbený kus frontmanky) a Somebody's Nobody, nezbytnou westernovku A Fistful of Dollars, která znovu odkazovala k Shacklockovým (i mým) oblíbencům Ennio Morriconemu a Clintu Eastwoodovi a jejich nesmrtelné dolarové trilogii z poloviny šedesátých let, tradičně geniální předělávku, pro níž byla tentokrát zvolena píseň We People Darker Than Blue z první desky afroamerického songwritera Curtise Mayfielda, stejně jako famózní finálovku The Duchess of Orleans možno zařadit mezi nejlepší studiové skutky kapely.
Na starém kontinentě zůstala bezejmenná třetí deska neprávem přehlížená, jako jediná z celé diskografie se alespoň v žebříčku Billboard Top 200 dostala do první stovky (#75).
Není tedy divu, že se Babe Ruth znovu vypravili do Ameriky. Tentokrát jim při turné předskakovali Roxy Music, Robin Trower i Humble Pie, v Kanadě obdrželi ocenění hudebního magazínu RPM Gold Leaf Award za úspěšný prodej alba First Base a v montrealské Garden of Stars natočili 4. 9. 1975 vystoupení pro TV (tracklist bez slabin: Fistful of Dollars – Sad But Rich – Dancer – We People Darker Than Blue – The Mexican – Black Dog – I Found A Love – Wells Fargo).
Po skončení turné všem vyrazil dech odchodem z bandu jeho zakladatel Alan Shacklock, aby se v příštím období věnoval převážně produkci (Roger Daltrey, Meat Loaf, Mike Oldfield a mnoho dalších), některá uskupení podpořil i jako klávesista (Joboxers, The Alarm, It Bites).
Babe Ruth vsadili na příchod Gurlova staronového spoluhráče Bernieho Marsdena (ex-UFO, Cozy Powell's Hammer, Wild Turkey), který se hned zapojil do nahrávání čtvrté studiovky a přispěl i autorsky (Winner Takes All a Say No More).
Album vznikalo během června a července v londýnských studiích Morgan, Chappell a Roundhouse a pod titulem Stealin' Home vyšlo v říjnu 1975. Jako ze skicáře netalentovaného školáka působí baseballový výjev, který se vrátil na přebal, jenž nutno brát coby úlitbu americkému trhu, kde zabodoval Spevockův hit Elusive, často chybně uváděný jako vůbec první singl kapely. Za zmínku stojí i další zdařilá cover verze Can You Feel It z alba Hey Dixie (1974) černošského písničkáře Dobieho Graye, ty nejlepší kousky ovšem třeba hledat na koncích obou stran desky. Skladby 2000 Sunsets a Tomorrow (Joining of the Day), v nichž dostane prostor i domovský Hatfieldský symfonický orchestr, jehož aranžmá obstaral nezištný odejitec Shacklock, jsou zpěvaččiným autorským majstrštykem a představují Babe Ruth v tom nejlepším světle.
Ani to však nezviklalo Hewitta v jeho rozhodnutí odejít a co víc, ještě před koncem roku 1975 zrušila členství ve skupině i zklamaná Jenny Haan: "Byla to poslední kapka. S Daveovým odchodem se duch starých Babe Ruth definitivně vytratil."
Kdo by čekal, že bude takový krok nevyhnutně znamenat konec kapely, dočkal by se až po roce. Uvolněná místa obsadili neznámý basista Ray Knott a zpěvačka Ellie Hope ze sesterského disco tria Ellie, autorské otěže převzal Bernie Marsden a skupina bez jediného člena původní sestavy, obklopena týmem hostujících muzikantů (mj. Don Airey, Neil Murray, Frank Ricotti), nahrála v londýnském studiu Roundhouse ještě jedno album, jehož produkce se – stejně jako u dvou předchozích titulů – ujal někdejší hollywoodský herec Steve Rowland, který se k muzice dostal při filmovém natáčení ve Španělsku (kapela Los Flaps) a už u ní zůstal. Jako producent spolupracoval mj. s Dave Dee, Dozy, Beaky, Mick & Tich, The Pretty Things, The Herd s Peterem Framptonem a produkoval i druhou desku "Suger Mana" Sixto Rodrigueze Coming from Reality (1971)! S vlastním vokálním souborem The Family Dogg se prosadil na 6. místo v UK Singles Chart (song Way of Life ze stejnojmenného alba, na němž hostovali Jimmy Page, John Bonham a John Paul Jones).
Album Kid's Staff z roku 1976 s "nezbytným" baseballovým přebalem dyzajnéra EMI Briana Palmera (Steve Miller Band, Roy Orbison, Soft Machine, Phil Cordell) však většina fanoušků odepsala předem a skutečně díru do světa neudělalo. Jízlivé vyjádření ex-frontmanky Jenny Haan: "Pro mě to nebyli Babe Ruth… Musela jsem se smát," má ovšem ke skutečnosti stejně daleko jako řadový občan Česka do důchodu.
Od skočného otvíráku Oh! Dear What A Shame až po můj favoritní bluesový kus Living A Lie se jedná o veskrze solidní materiál, z něhož vybočuje snad jen Gurlova nezáživná instrumentálka Nickelodeon. Posluchačským bonusem a nečekanou přidanou hodnotou byl výkon Ellie Hope, která prokázala, že zvládne i mnohem náročnější roli, než jsou sbory v prostoduchých popěvcích, což opakovaně potvrdila i při několika vystoupeních krátce před rozpadem, během nichž Marsdena zastoupil teprve sedmnáctiletý Simon Lambeth.
Po skončení krátké šňůry se na jeho místo podařilo angažovat kytaristu Alana Rosse (ex-John Entwistle, Tim Hardin, Ro-Ro), jenomže v době pohnuté nastupujícím punkem přestala být značka Babe Ruth atraktivní i pro nahrávací společnosti. Příběh jednoho z nejoriginálnějších rockových souborů se tak na mnoho let uzavřel.
Jenny Haan's Lion s Davem Hewittem v sestavě přes dva roky křižovali Velkou Británií, často při turné se Status Quo, s nimiž je pojil společný management. Jejich poslední vystoupení se konalo 24. 6. 1978 v třítisícovém irském městečku Macroom při 3. ročníku festivalu Mountain Dew, jehož hlavní hvězdou byl Rory Gallagher, jenž do areálu u zdejšího hradu přilákal 20.000 lidí.
Zpěvačka s hlasem od boha se vrátila na vysokou školu dostudovat módní návrhářství, o letních prázdninách natočila privátní album a po svatbě se usadila v Herefordshire, kde vedla specializovanou prodejnu s hudebními nosiči.
Bernie Marsden se přidal k PAL, několik let byl oporou Whitesnake (začátek jeho spolupráce s Mickym Moodym), založil vlastní kapelu Alaska a vedle účasti na projektech With The Snakes a Company Of Snakes nahrál řadu sólových alb.
Ed Spevock se stal členem obnovených Chicken Shack, působil v britském bandu Enigma, v němž se během dvaceti let existence vystřídal nespočet hudebníků a nahrával s Alanem Rossem, Jackem Brucem a Bonnie Tyler.
Steve Gurl se připojil ke kapele Any Trouble, později spolupracoval s The Blues Bandem i Davem Kellym.
Ellie Hope a Ray Knott se vzali a založili disco soubor Liquid Gold, s nímž v roce 1980 natočili britský hit Dance Yourself Dizzy (#2), v polovině osmdesátých let se Ellie vydala na sólovou dráhu.
Na Babe Ruth dal koncem sedmdesátých let vzpomenout montrealský disco band The Bombers remixem jejich písně The Mexican. V roce 1984 se jím nechal inspirovat producent John 'Jellybean' Benitez k jeho dalším úpravám, pro něž se mu podařilo získat i Janitu Haan. Maxi-singl s pěti variantami skladby se stal populárním tanečním hitem. Nu což…
Nová kapitola historie Babe Ruth se ale začala psát až v roce 2002. Jakýsi DJ Hooch tehdy pozval pětici Shacklock, Haan, Hewitt, Spevock a Punshon, aby s kultovním songem vystoupila v londýnském sále Brixton Academy při 10. ročníku taneční soutěže hiphopové komunity B-Boy Championships.
A stejná sestava – s výjimkou Spevocka, jenž nahrál bicí v Londýně – se na přelomu let 2005/06 sjela ze čtyř koutů světa do Nashvillu, kde natočila materiál připravený Alanem Shacklockem. Album Que Pasa, na němž nepřeslechnutelně hostoval DJ Kidsmeal, obsahuje mj. novou verzi Mexican Millennium, "povinnou" předělávku Apache od The Shadows i čtyři kousky, co stojí za slyš (4 Dear Life, Killer Smile, 4 Letter Word a The Blues). Od září 2006 bylo k mání v digitální formě na oficiálních stránkách kapely a na jaře 2009 se dočkalo svého vydání na CD.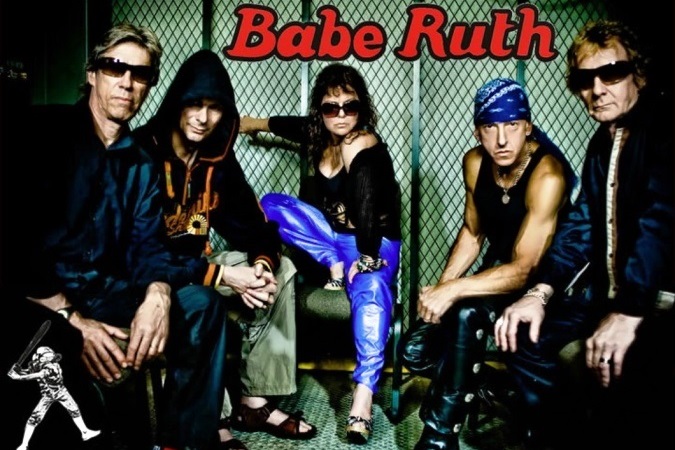 Naživo si Babe Ruth zahráli znovu až 9. 7. 2010 při startu svého kanadského mini-turné, kdy v ottawském Major's Hill Parku zahajovali čtvrtý den monstr akce Cisco Systems Bluesfest. Následoval Montreal, Mont Tremblant a další štace v provinciích Ontario a Quebec.
Dosud poslední zaznamenanou aktivitou souboru byla účast kompletního týmu na Summerfestu ve wisconsinském Milwaukee 28. 6. 2014. Z plánů na avizovaná unplugged vystoupení prozatím sešlo, ale všem dnům ještě není konec.
DISKOGRAFIE:
1972 – First Base (LP, Harvest SHSP 4022)
1974 – Amar Caballero (LP, Harvest SHVL 812)
1975 – Babe Ruth (LP, Harvest SHSP 4038)
1975 – Stealin' Home (LP, Capitol 11451)
1976 – Kid's Stuff (LP, Capitol 23739)
1994 – Grand Slam (CD, Harvest 7243 8 30449 2 4, kompilace)
2009 – Que Pasa (CD, Revolver Rec. REV XD 265, nahráno 2006)