V roce 2009 stojí Lynyrd Skynyrd, nekorunovaní vládci jižanského rocku, albem God & Guns na novém, dalším startu (kolikátém už) svojí kariéry a po mnoha příkořích osudu jsou stále tady. Navíc, jsou neobvykle silní kompozičně, mladistvím elánem nakopnutí a s tvrdošijnou zarputilostí dávají na srozumněnou, že s novým zvukem, který má energie na rozdávání a totálně smáznutými generačními mantinety, je potřeba s kapelou zatraceně počítat.
Kapela svá alba vždy zásobovala baladami v nemalém počtu, tady jsou celkem čtyři; 04., 06., 08. a 12., přičemž Southern Ways je pohodovka s funkční klavírní melodií i klouzavými tóny slide kytary, Unwrite That Song hraje na city v silně jižanském naturelu, ale její plynoucí refrén a boční doprovodné vokály se postarají o vyvedení z průměru. A nakonec ani posmutnělá Gifted Hands, s přesným a hlavně artikulačně dokonalým Johnny Van Zantem i mírným smyčcovým pozadím neurazí, navíc obsáhne hodně dobrá kytarová sóla.
Hlavní gró ovšem leží v ďábelsky energických jízdách upalujících rovinatou jižanskou krajinou Spojených států amerických. Vynikající úvod, který nás přenese právě tam, píseň Still Unbroken, obsahuje výborné country akustiky, solidní počet melodií i zapamatovatelný broukavý refrén. Simple Life je sázka na jistotu, opět prvotřídní sbory a melodika, která dokáže strhnout všechny fanoušky podobně orientované muziky. Trojka Little Thing Called You šlape zatraceně dobře, kytarový trojzápřah, kde si každý hraje to svoje, se do refrénu dokonale protne a vytváří neprostupnou, pnoucí stěnu dramatické úrovně. Podobně je na tom i Skynyrd Nation, kapela tu riffové mistrovství povýšila nad ostatní a Johnny si střihne parádní duet. Noha se pěkně pohupuje a srdce jásá spokojeností, skupina má energie na rozdávání.
Po pětce Floyd je tu ještě jedna velká píseň, kde kompoziční taje této party vynikají ve velkém. Je jí titulní God & Guns, obsahující všechna poznávací znamení souboru zabalené do poutavé a originální slupky s jasně se tyčícím country laděním. Akcent voní jižní délkou, kytarové laufy a vybrané melodie se tu řítí, sice ne velkou rychlostí, zato odzbrojující silou na naše slechy. A Storm, Storm je další výborná píseň, šestistrunné vychytávky, ženské sbory a refrénová melodie na sebe dokážou slušně upozornit.
Bravo, Bob Marlette, výsledný zvuk se vám povedl na  výbornou. Mé nejoblíbenější Skynyrd!
SKLADBY:
01. Still Unbroken 5:07
/Gary Rossington, Hughie Thomasson, Johnny Van Zant, Rickey Medlocke/
02. Simple Life 3:17
/Gary Rossington, Jeffrey Steele, Johnny Van Zant, Rickey Medlocke/
03. Little Thing Called You 3:58
/Gary Rossington, John 5, Johnny Van Zant, Rickey Medlocke/
04. Southern Ways 3:49
/Bob Marlette, John 5, Johnny Van Zant, Rickey Medlocke/
05. Skynyrd Nation 3:53
/Bob Marlette, John 5, Johnny Van Zant, Rickey Medlocke/
06. Unwrite That Song 3:50
/Gary Rossington, Jeffrey Steele, Johnny Van Zant, Rickey Medlocke, Tony Mullins/
07. Floyd 4:04
/Gary Rossington, John 5, Johnny Van Zant, Rickey Medlocke/
08. That Ain't My America 3:45
/Brad Warren, Brett Warren, Gary Rossington, Johnny Van Zant, Rickey Medlocke/
09. Comin' Back For More 3:29
/Blair Daly, Gary Rossington, Johnny Van Zant, Rickey Medlocke/
10. God & Guns 5:45
/Bud Tower, Mark Stephen Jones, Travis Meadows/
11. Storm 3:15
/Bob Marlette, Gary Rossington, John 5, Johnny Van Zant, Rickey Medlocke/
12. Gifted Hands 5:23
/Bob Marlette, Gary Rossington, John 5, Johnny Van Zant, Rickey Medlocke/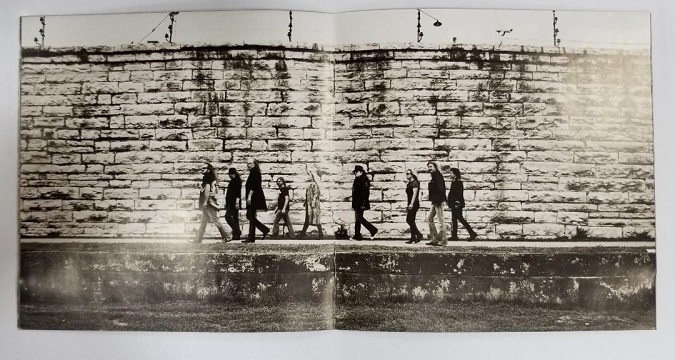 ZOSTAVA:
Johnny Van Zant – lead vocals, harmonica
Gary Rossington – guitars
Rickey Medlocke – guitars, backing vocals, harmonica
Mark Matejka – guitars, backing vocals
Ean Evans – bass, backing vocals
Michael Cartellone – drums
Billy Powell – keyboards
+
John 5 – guitars
Rob Zombie – vocals on "Floyd"
Michael Rhodes – bass
Greg Morrow – drums
Perry Coleman – background vocals
Jerry Douglas – dobro
Bob Marlette – piano
Ben Fowler – talking drum (03., 09.)
The Honkettes (Dale Krantz-Rossington & Carol Chase) – backing vocals
Strings on "Unwrite That Song" and "Gifted Hands" arranged by Lisa Parade
God & Guns
Lynyrd Skynyrd
Southern Rock
Roadrunner Records
2009
CD, LP
12