Nesú odkaz Phila Lynotta
Po albume Black Rose /1979/ bol Phil Lynott už nezadržateľne v zajatí drog. A jeho skupina Thin Lizzy sa rozpadla v roku 1983. Phil potom spolupracoval s Garym Mooreom na sólovom projekte, ale na Štedrý večer 1985 sa predávkoval heroínom a o niekoľko dní, 4. januára 1986, zomrel na zápal pľúc a zlyhanie srdca vo veku 36 rokov.
Írska kapela Thin Lizzy bola založená v roku 1969 v Dubline a Phil hral na basgitaru, spieval a skladal piesne. V skupine sa vystriedalo viacero gitaristov; Gary Moore, Brian Downey, Eric Bell, Scott Gorham, Brian Robertson a John Sykes. Hardrocková skupina Thin Lizzy boli výnimočná tým, že od roku 1974 používala dve sólové gitary v harmónii ako napríklad Wishbone Ash, Allman Brothers Band alebo Lynyrd Skynyrd.
Gitarista Thin Lizzy /1974-1983/ Scott Gorham neskôr oživil hudbu Phila Lynotta a poskladal anglo-amerických hudobníkov, ktori hrali skladby Thin Lizzy. Keď však prišla doba na vydanie nového albumu, odkaz Phila Lynotta bol u členov kapely tak silný, že nedokázali nahrať nové piesne pod starým názvom skupiny. Nemohol to byť nový album Thin Lizzy, hoci robili koncerty ako Thin Lizzy.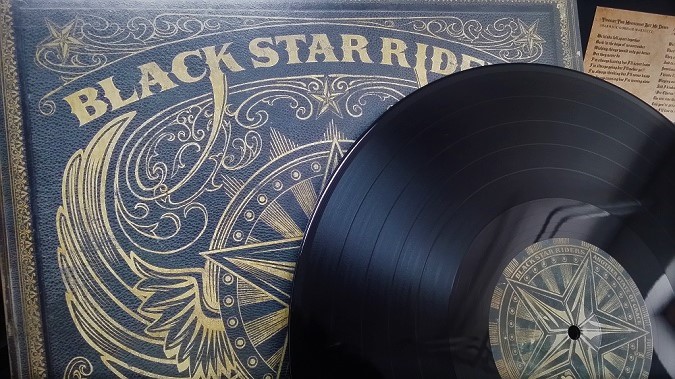 Dohodli sa, že platňu vydajú pod názvom Black Star Riders a album sa bude volať All Hell Breaks Loose. To bolo v roku 2013. Potom vydali v roku 2015 The Killer Instinct, Heavy Fire (2017) a nakoniec v roku 2019 Another State Of Grace. Desať piesní albumu je verným odrazom Thin Lizzy a Scott Gorham so svojimi spoluhráčmi hrdo nesie odkaz Thin Lizzy.
1. Tonight The Moonlight Let Me Down
Je evidentné, že to je otváracia skladba. Kapela hrá energický melodický rock. Dve sólové gitary sa výborne dopĺňajú a rytmika šliape dokonale. Ide o veľmi dobre zohratú formáciu, hoci bubeník Chad Szeliga práve nastúpil do kapely. Pridáva veľmi časté brejky a vytvára plnú stenu bicích. Chytľavý refrén je výborný, v závere skladby je saxofón, ktorý spestrí rockový nárez.
2. Another State Of Grace
Titulná skladba albumu. Spev Ricka Warwicka je podobný Philovi Lynottovi, farba hlasu a frázovanie je ako keby sme počúvali starú kapelu. Basa a bicie ženú všetkých dopredu ako láva, harmonické gitary temným tónom vnášajú do keltskej piesne napätie. Skladba prechádza do hymnického refrénu. Zástava Thin Lizzy vanie nad Black Star Riders. Šlapajúci rytmus je výborný a je to zaslúžene titulná pieseň štvrtého albumu, skupina dokázala vytvoriť klasický zvuk svojich predchodcov.
3. Ain't The End Of The World
Rýchla skladba znovu v tóne Thin Lizzy. Zvuk je vystavaný na dvoch gitarách, plných bicích a hustej base. Celá skupina je ako jeden celok, občas vyskočí do popredia nejaký nástroj, prvýkrát sólo na gitaru a potom zjednodušenie zvuku, aby znova prešli do odpaľovačky. Spoluhráči sa pridávajú vokálmi. Skladba končí. Hitová vec, výborný riff, jeden z vrcholov tejto platne.
4. Underneath The Afterglow
Tu ide skupina do tajomnejšieho, drsnejšieho a tvrdšieho zvuku, ale refrén ich vracia na pôvodnú pozíciu.Znovu basová linka dominuje a Warwick spieva, ďalšie sólo na gitaru, basa preberá žezlo, jednoduchý rytmus na bicích. Pridávajú sa klávesy a skladba končí.
5. Soldier In The Ghetto
Úvod na bicích, riff gitary s hammond klávesami. Pridaním kláves sa zvuk trošku zahlcuje. Na druhej strane to pomáha vytvoriť zaujímavejší plný zvuk. Určite nemôže kapela vo všetkých skladbách kopírovať Thin Lizzy. Toto nie sú Thin Lizzy. Táto skladba je preto iná, aj keď je to stále tá istá skupina. Súzvuk dvoch gitár je však výborný a zdá sa, že majú stále čím prekvapiť.
6. Why Do You Love Your Guns?
Druhá strana LP začína pomalou skladbou. Tu je evidentné, že Rick spieva svojím hlasom. Zvuková stena naberá plnú silu a hoci je skladba pomalá, gitaristi si zasólujú. V tejto polohe sú Black Star Riders tiež veľmi dobrí a vytvorili obstojnú rockovú baladu. Farba sólujúcej gitary je pekná. Text piesne je inšpirovaný streľbou na základnej škole Sandy Hook v Newtowne v roku 1912.
7. Standing In The Line Of Fire
Aby sme sa prebrali k životu, nastupujú "čiernohviezdni jazdci" do odpaľovačky. Tvrdej muziky, bez možnosti úniku. Tu sa teraz na nič nehrá. Každý ide ako o život dopredu a kto príde prvý, získa "štartovacie miesto v ohni". Výborné sólo Scotta Gorhama. Ďaľší vrchol LP. Táto skladba je ukážkou, ako sa dá výborne nasnímať v nahrávacom štúdiu rocková hudba a urobiť z nahrávky vec, ktorá poteší uši.
8. What Will It Take?
Skladbu ako keby som poznal. Nie, nie je to žiaden plagiát. Ale ten pocit už od prvých tónov ako keby som prežíval tisíckrát. Zvuk skupiny mi evokuje náznak amerických Eagles, Poco, Blackberry Smoke, alebo Toma Pettyho. Dobrá nálada, lenivé poobedie a odpočinok po dobre urobenej práci, ktorá sa podarila. Alebo obraz toho známeho kamióna idúceho po americkej ďiaľničnej pustatine? Ženský hlas, spieva Pearl Aday, nevlastná dcéra Meat Loafa pridá iskru do tejto pohodovej skladby. Žiaden nástroj sa netlačí dopredu, príjemný zvuk celého ansámbla.
9. In The Shadow Of The War Machine
Gitara Scotta nastupuje so spevákom Rickom a pridávajú sa ostatní v rytme "Judas Priest", bicie vôbec nie sú do počtu, ten bubeník je naozaj dobrý. Dve gitary v krásnom súzvuku režú muziku v rýchlom rytme. Možno najlepšia skladba albumu? Šliape to, ten spoločný zvuk je jednoducho úžasný. V jednoduchosti je sila, stále to hovorím. Nahrávke nič nechýba, taká super rockovica.
10. Poisoned Heart
Načo by bol dôchodca-veterán Scott Gorham v tejto kapele, ak by sa nedotkol svojej starej kapely. Keď už pre nič iné, pre tieto dve sólové gitary sa rád vrátim znovu k Black Star Riders. Ich "Otrávené srdce" ma vôbec neotrávilo, skôr sa teším na ich nové veci, ktoré ešte vydajú. Skladba je dôstojnou bodkou celého albumu. Koncertné číslo. Všetky texty napísal Rick Warwick.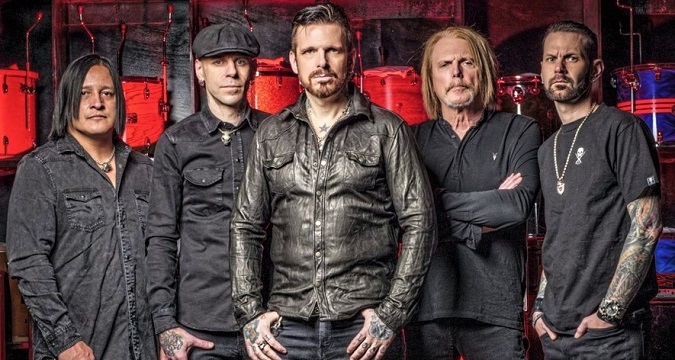 Štvrtý album Black Star Riders je aj zásluhou speváka, gitaristu a skladateľa Rickyho Warwicka a Scotta Gorhama takým dokonalým odrazom Gorhamovej starej skupiny, že sa tomu ani nechce veriť. Nie je to nič nové pod slnkom. Je to len výborná rocková platňa, s perfektným driveom a feelingom. Zvuk je absolútne skvelý, výborná nahrávka, ktorá poteší, zvukári si dali záležať a aj hudobníci prišli s výbornými nápadmi. Aj keď cesta skupiny, ktorá bude asi vždy spájaná s Thin Lizzy, je zložitá. Warwick nikdy nebude skladať piesne ako Phil, jeho piesne z albumu sú dostatočne odlišné od ich vzoru a skupinu posúvajú dopredu. Black Star Riders majú svoju vlastnú tvár, energiu a budúcnosť.
HODNOTENIE:
zvuk albumu – 5 hviezdičiek z 5;
album – 4 hviezdičky z 5.
ZOSTAVA:
Ricky Warwick – lead vocals, guitar
Scott Gorham – lead guitar
Christian Martucci – lead guitar, vocals
Robert Crane – bass guitar
Chad Szeliga – drums, percussion
+
Fred Mandel – keyboards
Michael Monroe – saxophone (01.)
Patrick D'Arcy – bodhrán, whistle, uilleann pipes (02.)
Pearl Aday – vocals (08.)
NOTES:
Recorded At – Sphere Studios, Burbank
Mixed At – TRS West, Sherman Oaks, CA
Mastered By – Paul Logus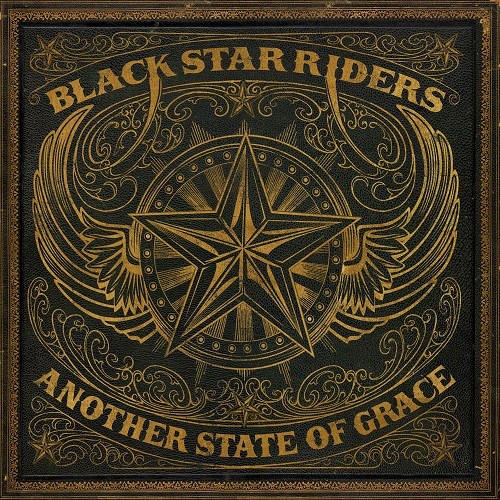 Another State Of Grace
Black Star Riders
Hard Rock
Nuclear Blast
2019
CD, LP
10
LP - Nuclear Blast, NB 4893-1