NEBE, PEKLO, RÁJ
Nebudu záměrně rozepisovat, co všechno předcházelo nahrávání alba Heaven And Hell, šlo by o povídání na knihu, ne-li dvě. Jednou větou: BLACK SABBATH se v podstatě ocitli na pokraji rozpadu.
Začnu osobní vzpomínkou. Na vojně jsem zcela propadnul RAINBOW s božským Diem u mikrofonu. Jejich druhé LP Rising dodnes považuju za základní kámen nového subžánru, hard & heavy, propojujícího hardrock s metalem, s nadsázkou řečeno blues s punkem.
Heaven And Hell jsem proto v době vydání považoval za něco jako BLACK RAINBOW, ostatně úvodní odpichovka Neon Kings je spíše duhová než temná a s Ozzym nepředstavitelná. Tím, že byla nahrána jako poslední, víceméně dodatečně až v době, kdy noví SABBATH již tvořili kompaktní sehraný tým, vzorně reprezentovala novou éru kapely a oslovila další generaci fans. Například James Hetfield uvádí Neon Kings jako školní hymnu mladých rebelů. Byť na pohled/poslech lehkonohá, nerodila se lehce, Tony Iommi sám přiznává: "Při skládání rychlých písniček musím víc přemýšlet, pomalé mi jdou samy."
Diovu éru, ani ty následující, vůbec nestavím proti klasickým BLACK SABBATH, jsou to pro mě dvě/tři/čtyři skvělé osobité autonomní kapely, spojené genialitou Tony Iommiho. Ten kdyby hrál u SHADOWS, tak je klidně poslouchám spolu s Marvinovými.
Dle některých verzí přivedla Božského do kapely Sharon, osobně dávám přednost stylovější verzi: setkání Ronnieho a Tonyho v baru Rainbow na Sunset Strip bulváru, kde nad sklenkou kuli pikle o společné kapele. Nakonec všechno dopadlo jinak, Tony dal BLACK SABBATH ještě šanci a Ronnieho pozval do svého domu, kde se kapela scházela.
"Ronnie přišel a střihnul právě rozpracovanou ,Children Of The Sea' takovým způsobem, že nás posadil na prdel. Tak to je pravé Bloody Hell, pomysleli jsme si," vzpomíná na první setkání Geezer Butler (nicméně, stálo by určitě za to slyšet také Ozzyho ranou verzi). Ronnie pro změnu ocenil značnou volnost, jakou mu, na rozdíl od Ritchieho, poskytl Tony: "U RAINBOW jsem musel otrocky zpívat co určil Blackmore, u BLACK SABBATH jsme tvořili společně."
Tony Iommi má poměrně jasno: "Kdyby Ronnie tehdy nepřišel, myslím, že by BLACK SABBATH skončili. On však měl tak jedinečný hlas a profesionální přístup, že nám dal jasný důvod pokračovat. Navíc přinesl mnoho nového. Byla radost s ním pracovat, ve studiu nás to po dlouhé době zase bavilo." Mimo mikrofonu se Ronnie ujal i psacího pera a trochu provětral sabbatovskou lyriku, o níž se doposud staral především Geezer.
Dio vystavěl svým hlasem na Iommiho kamenitých riffových základech svou typickou honosnou katedrálu, vzpínající se až někam k nebesům. Tonymu tím umožnil podbídnout se době a americkému mainstreamovému vnímání rocku. Z onoho důvodu možná přizval k nahrávání i rychlokvašeného klávesáka Geoffa Nichollse a nechal producenta Martina Bircha přibarvit sound vokálními backgroundy. Temná síla raných alb byla sice nenávratně pryč, zaseté semeno doom metalu ale mezitím úspěšně rostlo v podhoubí undergroundu. Rockový mainstream nastupující osmé dekády si ale žádal nablýskanou produkci a tak se BLACK SABBATH proměnili z těžařů kamene v umělecké kováře, tepající zdobné mřížoví v rytmu doby. Příznačné pro nově nahozený řemen bylo i to, že se na album dostalo v podstatě vše, co nahráli. A ještě pochybělo, viz v Paříži dotáčená Neon Kings. Když se daří, řemeslníkovi ani muzikantovi nic nepadá pod stůl.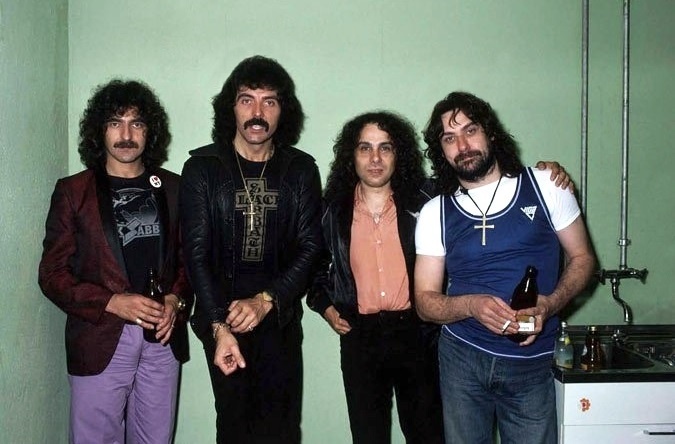 BLACK SABBATH si své nové pojetí museli vyvzdorovat u vydavatele i fanoušků. Platinové zaoceánské prodeje [US #28] a zlaté doma [UK #9] zavřely hubu takřka všem škarohlídům, avšak dalšímu personálnímu drolení původních BLACK SABBATH nezabránily. O tom taktéž někdy příště…
Jaromír Merhaut pro Spark 2020
SKLADBY:
A1) Neon Knights 3:50
A2) Children of the Sea 5:30
A3) Lady Evil 4:30
A4) Heaven & Hell 7:00
B1) Wishing Well 4:05
B2) Die Young 4:33
B3) Walk Away 4:21
B4) Lonely is the Word 5:52
Hudba a aranže: Dio, Iommi, Ward a Butler
Texty: Ronnie James Dio
Nahráno: Criteria Recording Studios v Miami a Studio Ferber v Paříži
Produkce a zvuková režie: Martin Birch
SESTAVA:
Ronnie James Dio – zpěv
Tony Iommi – kytara
Bill Ward – bicí
Geezer Butler – baskytara
&
Geoff Nicholls – klávesy
Poznámka: Rozhlasová reklama na album Heaven And Hell z jara 1980.
Heaven And Hell
Black Sabbath
Hard Rock
Vertigo
1980
LP
8