Skupina Curved Air patří k zajímavým hudebním sdružením sedmdesátých let a potvrzuje žánrovou pestrost oněch časů, kdy hudební hledačství bylo prioritním záměrem těch skupin, které nechtěly znít stejně jako ostatní a usilovaly o odlišnost a ojedinělost. Avantgardní skladatel Terry Riley jim "dodal" název pro kapelu – odvozeně "Zakřivený vzduch"  ̶  ten termín už sám o sobě měl v sobě surreální přitažlivost. Kapela mě zaujala hned jejich prvotinou.
Evidentním frontmanem byl houslový virtuos Darryl Way, který vystudoval housle jako obor na univerzitě, ale protože měl zájem experimentovat s klasickým hudebním nástrojem a klasickým tématem, ale zároveň měl v sobě schopnost eklekticky propojovat hudbu s rockem a jazzem, zatoužil postavit regulérní kapelu a také se obklopil kreativními hudebníky ze skupiny Sisyphos a přizval ke spolupráci zajímavou zpěvačku a divadelní herečku Sonju Kristinu Linwood. To byla krásná ženská už na první pohled. Měla ženské charisma, ale nebyla to taková ta skleněná napudrována kráska (což mě velmi konvenovalo) z festivalových klání. Curved Air jsem viděl i na vídeňském Beat-Clubu a jejich dobový klip It Happened Today se mě opravdu zalíbil, stejně jako jejich první album.
IT HAPPENED TODAY – Výtečný nástup kytarového výjezdu Francise Monkmana a divokých klavírních partů Darryla Waya a máme tu krásný ženský hlas Sonji Kristiny Linwood. V jejím hlase cítím erotickou podmanivost, ale žádné laciné "zajíčkování". Její výšky mají zvláštní vibráto, které mě vzrušuje už od první skladby. Pochválit je třeba výborné aranžmá. Kytara, baskytara a housle jedou ve výtečných unionech (jako to uměli v raných dobách pražští Etc…). Když se rockově dravé a zpívané téma dostane na vrchol, najednou ho střídá spíše klasicky pojaté harmonické cítění v melancholickém převleku pocitů a skladba je odváděna do úplně jiných hudebních hájemství. Vynikající nástup!
STRETCH – Po harmonizování houslí, se nám zcela nečekaně nabídne boogie jako zvon po evropském způsobu. Monkman vyšívá hezké kytarové sólo v mezihře a výborný attack mají housle s baskytarou, které opakují výrazný akcent. Skladba správně dusá a šlape a Wayovy housle navzdory klasickému vzdělání hrají v úplně jiném uchopení a pojetí podporovány elektrickou kytarou. Pojednou se nám melodická linka na chvíli "rozpadne" a hudba dostává psychedelický nátěr, aby se potom vrátila ke své důrazné přímočarosti. Sonja Kristina Linwood výtečně souzní s kapelou a nějak se v písní nápadně nesebeprosazuje, na rozdíl od Monkmanovy elektrické kytary. I další skladba, třebaže pochází z jiné kategorie, má svoji podmanivost a kreativnost!
SCREW – Třetí skladba má výrazné umělecké ambice. Její kompoziční postupy svědčí o tom, že Way je opravdu hudebníkem, který studoval skladbu a Sonja Kristina Linwood dodává zase jistou divadelní dramatiku. Prokreslování hudebního schématu houslemi, varhanním soundem, elektrickou kytarou a údernými, třebaže nijak nekomplikovanými bubenickými breaky slaví svůj úspěch.
BLIND MAN – Psychedelické kouzlení perkusivních úderů do strun v kombinaci s houslemi a posmutnělým zpěvem Sonji Kristiny Linwood má velmi zvláštní atmosféru. Opírá se, jak už říká samotný název o závažné téma a tak střídání nálad je zde zcela legitimně namístě. Svou dravou úderností překvapí akustická kytara, zatímco housle v pozadí dotvářejí barevné obrazy impresivních vizí a bicí nástroje hrají ve zvláštních, třebaže relativně jednoduchých obrazcích. Zdráhám se nějakým způsobem pojmenovat hudební útvar.
VIVALDI – Way napsal vynikající skladbu jako parafrázi na slavného italského barokního skladatele Antonia Vivaldiho. Jeho suverénní vedení smyčce a harmonické obrazy, včetně výrazu jsou na opravdu virtuozní úrovni. Docela by mě zajímalo, co by slavný autor Le quattro stagioni na jeho adresu poznamenal. Dostat v moderním uchopení barokní téma do podobného typu hudby jakou prezentovali Curved Air chtělo hodně odvahy a umělecké kázně. Tady se obojí velmi zdařile propojilo. Až do okamžiku, kdy Way použije agresivnější způsob interpretace houslí, jejichž zvuk amplifikoval do destruktivní podoby. Na rok 1970 hodně progresivní přístup k hudební formě, jen co je pravda! Ale aby se Mistr Vivaldi moc nerozzlobil, tak se Way vrací zpět k původní formě, ale vzápětí je doprovázen hřmotícími bicími nástroji a činely Floriana Pilkingtona-Miksy a původně čistý zvuk získá na větší robustnosti a zkreslení! Milovníci progresivního rocku budou spokojeni.
HIDE AND SEEK – Bicí nástroje otevírají další skladbu, hřmící elektrická kytara a křišťálové tóny klavíru vstupují do hry ve střednědobém tempu a odvíjejí další hudební tma v zajímavém aranžmá. Perkusivní zvuky a ostré akordy elektrické kytary už uvolňují prostor pro Sonju Kristinu Linwood. Její hlas má v sobě dramatické vyznění, její ohýbáníi tónů se skvěle propojuje s divokými bicími nástroji a Monkmanovou elektrickou kytarou. Ta zde ovládne prostor zkresleným soundem. Playbackované ženské hlasy jsou ústrojně tvůrčím způsobem vkomponovány do děje. Rytmické přechody a akcentování zrychlované a zpomalované hudby vás udržují ve stálém napětí a pozornosti. Monkmanova kytara je preparovaná wah wah pedálem, ale chvílemi ustupuje do pozadí a vystavěná melodická linka prokazuje spolehlivou nosnost této hudební konstrukce.
PROPOSITIONS – Opakující se hudební riff, který propojuje kytaru, baskytaru, housle a bicí nástroje, se odvíjí v přesném metrickém složení. Jednotlivá playbackovaná kytarová témata mají harmonicky odolnou strukturu a představují instrumentálně precizní materiál. Do tématu zezadu vstupuje elektrické piano a také Sonja Kristina Linwood stupňuje napětí skladby nejen vlastní interpretací, ale i expresivními výkřiky.
ROB ONE – Klavírní téma nastolí pomalejší skladbu, spíše mírně rozjímavého charakteru, což potvrzují i houslové party, které dovytvářejí klasicizující kompozici, jejíž strukturu "narušují" hutné bicí nástroje s asistencí baskytary. Way vedle houslí ovládá skvělým způsobem i klasický klavír a my se máme možnost přesvědčit o jeho výtečným úhozu a tónových proměnách.
SITUATIONS – Sonja Kristina Linwood zpívá konejšivým hlasem. Její jasná výslovnost a výrazová přesvědčivost jsou velmi přesvědčujícími argumenty. Baskytarové modulace pod melodickou linkou znějí velmi zajímavě a to už Florian Pilkington-Miksa rozehrává svoji bicí baterii, ale i psychedelické percussion, do kterých náhle vstoupí pronikavě ostrý a přesto syrový sound Monkmanovy elektrické kytary, který dokresluje mellotron. Sólo zní velice zajímavě a spíše vytváří zajímavou atmosféru, než aby šokovalo nějakými závratnými eskapádami. Sonja Kristina Linwood v několika taktech do písně vkládá šansonovou tanečnost, ale vzápětí se zde opět ponoříme do úvodního tématu. Dramatický náboj má velkou přesvědčivost, ale zároveň vedle daných aranžmá vzniká prostor i pro jakýsi derivát alternativy. Velmi přesvědčivý příspěvek!
VIVALDI (WITH CANNONS) – V závěrečné skladbě se nám vrací elektrická "vivaldiana" s excelujícím Wayem na amplifikované housle, ale i se zvukovými strašidelně vyznívajícími efekty a bubenickými nálety, které doprovázejí kostelní varhany a zvony (tubular bells) a definitivní konec deklarují destruktivní zvuky exploze za pomocí svištění a hvízdání. Myslím, že na festivalu Pražské jaro by milovníci klasické hudby spadli ze židlí a upadli do mdlob. Víc se k tomu dodat ani nedá! Opravdu hodně progresivní rockový start s psychedelickým oparem.
Kapela měla za sebou výtečný nástup a i další dvě studiová alba byla zajímavá, i když byla o poznání pod nastavenou laťkou. Také Curved Air procházeli personálními třesky, ať už za tím byly osobní nebo umělecké důvody a tak vypilovat jejich hudbu k téměř absolutní hudební dokonalosti jí nebylo dopřáno.
Jméno Francise Monkmana jsem zaregistroval v kapely Sky, nedoceněném hudebním sdružení výtečných instrumentalistů, k němuž se hudební historie zachovala poněkud macešsky a zapomnělo se na ni, ale také na projektu kytaristy Phila Manzanery Quiet Sun, kde jako multinstrumentalista hraje vedle Eddieho Jobsona.

Curved Air patří k výtečným kapelám své doby. Jejich odkaz je rámován sedmdesátými lety. Osobně si nedovedu představit, jak by se tato hudba vyjímala vedle heavy metalu a new wave osmdesátých let, ale vůbec mě to netrápí. Hudba na albu Air Conditioning je hodna respektu a obdivu, i když ne masovému. Vedle jiných třeba grandióznějších projektů své doby nevrhá tak dlouhý stín, ale přesto si svoje místo na slunci uhájí. Protože miluji osobitost – muzikantské, aranžérské i pěvecké výkony mě o tom přesvědčují – dávám pět hvězdiček!
SKLADBY:
01. It Happened Today (Francis Monkman/Sonja Kristina Linwood)
02. Stretch (Darryl Way/Francis Monkman)
03. Screw (Darryl Way/Sonja Kristina Linwood)
04. Blind Man (Darryl Way/Rob Martin)
05. Vivaldi (Darryl Way)
06. Hide and Seek (Darryl Way/Sonja Kristina Linwood)
07. Propositions (Francis Monkman)
08. Rob One (Rob Martin)
09. Situations (Darryl Way/Rob Martin)
10. Vivaldi (With Cannons) (Darryl Way/Francis Monkman)
SESTAVA:
Sonja Kristina – Vocals
Rob Martin – Bass
Francis Monkman – Guitars, Keyboards
Florian Pilkington-Miksa – Drums
Darryl Way – Violin, Keyboards, Vocals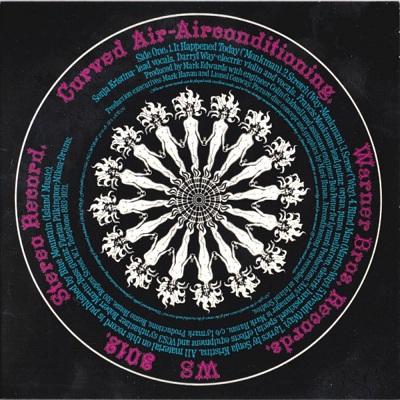 Air Conditioning
Curved Air
Prog Rock, Art Rock
Warner Bros. Records
1970
LP
10