Skutočne čarovnú atmosféru 70. rokov, návrat a nostalgiu za Canterburskou scénou, inšpiráciu geniálnymi Van Der Graaf Generator i samotným Peterom Hammillom, prináša talianska skupina Areknamés.
Multiinštrumentalista a spevák Michele Epifani, spolu s rytmickým doprovodom Piero Ranalli/Mino Vitelli, na ploche takmer 55 minút servíruje hudobný pokrm, ktorého sa neviem nabažiť a počúvanie ich prvotiny vo mne vyvoláva syndróm závislého človeka. Takto by mal znieť dnešný "moderný" Van Der Graaf Generator! Ak tento album počul Peter Hammill, čomu verím, istotne ostal "s otvorenou hubou".
Michele Epifani spieva s typickou intonáciou a frázovaním, ako jeho inšpiračný vzor, používa však aj "krabičky" na občasné skesľovanie hlasu v niektorých dramatických pasážach. Dielo nemá žiadnu slabinu, všetkých šesť kompozícií udržiava poslucháča v strehu a akomsi pozitívnom napätí. Ťažké gitarové riffy, husté melotrony, dramatické zmeny hudobných nálad, naliehavosť Epifaniho spevu, pasáže klasického a symfonického rocku, kombinované s pochmúrnosťou a melanchóliou, to je tvár debutového disku skupiny z Apeninského polostrova.
Album Areknamés jednoznačne odporúčam milovníkom klasických Van Der Graaf Generator Petera Hammilla, ale aj kapiel, akými sú britská Parallel Or 90 Degrees Andyho Tillisona, teda aj Tangent, alebo americká Discipline Matthewa Parmentera…
SKLADBY:
1. A Day Among Four Walls (12:04)
2. Wasted Time (5:40)
3. Down (10:28)
4. Season Of Death (8:43)
5. Boredom (8:33)
6. Grain Of Sand Lost In The Sea (8:55)
NOTES:
Recorded & mixed by Michele Epifani and Areknames between March and November 2002 at Lentofumo Studios, Pescara, Abruzzo, Italy.
ZOSTAVA:
Michele Epifani – organ, electric piano, Mellotron, synthesizers, harpsichord, acoustic & electric guitars, recorder, vocals, composing & mixing
Piero Ranalli – bass
Mino Vitelli – drums, djembe, Arabian tabla, spring drum
+
Stefano Colombi – guitar solo (5)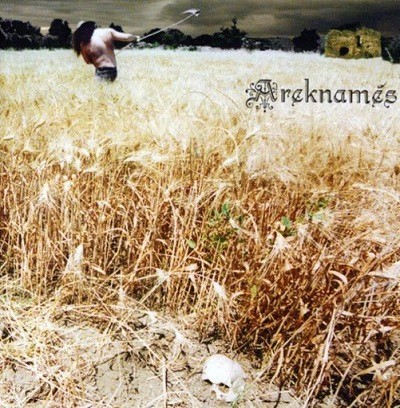 Areknamés
Areknamés
Prog Rock
Black Widow Records ‎
2003
LP, CD
6