Když se na internetu před cirka dvěma roky objevila recenze na LP Plastic People od Birth Control, první co mne při pohledu na obálku alba okamžitě odrovnalo, byl použitý motiv s panákem v buřince. Podobný odkaz na šedou eminenci stojící v povzdálí a tahající za nitky osudu, jsem poprvé spatřil na desce The Plague od anglických pomp rockerů Demon. Tento napůl kyborg se stal i výzdobou mistrného bookletu mnou milovaného alba a o pár let dříve se objevil i jako ladný chodec po mozkovně, zobrazené na albu Hemispheres kanadských Rush. Při pohledu na něj jsem strašně toužil, aby se mi deska líbila a měl tak důvod si ji jednou obstarat. Jenže od té doby uplynulo moře času a já na ni, samozřejmě, zapomenul. Až náhoda tomu chtěla, abych ji při svých toulkách na Discogs zcela náhodně u jednoho prodejce objevil. To už jsem neváhal ani minutu a okamžitě natáhnul ruku.
Deseti minutový skvost Plastic People plný eruptivní energie, velmi častých tempových obměn i vkusných, atmosféricko vzletných poloh, v nichž dokáže být hlas bubeníka Bernda Noskeho něžný i extatický zároveň, popírá veškerou schematičnost desky a bohatstvím nápadů rázně rozhání jakoukoliv nudu. Druhou Tiny Flashlights doslova zbožňuji. Její jazz-rockový rytmus s dětinskou hravostí jemně rozcuchává vaši jemnou duši a pitoreskní instrumentace nenechá vaše tělo v klidové poloze. My Mind patří k tomu nejlepšímu z desky, je vlastně docela neuchopitelná, ale poslouchá se o to intenzivněji. To následující Rockin' Rollin' Roller si pevně drží svůj funkově rockový rytmus, který ovšem doprovází obskurně jamující piano. Z plasticky vzdušného těstíčka je i pátá, značně free položená Trial Trip. Poslední This Song Is Just For You dominují hammondy a výraznou melodickou stopu drží viola spolu s violončelem. Po vzoru Lucifer's Friend místy zatroubí žestě a pěknou linku opanuje i flétna. Píseň zní velmi bohatě a plně, neztrácí však svůj charakteristický rukopis a rockový tón. V druhé půli se přidá ženský sbor a píseň kulminuje v pestrosti nápadů.
Pokud máte občasnou averzi proti německým kapelám, tak jako čas od času já, v případě Birth Control můžete veškeré své obavy z přílišného "germánství" hodit rovnou za hlavu. Tato kapela zní například jako napůl německo-angličtí Nektar zcela neněmecky. Ostrovní psychedelic hard rock (s decentní dávkou osobitého kraut rocku) jim byl dán do vínku už od kolébky a ti jej používají s rozumem a zcela přirozeně. Plastic People je nekonvenční brilantní deska, na kterou by se nemělo zapomenout.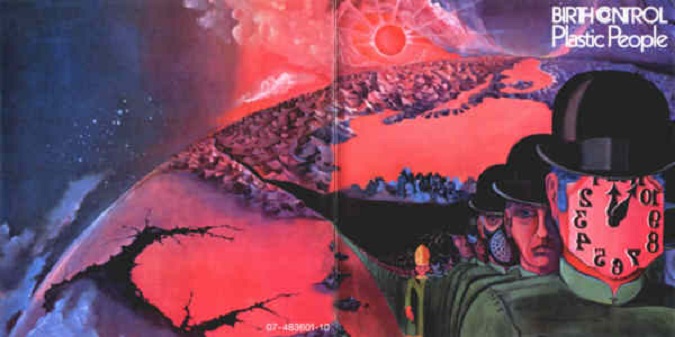 SKLADBY:
1. Plastic People
— ("You Meet Them Everywhere")
— (Bruno Frenzel/Zeus B. Held) 10:54
2. Tiny Flashlights
— ("Beloved Coffein")
— (Bernd Noske/Zeus B. Held) 7:33
3. My Mind
— ("The Sad Man With The Third Ear")
— (Bruno Frenzel/Zeus B. Held) 6:49
4. Rockin' Rollin' Roller
— ("Tell Me Whatever You Want")
— (Bruno Frenzel) 5:43
5. Trial Trip
— ("The Ferry To The Isle")
— (Zeus B. Held) 6:43
6. This Song Is Just For You
— ("And For A Brown Eyed Sweet Danseuse")
— (Zeus B. Held) 7:28
SESTAVA:
Peter Föller: bass, vocals, vibes (3)
Bruno Frenzel: guitars, backing vocals
Zeus B. Held: keyboards, backing vocals, Tenor sax (2-4), trumpet (4)
Bernd Noske: drums, percussion, lead vocals
+
Robert Camis De Fonseca: effects [special reverbeffects] (1)
Friedmann Leinert: flute (6)
Christoph Noppeney: viola (3-6)
Jochen von Grumbkow: cello (3-6)
Ulla, Hanne & Brigitte: chorus (6)
Robby (saxophone), Otto (trombone) & Harry (trumpet), horns (6)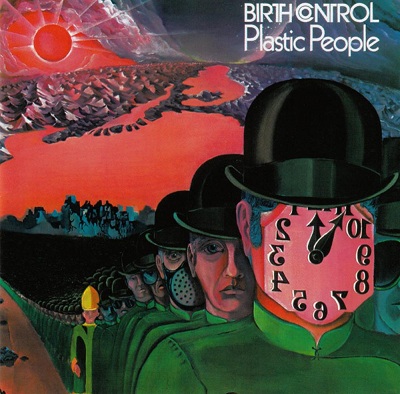 Plastic People
Birth Control
Prog Rock
CBS
1975
LP
6