Album Ceremony od britské progrockové kapely Spooky Tooth bylo už před více než čtyřiceti lety v mém okolí vnímáno jako kultovní hudební produkt. Poprvé jsem se s ním seznámil v již několikrát zmiňovaném Divadle hudby v pořadu Underground, který dodnes považuji za jakousi vzdělávací základnu v oboru rockové hudby, kdy hlad a touha po informacích byly vytěsňovány z okolí nás, tehdejších teenagerů…
Po poslechu alba jsem zůstal naprosto konsternován tím, co jsem slyšel a protože to bylo v době, kdy na mě stále ještě působily ozvěny pinkfloydovských alb Ummagumma, Atom Heart Mother a Meddle, tak jsem si najednou uvědomil, že hledání nového progresivního hudebního útvaru nalezlo další dílo, které se ve svém pojetí s ničím nedalo srovnávat. Pamatuji si, že mě fascinoval už obal samotný a že v mém okolí byl pravděpodobně jediný člověk (nanejvýš dva), který na album dosáhl. U kamaráda jsem album znovu společně s ním soustředěně poslouchal, ale nebylo na půjčení (na rozdíl od jiných alb), třebaže mezi námi panovala jistá důvěra. Kamarád měl výtvarné vlohy a tak se pokusil sugestivní obal namalovat na plátno a myslím, že se mu to docela podařilo. Obal totiž mimořádně souzněl s hudebním obsahem, který deska nabízela.
Postupně jsem si během dalších let nasbíral kompletní diskografii Spooky Tooth, ale tohle album nebylo jednoduše k mání. Až po revoluci se objevil nějaký zdroj a já jsem získal unikátní francouzský výlisek na CD, který byl ještě navíc o něco dražší než ostatní nosiče. Album dodnes provází opar tajemna a téměř okultního odéru. Zdráhám se ho označit za jejich vrcholné dílo, ale co se týče spojení rhythm and blues, psychedelie a rocku, zaujímá v jejich diskografii mimořádné postavení.
CONFESSION – destruktivní zvuk vás vytrhne z koncentrace. Vzápětí slyším podivné mrazení a údery do kovadliny (?), spíš mám pocit, že byl natočen nějaký brahmánský tajný obřad, kdy se hovoří s jejich božstvy. Do směsice těchto nepříliš libých zvuků a tónů vstupuje zvolna rockové téma, která přináší kvílení elektrické kytary, elektronické zvuky, cinkání podivných percussion a poněkud chaotický shluk harmonie. Melodická linka se zvolna klube na světlo v dlouhých tónech s naříkavým ponurým hlasem varhaníka Garyho Wrighta. Luther James Grosvenor vstupuje do tématu syrovými kytarovými tóny, něco mezi doprovody a krátkými vyhrávkami. Chraptivý tón výtečně pojednaného hlasu Mike Harrisona je v pozadí. Skladba ovšem graduje a získává na intenzitě podání ve stupňované harmonii, destruktivní zvuky jsou ovšem neodbytné (už vůbec ne podmanivé, spíš zneklidňující). Dlouhý tón, skoro by se dalo hovořit o tajemném oooooooommmmm, se neustále vrací s dramatickými údery.
HAVE MERCY – baskytarové téma Andyho Leigha a dlouhé tóny rozostřených hammondek přinášejí sólovou prezentaci Mike Harrisona, člověka originálního hlasového fondu. Z pozadí zaznívají podivné zvuky, které lze označit za děsivé vytí vlčí smečky, stejně jako astrální zvuky z neznáma. Nahrávka je ale podivně zvukově nevyvážená, má to snad být záměr? Výrazný rockový riff pro elektrickou kytaru je pozasunut za Harrisonův syrový vokál, kterému v další části pomáhá i Gary Wright. Podivný hukot zní jako přelévání mořských vln a syrové kytarové sólo je špikováno destruktivními zvuky elektroniky, šplouchání, polykání, škytání, bzučení, skřípění. Mike Kellie je dobrý bubeník a tady svoji roli potvrzuje údernou a kreativní hrou. Tónový generátor zde vytváří velmi zvláštní podkres a background. Skladba nepostrádá napětí a vzrušuje svou rozevlátou formou na téměř osmiminutové ploše. Je tohle psychedelické divadlo, nebo hudební futurismus? Zdráhám se dát jednoznačnou odpověď.
CREDO – další skladba se hlásí předením elektronických zvuků, které znějí jako indické modlitební mlýnky, psychedelické zvuky mi opět připomínají místy Pink Floyd, než ovšem přijde široké melodické téma s hammondkami a nádherně nosný hlas Wrighta ve výškách. Tady může nastat prakticky jakákoliv nečekaná změna a vy tušíte, že dřív nebo později se tak stane. Třebaže nostalgicky znějící hlas mírně připomíná Johna Wettona (aniž bych Wrightovi upíral jeho způsob interpretace). Obřadní zvuky virtuálních šamanů jsou černokněžnicky přitažlivé a pak přichází onen neidentifikovatelný zvuk pleskajících rtů při vyrážení nekonečného pološišlání, které nás vždycky uvádělo do vytržení a jako doprovod opakující se rockový riff s elektrickou kytarou a Wrightův hlas krásně stoupá do výšek. Velmi zvláštní model skladby (nedovedu si představit, že by někdy zazněl v rádiu!) Hudební instrumentace má údernost a vzrušivou přesvědčivost včetně naříkavého až řvavého projevu Harrisona při kterém mě doteď leze mráz po zádech. Zkuste pánové realizovat při téhle skladbě koitus. Myslím, že budete "hotovi" s partnerkou oba naráz, anebo vás vaše láska trvale opustí… Psychedelické divadlo jenom zvolna dochází k finále a my jsme při poslechu stále zahlcováni palbou zvuků a virtuálních světel.
OFFERING – tak tahle skladba se už více přibližuje ke klasickým Spooky Tooth, ovšem máme zde tónové generátory a přednatočené pásky se strašidelnými zvuky, vzdycháním a podivnými vibracemi. Mike Harrison opět za mikrofonem a stupňující se napětí se stále posouvá vpřed. Myslím, že i takoví Iron Butterfly by měli co dotahovat. Spojení rocku, psychedelie a elektronických efektů se zde děje v konkrétnější podobě. Na rozdíl od předešlé skladby zde cítím jakousi melodiku ve vyjadřovacích postupech. Hodně odvážné, přesto srozumitelnější.

HOSANNA – podivné nezřetelné zvuky. Kytarové předivo má mrazivý tón včetně zvláštní atmosféry v harmonické struktuře. I tahle kompozice vyznívá (už podle názvu) jako nějaký zvláštní rituál. Potemnělý sál, ve kterém planou řady svící a kolem v kruhu stojí postavy v kápích s maskovanými obličeji stejně nehybně jako sochy. Kvílející Wrightův hlas přináší větší oživení do opakujícího se tématu, které přilévá výbušný nápoj napětí do celého konceptu. Méně zřetelné zvuky jakoby simulovaly přítomnost sitáru a přídavných percussion, do kterých vstupují hammondky a syrová elektrická kytara Grosvenora. Jeho vypálené kytarové sólo se drží daného motivu a pod ním útočí Leighovy úporné basy. Kytara stále zrychluje výměnů tónů a umocňuje atmosféru gradující skladby včetně všudypřítomných cinkavých, bzučících a tetelivých zvuků. Pravděpodobně zde se Spooky Tooth dotkly nejrockovějšího pojetí na albu vůbec. Závěr je opět astrální s deformovanými lidskými výkřiky.
PRAYER – jsme u konce. Bloudíme v jakémsi neznámém prostoru (podzemí nebo makrokosmos), není to v daném okamžiku tak zásadně důležité. Strašidelné ozvěny a nezřetelné krátké zvuky vibrujících strun. Čeká nás nejdelší téma (více jak deset minut). Dobře vystavěná skladba zní jako specifická balada. Kytara vybrnkává stupňující se harmonickou strukturu, bicí jemně šustí a hammondky se téměř subtilně tetelí, přesto mají chrámový tón. Moje koncentrace je přikována k Harrisonovu sugestivnímu hlasu, který jednoznačně přesvědčuje o ryzosti vlastní výpovědi bez velkých gest a patosu. Pozvolně koncipovaná pomalejší skladba sice postrádá agresivitu, ale je plná nezměřitelného napětí.
Stanuli jsme na pokraji hudebního horroru, děsivého příběhu, nebo muzikantského sci-fi? Nechce se mi hledat odpověď. Ty stejné vibrace cítím dnes, tak jako před více jak čtyřiceti lety.
Závěrem pár zamyšlení:
Jarda Merhaut, jehož hudebně intelektuálního backgroundu si vážím, stejně jako jeho vkusu a širokého rozhledu, se o albu nijak lichotivě nevyjadřuje a také tvrdí, že i členové Spooky Tooth se k albu točí zády. No prosím, respektuji to. Možná, že pánové Wright, Harrison, Grosvenor a Kellie na album žehrají z toho důvodu, že v rámci tantiém a autorských honorářů (tedy hlavně Gary Wright) nebyli dostatečně odměněni a že kolem alba Ceremeony díky spolupráci s francouzským avantgardním skladatelem Pierrem Henrym dopadli jako hubkaři, ale do toho nevidím. Tyto okolnosti bývají často hlavním (i když nezdůrazňovaným) důvodem, proč se hudebníci vyjadřují o práci na albu zdrženlivě, odtažitě nebo nevrle.
Komerčně album určitě neprorazilo, ale progresivně (chcete-li avantgardně) smýšlející rockeři, ale možná i studující skladbu a hudební formu na hudebních fakultách vnímají podobné počiny jako zajímavý předmět k pozornosti. Docela lituji, že nebyl pořízen filmový záznam z premiéry, protože pódiová vizualizace (alespoň podle mého názoru) by byla neopakovatelná a velmi přesvědčivá.
Já osobně si myslím, že zde byly nastaveny takové parametry hudební odvahy v neprobádaných místech, že za tenhle počin je třeba udělit plný počet pět hvězdiček, i když se osobně domnívám, že druhé album Spooky Two je jejich nejzásadnějším dílem. Ceremony je ovšem hledání nových možností a proto si za ním stojím.
SKLADBY:
1) Confession 7:02
2) Have Mercy 7:51
3) Credo 8:25
4) Offering 3:26
5) Hosanna 7:33
6) Prayer 10:50
Řazení skladeb na CD se liší od orig. pořadí na LP, skladba Jubilation je zde nesmyslně uvedena pod názvem Credo
Autorství skladeb: Gary Wright a Pierre Henry
Hudební a zvuková režie: Andy Johns
Produkce: Pierre Henry a Spooky Tooth
Kresba na přebalu: John Holmes
SESTAVA:
Pierre Henry – elektronika
Gary Wright – klávesy, zpěv
Mike Harrison – zpěv
Luther Grosvenor – sólová kytara
Andy Leigh – basová kytara
Mike Kellie – bicí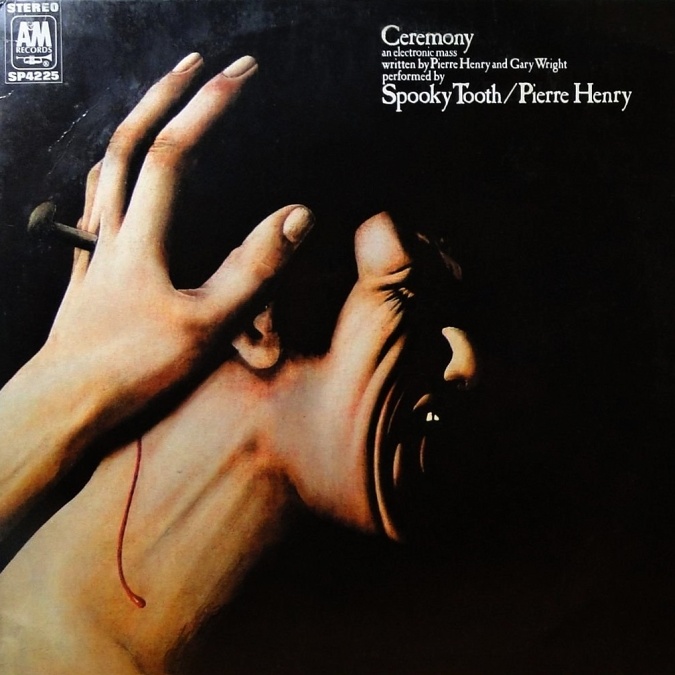 Ceremony: An Electronic Mass
Spooky Tooth & Pierre Henry
Progresivní rock
Island Records
1970/1989
CD
6
CD Mantra, Francie