Prelom šiestej a siedmej dekády minulého storočia zaznamenal nástup rockového smeru, ktorý počas nasledujúcich piatich rokov vyprodukoval nespočetné množstvo kvalitných muzikantov a skupín snažiacich sa v rámci svojich možností upútať pozornosť hudobného priemyslu ako i rockových fanúšikov.
Jednou z nich bola aj skupina Diabolus, pomenovaná pravdepodobne po latinskom výraze pre zosobnenie vždy a všade prítomného zla. Alebo žeby po olovenom projektile do vzduchoviek Slavia od českej zbrojovky? Pramálo pravdepodobné. Neoficiálne informácie o skupine sú dostupné po rôznych internetových stránkach, ktoré omieľajú dokola to málo, čo sa z histórie Diabolus pre nás dochovalo. Skupina bola založená v Londýne gitaristom a spevákom Johnom Hadfieldom a jeho bratom, basgitaristom, spevákom Anthonym Hadfieldom. V osobe Ellwood Von Seibolda Diabolus získali skvelého bicmena s džezovým cítením, z čoho kapela výrazne profitovala na ich jedinom nahratom albume z roku 1971.
Obrovským prínosom do výsledného znenia skupiny bol však nástup klávesáka a hráča na flautu i saxofón, Philipa Howarda, ktorého skoro vždy prítomná hra na dychy počas trvania platne výrazne posunuli hudbu Diabolus od proto(hard)progu smerom k progresívnemu rocku a džezrocku. Nahrávanie prebiehalo pod producentským dohľadom Hugha Murphyho a Shela Talmyho, známych vďaka spolupráci so skupinou The Who. Moc im táto nahrávka ku cti nepridala, nakoľko výsledný zvuk je trochu nevýrazný.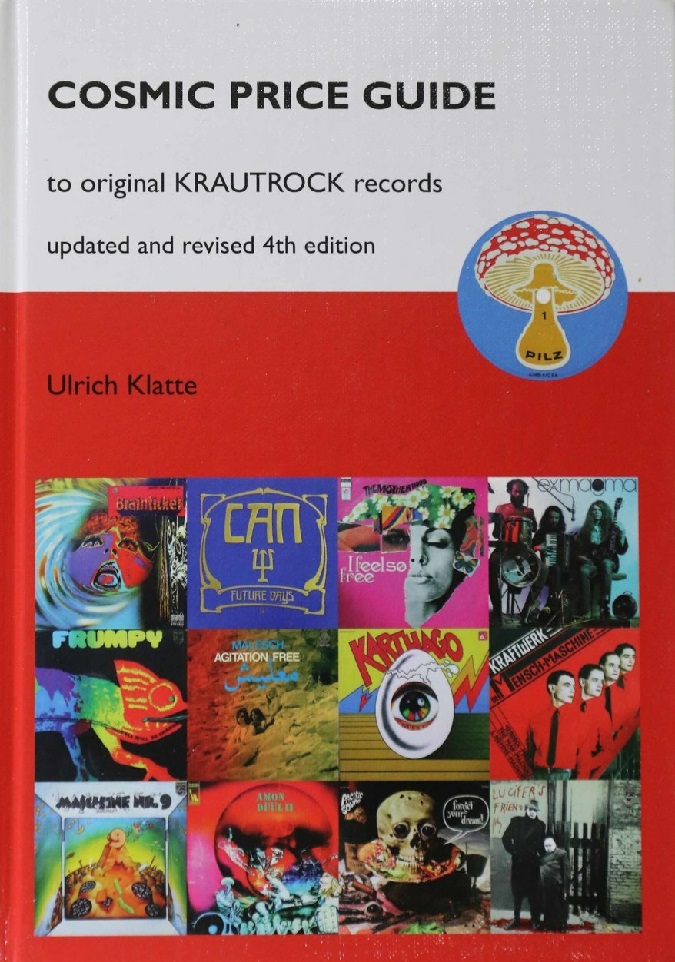 Po skončení nahrávok prišiel zvláštny zvrat v kariére skupiny, keď nahratý hudobný materiál nakoniec vydala na LP nemecká značka Bellaphon, avšak bez autorského súhlasu samotnej skupiny. Svoj podiel na tomto nedorozumení niesla vraj i v Nemecku pôsobiaca skupina Nektar. Tieto informácie však treba brať so značným nadhľadom, nakoľko nie sú overené oficiálnymi zdrojmi blízkych skupine Diabolus. Poniektoré recenzie pokrstili album názvom High Tones, fakt netuším prečo, nakoľko ani obal platne tento názov neuvádza, dokonca sa ani jedna skladba tak nevolá. Na tieto otázky by dokázali dať odpovede už snáď iba samotní muzikanti, čo je vďaka neúprosne plynúcemu času, bohužiaľ, čoraz menej pravdepodobné, že sa toho raz dočkáme.
Hudba skupiny vo mne po celý čas vyvoláva pocit déjà vu, stále mám dojem, že som to či tamto už niekedy počul. Názory recenzentov to tiež potvrdzujú, každý z nich prirovnáva kapelu k viac-menej známejším skupinám z rovnakého obdobia. Medzi inými odzneli prirovnania k Black Widow, Cressida, Gravy Train, raným Jethro Tull či dokonca Gentle Giant, čo je spolu s Cressidou, podľa môjho názoru, značne strelené vedľa. Ja by som možno skromne pripomenul skupiny Audience a Galliard, a tak isto vplyv Jethro Tull je miestami ozaj výrazný. Ale pozor, bolo by veľmi nespravodlivé Diabolus označiť nálepkou epigónu známejších rovesníkov. Oni mali svoju vlastnú tvár, boli to skvelí muzikanti s výbornými hudobnými nápadmi, ktoré dokázali úspešne pretaviť do drážok ich jediného albumu. Fakt, že teraz sa práca hore uvedených skupín neprirovnáva recenzentami naopak, k hudbe Diabolus, môže len nepriazeň osudu voči nim. Skoro päťdesiat minútové dielo i napriek plus-mínus sedemminútovým skladbám ani na sekundu nenudí, nepustí pozornosť poslucháča poľaviť, vždy sa deje čosi zaujímavé. Ono to vlastne celé od začiatku do konca graduje a smeruje od počiatočného post psychedelického znenia piesne Lonely Days cez melodický progresívny rock s folkovým zázemím ako napríklad v 1002 Nights, až k džezrockovej exhibícii v Spontenuity predstavujúc excelentné sólové výkony každého hudobníka na jeho nástroji, dokonca sa tu s nami ku koncu skladby rozlúči i Von Seibold parádnym sólom na bicie. Pozor, na Spotify nájdete posledné dve skladby zamenené. Spontenuity si môžete vypočuť pod názvom Raven's Call a naopak.
Diabolus boli jednoznačne súčasťou hudobného kvasenia v období, ktoré priniesol ro(c)k 1970 a svojou troškou do mlyna nespochybniteľne prispeli do histórie anglického progresívneho rocku.
Vlastním CD vydanie firmy Sunrise Records z roku 2004, ktoré by nemalo byť pirátskym vydaním. Bohužiaľ, asketický dizajn cédéčka nič extra neponúka, okrem obalu platne tu nájdeme štyri fotky hudobníkov, ktoré pochádzajú, podľa mňa, z ich občianskych preukazov. Okrem môjho vydania Discogs uvádza i pirátske vydania firiem Witch & Warlock a Ha-Wanna.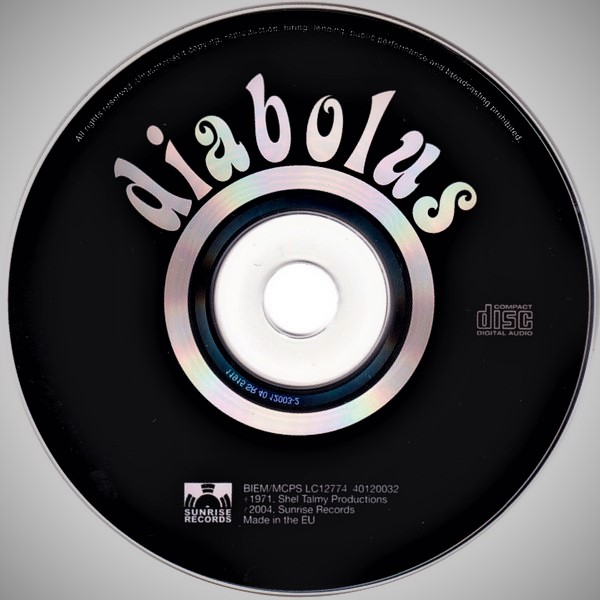 Haló, Esoteric Recordings!!! Ešte sa tu stále nájde kopa výbornej muziky čakajúcej na svedomité CD vydanie.
SKLADBY:
1. Lonely Days (7:10)
2. Night Clouded Moon (5:46)
3. 1002 Nights (4:48)
4. 3 Pieces Suite (7:05)
5. Lady Of The Moon (3:56)
6. Laura Sleeping (8:04)
7. Spontenuity (6:20)
8. Raven's Call (6:18)
ZOSTAVA:
John Hadfield – lead guitar & vocals
Anthony Hadfield – bass, vocals
Philip Howard – flute, keyboards, saxophone, organ, piano
Ellwood Von Seibold – drums
Diabolus
Diabolus
Prog Rock
Bellaphon
1971
LP
8
CD Sunrise Records /2004/