Debutový album austrálskych gigantov AC/DC nepatrí zrovna medzi tie, ktoré kapelám priniesli úspech hneď na začiatku. Nie, nie. Ten prišiel až o päť rokov neskôr so šiestym (!) štúdiovým albumom v poradí. Pre porovnanie, takí Van Halen, ktorí vznikli v rovnakom období, sa dočkali platinového úspechu hneď s prvým albumom – je však nutné dodať, že kapela v tej dobe už fungovala päť rokov, zatiaľ čo AC/DC iba rok.
Ťažké začiatky
A za ten rok sa austrálskou kapelou premlela spústa členov – hlavne rytmická sekcia sa menila častejšie než ponožky. Pokým došlo na nahrávanie prvého albumu, AC/DC boli už pri druhom spevákovi, treťom basákovi a piatom bubeníkovi. A tam to zďaleka neskončilo.
Prvý singel Can I Sit Next To You, Girl nahrala ešte zakladajúca zostava kapely niekedy začiatkom roku 1974 v sydneyských EMI Studios: Dave Evans (spev), Angus Young (sólová gitara), Malcolm Young (rytmická gitara), Larry Van Kriedt (basa), Colin Burgess (bicie). Nahrané boli aj ďaľšie songy, pričom svetlo sveta uzrel iba Rockin' In The Parlour ako B-strana singla. Oba zložili bratia Youngovci. Zvyšné piesne sa v novej podobe objavili na debutovom albume.
Treba poznamenať, že basové linky dodatočne nanovo nahral neoficiálny šiesty člen kapely a (spolu s jeho parťákom z The Easybeats Harrym Vandom) producent George Young. Okrem toho, že bol starším bratom Malcolma a Angusa, tak v začiatkoch vypomáhal aj ako občasný basák, či bubeník kapely, ak jeho mladším súrodencom niekto vypadol z koncertnej zostavy.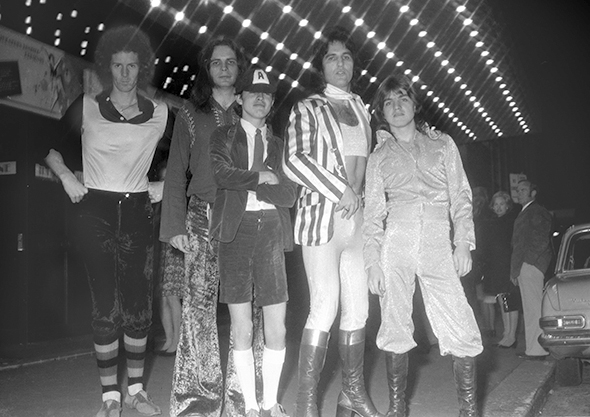 Vysoké napätie
Keď speváka Davea Evansa (inak rodáka z Walesu) v septembri 1974 nahradil veterán scény Bon Scott, Youngovci za už bývalým vokalistom rozhodne neplakali. Napokon, nahrávky s ním a ani video k prvému singlu kapely sa odvtedy nikdy neobjavili na žiadnej z oficiálne vydaných kompilácií a pokiaľ posledný Young bude žiť, tak to tak aj ostane.
Dave Evans je inak zaujímavá persóna. Po vyhadzove/odchode z AC/DC (záleží či sa spýtate Angusa alebo Davea) hral s divokými chlapcami z Newcastlu v kapele Rabbit, s ktorou nahral dva albumy a jeden singel. Po rozpade kapely v roku 1977 nahral o dekádu neskôr album s názvom David Evans and Thunder Down Under (1986) a od roku 2000 mu vyšlo viacero sólových albumov a jeden dokonca nahral aj s Texasanom Johnom Nitzingerom. Inak si ale postavil kariéru na tom, že je pôvodný spevák AC/DC za čo je často terčom posmechu, ale už len fakt, že z toho žije dodnes je vskutku obdivuhodný.
Ani ďaľší pôvodní členovia AC/DC nemali na ružiach ustlané – americký basák (a saxofonista) Larry Van Kriedt bol nahradený Neilom Smithom a toho čoskoro vymenil Rob Bailey. Bubeník Colin Burgess (Masters Apprentices) takisto dostal padáka a postupne sa za horúcou bubeníckou stoličkou vystriedali Ron Carpenter, Russell Coleman, Noel Taylor a Peter Clack.
Bailey spolu s Clackom a Evansom sa stihli objaviť v prvom videu kapely k singlu Can I Sit Next To You, Girl, ktoré bolo nahrané v sydneyskej Cronulle. Ako je na ňom možné vidieť, kapela bola ovplyvnená glamom.
Tony dal AC/DC košom (dvakrát!)
Nahrávanie debutového albumu začalo v novembri 1974, čo bolo presne rok od vzniku kapely. To už prebiehalo v novovzniknutom štúdiu Alberts, čo rozhodne počuť aj na kvalitnejšom zvuku, v nočných hodinách po vystúpeniach kapely. Tento fakt sa podpísal aj pod výkon niektorých členov AC/DC v štúdiu.
Vtedajší bubeník Peter Clack v nedávnom rozhovore spomínal, že bol vyšťavený a frenetickému tempu nestíhal. A tak sa ho producent George Young spýtal, či by mu vadilo, keby prizvali na pomoc štúdiového bubeníka, aby si oddýchol. Clack prikývol a tým si vlastne podpísal svoj ortieľ. George pozval na pomoc talianskeho rodáka Tonyho Currentiho a ten za štyri nočné šichty nahral s kapelou celý album. Clack za ten čas stihol nahrať jediný song. Nečudo, že Tonyho oslovili, či by sa nechcel stať členom AC/DC. Ten ponuku odmietol, dokonca dvakrát (o Tonym som už písal detailnejšie tu).
Basák Rob Bailey síce s kapelou v štúdiu nahrával, ale na väčšine piesní na albume počuť basové linky Georgea Younga. To napokon nebolo nič výnimočné, keďže hral aj na nasledujúcich albumoch kapely. Polemizuje sa, že ho dokonca počuť ešte aj na albume Powerage (1978).
Viacerých spomínaných muzikantov je možné vidieť a počuť vo výbornom krátkom dokumente s názvom The forgotten Sydney of AC/DC, ktorého video som postol horevyššie. Inak, najstaršiu dochovanú živú nahrávku AC/DC, o ktorej sa v dokumente zmieňuje bubeník Noel Taylor, si je možné vypočuť v tomto videu (kvalita zodpovedá dobe vzniku a kvalite magnetofónu).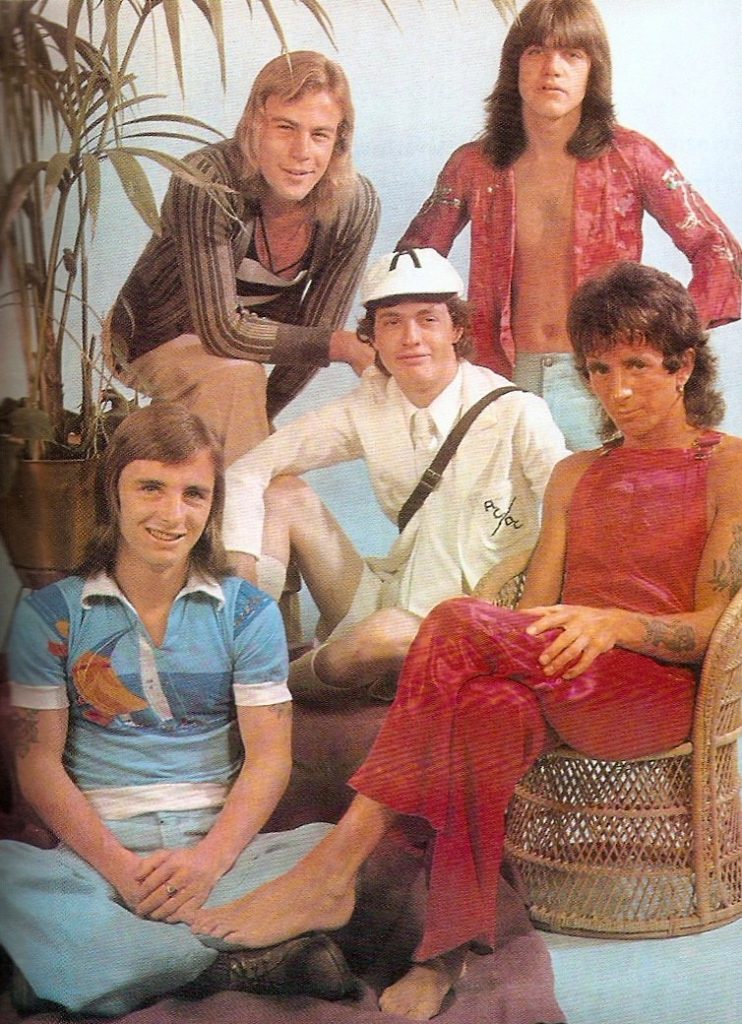 Mišmaš
Prejdime k albumu samotnému. Úvodná Baby, Please Don't Go je jediný song, na ktorom bubnuje Peter Clack. Vysokoenergetické číslo je samozrejme cover originálu od bluesmana menom Big Joe Williams – perličkou je fakt, že na pôvodnom vydaní albumu je nesprávne uvedený ako autor Big Bill Broonzy, ktorý tiež nahral cover verziu tejto piesne. Tá bola v prvých rokoch kapely koncertnou stálicou.
Nasleduje She's Got Balls a my tak máme možnosť počuť prvý originál s typicky dôvtipným textom Bona Scotta, pre ktorý ho fanúšikovia milujú dodnes. Tvrdý riff a výborná práca Angusa so spätnou väzbou na konci sóla pridáva songu na atmosfére. Tu už počuť náznak toho, čo prišlo s ďaľšími albumami.
Little Lover spomalí tempo a Bon spieva o dievčati, ktoré nemôže dostať z hlavy. Zaujímavosťou je, že budúci bubeník Phil Rudd v jednom nedávnom rozhovore spomenul toto číslo, keď sa ho spýtali na jeho obľúbený AC/DC song – a to na ňom ani nehrá! Rozhodne sa nejedná o typickú skladbu z repertoáru kapely, ale muzikantstvo tu je prvotriedne, záverečná coda je výborná. A aby som nezabudol, toto je jedna zo štyroch piesní na debute, kde počuť sólo od Malcolma Younga (aj na prvom singli kapely si vymieňal sóla s Angusom).
Riff Stick Around je snáď najprimitívnejší, aký bratia Youngovci zložili za celú kariéru. Song okolo neho ale funguje, výborný Bonov rev v strede Angusovho sóla, a kto počúva pozorne, všimne si aj prítomnosť cowbella. Perkusií obohacujúcich zvukovú paletu piesní je na tomto albume v rôznych podobách neúrekom. Čo sa veľmi rýchlo z piesní kapely vytratilo (až na zopár výnimiek na nasledovných pár albumoch).
Takmer šesťapolminútová Soul Stripper je môj najobľúbenejší kúsok na albume. Odpáli ho parádna basová linka Georgea Younga a unikátnym ho robí aj fakt, že jej autormi vrátane textu sú bratia Youngovci – a kupodivu je ten text dobrý. Perkusie, tamburína a sólovanie oboch bratov sú ďaľšie veľké plusy tohto jamu.
You Ain't Got a Hold on Me je pre mňa jedno zo slabších čísiel na albume, ale opäť obsahuje Malcolmove sólo a to mu pridáva plusové body.
Zato Love Song je v diskografii kapely doslova unikát, keďže je to jediná balada, ktorú kedy AC/DC zložili. Mimochodom, obľúbený song Tonyho Currentiho. Tá naliehavosť a dramatickosť intra je skutočne niečo! Opäť tu možno počuť rôzne perkusie a dokonca je v mixe pochovaná aj pasáž s akustickou gitarou. Asi najdelikátnejší vokálny výkon Bona Scotta v tvorbe kapely.
Záverečná Show Business sa pôvodne volala Sunset Strip. To bolo ale ešte za čias Davea Evansa. Bon Scott ju nanovo otextoval a inšpiroval sa tvrdými reáliami šoubiznisu. Opäť sólovanie oboch bratov, čo dokazuje aj toto video.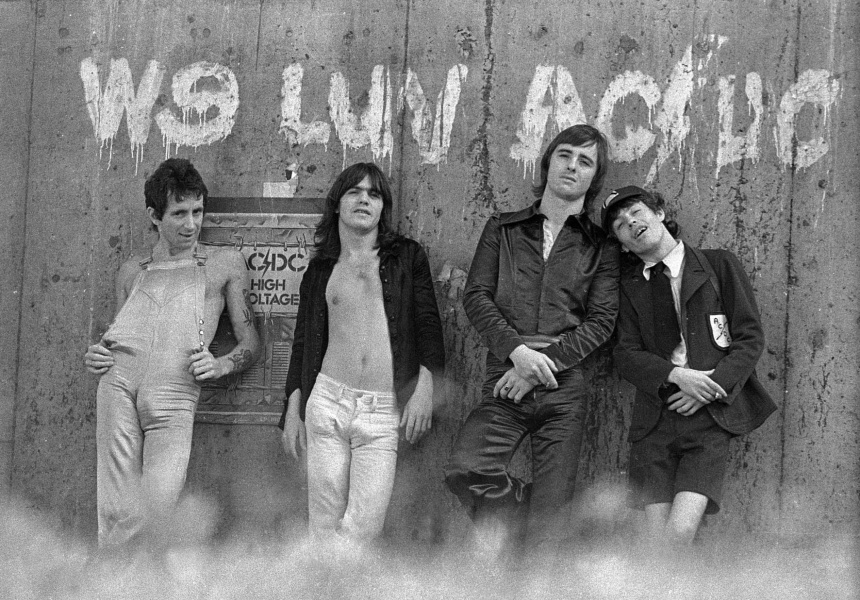 Kreovanie kapely
Po nahratí albumu sa začiatkom januára z kapely pobral basák Rob Bailey a krátko po ňom aj bubeník Peter Clack. Toho nahradil Melbournčan Phil Rudd, ktorý predtým sedel za bicími v Buster Brown. Dočasne kapele vypomáhal George Young, pokiaľ nenašla basáka menom Paul Matters. Ten však v kapele vydržal iba pár týždňov. Pred vystúpením v Sydney mu Bon oznámil, že s ním už nerátajú a späť do Melbourne (kam sa kapela vtedy presunula kvôli novému manažmentu) s nimi nepôjde. Tak sa na päte otočil a odišiel. Nejaký čas preto AC/DC vystupovali ako kvartet s Malcolmom na base, pokiaľ teda nemal zrovna George Young čas vypomôcť, čo dokumentujú aj fotky dolenižšie.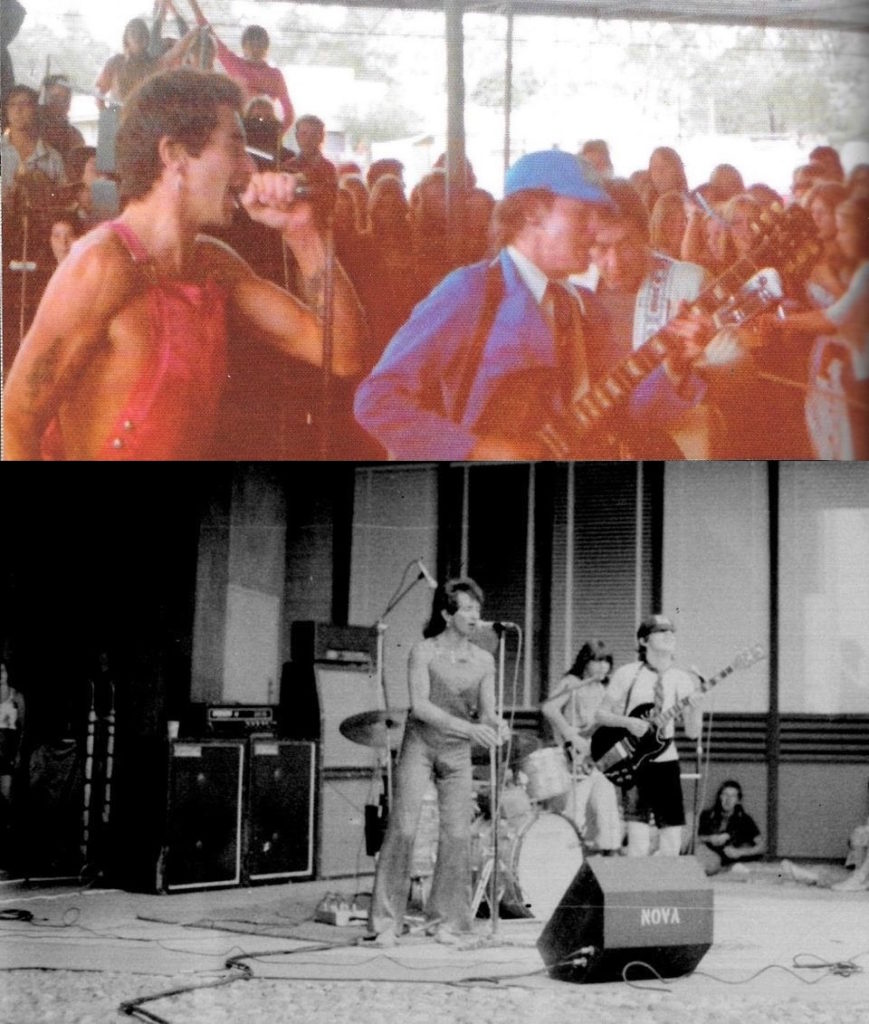 Až s príchodom ďaľšieho Melbournčana – basáka Marka Evansa (žiaden príbuzenský vzťah s Daveom) v marci 1975 zapadol posledný dielik skladačky prvej klasickej zostavy AC/DC. Prvý set v melbournskom Station Hoteli odohrala kapela ako kvartet, kým ten druhý už opätovne ako kvintet. Mark Evans napokon v kapele "vydržal" niečo málo cez dva roky…
Odhliadnuc od trampôt s personálom kapely bol nový album vydaný vo februári '75 a začiatkom marca vyšiel ako singel Love Song (Oh Jene). Čo je ale zaujímavé, je fakt, že dídžeji ignorovali stranu A a začali hrať tú béčkovú s coverom Baby, Please Don't Go. Tak sa kapela dostala do televíznej šou Countdown s legendárnym vystúpením Bona prezlečeného za školáčku. Ako je vidno na videu, zvyšok kapely sa išiel potrhať od smiechu, keďže Bon si jeho úmysel nechal pre seba a prekvapil ním po svojom príchode na stage všetkých. Album to nakoniec dotiahol na 14. priečku v austrálskom hudobnom rebríčku.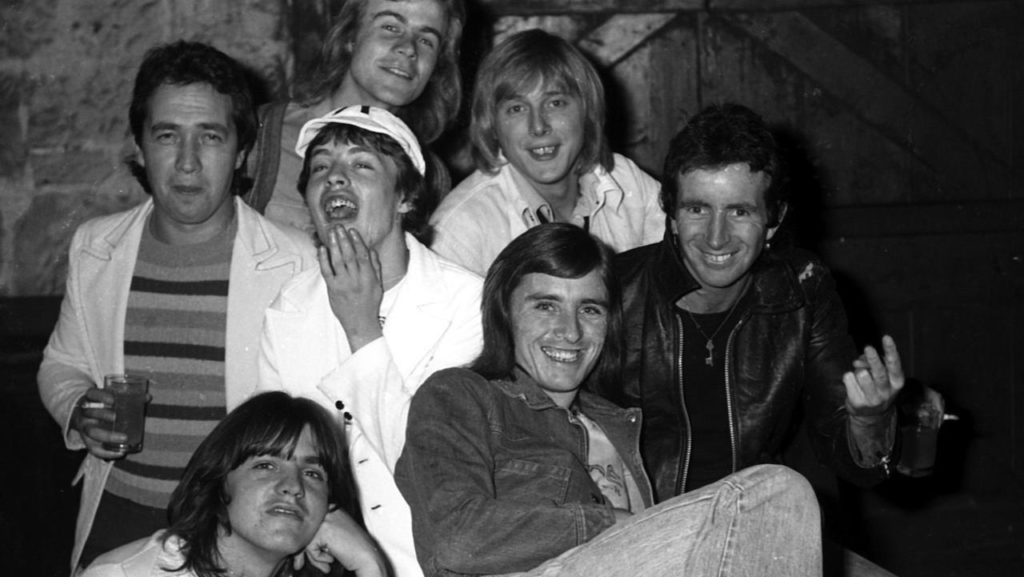 Záver
Debutový album AC/DC je rozhodne najmenej konzistentným albumom éry Bona Scotta. Kapela naznačila svoj potenciál, ale svoj štýl ešte úplne nenašla (glamu sa napokon zbavila expresne rýchlo). Muzikantstvo tu je však na výške, o tom niet pochýb. A to sa na album už nezmestil titulný song High Voltage, ktorý nahrali s Tonym Currentim krátko po skončení pôvodného nahrávania albumu. To však už bolo neskoro, pretože album bol už v tlačiarni. Tak ho napokon vydali v polke roku 1975 ako singel (a následne figuroval aj na albume číslo dva).
Je nutné poznamenať, že táto pôvodná verzia albumu vyšla iba v Austrálii. Obal albumu so psom močiacim na trafostanicu navrhol Chris Gilbey z Alberts, podľa slov ktorého:
"Obal dnes vyznieva nezaujímavo, ale v tej dobe sme si mysleli že ide o niečo prevratné."
Medzinárodná verzia High Voltage z roku 1976 má iný obal aj tracklist. Defacto sa jedná o kompilát prvých dvoch austrálskych albumov, ktorý z toho prvého obsahuje iba dva songy. Daľšie štyri neskôr vyšli na EPčku z roku 1984 s názvom '74 Jailbreak. Zvyšné dva (dovtedy medzinárodne nevydané) songy sa napokon dočkali vydania na kompilácii Backtracks (2009).
Za mňa 3,5 hviezdičky.
Skladby
Baby, Please Don't Go (4:51) *
She's Got Balls (4:48)
Little Lover (5:39)
Stick Around (4:39)
Soul Stripper (6:25) ✯
You Ain't Got A Hold On Me (3:33)
Love Song (5:18)
Show Business (4:46)
Všetky skladby zložila trojica Young/Young/Scott,
s výnimkou * Big Joe Williams a ✯ Young/Young.
Bon Scott – spev
Angus Young – sólová gitara
Malcolm Young – rytmická gitara/sólo v skladbách 3, 5, 6 a 8
George Young – basa
Tony Currenti – bicie
Rob Bailey – basa [vačšinu jeho nahrávok nahradil George Young]
Peter Clack – bicie *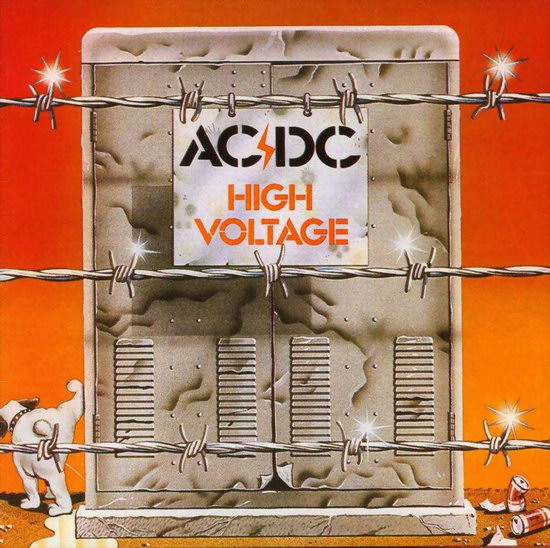 High Voltage
AC/DC
Hard rock
Albert Productions (AUS)
1975
8