Na počátku šedesátých let, po unylém jazzu a swingu padesátých let, se v Československu objevil dovádivý twist. Hned za ním k nám mohutný příliv doplavil silnou vlnu rock and rollu, později střídanou britským mersey soundem a poté rhythm and blues. Domácí scéna bujela jako houby po dešti. Českému bigbítu tehdy kraloval Olympic, na Slovensku to byli Beatmen.
V polovině šedesátých let se v Praze objevila skupina, která rázem změnila mnohá zavedená pravidla a v poměrně krátkém čase dosáhla na samou špici toho nejlepšího, co bylo u nás možné slyšet. Kapela se po nějaké době stala vývozním artiklem a reprezentovala český bigbít v zahraničí, dokonce za železnou oponou, což bylo možné díky jisté liberalizaci kulturní politiky tehdejších časů. Ano, byli to Matadors.
Zárodky skupiny lze spatřovat v souborech Komety a Fontána. Od jara 1965 začala používat název Matadors. Kapela prochází řadou personálních proměn, až se sestava nakonec ustálila na kvintetu, ve kterém koncem května r. 1968 v dejvickém studiu Supraphonu natočila, po několika předešlých singlech a jednom EP, svoje první eponymní album. Nutno podotknout, že to byl u nás první bigbítový počin, který byl natočen v angličtině.
GET DOWN FROM THE TREE – Skvělý úvodní vstup s osobitým autorským příspěvkem ze zázemí skupiny. Výtečná souhra, dynamické odstíny a tah na branku. Propojení rhythm and blues se soulem a s psychedelickými názvuky pasovalo Matadors na nejpřesvědčivější rockovou skupinu české hudební scény druhé poloviny šedesátých let.
I WANT TO SEE YOU je druhým vlastním příspěvkem. Obermayer se svým autorským potenciálem trefil do Sodomova interpretačního podání. Bezloja a Black skvěle rytmicky swingují a klávesový sound má svůj elegantní prostor.
MY GIRL – První zahraniční coververze. U nás byl originál méně znám, zato verze od Rolling Stones ano. Klávesové party varhan a klavíru se jedinečně propojují se Sodomovým vroucným projevem se soulovým zabarvením a pohráváním si s daným motivem.
BAD, BAD BIRD – Obermayer se autorsky velmi dobře podepsal na celém albu, což Sodomovu naturelu velice konvenovalo. Dokázal i v českém prostředí velmi přesvědčivě zkomponovat soul, což bylo pro řadu hudebních kritiků velkým překvapením. Hladík zde dostal prostor ke zvukovému kouzlení s tóny.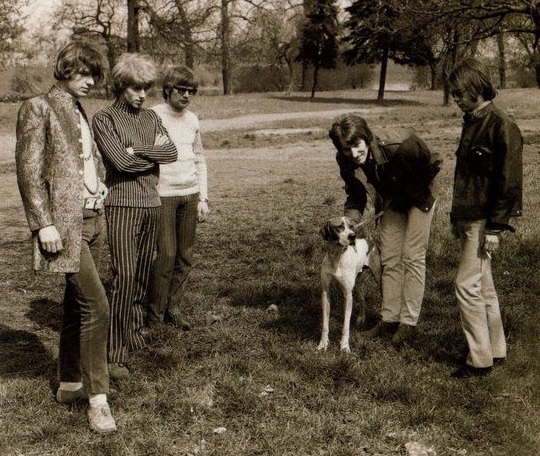 I'M SO LONESOME – Přichází blues. Skladba má ovšem správný název OUT OF REACH a pochází z repertoáru Mayallových Bluesbreakers. Autorsky ji zaštítil jejich tehdejší kytarista, skvělý Peter Green. Hladík se s originálem vyrovnal velmi čestně. Prohloubil atmosféru prostoru, stejně jako Obermayerovy bublavé tremola varhan a Sodoma zde měl možnost opět emocionálně vyzpívat své vnitřní pocity.
EXTRACTION je experimentem, pocházejícím z kolektivního autorského pera Matadors. Hladík používá wah wah pedál a pracuje s elektronickým vibrátem. Bicí nástroje vytvářejí psychedelický sound za aktivní asistence varhan a dalších destruktivních zvuků, které nastiňují poněkud zneklidňující atmosféru. Znalci hudební psychedelie si připomenou první alba londýnských věrozvěstů Pink Floyd ještě pod Barretovým vlivem. Na svou dobu v českém prostředí velmi odvážný počin, který musel pracovníkům nahrávacího studia Supraphonu nahánět po těle husí kůži.
SHOTGUN – Další převzatá skladba, mírně pod vlivem Hendrixe, jehož byl Hladík obdivovatelem. Přesně tepající Bezlojova baskytara a Blackovy bicí nástroje vytvářejí skvělou rockovou atmosféru, ve které Hladík popustil uzdu svým improvizovaným figurám s přídavnými efekty.
HATE EVERYTHING EXCEPT OF HATTERED – Zajímavá kompozice z Obermayerovy dílny, která se stala pro Matadors hitem, i když skupina nebyla orientována na povrchní žebříčkovou produkci komerčních skupin. Varhanní tremolo, zkreslená elektrická kytara s boosterem a expresivní Sodomův vokál vytvořily opravdový majstrštyk. Hladíkovo sólo má široký rozmach, i když je méně čitelné, než jak jsme byli zvyklí v pozdějších letech. Jedním slovem – vynikající!
V I FEEL SO LONELY se Hladík poprvé prezentuje jako autor. Rhythm and blues podle všech nejlepších pravidel s perfektně frázujícím Sodomou a výtečným klavírním doprovodem s jazzovými názvuky. Také zde Hladík kouzlí se zvukem, ohýbá tón a účinně vyjadřuje obsah písně. Sodomův pokus o černošský interpretační způsob zní zajímavě, stejně jako proměny rytmiky a upozaděné hlasy.
I MUST HOPE – Poslední Obermayerova skladba osobitého rukopisu zaujme svým zajímavým aranžmá. Dynamické odstíny a rytmické proměny vytvářejí podmanivé téma. Hladík opět popřává prostor wah wah pedálu, ale nijak nepřebíjí atmosféru velmi zdařilé písně.
IT'S ALL OVER NOW, BABY BLUE je převzatá z repertoáru světoznámého amerického písničkáře Boba Dylana. Matadors dokázali účinným způsobem proměnit původní jednoduché aranžmá originálu v jedinečný soul. Klavírní a varhanní party s přesně tepající rytmikou doplňují Sodomův citlivý projev. Smyčcová stěna účinně podpořuje závažné textové téma, do kterého se dokázal shouter Sodoma věrohodně položit. Vynikající coververze Dylanova originálu.
YOU'LL BE MINE je závěrečným vstupem z repertoáru Willyho Dixona, významného černošského basisty a bluesového autora. Odvázaná verze přesně dusající rytmiky s akcentem klavíru. Hladík místy opouští rockovou platformu a jeho kytarové akordové výměny i sázené tóny se blíží k jazzu. Živelná a zemitá skladba se stala důstojnou tečkou za výletem do hudebního hájemství jedné z nejvýznamnějších skupin liberálních šedesátých let.
Lze jenom litovat, že po Matadors zůstalo pouze jediné studiové album (podobně jako po Flamengu o čtyři roky později). Talentovaní hudebníci a skladatelé dokázali velmi osobitým způsobem interpretovat tehdy velmi exponované rhythm and blues i v českých podmínkách. Protože Bezloja a Black, doplněni novým zpěvákem Ready Kirkenem (ex-Komety), varhaníkem Jiřím Matouškem a kytaristou Petrem "Ťopem" Netopilem, odcestovali bez návratu do tehdejšího NSR, za Matadors se u nás v létě r. 1968 zavřela temná voda normalizační špíny.

Protože Matadors reprezentovali svobodomyslnou hudbu šedesátých let, bylo nemyslitelné, aby bylo toto dílo v sedmdesátých a osmdesátých letech reedováno. Po změně politických poměrů vychází v r. 1995 v CD verzi, doplněné singly. Znovu pak v r. 2010 v novém remasteringu a pod názvem Classic, doplněné, kromě singlů, živou verzí comebacku neúplných Matadors společně s Blue Effect…
Legendární Matadors sice nepřebíjejí význam Blue Effect, měřeno jakýmsi nástupnictvím, nicméně jejich postavení jim zaručuje čestné místo mezi "českými bigbítovými korunovačními klenoty". Tohleto označení jsem použil zcela záměrně, protože Matadors a Olympic určovali v šedesátých letech hlavní kurz. Zatímco druzí jmenovaní, byli díky zpívané češtině a univerzálně přijatelnému repertoáru srozumitelnější pro domácí publikum, první jmenovaní představovali progresivnější proud, který vedle rhythm and blues vstřebával i prvky soulu a psychedelie. Navíc dokázali prorazit i zahraničí. Proto dávám pět hvězd! 
SKLADBY:
01. Get Down From The Tree (Hladík/Sodoma/Becková/Ullík) 3:32
02. I Want To See You (Obermayer/Smetana) 2:25
03. My Girl (Robinson/White) 3:05
04. Bad, Bad Bird (Obermayer/Šulc) 2:31
05. (I'm So Lonesome) Out Of Reach (Green) 4:19
06. Extraction (Bezloja/Black/Obermayer/Hladík) 5:52
07. Shotgun (Autry DeWalt) 2:59
08. Hate Everything Except Of Hattered (Obermayer/Šulc) 3:34
09. I Feel So Lonely (Hladík/Sodoma/Desortová) 4:08
10. I Must Hope (Obermayer/Smetana) 3:35
11. It's All Over Now, Baby Blue (Dylan) 4:31
12. You'll Be Mine (Dixon) 2:30
SESTAVA:
Viktor Sodoma: sólový zpěv, tamburína
Radim Hladík: kytara, klavír
Otto Bezloja: baskytara, zpěv
Tony Black: bicí nástroje
Jan Farmer Obermayer: varhany, klavír, zpěv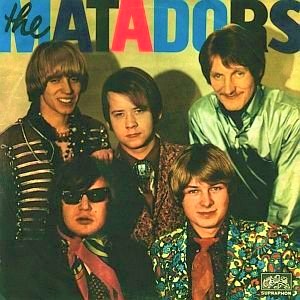 The Matadors
The Matadors
Rhythm & Blues, Psychedelic Rock, Beat
Supraphon
1968
LP
12