Pražská skupina Flamengo vznikla roku 1966 z podnětu jejího prvního bubeníka a vlastně i manažera Přemysla Černého. Od začátku trpěla běžnými neduhy začínajících kapel, především počáteční neujasněností, kdo je vlastně zpěvákem skupiny. Na postu zpěváka se střídal Viktor Sodoma s Petrem Novákem, který s Flamengem nahrál jedny ze svých nejikoničtějších písní, občas se za mikrofonem objevil Pavel Sedláček. Sodoma se brzy připojil k Matadors, Novák obnovil své George & Beatovens a tak jediným mužem za mikrofonem zůstal Karel Kahovec, s jehož jménem má většina z nás první období skupiny zafixováno.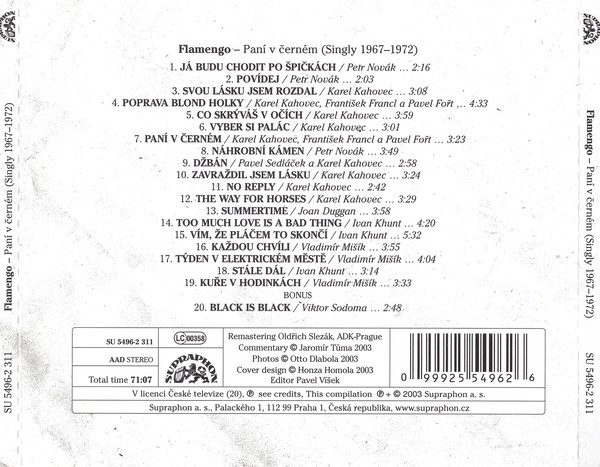 Kompilace nazvaná Paní v černém obsahuje singlové nahrávky skupiny Flamengo z celého období její existence až po poslední singl Kuře v hodinkách / Stále dál, který vyšel až několik měsíců po rozchodu Flamenga a je tedy datován rokem 1973. Výjimkou mezi dvaceti skladbami zastoupenými na desce je píseň Black is Black převzatá z repertoáru španělských Los Bravos, která nikdy na singlu nevyšla a je zde uvedena jako jediná píseň zpívaná Viktorem Sodomou.
Podobně je na tom i Pavel Sedláček, který s Flamengem nazpíval píseň Džbán. Tu jsem předtím neznal a musím se přiznat, že mě mile překvapila. Stejně tak Angličanka Joan Duggan je zde zastoupena pouze jedním kouskem, Gershwinovým evergreenem Sumertime, který je hodně podobný známé verzi Janis Joplin.
Nejvíce písní, celkem osm, nazpíval Karel Kahovec, přičemž u sedmi z nich je i autorem hudby. Ty písně dnes patří do zlatého fondu českého bigbítu. Kdo by neznal Paní v černém, Popravu blond holky nebo Svou lásku jsem rozdal. Pravda, některé z nich mohou v dnešní době působit lehce úsměvným dojmem. Tou osmou písní s Kahovcovým  zpěvem je coververze Mayallova blues No Reply, u nějž mám ale dojem, že tohle není úplně zpěvákova parketa.
To už se kapela pomalu dostávala do dalšího, pro mě určitě zajímavějšího období své tvorby. Odešel Kahovec a kapela se přeorientovala na blues a tvrdší rock. To je dobře zachyceno na jejich jediném albu Kuře v hodinkách. Jako zpěvák se zajímavým zabarvením hlasu se ukazuje varhaník Ivan Khunt, jímž zpívané blues Vím, že pláčem to skončí bylo tím největším objevem, který mi tato kompilace přinesla. No a po vyhazovu z Blue Effectu přichází do skupiny Vladimír Mišík a začíná vznikat hudba, která možná mohla být i srovnatelná se zahraničními vzory. Bohužel, blbá doba tohle srovnání hudebníkům nedopřála a jejich jediné album spatřilo světlo světa až po jejich rozchodu.
Je dobře, že se v roce 2003 objevila kompilace mapující tvorbu skupiny Flamengo. Společně s deskou Kuře v hodinkách tvoří ucelený obraz své doby, která byla zpočátku plná očekávání, aby později vyústila pro mnohé zúčastněné v hlubokou deziluzi z nemožnosti hrát takovou hudbu, kterou by chtěli. Každý z hudebníků se s tím samozřejmě vyrovnával po svém, někdo emigrací, jiný například doprovázením Karla Gotta. Ale to už je jiný příběh.
Skladby:
Já budu chodit po špičkách
Povídej
Svou lásku jsem rozdal
Poprava blond holky
Co skrýváš v očích
Vyber si palác
Paní v černém
Náhrobní kámen
Džbán
Zavraždil jsem lásku
No Reply
The Way For Horses
Summertime
Too Much Love Is A Bad Thing
Vím, že pláčem to skončí
Každou chvíli
Týden v elektrickém městě
Stále dál
Kuře v hodinkách
Black Is Black
Hudebníci:
Bass Guitar – Jiří Čížek (tracks: 20), Pavel Fořt (tracks: 1 to 14), Vladimír Kulhánek (tracks: 15 to 19)
Congas, Acoustic Guitar – Vladimír Mišík (tracks: 16 to 18)
Drums – Jaroslav Erno Šedivý* (tracks: 11 to 19), Přemysl Černý (tracks: 1 to 10, 20)
Guest, Guitar [1st Guitar] – Radim Hladík (tracks: 15)
Guitar – František Francl (tracks: 1 to 14, 20), Jan Kubík (tracks: 19), Karel Kahovec (tracks: 6, 7), Pavel Fořt (tracks: 15 to 20)
Organ – Eduard Vršek (tracks: 20), Ivan Khunt (tracks: 13 to 19), Jiří Čížek (tracks: 1 to 5)
Percussion – Jaroslav Erno Šedivý* (tracks: 16 to 19)
Tenor Saxophone, Saxophone [Electric], Flute, Clarinet, Vocals – Jan Kubík (tracks: 16 to 19)
Vocals – František Francl (tracks: 4, 5, 7, 10), Ivan Khunt (tracks: 14, 15, 18, 19), Joan Duggan (tracks: 13), Karel Kahovec (tracks: 3 to 12), Pavel Fořt (tracks: 4, 5, 7, 10, 16 to 19), Pavel Sedláček (tracks: 9), Petr Novák (tracks: 1, 2, 8), Viktor Sodoma (tracks: 20), Vladimír Kulhánek (tracks: 16 to 19), Vladimír Mišík (tracks: 16, 17, 19)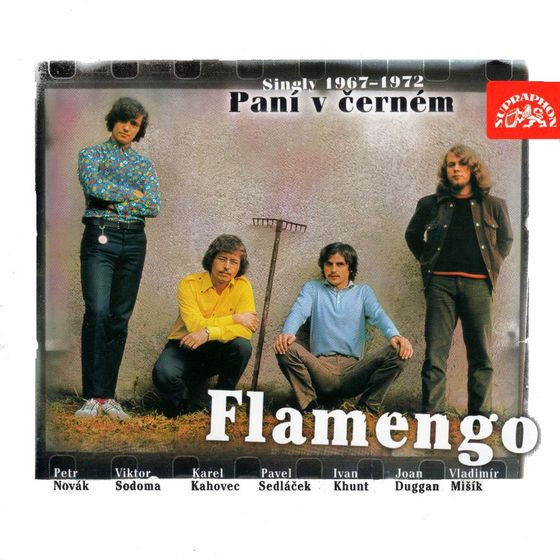 Paní v černém (Singly 1967-1972)
Flamengo
Rock
Supraphon
2003
CD
20
CD Supraphon – SU 5496-2 311