CD AMS, Said Record – AMS244CD  /2015/
Jaký byl, v porovnání s těmi předcházejícími, italský ro(c)k 1975? Těch zásadních alb poněkud ubylo, ale furt by se něco našlo a zmínil bych především kultovní soundtrack Profondo rosso ďáblíků Goblin, na export určené eLPíčko Banco skupiny Banco del Mutuo Soccorso, nebo jedinou placku akademiků Maxophone. A takovým nenápadným objevem a mým tajným (pst!) tipem je i "jednoalbumovka" Apoteosi…
Apoteosi jsou další jednoalbumovou perličkou ze zdánlivě nevyčerpatelné pokladnice hudby sedmdesátých let. Kapela pochází z Kalábrie a její jádro tvořili sourozenci Massimo, Federico a Silvana Idà. Jediná placka jim vyšla v roce 1975 u (na italskou lidovou hudbu specializované) firmičky "Said Record", kterou vlastnil jejich otec Salvatore a s trochou nadsázky by se dalo poznamenat, že to byl takovej malej rodinnej podnik ve stylu Kelly Family. Ta hudba je však naštěstí o něčem docela jiném…
Sotva 35 minut dlouhé album nabízí vysoce melodický a především klávesově orientovaný prog rock, zcela srovnatelný s major labely podporovanými velikány Le Orme, P. F. M., nebo New Trolls. Na zatím poslední reedici od AMS Rec. (2015) se nachází osm, do sebe všelijak pospojovaných skladeb a orientace v tracklistu je tak poněkud nesnadná.
Úvod je víc, než slibnej. Embrion je sice jenom dvě a půl minuty dlouhou instrumentální introdukcí, ale už tady si vychutnávám hřejivej a ve vlnách se přelévající zvuk klávesových nástrojů provázených pregnantní baskytarou. Páteří alba jsou skladby s pořadovým číslem dvě a tři, tedy Prima realtà a Frammentaria rivolta. Dohromady tvoří bezmála patnáct minut dlouhou suitu a pro mě i první z vrcholů alba. V instrumentální předehře defilují motivy jeden chytlavější než druhej a když se poprvé ozve hlásek mladičké Silvany Idà, jdu definitivně do kolen.
Ovšem následující minuty jsou již zcela vyhrazeny instrumentálním eskapádám a tak tiše obdivuji umění "zázračného dítěte", tehdy teprve čtrnáctiletého klávesisty Massima Idà. Podotýkám, že se to všechno odehrává ve svižném tempu a basa spolu s členitými bicími (jsme v letech sedmdesátých, tedy žádné bum čvacht) tvrdí muziku. V samotném závěru skladby se ještě na okamžik ozve éterickej zpěv Silvany Idà, ale to první polovina alba už pomalu končí…
Druhej vrchol tvoří tracky 4, 5 a 6 a znovu je to taková (mini)suita – Il grande disumano / Oratorio (Corale) / Attesa. Il grande disumano je opět pěkně od podlahy, rychlá a téměř instrumentální, vždyť trocha zpěvu – a tentokrát je to mužský hlas, kytarista Franco Vinci – je ke slyšení až v jejím úplném závěru. Dojímavě krásná Oratorio (Corale), s dětsky vysokým hláskem Silvany Idà tvoří přemostění do energické instrumentálky Attesa, která celou (mini)suitu uzavírá. Ještě následující písnička Dimensione da sogno je přesně v duchu předcházejících skladeb, ovšem s nástupem poslední Apoteosi  přichází výrazná změna. Basa s bicími udávají hypnoticky monotónní a takřka neměnný rytmus, klávesy vyluzují strašidelné zvuky a nálada skladby je výrazně psychedelická. Poněkud tíživá tečka za velmi melodickým a pozitivními emocemi doslova přetékajícím albem…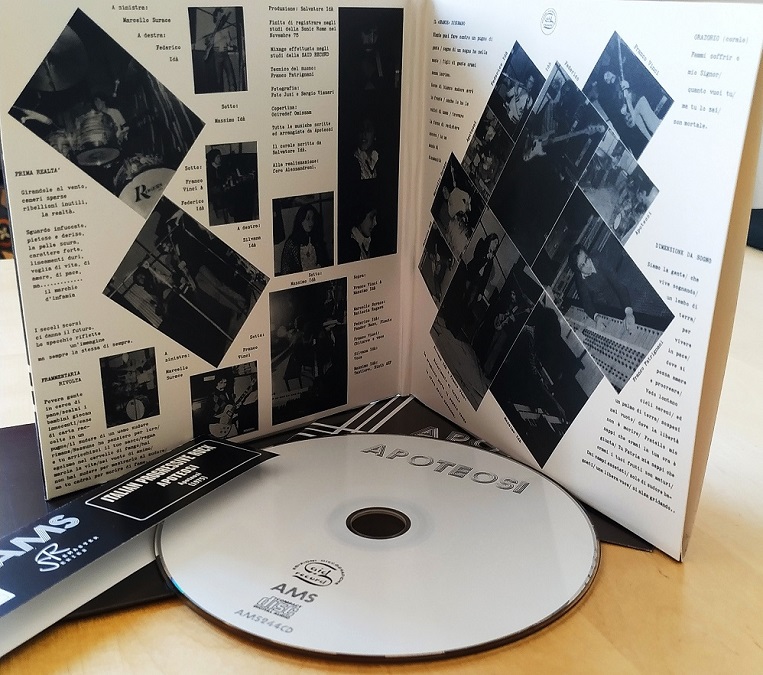 Reedice od AMS je – jak už je jejich dobrým zvykem – moc pěkná, v podobě rozkládací mini vinyl repliky z tvrdého kartonu. Vnitřek obalu obsahuje texty písní a spoustu maličkých fotografií z archivu Apoteosi. Vložený booklet má osm stran, nabízí fotky středových štítků původní LP a sleeve-note (v italštině i angličtině) od Matthiase Schellera. Průrazný a detailní zvuk je balzámem pro každé prog rockové ouško, kterej doporučují čtyři z pěti ušních lékařů (ten poslední nedá dopustit na The Division Bell). Zkrátka a dobře, výtečné album za maximální počet.
SKLADBY:
1. Embrion – 2:35
2. Prima realtà – 5:55
3. Frammentaria rivolta – 8:41
4. Il grande disumano – 4:13
5. Oratorio (Corale) – 2:02
6. Attesa – 2:20
7. Dimensione da sogno – 3:45
8. Apoteosi – 5:54
Total Time 35:29
SESTAVA:
Massimo Idà – grand piano, Hammond B3, Eminent organ, ARP Pro Soloist synthesizer
Franco Vinci – acoustic & electric guitars, vocals
Federico Idà – bass, flute
Marcello Surace – drums
Silvana Idà – vocals
NOTES:
Recorded and mixed at Studio Sonic, Roma, February 1975.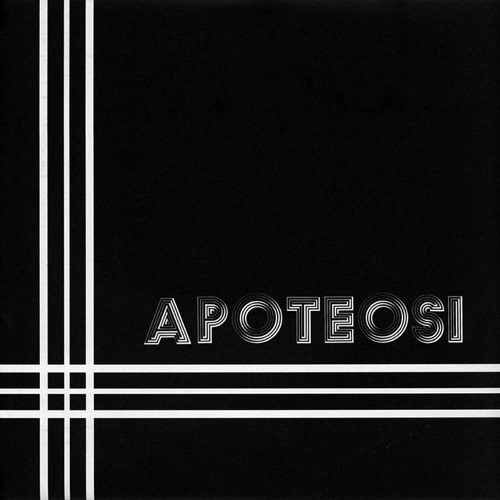 Apoteosi
Apoteosi
Prog Rock
Said Record
1975
LP
8
CD AMS, Said Record – AMS244CD /2015/