CD Black Widow Records ‎– BWRCD 100-2    /2007/
Skupina Delirium pochází z Janova a první etapu existence si odbyla v letech 1970-1975. Ve své době byla docela populární, o čemž svědčí aj její diskografie čítající tři velká alba a celou řadu (mnohdy komerčně velmi úspěšných) singlů, ovšem postupem času ani ona nedokázala čelit odlivu publika a vzrůstajícímu nezájmu ze strany nahrávacích společností. A tak to v polovině sedmdesátých let raději zabalila… 
Na lepší časy se začalo blýskat až v novém miléniu. Díky obrozenému zájmu o progresivní rock nastala vhodná chvíle pro comebacky rockovejch legend a pro nás fanoušky je jedině dobře, že se vrátili – byť v krapet pozměněném složení – aj Delirium. Z původních členů skupiny zůstali Ettore Vigo (klávesy, zpěv), Peppino Di Santo (buben, zpěv) a Martin Grice (flétna, ságo a zpěv), ke kterým se připojili Roberto Solinas (kytary, zpěv) a Fabio Chighini (basa, zpěv). Obnovená sestava začala čile koncertovat a v roce 2006 nahrála live album Vibrazioni Notturne, které vyšlo z kraje následujícího roku u společnosti Black Widow. A to jako 2LP na klasickém černém, nebo modrém vinylu a standardní CD. Ovšem to se z pro mě neznámého důvodu jmenuje pouze Live, přičemž obsah obou verzí je úplně stejnej.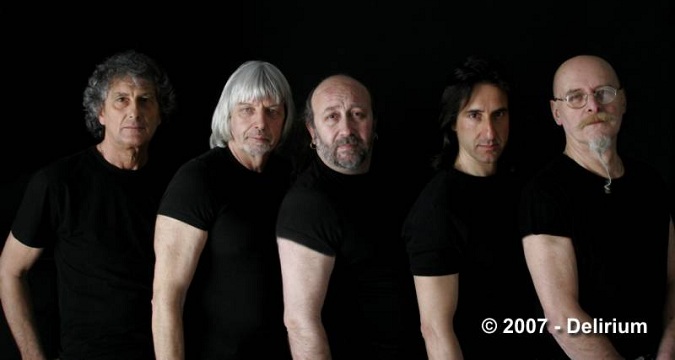 Mám staré Delirium rád a tak jsem k "živému" albu Vibrazioni Notturne přistupoval s jistou dávkou opatrnosti. Bylo mi jasné, že těžištěm koncertu budou staré pecky ze sedmdesátejch let a bál jsem se toho, jak s nimi obnovená sestava naloží. Písničky z prvních dvou alb zdobí melodické a pečlivě sezpívané vokály a nebyl jsem si jistej tím, že to věkem ne zrovna nejmladší hudebníci zvládnou. Začátek koncertu je opravdu trochu rozhrkanej (instrumentálky Opening a Villaggio) a chvilku trvá, než si sedne zvuk, ale s nástupem písničky Preludio: Paura je už všechno v nejlepším cajku a já jenom žasnu, jak to kapele zpívá. Jako zamlada. Můj prožitek je úplně stejnej, jako při poslechu původní verze a když hned na to Delirium spustěj jazzem křísnutou machrovačku Culto Disarmonico, mají mě ve své moci a já jen pokyvuju hlavou a mlaskám spokojeností.
Jenom jedna věc mi, aspoň zezačátku, trochu neseděla. Svoje první dvě desky Delirium nahráli pouze s akustickou kytarou a na zvuk té elektrické – třeba ve skladbě Villaggio – jsem si musel chvilku zvykat. Ovšem stačilo pár poslechů a bylo to v pohodě…
Dalším vrcholným okamžikem je pro mě sugestivní závěr skladby Gioia, Disordine, Risentimento, ve kterém znovu obdivuji ty pěkné, harmonické vokály a po něm přichází čas na Jethro Tull Medley. O Delirium se občas hovořilo jako o italskejch Jethro Tull a flétnista Martin Grice dokazuje, že na tom něco bude a že toho Andersona zvládne levou zadní. Jedinou fungl novou písničkou je Notte a Bagdad, která svým melodickým refrénem perfektně zapadá do atmosféry koncertu a chybět nemůže ani největší hit Delirium, folkově zabarvenej gospel Jesahel. Na úplnej závěr si kapela připravila ještě překvapení v podobě coververze skladby With a Little Help from my Friends (tu sice napsali McCartney s Lennonem, ale tahle verze je podobná té, kterou proslavil Joe Cocker) a to už je všechno.
Suma sumárum: třináct položek, rovnejch sedmdesát minut výborné muziky. Čtyři skladby pocházej z debutu, tři z desky Lo scemo e il villaggio, dvě vyšly jen na samostatnejch singlech, jedna je nová, dvě předělané a úvodní Opening nepočítám. Já, jako velkej fanoušek Delirium jsem spokojenej, ale těm, kteří by s kapelou chtěli teprve začít bych raději doporučil první tři studiová alba. Jsou totiž bezva.
Cedlo od Black Widow je v klasické krabce s transparentním držákem CD. Rozkládací booklet obsahuje spoustu pěknejch, barevnejch fotek, sestavu a tracklist. Hraje velmi dobře a jsem rád, že ho mám.
NOTES:
Recorded the 24th July, 2006 at Park "C. Battisti", Brentonico (Trento).
SKLADBY:
01. Opening 2:41
02. Villaggio 5:53
03. Movimento I: Egoismo 5:17
04. Preludio: Paura 4:14
05. Culto Disarmonico 5:40
06. E' l'ora 5:39
07. Dolce Acqua: Speranza 5:41
08. Gioia, Disordine, Risentimento 6:17
09. Jethro Tull Medley 7:20
10. Notte a Bagdad 3:21
11. Johnny Sayre: Il Perdono 5:05
12. Jesahel 4:36
13. With a Little Help from my Friends 8:18
SESTAVA:
Ettore Vigo – Pianoforte, Tastiere, Organo Hammond, Voce
Martin Grice – Flauto, Sax (Soprano, Contralto, Baritono), Tastiere, Voce
Pino  Di Santo – Batteria, Percussioni, Voce
Roberto Solinas – Voce, Chitarra Elettrica, Chitarra Acustica
Fabio Chighini – Basso, Voce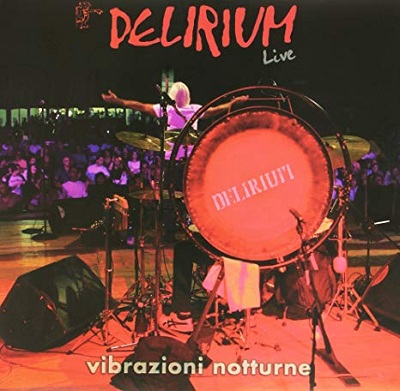 Live - Vibrazioni Notturne
Delirium
Prog Rock
Black Widow Records
2007
CD, 2LP
13
CD Black Widow Records ‎– BWRCD 100-2 /2007/