Keď ma požiadali, aby som si vypočul a zrecenzoval A New Chant, bez váhania som súhlasil. Čiastočne preto, že už mám vo svojej zbierke jedno dielo Acqua Fragile. Áno, vlastním Mass-Media Stars, ktoré vyšlo v roku 1974!
Acqua Fragile, na rozdiel od mnohých iných talianskych kapiel tej doby, sa rozhodli pre vokály v angličtine, s piesňami, ktoré neboli vždy také symfonické ako zvyšok tamojšej progresívnej scény. Tieto dva výrazné faktory ich jednoznačne postavili proti nej, do opozície. Ozajstný klinec do rakvy pre Acqua Fragile znamenal odchod Bernarda Lanzettiho k Premiata Forneria Marconi, a hoci kapela ešte chvíľu pokračovala, nikdy už nenahrávala.
V priebehu rokov sa Bernardo objavil na rôznych miestach, pamätám si na jeho rozhovor, keď sa pripojil k Mangala Vallis. Teraz, viac ako 40 rokov po odchode z Acqua Fragile, sa skupina okolo neho zreformovala. Sú pri tom aj ďalší dvaja pôvodní členovia – bubeník Piero Canavera a basový gitarista Franz Dondi – za asistencie viacerých hostí. Chocolate Kings je môj najobľúbenejší album PFM, dielo, na ktorom Bernardo debutoval v tejto kapele. Som však presvedčený, že na A New Chant spieva lepšie ako kedykoľvek predtým. So skupinou spájajúcou rôzne štýly, ktoré majú niečo spoločné s neo progom takých IQ i Gabrielovou érou v Genesis. Je to skvelý prog rock, vzletný a symfonický. Ak to situácia vyžaduje, dokáže byť zložitejší a pokojný, inokedy jednoduchší a hĺbavý. Sú tu balady, taliansky marš, je tu intenzita, ale všade a vždy je tu krása. Lanzettiho vokál v štýle Rogera Chapmana vekom zvetral a stal sa zaoblenejším, ako aj v prípade speváka Family, ale podľa potreby má stále dostatok tvrdosti, neoblomnosti i prenikavosti.

Jediným skutočným otáznikom je, či musíme čakať 43 rokov na ďalší album?! Skvelý, jedinečný, nádherný!
SKLADBY:
1. My Forte (5:08)
2. The Drowning (6:25)
3. Wear Your Car Proudly (6:58)
4. Tu Per Lei (5:24)
5. Rain Drops (3:25)
6. All Rise (5:39)
7. How Come (2:34)
8. A New Chant (5:20)
ZOSTAVA:
Bernardo Lanzetti – lead vocals, Moog, acoustic guitar (1,6,7)
Franz Dondi – bass
Piero Canavera – drums, percussion, backing vocals
+
Alex Giallombardo – electric & acoustic guitar, keyboards, backing vocals
Michelangelo Ferilli – acoustic guitar (2)
Alessandro Sgobbio – synth solo (3)
Mariano Speranza – piano & direction (1,5)
Andrea Marras – violin (1,5)
Elena Luppi – viola (1,5)
Yalica Fo Gazan – cello (1,5)
Gian Luca Ravaglia – double bass (1,5)
Francesco Bruno – bandoneon (1,5)
Jonathan Mover – drums & glockenspiel (1)
Alessandro Mori – drums (6)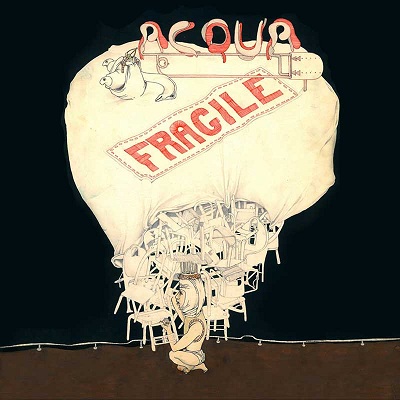 A New Chant
Acqua Fragile
Prog Rock
Esoteric Antenna
2017
CD
8