Po tom, čo výborná jazz-prog-rocková skupina Syrius ako prvá v Maďarsku udomácnila nekomerčnú rockovú hudbu sa na začiatok siedmeho desaťročia v krajine vytvorilo niekoľko zaujímavých, nových progrockových formácií.
Na škodu neskoršich pokolení, väčšina z nich pracovala bez podpory štátom riadeného hudobného vydavateľstva či médií a nedostali možnosť zvečniť svoje nahrávky v hudobnom štúdiu, ich živé vystúpenia boli zvyčajne obmedzené na mládežnícke kluby a vysokoškolské pódiá.
Prvopočiatky Budapeštianskej  skupiny V'73 sa datujú na rok 1970, kedy dvaja stredoškoláci, klávesista Lerch István a basgitarista Sáfár József zakladajú vlastnú skupinu Hétfő (Pondelok). Neskôr sa k základnej dvojici pridáva bubeník Herpai Sándor a v Januári roku 1973 si táto trojica zmenou názvu zakladá skupinu V'73. Veľké V v názve predstavuje spoločnosť Volán, obdobu našeho ČSAD, ktorá poskytla skupine priestor na skúšobňu a stále zázemie na pravidelné vystúpenia v podnikovom klube. Na kúpu vlastných hudobných nástrojov a zariadení si chalani privyrábali doprovodom dobových popových interpretov na živých vystúpeniach po krajine. V ranom období existencie V'73 boli všetci traja členovia poslucháčmi jazzového konzervatória v Budapešti a ich hra naberala čoraz viac na kvalite. Netajili sa obdivom voči tvorbe skupiny Emerson, Lake and Palmer a na maďarskej scéne ako jediné rockové trio reprezentovali hudobný smer vyznačený touto legendou progresívneho rocku.
Na hudbu V'73 však pôsobila aj jazzrocková scéna, v rozhovoroch spomínajú vplyv jazzových velikánov Herbieho Hancocka, Billyho Cobhama a Chicka Coreu. Naživo debutujú v lete roku 1973 na rockovom festivale v Miškolci kde zaznamenávajú nečakaný úspech. Ich koncertný repertoár pozostáva z prepracovaných skladieb skupiny ELP, vlastnej adaptácie Musorgského Obrázkov z výstavy, Čajkovského Patetickéj symfónie, Líščieho tanca od maďarského skladateľa Weinera Leóa a vlastných skladieb členov skupiny. Netrvalo dlho a vybudovali si pevnú fanúšikovskú základňu a stali sa jednou z  najvyhľadávanejšou skupinou hrajúcou v hudobných kluboch hlavného mesta. Vystupujú ako predskokani na koncertoch skupín Omega a Locomotiv GT s ktorými sa zúčastňujú turné po socialistických krajinách a Sovietskom zväze. Na popularitu V'73 a kvalitu ich hudby poukazuje aj skutočnosť, že v tých dobách máloktorá skupina vystupujúca ako predskokan týmto dvom legendám dokázala dokončiť svoj set bez vypískania netrpezlivého obecenstva. Naopak, V'73 zvyčajne museli pre potlesk obecenstva pridávať. Napriek mimoriadnemu záujmu mladého publika o hudbu V'73 sa skupina nedokázala presadiť v hudobnom biznise a ani médiá nejavili veľký záujem o predstavenie skupiny širokej verejnosti. Dostali možnosť na drobné televízne vystúpenia a počas štvorročnej kariéry skupina nahrala iba tri vlastné skladby vydané na dvoch singloch (1974 a 77), na druhom sa im ušla iba strana B. Hudba na singloch však nemá nič spoločné s progresívnym rockom hraným naživo, je to drsný útok na hudobný vkus náročného rockového fajnšmekra, nakoľko skupina musela prijať (podriadiť sa) kompromisy určené štátnym vydavateľstvom a na obživu si aj naďalej privyrábali ako sprievodný muzikanti popových spevákov.
Dá sa povedať, že V'73 si sadli medzi dve stoličky, pretože oficiálne prezentovaná hudba na nahrávkach neoslovila mladé obecenstvo a ich repertoár hraný na koncertoch bol odmietaný predstaviteľmi kultúrnej politiky v krajine. Sáfár v rozhovore prezradil, že komisia rozhodujúca o povolení na vydanie LP im na žiadosť odpovedala nech mladý muzikanti najprv prestanú przniť klasickú hudbu. Prístup hudobného priemyslu ku generácii nekomerčných rockových muzikantov a skupín vyfarbuje veľmi dobre skutočnosť, že kvalitná progrocková formácia sa nakoniec v roku 1977 snažila preraziť do podvedomia verejnosti účasťou na festivale tanečnej hudby Metronom '77. To však už bola iba labutia pieseň a kapela čoskoro vzdala boj s veternými mlynmi. Keď v roku 1977 spievajúci basgitarista, Demjén Ferenc opustil skupinu Bergendy, V'73 ho požiadalo o zaplnenie postu speváka v skupine v nádeji že jeho meno im otvorí zamknuté priechody k úspechu. Keďže Demjénov manažér trval na tom že spevák prinesie do skupiny i svoju basgitaru, zakladajúci člen skupiny, Sáfár József sa stal nadbytočným, opúšťa skupinu ktorá následne zaniká. Lerch, Herpai s Demjénom a gitaristom Menyhárt Jánosom zakladajú úspešnú pop-rockovú skupinu V'Moto-Rock, ktorá fungovala zhruba desať rokov, to však bol už rozdielny príbeh. Po rozpade V'Moto-Rock Lerch už v pozícii uznávaného klávesového umelca nastupuje na sólovú dráhu, Herpai stojí pri zrode etno-prog rockovej skupiny Barbaro, neskôr je pozvaný k rôznym projektom a stal sa vyhľadávaním doprovodným a štúdiovým bubeníkom. Sáfár po rozpade V'73 zakladá hardrockovú úderku P. Box (niekedy tiež Pandoras Box). V roku 2012 prišlo k jednorazovému reunionu a skupina na jedinom koncerte oprášila dávny repertoár V'73.
V roku 2014 polícia našla podchladeného bubeníka Herpaiho na brehu Dunaja a po prevoze do nemocnice zomrel. Lerch sa podľa posledných informácií zotavuje po dvoch mŕtviciach a opustil hudobný biznis. Sáfár sa dodnes angažuje na domácej hard rockovej scéne a v súčasnosti tiež pracuje vo vlastnom zvukovom štúdiu..
V roku 2019 ako blesk z jasného neba pôsobí správa, že u vydavateľstva Moiras Records pod názvom Seven Pieces For Keyboards, Bass Guitar and Drums vychádza debutový album skupiny V'73. Obsahuje archívne nahrávky pochádzajúce zo živých vystúpení počas rokov 1973 až 75 a zachytávajú skupinu na vrchole ich progrockového obdobia.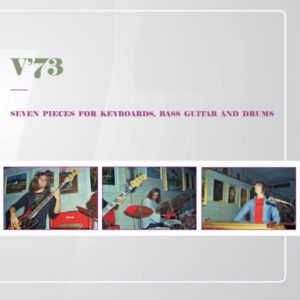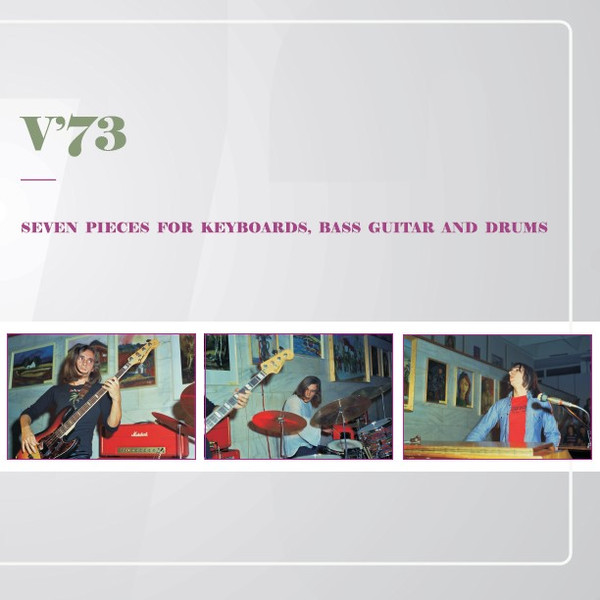 Na to že hudobný materiál pochádza zo záznamov z mixážneho pultu, ktoré basgitarista Sáfár našiel vo vlastnom archíve, zvukovo reštauroval a ponúkol vydavateľstvu, znejú prekvapujúco dobre. Na albume nájdeme spolu sedem skladieb patriacich k vtedajšiemu koncertnému repertoáru skupiny a V'73 nám ponúkajú prepracovanie Bluesovej variácie od skupiny ELP, dve úpravy klasických kompozícií a štyri vlastné skladby.
Napriek neodškriepiteľnému vplyvu anglických ELP na hudbu V'73, čím sa ani sama skupina netajila, si dokázala vytvoriť svojský zvuk. Vo vlastných skladbách napríklad s obľubou používali jazzové, jazzrockové postupi nabalené na hudobníkov vďaka štúdiu na jazzovom konzervatóriu. Niekedy nám skupina dávkuje jazz prioritne, inokedy jeho prítomnosť iba tušíme. Miestami mimochodom nájdeme v ich hudbe tiež dávku space rocku. Klasické adaptácie sa najviac podobajú tvorbe ELP, ale vezmúc do úvahy rovnaké nástrojové obsadenie a zhodnú hudobnú víziu, bolo by viac zvláštne ak by to tak nebolo.
Úvodná Teketória (Nerozhodnosť) je jazzrock s dominantným synťákom v čele podporený pevnou rytmikou par excellence v pozadí klepotajúcim elektrickým klavírom. K Čajkovského Patetickej symfonie stačí napísať že tu akoby išlo o zabudnutú skladbu skupiny ELP.  Nasledujú tri kratšie skladby. Prvá, vlastná skladba Gondolatok (Myšlienky) je zase silne pod vplyvom skupiny ELP a je prvá z dvoch kde sa spieva. Ďalšia je rázne prepracovanie skladby Blues Variation. Tretí kraťas je skladba Vízállásjelentés (Hlásenie vodného stavu) s parádnym jazzovým motívom v strede skladby. Posledné dve kompozície trvajú zhruba každá po jedenásť minút. V skladbe Valami más (Niečo iné) nám v strede zaznie syntetizátorový space rock ktorý plynule vystrieda Sáfár sólom na basgitare. Prisahám, ja som ešte nikoho nepočul hrať Flamenco na štyroch strunách, nemal asi španielku po ruke ako Greg Lake. Posledná skladba, prepracovanie klasickej kompozície skladateľa Weinera Leóa, Rókatánc (Líščí tanec) sa stala jednou z neoddeliteľných súčastí každého vystúpenia skupiny. Tentokrát nám Herpai predvedie sólo na bicie ktoré sa zmení na môj vkus kúštik dlho trvajúceho dialógu syntetizátora a bicích.
Suma sumárum, ide o ďalšiu vydarenú nahrávku spoza železnej opony a albumu sa oplatí venovať aspoň jedno vypočutie. Ako som už hore spomenul, album bol vydaný na značke Moiras Records výlučne na LP v limitovanom, tristo kusovom náklade. Na moju otázku o možnosti CD vydania mi vydavateľstvo napísalo že CD už viac nie je biznisom. Tak som si hlavou plnou myšlienok týkajúcich sa vydavatelovej mamičky kúpil v Budapešti LP, kým ešte nebolo úplne vypredané a urobil som si kvalitný lossless rip. LP obal mnoho informácií neuvádza, skôr zavádza, napríklad datuje pôvod nahrávok medzi roky 1973 až 75, Sáfár však v rozhovore prezradil že na prvý syntetizátor si zarobili až v roku 1975 a ja ho však počujem asi v každej skladbe. Album je kompletne uploadnutý na youtube, dá sa vypočuť a v prípade záujmu poskytnem aktívnym členom Rockovice vinyl rip.
A1. Teketória
A2. VI. H-Moll (Patetikus) Szimfónia
A3. Gondolatok
A4. Blues Variáció
A5. Vízállásjelentés
B1. Valami Más
B2. Rókatánc
Sáfár "Öcsi" József – Basová gitara
Herpai Sándor – Bicie
Lerch István – Klávesy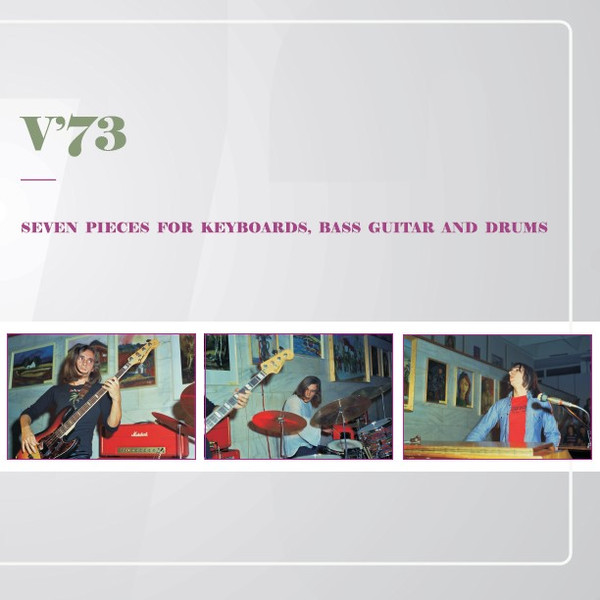 Seven Pieces For Keyboards, Bass and Drums
V'73
progrock
Moiras Records 013 LP
2019
LP
7
LP Rip