Věkem mi nebylo dáno být přímým účastníkem zlaté éry našeho bigbítu, všechny její plody z doby, kdy byl společenským fenoménem, jsem tak vstřebával zpětně. S pocitem, jak výstižně popsala jedna moje vrstevnice: "… jako když vcházíte z boční ulice na náměstí, kde se před chvílí konal veliký karneval; ještě vidíte poslední postavy průvodu, jak mizí v protilehlé ulici a vy si jen můžete ze země zvednout pár zhaslých lampionů a barevné papírové růže, které tam zůstaly."
Aktivnějším konzumentem všeho dostupného dění jsem se stal od sezóny 1976/77. I v době přehrávkových komisí a sokolovského Festivalu politické písně jsem zažil řadu nezapomenutelných koncertů, včetně posledních ročníků regionálního beatového festivalu, které se již uskutečnily pod ideologicky přijatelnějším názvem Přehlídka rockové a folkové tvorby, zatímco náladu a průběh těch celostátních, jež se v druhé polovině šedesátých let odehrály v pražské Lucerně, jsem se snažil nasát z vydaných desek Beat-line Supraphon 1968 a 2. československý Beat-festival, kterou doplnila dvojice čtyřskladbových singlů (mám je pořád).
V hlavě jsem si dlouho přehrával i zážitky z poslechových Antidiskoték hudebního publicisty Jiřího Černého, který k nám v rámci neúnavného objíždění republiky zamířil nejednou, bo zde spolehlivě fungoval tým nadšenců schopných pod záštitou SSM pořádat akce všeho druhu, od Hutky, přes "přední pražské rockové skupiny" (Modrý efekt, Bohemia, Etc…) až po SBB.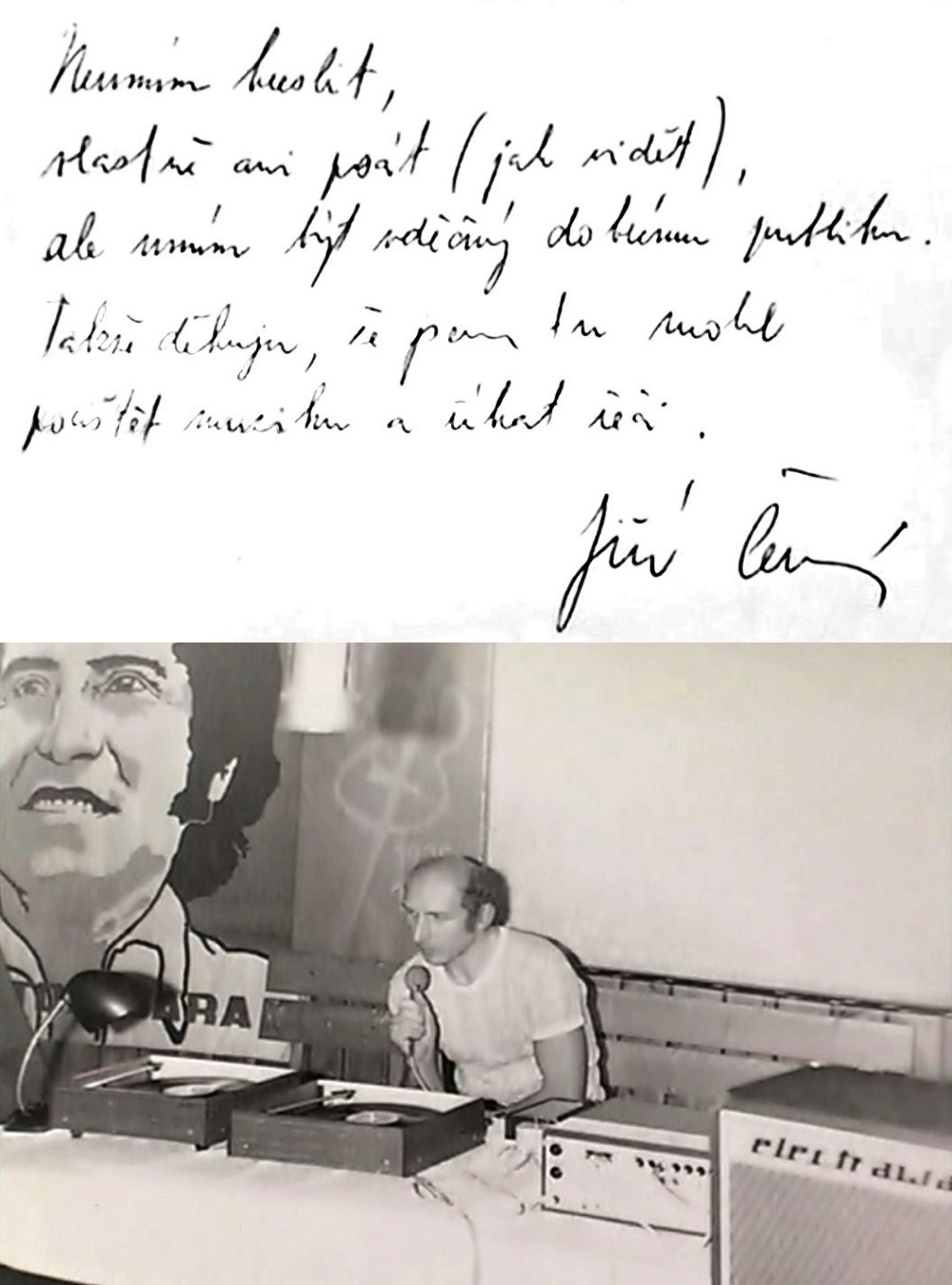 Vedle muziky se v místním Junior klubu sporadicky dostalo i na atraktivní filmy mimo běžnou distribuci. V rámci tzv. kinolektorátů však musel být vysílaný snímek několikrát přerušen "odborným" výkladem (nevyhnul se mu ani titul The Song Remains The Same…), případně z něj byla vypuštěna neschválená pasáž (z Easy Rider zbylo jen torzo). Nejspokojenější tak většinou odcházel estébák dohlížející na dodržení předepsané režie večera.
Pochartovní mocenské běsnění poznamenalo atmosféru většiny akcí, pokud se rovnou nepodepsalo pod jejich zrušení. Vzdor tomu u nás nikdy nezavládlo úplné pakulturní mrtvo, jež panovalo v některých jiných městech. Pravidelně na zdejší kraj vzpomíná i Vladimír Mišík, který tu v bývalém mlýně našel útočiště během svého zákazu.
Nebylo náhodou, že v osmdesátých letech se právě Příbramáci coby pořadatelé zaslouží o věhlas dramaturgicky nedostižného a věčně vyprodaného žižkovského klubu Na Chmelnici.
Zatím ale s uchem přilepeným k Tesle 1028A Stereo Rytmus trávím páteční večery na Vltavě ve společnosti Větrníku, který k poslechu nabízel neuvěřitelný mix "povinných" čísel a zajímavých tipů. Z redakce mi jeden čas chodily playlisty, které se ke mně aktuálně vrací v elektronické podobě (díky Piťovi). Vedle vzpomínek a tzv. vysílacích plachet jsou dnes jediným existujícím materiálem, z něhož se dá sestavit podrobnější historie jednotlivých dílů, bo z osmi stovek odvysílaných částí se jich v rozhlasovém archivu zachovalo jen několik málo ze začátku 90. let…
Pořadu a jeho rubrikám jako Desky – vzorky vděčím za nespočet bezva chvil, poslechových premiér a důležitých objevů (Barclay James Harvest, Boston, Journey…) a ještě dneska se zarazím, když do skladby Ironside od Quincyho Jonese, neslyším zažité: "Posloucháte Větrník – posloucháte rozhlasovou hudební diskotéku."
Po sobotním opakování, resp. pokračování, pravidelně následoval kolektivní výjezd za zábavovým bigbítem. I tam se dalo občas slyšet (a zažít) nečekané, např. kompletní In-A-Gadda-Da-Vida i s bubenickým sólem. A co víc a především, předposlední říjnovou neděli r. 1978 vstupuju na Letné do magického světa černé burzy, který mi naprosto učaroval. Dodneška si vybavím spoustu nákupů, lidí, desek, plakátů i pocity při koupi prvního kousku, jímž byl Wonderworld, sedmá studiovka Uriah Heep s přebalem, pro který jsem měl odjakživa slabost. A náklonost mě nepřešla ani po letech, kdy jsem zvěděl, že Hensley právě tenhle obal nesnášel.
Byly roky, že jsem nevynechal jedinou neděli a s mou závislostí na fenoménu zvaném burza nepohnul ani stupňovaný vopruz v podobě opakovaných zátahů. Ani nemohl, bo i ty nepříjemný zážitky snadno přebila síla obstarané hudby. Nikdy by mě nenapadlo, kolik lidí po revoluci do vzpomínek na burzování vecpe aspekt třetiodbojového hrdinství, jak jsem se s tím setkal v životě i na netu…
Doprovodnou žízeň po souvisejících informacích mi v rámci svých možností pomáhaly hasit hudební publikace (za všechny F. Novotný, J. Vejvoda: Víc než jen hlas) plus periodika Melodie (vč. Aktualit) a Gramorevue. Nepravidelně k člověku městem dokolovaly bulletiny Jazz, hodobóžově i některé z čísel kultovního Pop Music Expressu (díky Zdenymu!), v němž jsem se mj. seznámil s "prvním československým dýdžejem" Pavlem Černockým a mistrem květnatého jazyka Janem Křtitelem Sýkorou.
Ještě svátečněji se mi do rukou dostaly starší výtisky Melody Makeru a z kapitalistický ciziny pocházely i magazíny (Pop, Popfoto, PoPster), které obstaraly pokojovou výzdobu, proloženou dvojstránkama z týnejdžerskýho časopisu Bravo, jež vozili šťastlivci z Jugošky.
A samostatnou zmínku nepochybně zaslouží Vlčkův třídílný slovník Rock 2000, který mi byl spolehlivým kompasem ve světě zapomenuté hudby dávno předtím, než se jí tak začalo říkat.
Pro mnohé z nás se rocková muzika stala světlem na konci husákovsko-müllerovského normalizačního tunelu.
PS: V  textu zmíněná hesla budiž výzvou pro všechny pamětníky.