Na hamburskej klubovej scéne to koncom 60. rokov poriadne vrelo. Svoju šancu tu dostali mnohí hudobníci z celého sveta. Možno to sami nepriznajú, ale nebyť Hamburgu, dnes by neboli tam, kde sú – svetovými hviezdami.
V tomto nemeckom prístave sa stretli 5 domáci muzikanti, menovite Ernst Herzner (spev), Wolfgang Reimer (gitara, spev, perkusie), Michael Just (basa, spev), Klaus Werner (organ), Wolfgang Behrmann (bicie, perkusie) a v roku 1969 dali dokopy formáciu Zarathustra. Veľmi šikovný názov – odkaz na najslávnejšie filozofické dielo "Also sprach Zarathustra", ktorého autorom je Friedrich Nietzsche a rovnomennú symfonickú báseň skladateľa Richarda Straussa.
V tom čase ešte dvaja z nich, mená sa mi nepodarilo zistiť, paralelne vypomáhali skupine The Why Five. Zrejme išlo o nejakú dobovú šláger-záležitosť, keďže ich účasť je zaznamenaná na platni Ausgerechnet Bananen (Elite Spezial XZ.LP 5105). Tu však moje pátranie narazilo na nepreniknuteľný problém – iba predaj za pár šupov na Amazone, bez akýchkoľvek informácií alebo obrázkov, takže nedokážem potvrdiť rok vydania, vraj 1969. Nie je to však podstatné.
Chalani vyhľadávali každú možnosť na hranie, vypomáhali si prevzatými vecami a postupne pracovali na vlastnom materiáli. Hard rock začal vystrkovať rožky a silno oslovil aj našu päticu, ktorú zasiahla britská vlna v čele s Deep Purple, Uriah Heep, Atomic Rooster, ale aj takými Vanilla Fudge z USA. Skrátka, hard rock s hammondkami.
V roku 1971 si ich všimla firma Metronome a ponúkla im zmluvu. V novembri 1971 sa skupina dostala do hamburských Windrose Studios, kde pod dohľadom trojice Till Landsmann (producent), Friedrich Bischoff (zvukový inžinier) a Henning Ruete (mixáž) nahrala debutový a zároveň jediný album Zarathustra, ktorý vyšiel v roku 1972. Na ploche cca. 36 minút ponúkol 6 skladieb, všetky z autorskej dielne skupiny.
Z histórie kapely sa toho nedá nájsť takmer nič. Na všetkých hudobných stránkach prakticky ten istý text v malých obmenách. Aj moja verzia CD z roku 1995 (Second Battle) je veľmi skúpa na slovo. Pozliepal som preto niekoľko postrehov na samotný album. Ako to už býva, čo človek, to názor. Začnem tými horšími.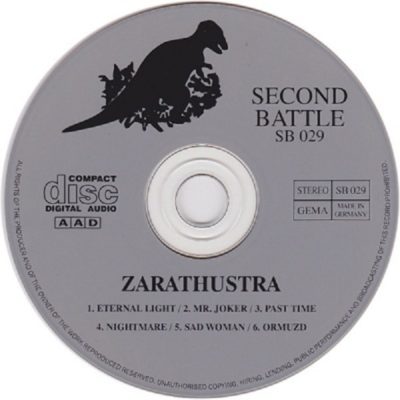 Negatívne reakcie:
Otrasné, škoda času.
Neznášam Uriah Heep, preto sa nečudujte, že sa takto staviam aj k tejto nahrávke.
Nedotiahnuté, slabé skladateľské vlohy.
Pozitívne reakcie:
Výborný album, priaznivci hard rocku začiatku 70. rokov by si ho nemali nechať ujsť.
Skvelá nahrávka, spolu s kapelou Prof. Wolfff to najlepšie, čo firma Metronome ponúkla.
Výborný spevák. Nevedieť, že je to Nemec, tak tomu neverím – má lepšiu výslovnosť ako mnohí rodení britskí vokalisti.
Žiaľ, značka Metronome, ktorá dokázala uzavrieť zmluvy so zaujímavými formáciami, napr. Grail (UK), Hallelujah (UK), I Drive (UK), Made In Germany, Os Mundi, Prof. Wolfff, Second Life, však nebola schopná svojich zástupcov primerane propagovať a kapitola Zarathustra sa uzavrela na jar roku 1972.
V roku 1989 berlínska firma Second Battle sprístupnila LP širšej verejnosti, keď dala na trh tisíc kusov, neskôr aj vo forme CD (1995). Až na dotlač platne v roku 2015, ďalších tisíc kusov – 900 v klasickej farbe a 100 mramorových, sa nič iné neudialo, preto niet divu, že cena za CD sa často šplhá k šialeným cifrám. To je však iba omrvinka toho, čo niektorí pýtajú za pôvodný asfalt – v súčasnosti až $3,000.00.
Spevák Ernst Herzner sa v rokoch 1985-1986 pridal ku kapele Novalis, nahral niekoľko sólových singlov a darilo sa mu na poli skladania hudby pre reklamy, napríklad Mr. Propper…
Toľko o skupine Zarathustra. Hamburg jej k svetovej sláve nepomohol, možno iba k lokálnej, ale nemali by sme na ňu zabudnúť – určite si zaslúži našu pozornosť.
DISKOGRAFIA:
1972 – Zarathustra (Metronome)