Ak sa zadívate na obal albumu, stopercentne ste ho už videli. Mladá dievčina s dáždnikom sedí pri jazierku a má sklonenú hlavu. Na druhej strane obalu sú dve plávajúce labute. Fotografia nemá reálne farby, je celá v modrom závoji. Na fotografii nie je Linda Hoyle, ale neznáme dievča. Album nesie iba jedno meno, Affinity. Affinity? Čo to je? Pozývam Vás, opona sa zdvíha…

Jazzrocková skupina vznikala postupne od roku 1965 na vysokej škole University of Sussex v Brightone. Traja študenti, ktorí študovali vedné odbory, Lynton Naiff (klávesy – študoval matematiku), Nick Nicholas (kontrabas – história, filozofia) a Grant Serpell (bicie) hrali ako školské jazzové trio na rôznych miestnych akciách (tanečné zábavy, plesy) v okolí Brightonu. Volali sa University of Sussex Jazz Trio.

V tej dobe hrala aj skupina The Baskervilles, bol v nej Mo Foster, občas hrával aj s Jazz Triom. Bola to veľmi plodná éra hudobných skupín, ktoré boli inšpirované americkým jazzom a nový hudobný štýl sa práve vyvíjal. Bola to doba tancovačiek, zábav a plesov na univerzitách i v kluboch.
Po skončení univerzity Naiff a Serpell zložili skupinu z hudobníkov z iných mladých skupín s názvom Ice. Chceli hrať profesionálne a túžili sa presadiť v Londýne. Skupina mala malý rádiový hit Ice Man. Po necelom roku sa Ice roztopili a dali si poslednú kapurkovú. V tej dobe hralo v Sussexe mnoho skupín a chlapci po rozpade začali hľadať speváčku. Bola to odvaha, lebo speváčky vždy kapelu rozbili na franforce. Nedbali na múdre reči a vybrali si dievča Lindu Hoile. Vedela hrať na gitaru. Obdivovala speváčku Billy Holyday. Linda pracovala ako praktikantka v laboratóriu a potom sa chcela stať učiteľkou. Umelecké meno si zmenila na Hoyle, lebo aj tak si všetci mysleli, že sa píše Hoyle a nie Hoile. Tak nelenila a išla tam, kam vietor fúkal.

Naiff mal zase rád Oscara Petersona a podľa názvu Oscarovej LP z roku 1961 si dali meno Affinity. Skupina začala skúšať v lete 1968 v prenajatom bungalove na predmestí Brightonu v zložení Naiff (klávesy), Serpell (basová gitara), Hoyle (spev), Mike Jopp (gitara), Mo Foster (bicie). John (Nick) Nicholas (historik, filozof) sa medzitým už dávno z kapely hudobne vytratil, ale v roku 1972 sa oženil s blondýnkou Lindou Hoile a tak je jeho život spojený s Affinity až do dnešných dní. Na začiatku im pomohol Joppov otec ručením za pôžičku na nákup aparatúry. Vtedy kúpili Hammond organ, ktorý sa stal ich dominantným nástrojom.

Prvý londýnsky koncert Affinity odohrali 5. októbra 1968 v Revolution klube. Svojimi koncertnými a tanečnými zábavami si získali veľkú popularitu. Na ich koncertoch sa objavovali známe mená hudobnej scény: Judy Garland, Stevie Wonder, John Lennon. Treba spomenúť Ronnieho Scotta, ktorý im veľmi pomohol. Vypočul si nahrávku skupiny a stal sa ich koncertným mecenášom. Mohli hrať v jeho jazzovom klube, mali s ním podpísanú zmluvu na tri roky, neskôr hrávali aj v klube "Downstairs", kde pôsobil aj Stan Getz a Les McCann. To ich nútilo hrať zložitejší a ťažší hudobný materiál, a tak sa kapela výrazne zlepšila. Linda Hoyle mala rozhovor (1969) uverejnený v týždenníku Melody Maker, ktorý bol významným mienkotvorným médiom.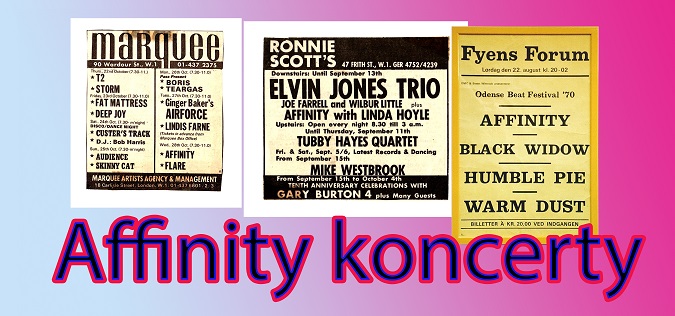 Naiffov otec, majiteľ obchodu s hudobninami v Soho, vyrábal zosilňovače a reproduktory značky "Impact" a kapela ich používala. Výrobky mali slabý výkon a Linda, ktorá spievala z celej sily, si poškodila hlasivky a musela ísť na operáciu. Počas Lindinej operácie a rekonvalensencie kapela hrala hudobný materiál, ktorý aj nahrala bez spevu. Tieto nahrávky neskoršie vyšli na CD. Po uzdravení si speváčka našla profesionálneho učiteľa spevu.
Kapela podpísala zmluvu s firmou Vertigo a produkcie albumu sa ujal John Anthony. Po podpise zmluvy dostali finančnú zálohu, ktorá im zabezpečila koncertovanie, mohli si najať šoféra a kúpiť dodávku. Otvorilo im to aj bránu do TV a nahrali znelku pre televíznu reklamu.
Ich prvá a posledná LP platňa počas ich prvého aktívneho obdobia (1968-1972) nenechala na seba dlho čakať. Je na nej iba sedem piesní, z nich tri sú cover verzie. Nahrávalo sa v Trident Studios v St Anne's Court, Soho, na 16-stopý magnetofón, ktorý bol vtedy kúpený ako novinka do štúdia. Všetci muzikanti hrali v štúdiu naraz, mali skladby nacvičené, už rok predtým ich koncertne hrávali a nahrávanie prebiehalo rýchlo. Neskôr sa dohrávali niektoré nástroje.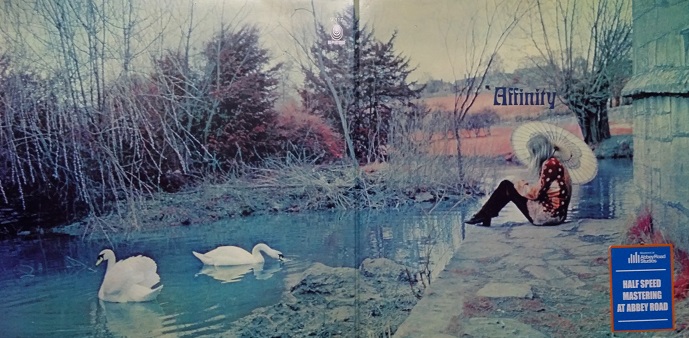 Affinity – Affinity (1970)
STRANA A
1. I Am And So Are You (3:32)
Prvý úder bicích a nastupuje rocková gitara. Nikoho však nenechá na pochybách nastupujúci saxofón, ktorý naznačí, že budeme počúvať inú hudbu ako rock. Skladba vo svižnom tempe pokračuje a pridáva sa pevným hlasom Linda. Nie je to žiadna útla žienka ako vyzerá na fotke. Jej prejav je ťažký a agresívny. Spieva odhodlane. Na jej hlase sa prejavuje operácia hlasiviek, ktorú absolvovala pred nahrávaním LP. Po úvodných textoch začína kapela jazzovo jamovať až do konca skladby. John Paul Jones urobil na skladbe aranžmány, Ronnie Scott hral na saxofóne. Skladba bola upravená z demo nahrávky Allana Hulla z populárnej, ale nedocenenej kapely Lindisfarne.
2. Night Flight (7:18)
Náladová pomalá skladba. Zložila Linda a Jopp. Predstavujem si bezmotorák vznášajúci sa pokojne na oblohe, tak ako v texte vtáci v tichom lete. Skladba sa zrýchli a pokoj končí. Klávesy pridávajú predstavu dramatičnosti. Linda Hoyle sa mi páči, jej spev vyjadruje skrytú atmosféru piesne. Skupina znovu pridáva jazzové jamovanie. Perkusie spríjemňujú a zľahčujú zvuk kapely. Všetko šliape vo výbornej súhre. Klávesy dominujú, bicie sú trošku potlačené, lebo ich prehlušujú ostatné nástroje. Lynton Naiff na Hammonde dáva skladbe výraz. Potom nastáva opakovaný pokojný let s vokálom Lindy. Skladba má evidentne dva motívy. Pokojnú, melancholicko-romantickú časť a druhú, jazzrockovú v dynamickom zvrate.
3. I Wonder If I Care As Much (3:21)
Pesnička od Everly Brothers. Producent Johny Anthony skupinu prinútil nahrať túto pieseň, hoci s tým kapela nesúhlasila. Psychedelický temný pomalý úvod. Spev je tentokrát iný, s obrazom niečoho, čo sa objaví v piesni. Nástup bicích, ktoré sa pretĺkajú kvílivým atmosférickým efektom, ktorý sa tiahne skladbou od jej začiatku. Starú skladbu bratríčkov Everlyovcov aranžoval opäť zeppeliňák John Paul Jones. Pomalý rytmus pokračuje až do konca, skladba začala sľubným začiatkom, ale stratila sa bez vrcholu.
4. Mr. Joy (5:06)
Pán "Radosť" nemôže byť o a v zlej nálade. (Tá slovenčina je krásna hračka, nie?) Nechcem meditovať, o čom je text piesne, ale evokuje mi to tam zopár "ixíkov". Ako inšpiráciu použili nahrávku nórskej speváčky Karin Krong. Znovu pomalá skladba, Linda ťahá tóny až do vzdychania a hudobníci ju minimalisticky podporujú. Niekedy sa v hlase prejaví zachraptenie, ale je to náladová vec. Nevidím žiadny podstatný nedostatok, aranžmán piesne je postavený na klávesoch, bicie tentokrát v rezkej podpore s basovou linkou. V piesni je miesto basovej gitary použitý akustický kontrabas. Lynton dohral do stopy vibrafón. Opakujúci sa úvodný motív donekonečna.
STRANA B

5. Three Sisters (4:58)
Skladba mi pripomína Spooky Tooth. Skladateľmi boli Linda a Naiff. Hammond má podobný zvuk ako Garyho Wrighta zo Spooky Tooth. Ťažšia, rezká vec. Mohol by som povedať, že touto skladbou válcovali koncertné-tanečné sály po celom Londýne a tanečníci šaleli. Skladbu aranžoval John Paul Jones z Led Zeppelin. Dominantnú rolu znovu hraje Hammond organ. Je to naozaj výborná skladba, ktorá má drive a život. Skvele si zahral aj Mike Jopp na gitare.
6. Coconut Grove (2:35)
Pieseň od Lovin' Spoonful z roku 1966. V pôvodnom znení je to akustická skladba. Záliv Biscaine, Miami, Florida, teplo, slnko a pohoda, to je kokosová alej, ale predsa len lepšia bude noc na pláži až do rána s mílovaným človekom. Znovu jemnejšia skladba. Začína spevom a akustickou gitarou. Jemne sa pridáva basová gitara. Organ pridáva akcenty a skladba pokračuje v romantickom sladkom podaní. Mám presne ten istý pocit ako hrajúca kapela: idem po ceste, ktorá je lemovaná kokosovými palmami. Celkom krátka vec, ktorá nebola hudobne rozvinutá. Flautu nahral dodatočne David Jackson z Van der Graaf Generator.
7. All Along The Watchtower (11:39)
Najdlhšia skladba albumu. Tu sa všetci vyhrajú do sýtosti. Krátky spev Lindy, potom začne kapela hrať naplno. Znovu v dominancii Lynton Naiff na hammonde, strúha jeden motív za druhým a kapela ide v bezchybnej rytmike ako jeden muž. Linda znovu nastupuje a spev končí zvukovým efektom. Nie je to záver skladby, iba prvá tretina. Skladbu zložil Bob Dylan, ale Affinity jej dali tvár a nesmrteľný život. Na tak dlhej ploche sa dokázali predstaviť v tej najlepšej forme, akú mohli dosiahnuť. Je to skrátená koncertná verzia, hrávali ju v dĺžke viac ako 30 minút. Rytmika kapely bola vo všetkých skladbách bezchybná a tým pádom umožňovala Lyntonovi na organe a Joppovi na gitare vymýšľať hudobné improvizácie v piesňach. To sa ukazuje aj v tejto piesni. Linda mala vo "watchtoveri" tiež svoj priestor na improvizácie.
Skladbu hral aj Jimi Hendrix. Zaujímavé je, že Dylanova verzia bola dvojminútová, Hendrixova mala viac ako 4 minúty a Affinity to zahrali ako jedenásťminútovku. Každá verzia je absolútne iná a na tejto skladbe sa dá krásne ukázať ako sa rocková hudba môže vyvíjať. Odporúčam pozrieť si a vypočuť všetky tri skladby. Nemá význam prechádzať celú skladbu hudobným opisom. Najlepšie je ju počuť.

Po vydaní eponymného oficiálneho albumu Affinity zožali nadšené recenzie a mali pred sebou sľubnú budúcnosť. Bolo prisľúbené turné v Amerike. Lynton a Mo začali písať nové piesne na druhý album, ale Linda Hoyle už nechcela viac pokračovať a ohlásila odchod zo skupiny. Ich posledný koncert v zostave s Lindou bol vo februári 1971. Lynton Naiff opustil skupinu a začal hrať v skupine Abedgone. Foster, Jopp a Serpell sa snažili doplniť Affinity speváčkou Vivienn McAuliffe a klávesistom Dave Wattsom. Dostali však ponuku na americké turné s Mike D'Abom, bývalým spevákom skupiny Manfred Mann a Affinity prestali existovať ( január 1972).

Linda Hoyle nahrala v roku 1971 s Karlom Jenkinsonom sólovú platňu Pieces Of Me pre Vertigo. Platňa nebola úspešná, je na nej omnoho živšia hudba ako na debute skupiny. Zaujímavosťou je, že na "kúskoch" spolupracoval známy gitarista Chris Spedding a dvojica John Marshall a Jeff Clyne zo skupiny Nucleus. Vylisovaných bolo iba 300 kusov a dnes je to najvzácnejší album firmy "Vertigo" (pozri Discogs: 1. press Vertigo CAT 6360 060). Nuž, hudobný svet nemá logiku.
Po rozpade Affinity:
Bubeník Grant Serpell sa pridal k "námorníckej" popovej skupine Sailor (hit Girls, Girls, Girls a megahit Glass of Champagne).
Mo Foster pôsobil v Nucleus a spolupracoval s množstvom anglických hudobníkov: Jeff Beck, Phil Collins, Ringo Starr, Brian May, Frida( Abba), Van Morrison… Mo bol najviac vyťaženým členom Affinity z pôvodnej zostavy a jeho hudobný život je naozaj veľmi bohatý.
Lynton Naiff koncertoval s Toe Fat. Stal sa štúdiovým hráčom a ako klávesista spolupracoval na rôznych LP albumoch a singloch: Real Thing, Delegation a iní.
Mike Jopp spolupracoval s Mikeom D'Abo, ešte aj v roku 2004 hral na jeho albume.
Linda Hoyle odišla v roku 1972 do Kanady, do Toronta. Dokončila vysokú školu a tam spolupracovala s Oliverom Whiteheadom. Sporadicky vydala sólové platne. V roku 2006 oživila spoluprácu s bývalou skupinou a toto hudobné stretnutie vyšlo na CD. V pracovnom živote dosiahla úspechy v obore psychológia ako arteterapeutka.
Skupinu Affinity dali znovu dohromady na jeden koncert v roku 2011. Odohrali hodinový set na výročie University of Sussex. Perličkou je, že boli požiadaní, aby hrali svoje hity, ale oni vlastne žiaden hit nemali. Pred rokmi vydali iba jeden singel zo svojho prvého albumu a ten nemal šancu uspieť v hitparádach. Tento koncert zmixoval a mastroval Mo Foster, vyšiel tiež na CD, názov zvolil podľa svojej bývalej baskervillskej partie. V priebehu rokov vyšli aj rôzne CD s nahrávkami živých vystúpení a nahrávok skupiny zo štúdia. Pôvodný obal bol používaný na vydaniach ďalších albumov Affinity v rôznych farebných mutáciách.
Na záver sa patrí zhodnotiť recenzované dielo a napísať pár riadkov o celom význame skupiny z pohľadu dnešnej doby. Viem, že skupinu si dnes pamätá iba málokto a určite si ju nikto nespojí s veľkým prínosom do hudobného sveta. Jediné LP Affinity z roku 1970 v dnešnej dobe dýcha súčasnosťou, a má význam si ho vypočuť. John Paul Jones pracoval na LP a aranžoval tri piesne z albumu. Najmenej videný člen Led Zeppelin ukázal, že vedel viac ako si myslíme.
Na nahrávke je veľa autentičnosti a radosti z hrania. Je to jasné na prvé počutie. Keď LP dohrá, mám vždy dobrú náladu. A to je tá najlepšia vec, ktorá sa môže stať v hudbe. Ich hudba pre mňa znamená RADOSŤ. Nenásilné spojenie bluesu, psychedelie, rocku, jazzu, folku v popredí so silným vokálom Lindy Hoyle s podporou Lyntona Naiffa na Hammonde bude tejto skupine vždy dominovať. Dávam jednu hviezdu dole pre to, že nehrali svoje vlastné veci, inak za 5.
Affinity:
Grant Serpell – drums
Mo Foster – bass
Mike Jopp – guitars
Linda Hoyle – vocals
Lynton Naiff – Keyboards

Producer: Johny Anthony
Engineer: Robin Cable -Trident Studios, Frank Owen – Island Studios
Original album designed a photography by Keef. 
Affinity
Affinity
Prog Rock, Jazz Rock, Psychedelic Rock, Blues Rock
Vertigo
1970
LP
7
LP Repertoire Records REP 2222 V 117 /2014/