CD AMS – AMS132CD /2008/
Skupina Indaco byla takovou nenápadnou italskou "supergroup" a v jejích řadách působily osobnosti známé z renomovaných skupin kalibru Banco del Mutuo Soccorso, nebo Premiata Forneria Marconi. Její produkci bych charakterizoval jako fusion, složenou z prvků středomořské lidové hudby, rocku a jazzu. Album Amorgós je nejrockovějším v diskografii skupiny a tak by se mohlo líbit aj těm, kteří fusion, nebo world music až tolik neposlouchají. 
Na úvod je tady titulní skladba, pojmenovaná po malém a kouzelném řeckém ostrově na východním okraji Kyklád. Zprvu zasněná, se sólovou trubkou jazzového matadora Lestera Bowieho, ale zhruba v polovině přechází do pěkné epické melodie a hybného 7/8 rytmu (ne, že bych byl tak chytrej, ale píše se to v bookletu). Neméně energická je i následující Andalusiana a blok prvních tří skladeb uzavírá prog rocková pecka To The Lighthouse, která jako by vypadla z alba Canto di primavera (1979) legendárních Banco del Mutuo Soccorso.
Zklidnění přichází s krásnou milostnou písní Soneanima, kterou ztvárnil Andrea Parodi a v instrumentální Improvviso se sólem na piano blýskne klávesista Vittorio Nocenzi (BMS). Ovšem se skladbou Breathing With The Lotus již album opět nabírá na obrátkách. Energický koktejl rytmů a melodií odpálí flétnista Mauro Pagani a ve výborných sólech se předvedou Maltese na kytaru i baskytarista Luca Barberini. Mantra je takovým živelným duetem perkusí a strun, kde předvádí zajímavé hlasové kreace Arnaldo Vacca, ovšem velice pozoruhodnou skladbou je následující dráždivá instrumentálka Omdurman. Je to první věc, ve které dostane slovo i "moderna", tedy elektronika, programování a sampling a v mixu s etnickými nástroji a trubkou to zní jak sugestivní jazzová zhulenina z některého z filmů Davida Lynche.
Úvod deváté skladby – Sahasrara In The Sky – se nese v experimentálním duchu, ale za chvilku se zlomí do pěkné, chytlavé a energické melodie s prvotřídními sóly na kytaru, klávesy a housle. S přibývající stopáží je album lepší a lepší, důkazem budiž kouzelně melodická Pietre bianche, ve které má hlavní slovo (nástroj zcela nerockový) akordeon. Zásadním vrcholem alba je pro mě jedenáctá Nel tempo. V podstatě jediná "normální" a přitom podmanivá písnička s typicky středomořskou melodií, kterou svým nenapodobitelným způsobem nazpíval frontman Banco del Mutuo Soccorso – Francesco di Giacomo. Mediterraneo je krátkou instrumentálkou, ve které hrají prim především akustické kytary a housle a původní album končí etnickou – a tvorbu Dead Can Dance připomínající – skladbou Ayran.
Reedice od AMS nabízí ještě nášup v podobě živého provedení milostné písně Soneanima – tentokrát jako duet Francesca di Giacomo a Rosie Wiederkehr – a to už je opravdu vše.
Původní vydání od Il Manifesto (1999) již bude dávno vyprodané, naštěstí je k mání reedice od velice agilní firmy AMS (zajímavé je, že není uvedená na discogs) a to v podobě opravdu pěkné rozkládací mini vinyl repliky s jiným obalem, než byl ten originální. Zvuk CD je fantastický a booklet obsahuje předmluvu s komentáři k jednotlivým skladbám od kytaristy Rodolfa Maltese.
Vynikající přírůstek do každé rockové sbírky (a nejen pro fanoušky Banco del Mutuo Soccorso), tedy za čtyři.
SKLADBY:
01. Amorgós (5:49)
02. Andalusiana (3:47)
03. To the lightouse (5:37)
04. Soneanima (4:59)
05. Improvviso (3:32)
06. Breathing with the lotus (5:03)
07. Mantra (6:22)
08. Omdurman (5:10)
09. Sahasrara in the sky (7:53)
10. Pietre bianche (5:40)
11. Nel tempo (4:28)
12. Mediterraneo (3:46)
13. Ayran (6:13)
14. Soneanima (live, bonus track) (4:47)
SESTAVA:
Mario Pio Mancini: bouzuki, violino, bouzuki irlandese
Rodolfo Maltese: chitarre, mandola, mandolino
Luca Barberini: basso elettrico
Pierluigi Calderoni: batteria
Carlo Mezzanotte: tastiere, programmazione
Arnaldo Vacca: percussioni, voce, samples, programmazione
+
Lester Bowie: Tromba
Mauro Pagani: flauto, violino
Francesco Di Giacomo: voce
Vittorio Nocenzi: piano
Andrea Parodi: voce
Mario Rivera: basso
Massimo Carrano: percussioni
Enzo Gragnaniello: voce
Abdulla Mohamed: flauto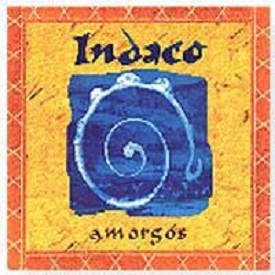 Amorgós
Indaco
Prog Rock, Jazz Rock, Folk Rock
Il Manifesto
1999
CD
13
CD AMS - AMS132CD /2008/