CD AMS – AMS 169CD  /2010/
Jedna z celé řady italských, časem zapomenutých rarit. Melodické, pastorálně klidné album s křesťansky orientovanými texty a půvabně zastaralým zvukem…
Skupinu ATP založili studenti Salesiánského institutu "San Benedetto" v Parmě a zůstala po ní dvě velká alba. To první se jmenuje Giobbe, uno degli uomini a vyšlo v roce 1977 u labelu Dischi Eco, specializovaného na italskou lidovou a církevní hudbu. Stejná společnost o tři roky později vydala ještě eLPíčko Profeti, uomini dell'utopia a tady stopa ATP končí.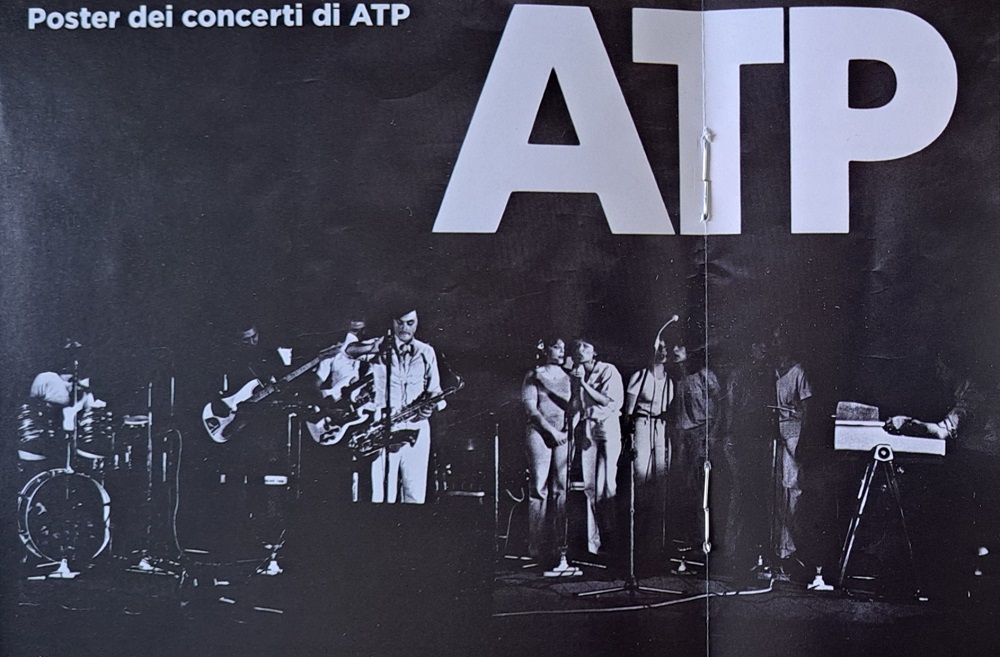 Do sbírky se mi zatoulalo cédéčko obsahující obě alba pěkně pohromadě, ale pár slov bych věnoval jen prvotince Giobbe, uno degli uomini. ATP ji natočili na podzim 1977 ve studiu Mondial Sound v Miláně a podle názvů skladeb soudím, že tady půjde o nějakej, biblí inspirovanej koncept. Jistou zajímavostí je informace uvedená na obalu desky, podle které je výhradním autorem zaznamenaného díla (hudby i textů) Cesare Regazzoni, ovšem on sám mezi účinkujícími nefiguruje.

ATP hráli v šestičlenném obsazení, s několika dalšími vokalisty navrch a dokazuje to i jedna z koncertních fotografií v bookletu CD. Při živé prezentaci to musela být na pódiu docela mela a do dnešních hudebních klubů velikosti kapánek většího obýváku by se s největší pravděpodobností všichni nevešli. Dlužno dodat, že ten výsledek tomu tak úplně neodpovídá. Album zní hodně subtilně a nástroje jsou tady především akustické. Elektrická kytara hraje jen jednoduchej doprovod a občas jsou slyšet ještě archaicky znějící varhany, nebo syntezátor. Spojitost s progresivním rockem to má jen malou, hlavně v podobě flétnových a saxofonových sól. Někteří publicisté tohle album přirovnávají k debutu Dolce acqua kapely Delirium a dalo by se s tím souhlasit. Dost podstatnej rozdíl je však v datech "narození". Album Dolce acqua vyšlo v roce 1971,  Giobbe, uno degli uomini  o šest let později a na svou dobu zní už opravdu zastarale. Což však není zase tak úplně na škodu, protože právě archaickej zvuk tomu dodává esprit a vyvolává kouzlo dávno zapomenutejch časů ze začátku sedmdesátých let.

Kompletní album má nějakých 34 minut a obsahuje patnáct písniček, plus jeden bonus. Paradoxně právě bonusová skladba 'Anaw byla v době, kdy jsem cédéčko kupoval, jedinou ukázkou dostupnou na internetu. Dneska už se to dá poslechnout komplet na Spotify, nebo YouTube, ale tehdá jsem se k tomu proklikal až na stránkách Dailymotion a to není platforma, kterou bych využíval. Že to nakonec bude nejlepší skladba na desce jsem nemohl tušit, ale zabrala a tak jsem si objednal zajíce v pytli.
Kromě instrumentálek Introduzione, Exultet a Conclusione jsou všechny skladby s vokály a podle informací v bookletu jsou tu slyšet dva hlasy mužské a jeden dívčí. Nejdelší track na desce – Uno degli uomini – má jen necelé čtyři minuty a tak je nad slunce jasné, že v tomhle případě půjde především o písničky. Italsky melodické, přívětivé a milé. Nic extra progresivního, ale poslouchá se to docela hezky a kromě těch Delirium mi to trochu připomíná ještě debutová alba skupin I Santoni (1972) a I Numi (1971).
Zkrátka a dobře, melodie mají tentokrát navrch a porůznu rozházená sóla na flétnu, nebo saxofon jsou jen vítaným oživením. Z těch pomalých, opravdu melodických písniček se mi líbí např. La paura, Cerca in se stesso, nebo Uno degli uomini. Ta jediná je tady dokonce ve dvou verzích, s odlišným aranžmá a jinými slovy. Důraznějších skladeb tady moc není a kromě trojice, na podobném motivu složených kousků Introduzione, La sua speranza non delude a Conclusione bych vypíchnul především svižnou Tu credi di essere, s krátkými vstupy bezuzdně sólující flétny. Titul "nejprogresivněji" se tvářící pecka na desce ode mne získávají pátá Continuerò a gridare a bonus 'Anaw . Byť k té původní kolekci vlastně nepatří.
Na stránkách Rolling Stone jsem narazil na článek Fabia Zuffantiho s názvem "10 reperti di prog cristiano anni '70" (Deset objevů křesťanského progu sedmdesátých let). Jeho tipy jsou skutečně zajímavé a pro fanouška italského prog rocku je to hotová studna poznání. V tomhle ranku nejlépe hodnocenou je deska kapely Messagio 73, ale pozitivně se tu píše i o plackách Giobbe, uno degli uomini (ATP), nebo Dentro l´invisibile (Genfuoco). I tu mám ve své italské sbírce a snad se k ní brzy dostanu.
Jednodílná (nikoliv rozkládací) vinyl replika od AMS obsahuje v pouzdře zasunutej disk a dvacetistránkovej booklet se spoustou informací. Je tu průvodní slovo od Cesare Regazzoniho (v jazyce italském i anglickém), texty písniček, fotky středových štítků obou alb a a taky několik raritních snímků kapely samotné. Výbavička je to opravdu pěkná a vydavatel zaslouží pochvalu.
Se zvukem je to slabší, šumí a praská jak z ohraný desky. Nic tragického, ale jako referenční nahrávku k testu nových reproduktorů bych zvolil něco jiného. Např. nedávno představené Il Baricentro…
SKLADBY:
01. Introduzione  1:25
02. Uno degli uomini  3:50
03. La paura  2:01
04. Proprio tu  1:23
05. Continuerò a gridare  2:19
06. Il tuo volto è pulito  1:55
07. Dio ci sei?  2:30
08. Tu credi di essere  3:02
09. Sono piccolo  1:28
10. Cerca in se stesso  3:21
11. Uno degli uomini  2:54
12. Exultet  1:41
13. Il frutto  1:49
14. La sua speranza non delude  2:08
15. Conclusione  1:30
Bonus Track:
16. 'Anaw (1979)  3:50
I testi, le musiche e le strumentazioni sono di Cesare Regazzoni.
Hanno suonato alle percussioni Tino Carretta, alle tastiere Umberto Minoliti, alla chitarra a al benjo Alberto Ferretti, alla chitarra basso Sergio Podofillina, al sax e al flauto Otello Azzali.
Hanno cantato Roberto Rizzoli, Tino Carretta e il coro di Paola Orlandi.
Giobbe, Uno Degli Uomini
ATP
Prog Rock
Dischi ECO
1977
LP
15
CD AMS – AMS 169CD /2010/