Tak. Konečne som sa dočkal. Po dvoch rokoch pandemických odkladov skupina Yes konečne odštartovala koncertnú púť na pódiách Veľkej Británie.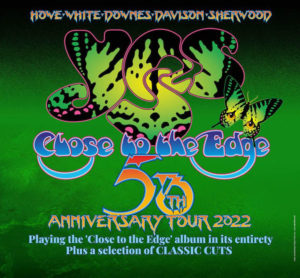 Pôvodným zámerom spred dvoch rokov malo byť živé predstavenie albumu Relayer z roku 1974. Nakoľko však projekt dostal zelenú presne v období, kedy skorší album skupiny Yes, Close to the Edge oslavuje polstoročnicu, plány sa zmenili a aktuálna zostava Yes si nacvičila živé predstavenie tohto famózneho albumu z roku 1972. Tešil som sa aj na živé predstavenie albumu Relayer (presúva sa údajne na rok 2023), ale vynechať program Close to the Edge absolútne neprichádzalo do úvahy, ide o môj najobľúbenejší album od skupiny Yes.
V Royal Concert Hall, Nottingham, 18-ho júna, večer o ôsmej si výtvarný umelec, Roger Dean, autor skoro každého obalu platní Yes v úvodnom predslove na pódiu zaspomínal na 50 ročnú spoluprácu so skupinou, rozlúčil sa nedávno zosnulým dlhoročným bubeníkom skupiny, Alanom Whiteom, ktorého fotky sa objavili na veľkých obrazovkách nainštalovaných priamo na pódiu. Dojemné slideshow bolo podfarbené jemnými tónmi skladby Turn of the Century. Po tom, čo sme sa spoločne s Alanom rozlúčili sa za zvukového doprovodu Stravinského Vtáka ohniváka členovia skupiny objavili na pódiu a samotný koncert začal. Setlist obsahoval priehršť skladieb z albumov vydaných v sedemdesiatych rokoch, okrem dvoch skladieb z raných 70's boli pre mňa zväčša neznáme, hudbe skupiny som sa po albume Relayer predsa len nikdy moc nevenoval. Naživo som si ale aj tieto skladby užil, ako aj dve skladby z posledného albumu skupiny, The Quest. Prišlo i na sólové predstavenie Steva Howeho, na španielke zahral akustickú skladbičku Clap. Záver prvého polčasu predznamenal smerovanie ďalšieho diania na pódiu, skupina zahrala slávnu Heart of the Sunrise z albumu Fragile a vyslúžila si prvé standing ovation. Po 15 minútovej prestávke sa skupina pustila do hlavného bodu koncertu a jednu po druhej predstavila tri skladby platne Close to the Edge, po každej jednej dostala nadšené ovácie obecenstva. Počuť naživo Close to the Edge, And You and I, Siberian Khatru je ešte i v roku 2022 transcendentný zážitok a ani uplynulých 50 rokov nedokáže týmto skladbám vziať nič na hodnote a kvalite. Po odznení posledných tónov sa Howe zjavne zaskočený nadšením obecenstva zmohol len na vetu: "Ďakujem, že si nás ešte stále žiadate." Nakoľko potlesk neutíchal, Yes sa vrátili na pódium a zahrali ďalšie dve klasické kúsky ich bohatého repertoáru, najprv zaznela skladba Roundabout nasledovaná skladbou Starship Trooper, pri ktorej si 75 ročný skvelý gitarista počas sóla na gitaru rezko poskočil i drobčil. Bolo dobré vidieť tohto hudobníka naživo, jeho hra na gitaru sa považuje za jednu z najinvenčnejších v brandži. A hlavne bolo dobré ho vidieť v tejto skvelej, vitálnej kondícii v období, keď už kosatá hojne vytína les jeho generácie.
Suma sumárum, ja som si koncert veľmi užil, to i napriek nezmyselným a zlomyselným kritikám, ktoré som si prečítal na fanúšikovskej stránke skupiny na fejse. Najprv ma tieto názory trošku zaskočili, až neskôr som si uvedomil, že kritikom nejde ani tak o hudbu samotnú, skôr spochybňujú existenciu skupiny v takejto podobe, zostave, v akej pracuje v súčasnosti. Ďalej vytýkajú členom skupiny nekompetentnosť a nízke inštrumentálne kvality a porovnávajú ich výkon k slávnejším členom skupiny v minulosti. Ja osobne som videl na pódiu skupinu patriacu k pionierom progresívneho rocku s 54 ročnou históriou, vedenú nestarnúcim gitaristom, ktorému momentálne sekundujú muzikanti plný nadšenia z toho čo robia. Kapela dospela do aktuálnej, tuším deviatej podoby, pracuje a ďakuje pekne, nehodlá sa vytratiť z podvedomia progrockerov.
Lineup:
Steve Howe – gitara a sprievodný spev, Geoff Downes – klávesy, Jon Davison – spev, akustická gitara, perkusie, Billy Sherwood – basgitara a sprievodný spev, Jay Schellen – bicie.
Setlist:
0. Turn of the Century (Alan White tribute)
0. The Firebird Suite (Igor Stravinsky song)
1. On the Silent Wings of Freedom
2. Yours Is No Disgrace
3. No Opportunity Necessary, No Experience Needed (Richie Havens cover)
4. Does It Really Happen?
5. Clap
6. Wonderous Stories
7. The Ice Bridge
8. Dare to Know
9. Heart of the Sunrise
Close to the Edge:
10. Close to the Edge
11. And You and I
12. Siberian Khatru
Encore:
13. Roundabout
14. Starship Trooper