Dívám se na obal CD: černobílý, z blízka nafocený obličej vážného Petera Hammilla – aniž by v tom byla jakákoli teatrální póza. Bolest, která nekřičí, se zrcadlí v jeho očích, které jako by přesto nestárly v jinak stárnoucím obličeji. 
Album bylo nahrané mezi lednem až dubnem 2006 a celé je komplet pouze dílem Petera Hammilla. Ale řeknu vám, je to síla. CD začíná dynamickou skladbou Our Eyes Give It Shape, ve které uslyšíme nahrané akustické + elektrické kytary a bicí, vše od samotného Petera. Když text skladby dojde k "Jsem rád, že jsem stále tady, abych tohle mohl vidět…", nelze si nevzpomenout nebo si neříct, jestli to náhodou trochu není o jeho infarktu, který krátce před tímto albem prodělal.
Skladba Famous Last Words je totální progrock příjemně připomínající sedmdesátá léta. Velice osobní skladba založená na klávesách – Meanwhile My Mother – je o Peterově matce umírající na Alzheimerovu chorobu. V krátké klavírní instrumentálce Of Wire, Of Wood se Peter Hammill ukazuje překvapivě jako výborný skladatel moderní vážné hudby.
Trošku odbočím: Hammill za to samozřejmě nemůže, ale malinko mi připomíná (hudebně) v této skladbě výborného herce Josefa Bláhu hrajícího hudebního skladatele v komedii Hodíme se k sobě, miláčku…? Já za to nemůžu, prostě taková moje možná iracionální asociace, ale alespoň díky ní mohu snad trochu odlehčit temnotu tohoto skvělého alba.
Předposlední Friday Afternoon zase dýchá bolestnou melancholií, je o tehdy nedávné smrti Hammillova ladiče pian, kterého zabil opilý řidič. "Blind drunk, he met you head on / On a normal Friday afternoon."
To nejlepší na závěr? Skladba White Dot. Nevím, jestli nejlepší, ale nejpodivnější určitě. Je to bizarní, šílené a nekompromisní, avantgardní. Vlny klávesových temných melodií se hřmotně převalují jak vlny pekelného moře. Protože Hammillova invence nestárne. Skoro se to co do intenzity vyrovnává skladbě Gog Magog z In Camera nebo třeba albu World Record od Van der Graaf Generator.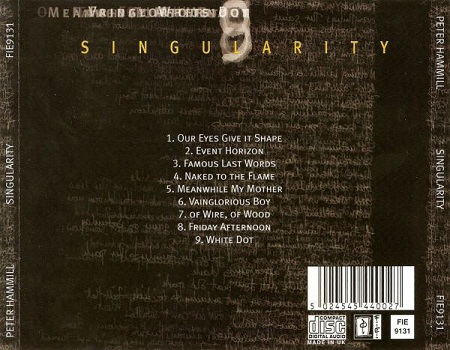 Uf. Dávám 4 body z pěti – Peter Hammill zase dokázal přijít s výborným albem, v roce 2006. A to si vemte, že první píseň napsal v roce 1960, kdy mu bylo dvanáct.
SKLADBY:
1. Our Eyes Give It Shape (4:33)
2. Event Horizon (6:03)
3. Famous Last Words (5:50)
4. Naked To The Flame (5:26)
5. Meanwhile My Mother (4:30)
6. Vainglorious Boy (5:11)
7. Of Wire, Of Wood (1:34)
8. Friday Afternoon (5:04)
9. White Dot (6:22)
SESTAVA:
Peter Hammill – vocals, instruments, arranger & producer
Singularity
Peter Hammill
Art Rock, Prog Rock
Fie! Records
2006
CD
9