Štvorica perspektívnych hardrockerov v zostave: Rasťo Šulc – spev, gitara, Paťo Kudla – gitara, vokál, Maroš Kinčeš – basa, vokál, Paťo Pribyla – bicie, vokál, vystupuje pod názvom Mystery, ktorému aj vcelku zodpovedá hudobný image a štýl kapely – melodický hard rock s neobvyklým dôrazom na hlasové podanie. Hoci táto zostava hrá spolu len tri mesiace, už dali dohromady koncertný program a natočili demo pre Rocklet. Tam síce tento rok do finále nepostúpili ale je veľmi pravdepodobné, že o nich bude naša hudobná scéna ešte počuť, takže vydavatelia, pozor!
Takto znel titulok novín v roku 1992, keď kapela Mystery vznikla. Nasledovali desiatky koncertov, nahrávanie v štúdiách, účinkovanie na rôznych súťažiach. Kapela mala naštartované na sľubnú kariéru. Dvojkoncerty s vtedy už známymi kapelami Money Factor či Slobodná Európa síce pridávali kapele na skúsenostiach ale zázrak sa nekonal. Ako rýchlo skupina vyletela na vrchol, tak rýchlo upadla do zabudnutia. Posledný koncert bol v PKO na súťaži Marlboro Rock In 1994.
---
Prešlo dlhých 25 rokov a jeden z členov kapely oslavoval okrúhle narodeniny, obvolal kamošov a navrhol spomienkový koncert. Po pár spoločných tónoch bolo jasné, že to stále funguje a chémia sa nevytratila. Začala sa nová epocha hudobnej kapely už pod zmeneným názvom Miss Terry, nie preto, že bol názov zlý ale pekná ceckatá Terry patrí k rockovej hudbe viac ako tajomstvo. Po výbornom koncerte v klube Randal nebolo čo riešiť. Začal sa pripravovať nový materiál a koncertný program.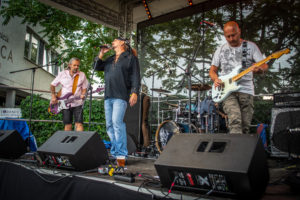 ---
Všetko bolo na najlepšej ceste ale ani tento krát sa nepodaril vytúžený comeback.  Pandémia a vládne opatrenia paralyzovali celú umeleckú sféru. Rušili sa hudobné koncerty aj predstavenia v divadlách. Kapelu opustil jeden zo zakladajúcich členov a nastala otázka, čo teraz? Rasťo "šulo" Šulc ktorý už mal skúsenosti s hrou na basu v skupinách Dorian Gray alebo v projekte Henryho Tótha "4ever 27 Club", zavesil na seba basu a mohlo sa ísť ďalej! Muzikanti pripravili nový materiál a konečne sa chystajú na pódiá. Nie je to ubolený starnúci Hard Rock z geriatrie ale výbuch sopky Miss Terry!
Tu je ochutnávka z toho, čo vás čaká na koncertoch.